Villa LuWih Canggu: Where Tranquility Meets Luxury
Villa LuWih Canggu choses rural village of Pererenan as its preferred location, mainly due to its ultimate peaceful living environment. This is an area of the southern island that is far from the crowd, especially the bustling tourism district, yet reachable to those attractive points within a few minutes of driving. Particularly close to Pererenan Beach, this villa, not so surprisingly, allowed you to embrace the view of the ocean from afar. Within this fabulous package, then, is the ultimately modern architecture design Villa LuWih, definitely a large house to accommodate twelve adults and two children.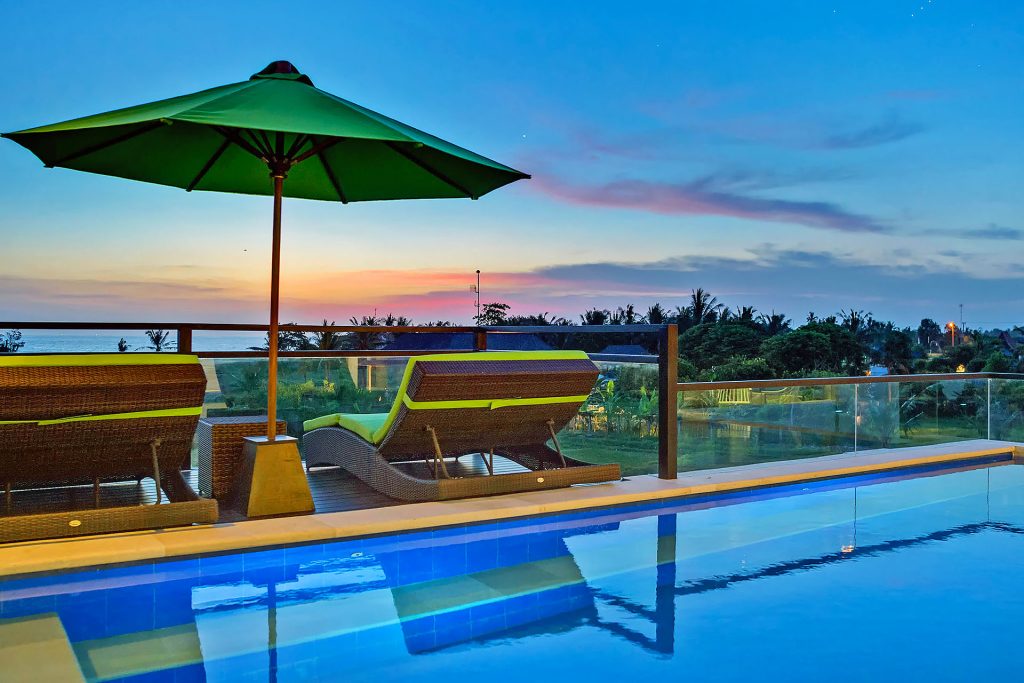 Upon entering the main double door, stepping stones crossed over the flat lawn will lead you through the timber deck right into the living and dining area. Two of the six bedrooms are flanked by the dining room, while the other two bedrooms are on one level down from the living room. The remaining two are upstairs, together with a media room. Here you can also find the second pool in Villa LuWih Canggu, where water cascaded onto the first pool, and a waterfall scene from the downstairs living room. The last bedroom, or the seventh extra bedroom, is situated separately from the main house and adjacent to the bar house. This is a special room dedicated to kids.
Accommodation at Villa LuWih Canggu
Living Area
Glass doors covering the living, dining, and kitchen are a series of glass doors while being embraced by the cooling sensation coming from the ceiling fans and air conditioner. A large and comfortable sofa with a soft tone to begin with adorned the living room, while the top glass table supported your teatime moments with friends and family. Still in the living, aside from becoming a central spot for your social interaction, it can easily be converted into an entertainment corner with the large flat TV and satellite channels installed.
With an adjoining kitchen displaying modern style and complete cooking facilities, you can make a variety of dishes, from the simple to the professional. A dining table is set adjacent to the kitchen, where a small group of people can have casual dining together. If you are coming with a full package, even inviting a little circle of friends to come and visit you, Villa LuWih Canggu has another dining room with a grained teakwood table that is open to nature as it is endorsed by a full glass wall.
Media Room
The center of entertainment for adults and children alike is definitely in the upstairs media room. The comfortable L-shaped sofa and coffee table make your relaxing time more enjoyable, especially while watching your favorite shows on the 60-inch flat-screen TV. DVD player and audio system in another hand, ready to transform it fully into a small home theater, while the latest Play Station attached is one of the great things the kids can have their hands on.
Bedrooms and Bathrooms
Villa LuWih offers six spacious bedrooms, with one extra room or the seventh room dedicated to a pair of children. It definitely makes the villa comfortable for a large group of twelve adults and two children. The bedrooms are all cooled by air conditioning and finished with marble floors. Aside from having each en-suite bathroom, the seventh sleeping quarters in Villa LuWih Canggu will also accompany your nights amid a set of private entertainment devices. You can easily spot large flat-screen TVs where international and domestic channels have already been installed.
Two bedrooms flanked the living and dining areas, right on the main floor, with the two featuring king-size beds shrouded in a white mosquito net. The en-suite follows the same facilities' pattern, such as a bathtub, washbasin shower, and toilet. Not to forget dressing space, where you can keep all of your holiday attire.
Two more bedrooms are at ground level, known as family rooms, as they are divided into one quarter with a king bed and another one with a twin bed. Perfect for families with children, yet the twin bed easily converts into a queen if two adults instead of children occupy it. The king bedroom here will show you the convenience of having your own sitting corner, while the bathroom with its sunken bathtub is ready to refresh your body. Likewise, the shower rains in the twin bedroom.
Two more bedrooms are upstairs. These two also expose the comfort of a king-size bed and thoroughly enjoy the beauty of the ocean from afar. A luxurious private en-suite with a bathtub follows the two bedrooms.
The last bedroom is the seventh room, or the quarter for kids. Separated from the main house and put close to the main entrance, this room features a pair of single beds, a dressing room, as well as a private bathroom equipped with a shower, toilet, and washbasin.
Pool and Garden
Just to emphasize the beauty of Bali as an island close to the equator, Villa LuWih Canggu has carefully chosen each and every single piece of foliage to transform the property into one of the best tropical retreats in Canggu. Sweet scents of frangipani, gentle sways of palm and banana trees, manicured flat lawns, and many more make the villa one of the best places for your family to barbecue. time will rest on the company of garden bar. The polished marble-top bar with stools is ready to serve the best selection of cocktails and mocktails on one of your finest nights.
Giving more to the enjoyment of your stay will be a pair of pools. The 16 x 4 meter main pool is bordered by white palimanan stone and a timber deck, presenting you with spacious space for relaxing or exercising, while sun beds and pool towels are provided to get you a spot for private sunbathing. A fine gazebo is also available, perhaps for a more unwinding pace of holiday with books.
Another pool is situated upstairs. This pool, actually the 6 x 4 meters upper pool is also featuring timber deck with sun beds directly facing over the ocean view. Attached casual lounge with L-shaped sofa separated from the pool by folding glass doors make it a great comfortable open or close space to spend with friends and family.
Location of Villa LuWih Canggu
Villa LuWih set close to Pererenan Beach in Canggu make it still possible for you to feat of the ocean as well as the sunset from the villa. It explore the most quiet and peaceful living environment make it the best villa suit your tropical retreat holiday in Bali. The more laid-back location and its seclusion from any hype do not mean to seclude you fully into a primitive land. Reachable in around 40 minutes drive from Ngurah Rai International Airport, Villa LuWih offers you many interesting things to do around the vicinities.
Takes for an example is the fabulous choice of restaurant around the area. This is not again a difficult thing to find one good place to eat in Canggu compared to years back. Canggu now has fabulous selection running from the beachfront restaurant at Echo Beach, Desa Seni, Canggu Plaza even up to the newly open Deus ex Machina. Wanting a more finest and international level, the famous KuDeTa or the elegant Metis separated only within around 20 minutes drive.
Horseback riding is also close from the villa you can have close encounters with the local village while on ride or even do this right at the beach. Canggu is also one of the beaches in Bali famous for its challenging waves it is very suitable for professional surfers.