Villa Ziva Seminyak Bali
Villa Ziva, a one-bedroom Bali villa, stands in a great location in Seminyak. This is an ideal villa for couples, particularly for a romantic honeymoon in Bali. Villa Ziva, which means blessing in Sanskrit, is truly reflected in this villa. The villa is made in a minimalist style with a focus on giving guests the best luxury possible.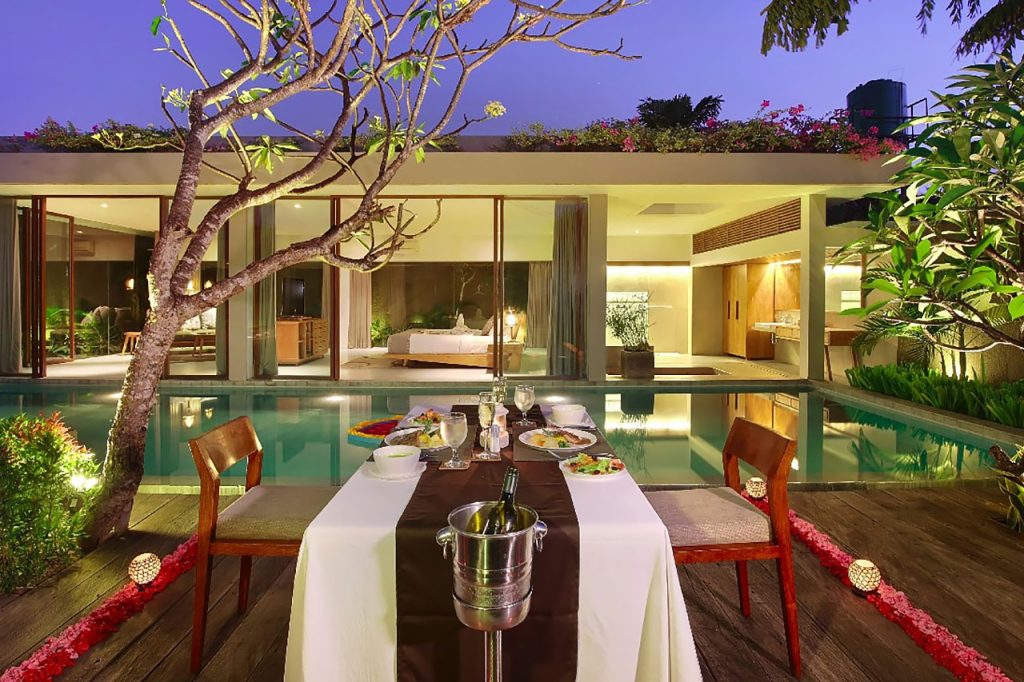 ACCOMODATION AT VILLA ZIVA
LIVING AREA
Villa Ziva is applying a unique concept that is different from other one-bedroom Bali villas. The living room is under the same roof as the bedroom. However, the living area still promises luxury under the convenient temperature of the air conditioner. The living room is outfitted with a gray comfort sofa and daybed, making it an ideal spot for relaxing and chatting.
BEDROOM
Enjoy your precious relaxing time inside the only bedroom of Villa Ziva. The massive king-size bed is set up with bedside lamps. Adjacent to the living room, this room will be your little heaven during your stay. You can set up your own private cinema if you have an LCD TV with a DVD player and cable TV installed. The room is air conditioned, but you can open the clear glass door to invite the natural breeze in. You will also have direct access to the pool through this glass door.
Another glass door will bring you to the private bathroom of Villa Ziva. The bathroom is furnished with complete facilities to give you a perfect bathing session. A luxurious white marble bathtub is ready to invite you to enjoy the refreshing water and relieve all your fatigue after sightseeing.
KITCHEN AND DINING
Villa Ziva separates the dining room and kitchen from the living room. The dining room is set near the pool, enabling you to enjoy the pool view during your romantic dinner. The simple kitchen is attached to and near the dining area, and it is adequate for preparing a simple breakfast.
POOL AND GARDEN
The pool is set in the middle of the villa. The pool is designed in smart way to get the perfect space for your refreshing swimming time. Sun beds are set as a pair to be a great spot to chase the sun light. The garden is arranged in minimalist style but still give you green spot to pamper your eyes.
LOCATION AND ACTIVITIES NEARBY
Villa Ziva is in an ideal location; it is within walking distance of almost everything you need. Staying at Villa Ziva means getting to know the real Seminyak. The villa is located in Oberoi Seminyak, a popular area to spend time. Varieties of delicious foods are easy to find since the area is also known as "Eat Street" in Bali. Not only are restaurants and bars easily accessible, but so are fashion boutiques and shopping destinations. After being tired from sightseeing around Seminyak, it is good to have a relaxing SPA and massage, which can be arranged inside the villa.
It is not difficult to find vehicles since car rental is available in the villa, complete with a driver, so you can enjoy your safe trip without worrying about getting lost. There are numerous interesting places to visit within an hour's drive. Garuda Wisnu Kencana is in Jimbaran, which is only 30 minutes away by car, and Ubud and its amazing artworks are around 60 minutes away.
BALI VILLAS CLOUD