Eshara Villas Seminyak Bali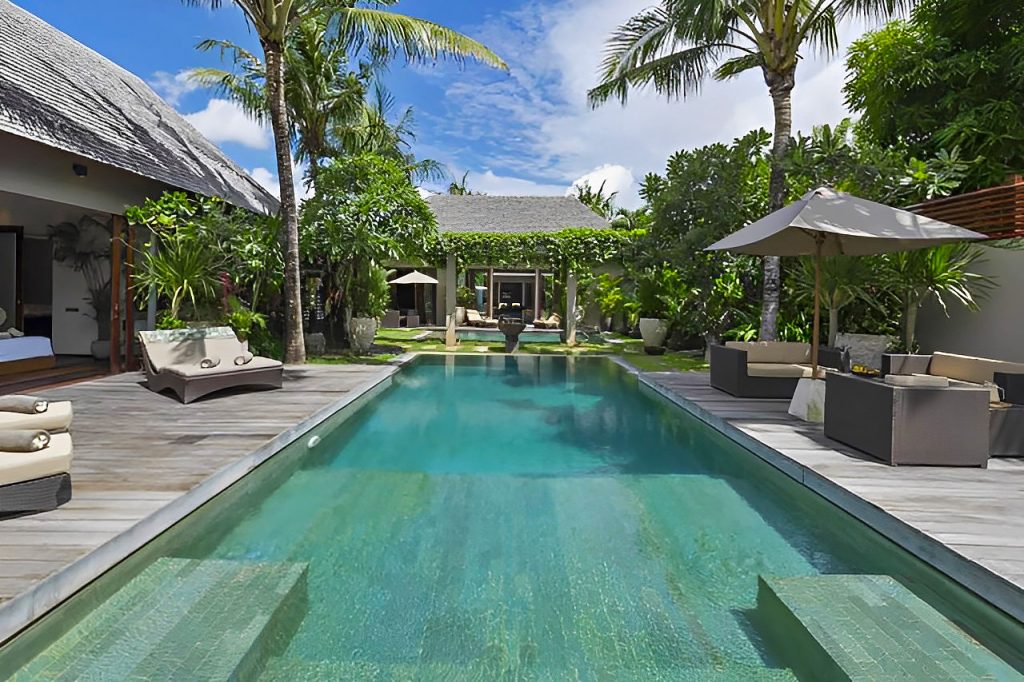 Eshara Villas simply define a combination of private residences for the ultimate satisfaction of sixteen people. Exploring the very essence of modern design and architecture, Eshara Villas do not particularly abandon unique interior décor to enliven what a tropical and true Balinese atmosphere feels like. The Eshara Villas are made up of three private villas that can fit up to sixteen people. They offer a high level of luxury and comfort. 
Separately they differ into Eshara I, Eshara II and Eshara III. Sliding glass doors will give the preferred privacy when different groups rent different villas. But when you are in a much long-awaited holiday with your big group or the whole family, pull off all the separating doors and turn it into a big property where all sixteen can have much needed space without being cramped.
Eshara I is a three bedroom villa with Eshara II proudly presenting a two bedroom villa and the last will be another three bedrooms from Eshara III. The best thing about Eshara Villas, aside from being a huge house for a large group, is that you have the privilege of having three swimming pools. Definitely define a great share of space where you can still find a place that will in any way suffocate you.
In addition to its location, Eshara Villas is right in the middle of everything. You can plan to visit almost every attractive spot in Seminyak within walking distance. This is the perfect place to go and stay in Bali.
Accommodation at Eshara Villas
Living Area
Living in Eshara encompassed flexible social functions. It can be open to nature and allow nature to soothe the atmosphere while ceiling fans can lend some extra hand. Fully close living and embracing the comfortable cooling temperature provided can be another great option to choose. All three villas in Eshara have been designed to serve three functions, they are lounge, dining and kitchen.
The lounge was simply an elegant and cozy place for the whole group gathering, meanwhile the dining created another spot where people can have their meals in an enjoyable space. Kitchen followed next it conveys modern design as it furnished complete cooking facilities enough for professional cook level provided culinary diversity.
Bedrooms
Combining the three villas, you easily get eight private sleeping quarters each sleep for two. All of them are furnished in a very modern way and offer the highest level of comfort. All bedrooms in Eshara Villas are air-conditioned while being followed by a private en-suite. Each bedroom also will be furnished by the best bed and linen selection.
They are either in the form of king-bed, queen-bed to pair of single beds. Indulging your further in a luxurious escapade will be the final perfection performed by the bathroom facility. They are mostly a combination of shower and washbasin features while presented in variant space. Bathtub is not an obvious facility installed with only selected sleeping quarters having it.
Swimming Pool and Garden
The best thing from renting Eshara Villas as one whole villa instead of having it as a separate entity is a definite access to the three swimming pools. Bordered by natural stones, the swimming pools are not the only exciting thing that you can find here. Up on the timber woods, some sunbeds and pool towels get in line to provide the best spot for sunbathing. Rattan chairs and tables are also available creating nice spots to relax or just having a different type activity like al-fresco dining.
Finally, the ultimate touch of performing a tropical atmosphere will be the carefully selected foliage that grows under attentive care and regular maintenance.
Location of Eshara Villas
Eshara Villas are situated right in the heart of Seminyak, precisely within the famous Oberoi area. It is reachable in around 20 minutes' drive from Ngurah Rai Airport. The best point of this villa probably rests not only on the easy distance to reach everything within the district but also on its position, which enables you to have a peaceful living environment despite all the location convenience. The beach is about 15 minutes' walk from this villa, as is the famous beachfront restaurant, KuDeTa. 
From the villa also, it is possible to have other variants of cafes and restaurants, even a shopping district where you can start from Seminyak Square, Nakula Square or trace the shops, spa and massage houses along the main road.
Seminyak is also a strategic town where you can reach another place within minutes of driving. If the waves along the shore of Kuta and Seminyak are not enough to challenge you, Bali is 20 minutes' drive from the town to a village of fishermen in Canggu. They have beaches that will surely tempt your adrenalin.
Wanting more? Uluwatu is the greatest option of all. Here in Bali also, you will not lose the chance of entertainment, from the artistic performance of Kecak Dance in Uluwatu and Tanah Lot to the wonder of the animal world at Bali Marine and Safari Park, Bali Bird Park, and Bali Taro Elephant Park, all in Gianyar.
BALI VILLAS CLOUD
Family Holiday Seminyak Bali 3-bedroom 2-bedroom 8-bedroom Villa Compound Large Groups Close to the Beach Resort Town