Sanur Residence Bali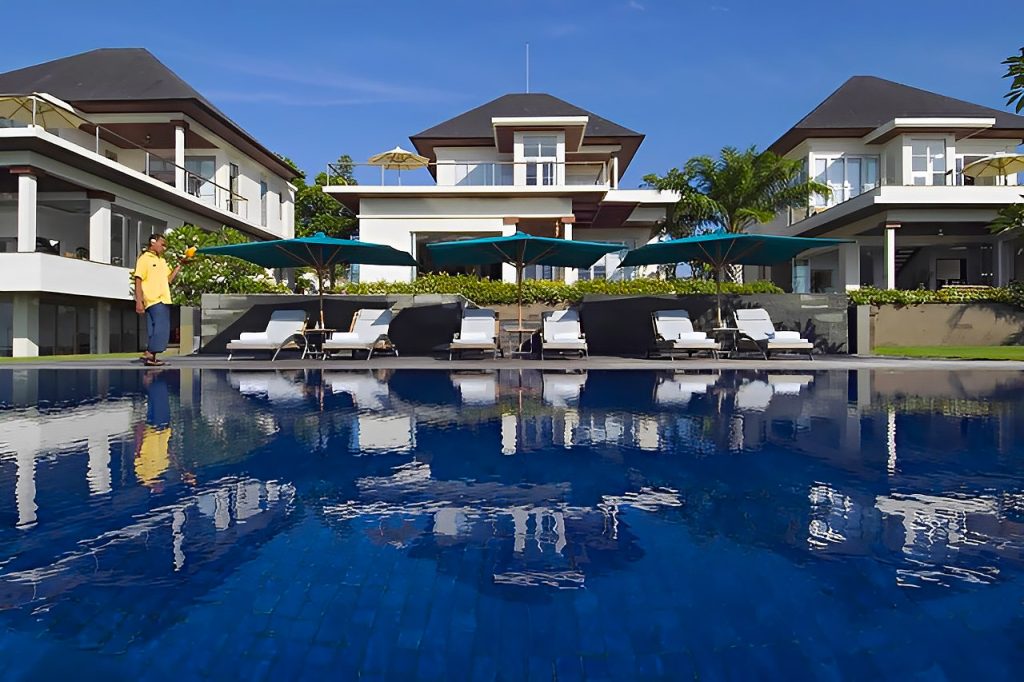 A truly palatial estate, the Sanur Residence seamlessly blends traditional Balinese architectural elements with those of an ultra-modern villa. With expansive terraces featuring postcard views of the ocean and nearby island of Nusa Lembongan, contemporary minimalist style furnishings, large living and dining areas, and 9 well-appointed bedrooms spread out over 3 houses and decorated with exquisite Balinese and abstract art, the Sanur Residence will whisk you away to a place of peace and tranquility while you recline in the lap of luxury.
The Sanur Residence consists of three separate villas in one complex, with three bedrooms in each villa. All bedrooms are fully air-conditioned, with king-sized beds and en-suite bathrooms. Each bedroom offers high-speed Wi-Fi internet access and LCD TVs with satellite service and attached DVD players.
Accommodation at Sanur Residence
Villa #1
In the first villa, guests will find three magnificent bedrooms; a master bedroom and 2 guest bedrooms. The master bedroom boasts a large bed and dark, rich hardwood floors. It is furnished with a soft, delightfully abstract throw rug, extra-long ottoman and a plush white sofa. A huge, walk-in closet provides plenty of space for all your belongings and glass doors afford beautiful garden views while filling the space with natural sunlight. The en-suite bathroom is made of gorgeous beige stone and offers a rejuvenating rain shower, washbasin and vanity mirror, and a sizable Jacuzzi bathtub partially open-air for a long delectable soak under the sun or stars.
The second bedroom offers views of the gardens and rice fields looking all the way to the ocean and in addition, has a small study area with a contemporary writing desk and comfortably curved lounging chair. The third bedroom faces the ocean and has a balcony furnished with a cushioned island-style bamboo couch where guests can curl up with a good book during the day or sip delicious coffee while watching the sun slowly rise above the sea. These two bedrooms share a Jacuzzi bathtub but each has their own bathroom equipped with marble sinks, vanity mirrors and rain showers.
Within this building, guests will be happy to discover a variety of charming communal areas. A beautiful dining space with a stretched dining table rests in an open-air room, cooled by soft sea breezes and surrounded by lush green foliage. A more intimate dining area with a circular table offers views of rolling rice fields that seem to reach towards the ocean and horizon making this the perfect spot for a candlelit meal shared with a loved one or a few close friends. This space has large glass doors that can be fully opened to fill the room with the calming sound of gently crashing waves or alternatively, they can be closed to dine in air-conditioned comfort.
The living area of this villa really comes alive at dusk when it is bathed in hues of purple, orange and blue. With an L-shaped couch adorned with silky throw pillows, guests will enjoy stretching out here and sipping a cool beverage while conversing with friends. In addition, there is a cushioned bamboo couch that sits on the terrace just beyond the glass doors where you can relax and peacefully greet the cool air of evening.
Villa #2
In the second villa of Sanur Residence, there are three more elegant bedrooms, each with cherry wood floors and peaceful views of the ocean and gardens. Both guest bedrooms feature king-sized beds and are decorated with beautiful island-style and abstract art while being illuminated by soft recessed lighting. One provides views of the ocean and offers a small sitting area just outside the door where you can enjoy midday coffee or tea, and the other features stunning views of the villa's emerald gardens. The bathrooms in the guest bedrooms contain washbasins, vanity mirrors, and high-pressure rain showers.
The master bedroom in this villa offers views of the pool and rice fields all the way to the beach. The en-suite bathroom includes a Jacuzzi bathtub lovingly placed in cream-colored stone, a washbasin and vanity mirror, and a rain shower.
The dining area of the second villa has a beautiful dining table and teakwood dining chairs that sit on a polished white stone floor. The dining area looks out towards the living area and, further beyond, the manicured garden and ocean, providing a delightful ambiance to any meal. This villa's living room is comfortably furnished with plush couches that you can sink into and has huge sliding glass doors that can be propped open to allow soft sea breezes indoors. Additionally, there is also a TV room with even more plush couches and high-end wooden furnishings, like the dark-stained coffee table and amber-colored entertainment center.
Villa #3
In the third building of Sanur Residence, there are again 3 bedrooms: two guest bedrooms and one master bedroom. Both guest bedrooms have gorgeous hardwood floors, while one offers a king-sized bed and the other two twin beds. In the room with the king-sized bed, there is a cushioned rattan couch for lounging. Both rooms have large sliding glass doors that open to beautiful views of the garden. The bathrooms for these bedrooms have washbasins, vanity mirrors, and rain showers.
The master bedroom in villa 3 is absolutely exquisite. It's a large, open-plan space with sliding glass doors featuring views of the rolling gardens and ocean. This room is constantly awash in natural sunlight during the day. It also includes its own study with a lengthy work desk attached to the wall and a plush, sea-green couch. The en-suite bathroom of the master bedroom has a washbasin, vanity mirror, rain shower, and an elegant bathtub next to a huge window. This lets you take a relaxing bath while looking out at the lush tropical plants in the villa's gardens.
This villa has a very modern living room connected to a terrace with a cushioned long chair where you can spend the day reading a book and listening to the waves. The room itself is set up with violet-gray modern sofas that surround a coffee table from the 21st century that is a unique piece of modern art. Within the same room, but off to the side, is a stylish kitchen with all of the creature comforts of modern living. In front of the kitchen, you will find the dining area with a magnificent wooden table looking out to sea. The terrace goes all the way to this side of the room, where another long chair is set up perfectly under a stylish pergola roof.
Living Areas
This building also has its own entertainment room with a white couch covered in purple throw pillows, an ebony bookcase, TV, and massive floor pillows to watch your favorite movies in comfort.
Services
No matter which location you choose to dine in during your stay, guests at the Sanur Residence will be treated to 5-star cuisine and service from the villa's private chef. He is a master chef who can make a wide variety of dishes to suit anyone's taste. Try some local fare like fresh, spicy ikan bakar (grilled fish) or go for something more familiar like a proper, juicy Western steak. The choice is yours. If you happen to have a special dietary request, just inform the chef with enough time to accomplish any shopping that may be necessary, and he'll be delighted to oblige.
Entertainment
When you stay at the Sanur Residence, you will never run out of ways to have fun or interesting things to do. The villa comes with its own volleyball court for when you want to play a game with your friends. There is also a yoga deck, which is a great place to stretch out tight muscles and meditate in a calm and peaceful setting. Make use of the yoga deck in the cool of the early morning while the world gently awakens to another day in paradise for a rejuvenating experience that stills the mind.
Rejuvenation
After stretching those muscles, you may wish to relax them again with a sumptuous massage, and the Sanur Residence provides a massage bale for just such an occasion. While encapsulated by soothing sea breezes, a skilled outside professional will gently remove any tension from your body. Simply ask one of our helpful and friendly staff to book an appointment for you.
Garden and Swimming Pool
A refreshing dip in a pool is always a good idea, and the Sanur Residence has a massive 23-meter-long infinity pool for your exclusive use. Set close to the beach, you can enjoy fabulous views of the ocean while you get some exercise doing laps or just lazily cool off. The pool is surrounded by a beautiful wooden deck with sun loungers where you can relax and work on your tan or just relax under an umbrella with a good book and enjoy the beauty of the "Island of the Gods."
Location of Sanur Residence
The Sanur Residence is in a quiet, rural part of Bali's eastern coast, away from the busy tourist areas of Kuta and Legian. Guests will have access to a private beach and be able to feel the rhythms of island life. This quiet place is in a great spot, close to some of the most interesting cultural and fun things to do on the island, and is only a short drive away.
The town of Ubud, Bali's center for traditional arts and culture, is only a short drive away. Here, you will find performances of Balinese dance and music offered nightly. Visit the Ubud palace, where professional gamelan (a metallic Balinese orchestra) ensembles play incredibly intricate songs from time immemorial. Each night, the village lights up with the shimmering harmonies of gamelan music while colorful dancers perform complexly choreographed moves depicting myths and legends dedicated to the gods.
For a truly unique experience, book an outing with Saba Bay Stables where you can ride on horseback along the pristine beaches of Saba at sunset.
For golfers, the Bali Beach Golf Course is a mere 2 kilometers from the villa. Tee off here for 18 holes of golf bliss and top off your outing with a delicious cocktail at the Inna Bali Grand Hotel.
The Bali Safari and Marine Park is also only a short distance from the Sanur Residence. Housed here are a wide variety of exotic animals and fish, making for an interesting day out for friends and family. Ride an elephant, go to a live show featuring animals and incredible feats of acrobatic prowess, or just visit the waterpark to cool off.
Bali Villas Cloud
Family Luxury Renon Bali 9-bedroom Close to the Beach Countryside Ocean View