The Ambika Seminyak Bali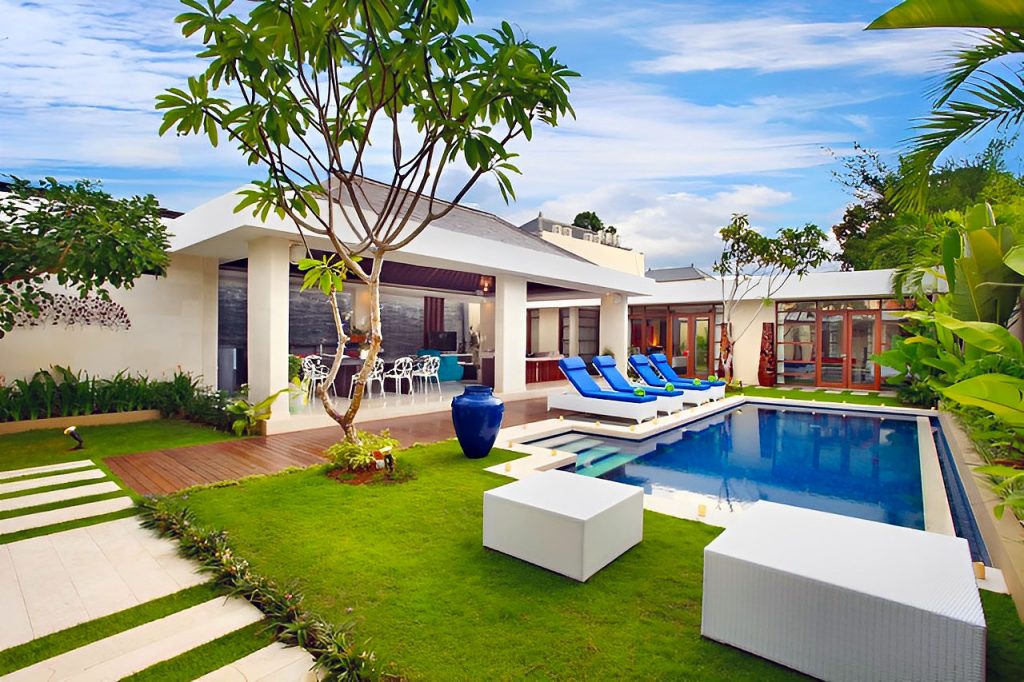 A fabulously luxurious holiday villa located within Bali's most sought-after district, the cosmopolitan town of Seminyak; the Ambika exists simply to cater to the needs of our discriminating guests. With a full complement of dedicated and friendly staff, a private swimming pool, beautiful gardens and 4 spacious bedrooms, the Ambika is sure to leave an indelible imprint of contentment upon your memory.
Accommodation at The Ambika
Bedrooms
The Ambika features 4 generously appointed bedrooms. Each one is fully air-conditioned with LCD TVs with satellite service, high-speed Wi-fi internet access, a safety deposit box for your special valuables and is decorated with beautiful abstract art. The bedrooms' primary color theme is white but is wonderfully splashed with bright reds and eye-catching blues. Cool, smooth floors of Palimanan stone reflect gentle rays of natural sunlight that stream in through gorgeous wood-framed glass doors. Three of the four bedrooms feature king-sized beds while the fourth offers two twin beds which can be converted into a king, if desired. All of the bedrooms have views of the villa's stunning emerald green gardens and aquamarine swimming pool and additionally, have en-suite bathrooms.
The en-suite bathrooms at The Ambika are truly charming and offer all the comforts of modern life. With terrazzo bathtubs, dual washbasins set atop polished black stone, extra-large vanity mirrors and rejuvenating rain showers, however you decide to pamper yourself is your choice.
Living Areas
The living and dining pavilion at The Ambika is a masterpiece of contemporary design. Being the centerpiece of the villa, this open-air space is furnished with oversize plush couches guests can sink deeply into or stretch out on while watching one of their favorite films on the large LCD TV. Cooled by soft sea breezes and ceiling fans, this space is a perfect gathering point to plan the day's activities or swap stories of your adventures around Bali in the evening while you sip chilled, crisp cocktails.
Beside the living area is the villa's own cocktail bar with funky, modern bar stools for seating where you can drink delicious spirits, wine or beer of your choosing. Right next to the bar is The Ambika's wooden, glass-topped dining table that can accommodate up to 8 guests who will enjoy sharing a succulent meal and socializing in the evening or at lunchtime. This space's ambience is further enhanced by a decorative koi fish pond and water fountain.
If guests desire, a fun evening can be planned with a barbecue or even a catering event can be arranged at extra cost. Simply inform one of our villa's helpful staff if you're interested.
Garden and Swimming Pool
There's no shortage of entertainment options at The Ambika which offers a high-end surround sound system in the living and dining pavilion perfect for parties and has a crystal blue 5 x 10 meter swimming pool set within the manicured gardens. Cool off in the middle of the day with a relaxing dip or play hard as the sun slowly recedes. All options are on the table at The Ambika. The villa's swimming pool is bordered by a lovely dark-stained wooden pool deck furnished with cushioned sun loungers where you can spend a day reclining and working on your tan or just sip a cool beverage under the shade of an umbrella.
Location of The Ambika
Situated within the beating heart of the high-end Seminyak district in southwest Bali, The Ambika is a holiday-goer's paradise offering easy access to the beach, 5-star restaurants and truly unique boutique shops.
For fine dining, head to KuDeTa and La Lucciola, both renowned for their excellent cuisine and service. Both restaurants offer beachside dining and serve an eclectic menu while catering to a clientele that hails from all over the globe. Visit at sunset so you can gaze at a gorgeous fiery orange sky while you sift cool white sand between your toes and sip a delicious cocktail. KuDeTa even offers a tasty and unique grilled pineapple and black pepper martini; a must-try.
If you're a shopaholic, Seminyak is the place to be. A variety of boutiques abound here like 2NDSkin for light and breezy women's wear or Mario Silver for a sampling of the handiwork of the island's craftsmen in precious metals. If it's art you're looking for, go no further than the Folk Art Gallery which offers a collection of art and artifacts from all over Southeast Asia. They even carry a unique stock of Burmese Buddhas.
BALI VILLAS CLOUD
Family Holiday Seminyak 4-bedroom Close to the Beach Resort Town