Villa Aramanis Seminyak Bali
Villa Aramanis is a modern place to stay for a vacation in Seminyak, which is always a popular place. By combining the two unit villas built, this villa complex easily managed a private holiday for six people or up to 12 people. It was in a quiet part of Seminyak, so you could enjoy the rare peacefulness that can be found in a busy area. Though one should not underestimate the pleasure provided by Villa Aramanis in being able to easily access everything the southern coastal region has to offer.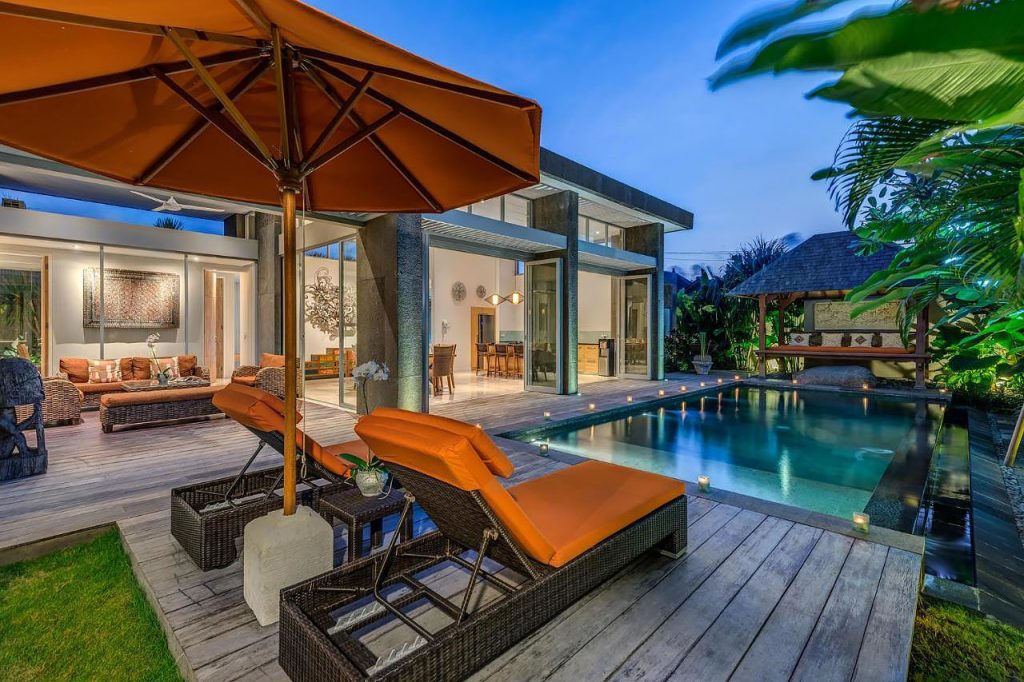 ACCOMMODATION AT VILLA ARAMANIS
Upon entering the property, the contemporary design is clearly shown. Every bit of modern elegancy set to create unforgettable moments here. Living is the first part welcoming you as it furnished by cozy furniture to make out your whole days. Wooden pool deck covered the path onto pool while the sun loungers poring another set of relaxation. Three private sleeping quarters are also prepared to cater the needs of six people.
LIVING AREAS
Let's get acquainted with the entertainment corner in Aramanis, though it was set close to the front door. Large L shape sofa and chair with cushions not only looks like a comfortable seat but it indeed the right one to laze around while watching varied international programs on the big flat screen TV attached.
You can also play your favorite movies and make your own private home theater through the sound system embedded throughout the living. Now the U-shape living which covered the living dining and kitchen safely within air-conditioned comfort and is safely tucked inside by the folding glass doors left a small open space with rattan sofas another relaxing lounging space in Villa Aramanis. 
Simple elegant wooden dining table posed as the best place to enjoy your meals courses throughout your stay in this villa. Every delicious dish will then be prepared at the kitchen close by as the attractive black marble kitchen island proposing gas stoves while the kitchenette saving other cooking device and cutlery.
BEDROOMS
Villa Aramanis complied three sleeping quarters and are divided into one master bedroom with two guest bedrooms. The master is occupying the most spacious space though same level of conformity can be found in every room. Two air-conditioned rooms, which are the master and one guest bedrooms furnished of double bed meanwhile only single room posed as a twin bedroom.
Each room carried private entertainment in the form of flat screen television and DVD player which also carried numerous international channels to keep you entertain. Look further throughout the room will rest your eyes onto the built in wardrobe stored in each room as well the safety box tucked inside.  Basically all rooms shared the same bathing facilities as in walk-in overhead shower together with handheld shower, washbasin and toilet though master will give you surprise delight amid the larger space and an oval bathtub. 
SWIMMING POOL & GARDEN
 It has been carefully design, the small endearing tropical garden of Villa Aramanis. Tropical trees and shrubs adorned the wall set a more peaceful and relaxing atmosphere inside this property. Then, the private swimming pool, the only privilege one can get by having private luxurious villa as their holiday accommodation will pamper you to no end. Sun loungers create a sunbathing heaven especially with a glass of cocktail in hand. 
LOCATION OF VILLA ARAMANIS
Villa Aramanis set within peaceful environment, enables you to have a very relaxing holiday like what you ever wish for. From the beach to the shops even to designer boutiques are less than 5 minutes drive, even relaxing stroll will do to. It is not too far from the international gate away since it cost you around 25 minutes drive to villa from Ngurah Rai Airport. Even from the Seminyak where the villa situated you can easily explore other parts of the island, to the east or to the north, everything is possible.
BALI VILLAS CLOUD
Family Holiday Seminyak 3-bedroom Close to the Beach Resort Town