Villa Asante Canggu Bali
Villa Asante brings you a four-bedroom private villa in Echo Beach Canggu for discerned travelers of eight. The villa is all about peacefulness, luxury, and comfort.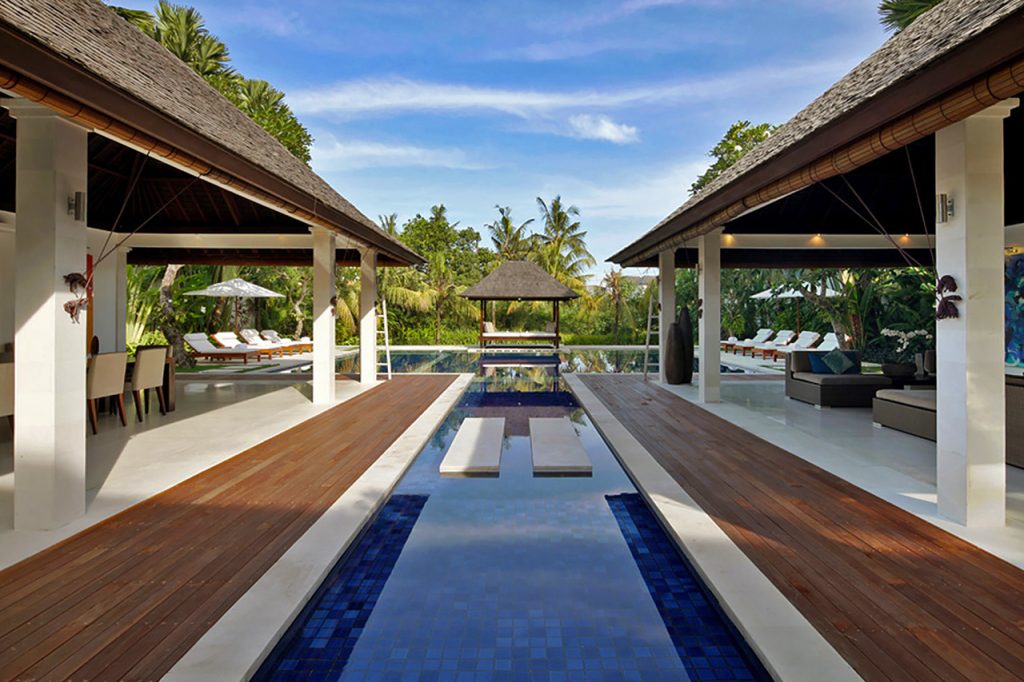 Villa Asante is defined as a four-bedroom private house in Canggu. Still, in thorough insight, this property is more than a private house. It promises you luxury, privacy, and comfort in a different value. The house is a dedicated villa rental for eight people. They will get pampered with high-quality facilities and accommodations while being served by the best and most professional staff. It desires to achieve the highest approval and satisfaction throughout your stay here. Situated in Canggu, within walking distance to the famous Echo Beach adds another value to why you should stay here.
Entering the main double door, the entry gate into the villa leads you right onto stepping stones through a pond with catfish. The front porch welcomes you with a bench and jasmine flowers to reveal the broad view of the property lawn and the rice field it hides. This main house is a two-story modern pavilion that adopted white as its central theme. Downstairs, soon after we entered, the entry door is where two master bedrooms are situated. Stairs will lead us to the upstairs guest bedroom, which hosts an air-conditioned media room.
Another two houses that flank the pool are separated from this bedroom pavilion across the lawn. Both serve your social function area as the living, while the counterpart is the dining. This Asante is not only the perfect escapade for a group of friends. Still, it is also a kid-friendly villa suitable for family holidays.
Accommodation at Villa Asante
Living at Villa Asante
Open-plan living in Villa Asante is in a high-ceilinged pavilion with ceiling fans. It furnished a comfortable L-shaped sofa and chairs with a table for a much more enjoyable chatting time or simply a place to welcome the guests. On the opposite side of a built-in shelf are a large LCD TV installed with satellite channels and a DVD player connected to the audio system. If you like it, it will become one of the most fantastic entertainment spots.
The children's pool divides the dining pavilion from it, and stepping stones connect them. It is a very comfortable part of Villa Asante. You can sit together at a handsome dining table with 10 seats, enjoying all the delicious meals prepared by the villa's professional cook. A kitchen bar with stools behind it can be a great alternative to having a casual breakfast. The kitchen itself has been complimented with much stuff for cooking. It will be easy for a cook to explore his skill in the culinary world.
Media Room
A room entirely dedicated to entertainment is situated in the bedrooms' pavilion. It's on the first floor, in a cozy room with an air conditioner. Comfortable sofa bed with large satellite LCD TV and DVD player ready to entertain your days. For kids' joy and fun, while staying in Villa Asante, the villa has been remarkably innovative by providing you with an Xbox for kids to get ready in the game world.
Bedrooms and Bathrooms
Four air-conditioned bedrooms in Asante are fully restful in their own two-story pavilion. There are two master bedrooms downstairs and two guest bedrooms upstairs. The master bedrooms are two entities that are the same yet give different vibes to create their personal signature. They both feature king-size beds with the best linen selection for the ultimate comfort of two people. Tucked in one corner are an LCD TV with satellite channels and a DVD player.
Meanwhile, an office that doubled as a dressing desk complemented the room with mirrors and a chair. A built-in wardrobe follows next, where you can keep all your holiday attire and stuff safe. An adjoined private en-suite explores the luxury a terrazzo bathtub provides, allowing you to have a soothing view of the tropical garden from a glass wall. Entering this tropical garden, you can find a perfect setting for al-fresco bathing through its overhead shower. Dual washbasins sitting on a terrazzo-topped vanity give final completion to the luxury it contained.
The guest bedrooms come next, and they are both situated on the first floor. Although they are also the perfect match in almost identical appearances, some details differ. First, let's start with their bed configuration. One followed the master with a king-size bed; meanwhile, the counterpart neatly followed the probability of you having different preferences by giving a pair of single-bed facilities. It can be converted into one bed, whichever you prefer. A built-in wardrobe is another inseparable thing you can find in each bedroom. Each guest bedroom will also have a private bathroom equipped with a shower and washbasin.
Pool and Garden
One thing you notice when you first gaze at Villa Asante is its lovely tropical garden. The green lawn is well-manicured, with sweet scents from the mature frangipani trees. Add banana trees and colorful traits from lovely flowers, and you'll get the fabulous setting of a tropical retreat in Canggu. A T-shaped private swimming pool gives a touch of luxury to the lawn, where you can enjoy privacy as the lustful green rice field stretches across the property. A Party for kids is also available in the pool.
Do you want to soak that body of yours under the sun? Villa Asante has provided a couple of sunbeds to assist your sunbathing time. There is also a poolside gazebo-covered daybed where you can laze around or steal some time to take a nap. Reading your book or merely enjoying an afternoon cocktail is also posed as another beautiful idea you can do here. A spacious, manicured lawn is the last part of Villa Asante, separating this villa from its river border. Usually, this is the perfect setting for any special event that can host up to 150 standing and 100 seated parties.
Location of Villa Asante
Villa Asante, located in Canggu, is reachable in around 30 minutes by car from Ngurah Rai International Airport. You can easily walk to this famous beach, popular among professional surfers, as it is only a few meters away. Beachfront restaurants, as well as small eating places, cascade here. You will find it easy to have some variation in your diet. Do a short drive, and you will find more cafes and restaurants. Getting your hands on the meals and beverages at the newly opened Deus Ex Machina.
Canggu Club, Canggu Plaza, and Canggu Deli pile together, serving you places to shop, eat, exercise, and socialize. Canggu is also the right place to find a peaceful holiday setting without straying too far from the famous Seminyak. It is around a 15 to 20 minutes drive to reach this enchanting district. You can immerse yourself in more shops to go to, more beaches to enjoy, or more nightclubs to go crazy with.
Another great point from Canggu is the closest distance it has from the ever-famous golf course in Nirwana Pan Pacific. The stunning 18-holes are set close to the Indian Ocean. Take advantage of the historical and highly famous Tanah Lot temple here.
Bali Villas Cloud
Family Luxury Canggu Bali 4-bedroom Rice Fields Countryside Traditional Village