Villa Avatar Seminyak Bali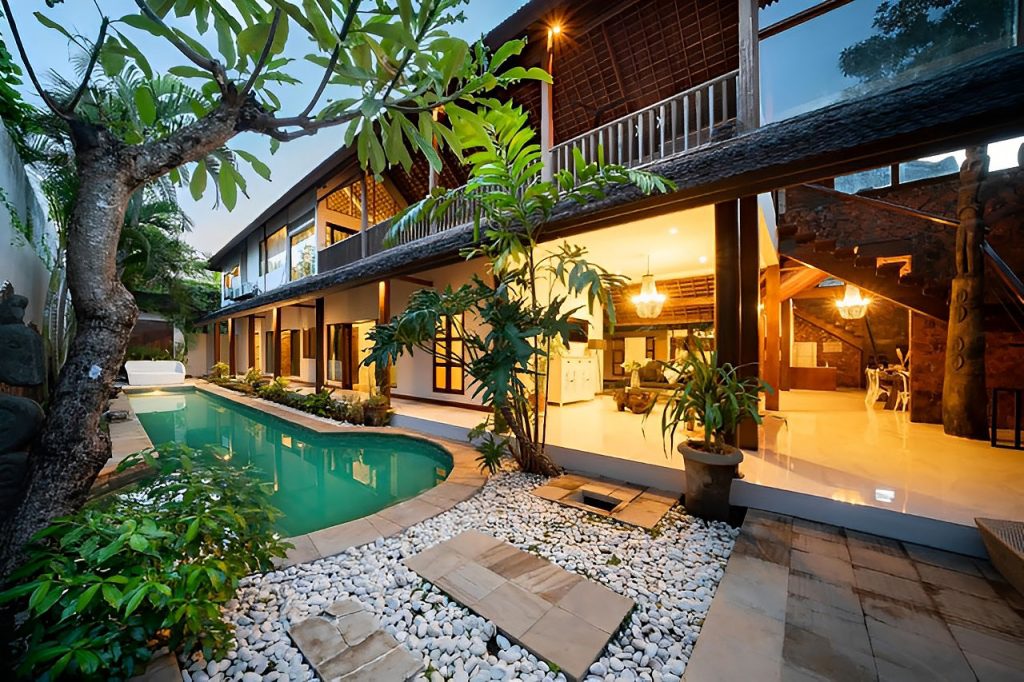 Ten years have passed since the purchase of villa Avatar, and everything about this classic property remains excellent. It is with high confidence that we deliver you a comfortable escapade in Seminyak for six people. Its old architecture has been maintained and taken care of regularly to keep it in perfect shape whenever its valuable guests decide that this is the villa they want for their holiday.
Naturally adopting a peaceful living environment, Villa Avatar is perfect for those who wish to get everything within walking distance but still be secluded from the disturbing noise and crowd. The space available is defying the modern concept of minimalist design, which has flourished in Seminyak lately. Six people can always find a large space to get together or even invite their friends to come over, yet they can easily yield to a demand for seclusion even among groups. for
Opening the main entry, a double door gate directly reveals a free form group before your eyes, just a few steps from the entry. Two-storey building runs its length along the pool as it has an open hallway supported by timber pillars. The fence lined this hallway makes it appear as one safe villa for families with kids. Lounge, dining and kitchen in Avatar is an open area though you can still have one fueled air-conditioner in an in-door living.
Bedrooms are spread over two places: two are downstairs and one is upstairs. There is also another upstairs area in Avatar dedicated to entertainment, with a daybed and pool table provided. All in all, this is one cozy place where you can have it all without spending too much. 
Accommodation at Villa Avatar
Living Area
Open living in Villa Avatar allowed nature to take over and embrace the area. When the heat becomes unbearable, a ceiling fan positioned directly at the ceiling lends a helping hand. The sofa bed provided in a cheerful tone along the cushions has brightened the atmosphere, especially for your gathering. At one end of the living room, an open kitchen with a bar is easily spotted. It has been complimented by complete cooking facilities. It is not hard for you to prepare a home-cooked supper. 
Another door leads to the air-conditioned indoor dining room, which can easily accommodate six people's meals. Across the dining room, with comfortable seating prepared before a flat-screen TV complete with a DVD player and audio system, you can easily transform the room into a mini home theater. If movies are not your forte, international channels have been installed so you can catch up with your favorite show or what's up with the world today. 
Baby grand piano is also tucked in one corner, for those with more musical traits than others, can entertain your group by playing it.
Upstairs lounge is another feature in Villa Avatar. There are two parts of the upstairs area here. The first one featured a pool table and a daybed. It easily makes a relaxing and entertaining place for the whole group meanwhile the other one has another spot for TV entertainment. 
Bedrooms
The two downstairs bedrooms both feature king-size bed flanked bedside tables and lamps. The two have a wardrobe for your holiday belongings safe keeping with one room excel through a special room required for this dressing activities. Attached private bathrooms followed the two as both explore the indulgence provided by washbasin and shower.
The blue bathroom belongs to one of the bedrooms here has additional luxury from a bathtub facility. The last bedroom is easily tracked at the upstairs floor and also explores bedding for two. Private bathroom is available and gives you the same facilities such as shower and washbasin.
Pool and Garden
The free-form pool at Villa Avatar comes with a shallow step that runs the length of the two-story building. This swimming pool is exclusively provided for you and your group's use. At one end of the pool, there are sunbeds and pool towels, which represent a nice spot for sunbathing. A wooden fence marked the side of the pool, restricting access and giving further security for families with kids. 
A green tropical line adorned the private wall along the pool, giving it tropical shades that definitely soothe the atmosphere. By adding another garden feature close to the indoor living area, Avatar has successfully created a comfortable tropical retreat in Seminyak.
Location of Villa Avatar
Villa Avatar is situated right in the center of Seminyak. This private villa is separated by 20 minutes of driving, definitely not a long ride. Hidden well in a quiet and peaceful alley will not make everything becoming hard for you to have that long list of entertainment in Seminyak.
It takes around five minutes' walk for you to reach the main road. Here is where a diverse list of foods provided by different restaurants will appease your appetite, starting from the many Italian cuisines to the authentically unique Japanese to the very trademark of Indonesia. Shopping is also another great choice with so many fashion, jewelry, and décor shops. The beach and the island's famous sunset will be the next things that will be easy to get to from Villa Avatar. 
If you are looking for more challenging beaches, Seminyak is also within close distance of Canggu, which has beaches dedicated more to professional surfers. Heading to the southwest part of Bali, do not miss the fabulous 18-hole golf course in Nirwana Pan Pacific. Here lies the stunning temple on the rock right in the midst of the sea, Bali's Tanah Lot Temple. Every day at sunset, the Kecak Ramayana dance is performed here.
BALI VILLAS CLOUD
Family Holiday Seminyak 3-bedroom Close to the Beach Resort Town