Villa Awang Jimbaran Hill Bali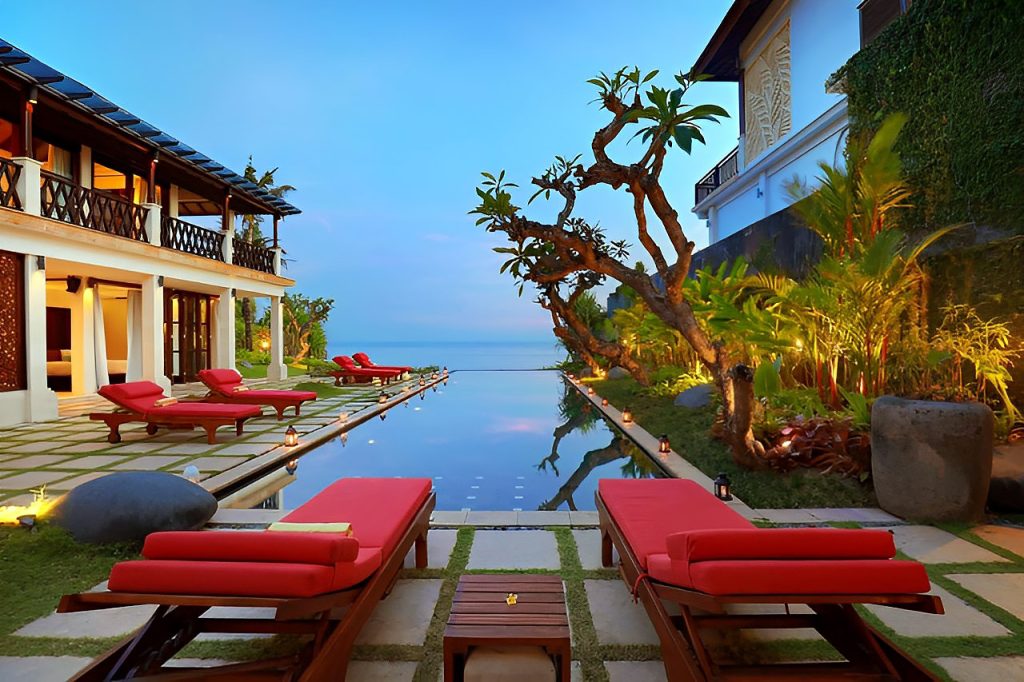 Set high on the cliffs of Bali's southernmost Bukit peninsula, resides the uniquely stunning private residence of Villa Awang. Offering stunning views of the Indian Ocean from its living areas and four expansive bedrooms, Villa Awang is a vacation property full of charm and grace that provides guests with the exclusivity they desire without being far from some of Bali's most famous attractions. Within the confines of this luxurious getaway, every creature comfort has been catered to while ensuring the highest quality staff and service so that your stay is not only memorable, it's simply unforgettable.
Accommodation at Villa Awang
Bedrooms
Villa Awang offers guests the choice of four ultra-luxurious bedrooms, each one fully air-conditioned and equipped with LCD TVs connected to international satellite TV channels and high-speed Wi-fi internet access.
The master bedroom is exquisite with an extra-large king-sized four poster bed draped in snowy white netting, dark, rich hardwood floors and a gorgeous terrace offering stunning views of the ocean and gardens. It has a soaring alang-alang thatched roof and a delightful writing desk made of solid teakwood. Floor to ceiling wood-framed glass doors slide open to allow cool sea breezes inside and even while closed invite the sun's gentle rays to the interior lighting the space naturally and granting a soft ambience that permeates the room. The master bedroom's en-suite bathroom includes dual washbasins, a large vanity mirror, and the choice of a rain shower or bathtub for when you want a long, relaxing soak to melt all of your cares away.
The second bedroom also includes a king-sized bed; however, it sits atop a beautiful dark-stained wooden foundation that matches the elegant hardwood floors of the bedroom. This room is illuminated by soft, recessed lighting and has floor to ceiling windows and sliding glass doors providing incredible garden and ocean views. A charming wardrobe and dressing area sits behind the bed and if you continue further in this direction, you will enter the unique en-suite bathroom, complete with awe-inspiring views of the garden and sea. This en-suite bathroom comes equipped with a washbasin, vanity mirror, and two delectable rain showers.
Bedroom three is slightly smaller than the other two but no less luxurious. It includes a queen-sized bed with elegant furnishings and views of the garden and pool. It also has smooth hardwood floors and an en-suite bathroom featuring a washbasin, vanity mirror, two rain showers and its own bathtub.
The fourth bedroom is perfect for children or visitors offering a twin-sized bed with views of the garden through its sliding glass doors. The en-suite bathroom has a washbasin, vanity mirror and rain shower.
Living Areas
Villa Awang is equipped with an expansive living and dining pavilion that's fully air-conditioned and features a towering, traditional alang-alang thatched roof. The living area is comfortably furnished with plush white and gray couches adorned with gold, purple and orange throw pillows and sitting atop a cool, gray stone floor. The couches surround smooth, expertly crafted teak wood end tables making this a great place to hang out and chat with friends and family over a few drinks.
In the same pavilion and adjacent to the living area, you'll find an exquisite dining table made of solid honey-stained teak wood with padded wooden chairs to accommodate up to 8 guests. Residents of Villa Awang are treated like royalty here while they dine on the succulent creations of the villa's private chef.
A veritable master of the culinary arts, Villa Awang's chef possesses a repertoire of recipes ranging the gamut from Eastern delicacies to Western delights. Whether you'd like to try a mouthwatering local dish like ikan bakar (grilled fish) or stick to the tried and true Western-style steak the options are open to you. Additionally, if you happen to have a special dietary request, simply inform the chef in advance so that he may accomplish any shopping that may be necessary and he'll be happy to oblige.
Of course, if you have a passion for cooking yourself and you'd like to whip up something delicious for yourself and your loved ones, just make use of the villa's fully equipped and contemporary-styled kitchen featuring a full-sized refrigerator with a water and ice dispenser, a granite-topped island perfect for chopping and mixing and even an oven, microwave and coffee maker.
After indulging your taste buds with the tantalizing flavors of Bali, why not indulge your senses with one of your favorite films in Villa Awang's media room? Furnished with soft, cushioned couches that you can stretch out on and relax while you watch a movie on the big screen LCD TV and connected DVD player, any time spent here is sure to be enjoyable. If you'd rather just zone out and watch some TV, this room is also connected to satellite channels.
Garden and Swimming Pool
The real central feature of Villa Awang is the 75 meter2 swimming pool with an infinity edge at one end that seems to empty its bright blue waters into the horizon. If you ever feel the need to cool off during the day or go for a refreshing dip at night, the villa's pool is always inviting guests to play. The pool is bordered by a deck of white, square stones separated by soft, green garden grass which is furnished with sun loungers for you to recline poolside with a delicious, cold beverage under the shade of an umbrella or even just work on your tan if you so choose. This main swimming pool even has a Jacuzzi where guests can relax among the bubbling waters and enjoy the evening atmosphere.
On a level below the main pool, set within the gardens, is a smaller children's swimming pool built in a funky shape and overlooking the ocean. Directly next to this pool is a traditional Balinese bungalow furnished with a large red daybed where parents can leisurely keep an eye on their children at play or other guests can curl up with a good book, encompassed by a beautiful view and the sweet scent of the ocean.
Location of Villa Awang
Villa Awang is on the Jimbaran Hill which is locally also known as The Bukit, which is the southernmost part of Bali. This enviable location affords stunning views of the Indian Ocean, access to pristine white sand beaches, and a level of exclusivity and privacy that is unmatched while still remaining only a short distance from some of Bali's most fascinating entertainment and cultural activities.
This area is home to the world-class New Kuta Golf Course, where golfers can play 18 holes of their favorite sport in a setting that is so beautiful it will take your breath away. Views of the ocean that stretch to the horizon, rocky cliffs that hold the ocean back, and rolling fields of green are the backdrop for this true golfer's paradise.
Only about 10 minutes away by car is one of Bali's most famous and sacred temples, the sprawling compound at Uluwatu. Set directly at the edge of dramatic, craggy cliffs high above the ocean, this fantastic example of Balinese architecture exudes an aura of mysticism and spirituality. Bring the whole family here to witness the playful monkeys that run around the temple grounds, and don't forget to buy some bananas from a local fruit seller to feed them.For a fantastic night out, head to Jimbaran Bay, where you'll find a variety of local warungs (cafés) serving up the catch of the day, brought in by local fisherman, to eager patrons directly on the beach.
Imagine an evening spent watching the sun slowly recede beneath the placid, shimmering blue waters of Jimbaran while you sift soft, white sand between your toes and feast on fresh lobster paired with an ice-cold beer. After sunset, the atmosphere here is truly magical as each warung's attendants light small candles for each table and local musicians appear to play songs for the guests.
Bali Villas Cloud
Family Luxury Jimbaran Hill Bali 4-bedroom Hillside Ocean View