Villa Babar Tabanan Bali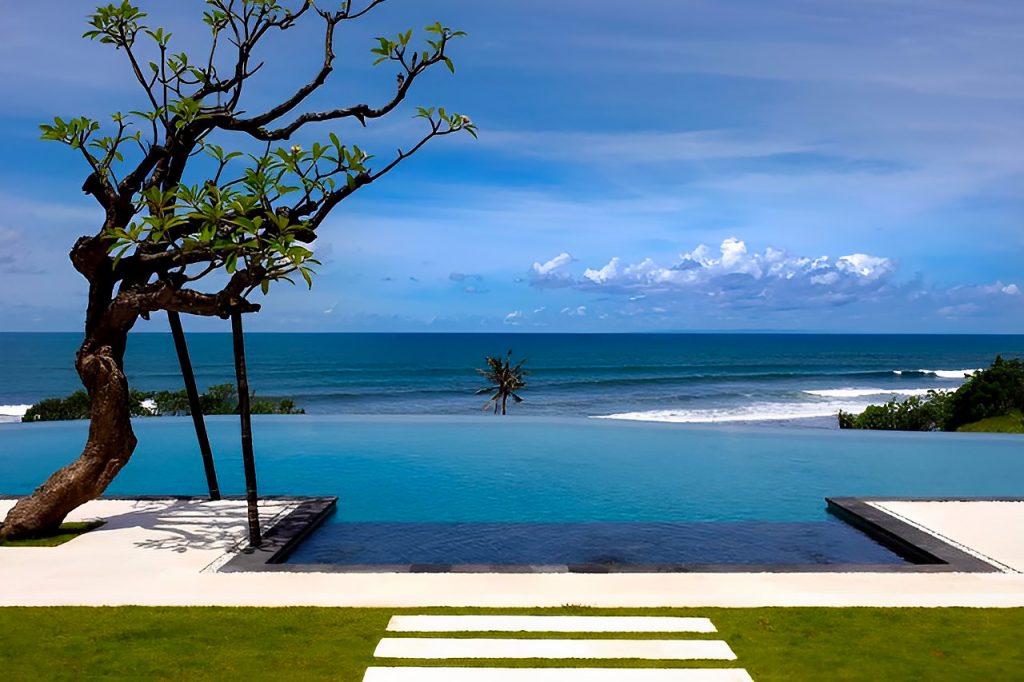 Villa Babar is an oasis of peace that is far from the noisy tourist crowds of Kuta, Legian, and Seminyak. It is a very quiet and peaceful place. This magnificent six-bedroom home is a mix of minimalist design, traditional Indonesian rustic style, and large open spaces that make for a very relaxing atmosphere. 
Rolling emerald gardens stretch all the way to the beach where the strikingly blue waters of the Indian Ocean begin and carry your gaze towards the horizon.
Flowing green rice fields extend from the villa's doorstep as far as the eye can see, providing a calm, natural ambience making Villa Babar the perfect getaway for family and friends seeking a holiday of deep rejuvenation.
Accommodation at Villa Babar
Bedrooms
Villa Babar consists of 6 supremely comfortable bedrooms each one with an en-suite bathroom, iPod dock, high-speed Wi-fi internet access, and a safety deposit box for any special items you'd like to keep secure. All of the bedrooms are fully air-conditioned and offer guests stunning views of the ocean, gardens and surrounding rice fields.
The master bedroom is known as Babar, which features large, sliding glass doors in a whitewashed wood frame that can be propped open to fill the room with gentle, sweet smelling breezes from the sea. The room's pure white theme is accentuated by the abundance of natural sunlight that fills the space each day and the sandy wood foundation the king-sized bed rests upon. A beautiful writing desk sits under an oversized window looking out to swaying rice fields and, in the distance, the regal Mount Batukau.
The en-suite bathroom is set within a walled garden dotted with tropical flora and offers 180-degree views of the surrounding rice fields through stretched windows. The master bathroom includes dual washbasins, a large vanity mirror, and two relaxing, high-pressure rain showers.
The Asmat bedroom features a king-sized bed and sliding glass doors that offer spectacular views of the garden and ocean. The garden here is decorated with unique stone statues from Sumba while the room itself has a wall adorned with a brightly colored painting and gorgeous chocolate wood lamps.
Its en-suite bathroom includes dual washbasins, a framed and intricately carved vanity mirror, a rain shower and a terrazzo bathtub able to accommodate two people.
The Toraja and Dayak bedrooms are both located on the upper floor. Both bedrooms offer fabulous ocean views while facing towards the sea and have towering ceilings that allow each space to truly breathe. Both rooms feature fascinating works of art from the regions that bear their names like wooden effigies from the mountainous Toraja region of Sulawesi and beautifully carved statues by the Dayak people of the highlands of Kalimantan.
The Toraja bedroom offers one soft king-sized bed with white cotton sheets while the Dayak bedroom, being larger and for families, offers two king-sized beds.
The en-suite bathrooms are both open-air for a unique bathing experience under the sun or stars and feature captivating views of the surrounding rice fields while ensuring complete privacy. Each bathroom has dual washbasins, a large vanity mirror, a rain shower and cream terrazzo bathtubs for a long, hot soak to soothe any sore muscles.
The last two bedrooms at Villa Babar, Agung and Ganesha bedrooms, are identical, both furnished with two twin beds. From these two spacious and airy bedrooms, guests can view a seemingly never-ending expanse of rice fields and, on clear days, the volcanic peaks of the island of Bali.
Each en-suite bathroom has dual washbasins, a vanity mirror and an open-air rain shower.
Living Areas
In the center of the villa, you will find the social hub of the property, the exquisitely designed living room. Open on two sides with a soaring roof and a staircase that leads to a second floor viewing area, the living room is cooled by soft sea breezes and offers spectacular views of the ocean, rice fields and gardens.
Ultra-modern in design, it is furnished with large plush white couches placed around antique, expertly carved coffee tables imported from Timor giving a traditional flair to the space. To one side, the villa's infinity swimming pool adds to the tranquil atmosphere which is watched over by a large stone Buddha statue.
This is a fantastic meeting point for friends and family to share an evening together chatting and swapping stories of your adventures around the "Island of the Gods."
Villa Babar's dining space is also expansive and open with enormous glass doors offering stunning views of the gardens, pool and ocean providing a comforting and serene ambience to any meal. A huge, solid teakwood table sits in the center where guests will enjoy first-class meals and service from the villa's private chef.
Highly skilled in the preparation of a variety of cuisines, the chef at Villa Babar can whip up succulent and tasty treats to tantalize even the most discriminating of taste buds. Try some delicious local dishes like ikan bakar (grilled fish) brought in fresh daily by fishermen in Jimbaran or opt for a juicy Western-style steak. The choice is yours.
If you have a special dietary need, simply inform the chef with enough time to accomplish any shopping that may be necessary and he'll be happy to accommodate you.
After your meal, you can go to the villa's media room or lounge for some good entertainment. The lounge is very pretty and has a lot of interesting things from all over Indonesia as decorations. It features an enormous plush couch adorned with throw pillows sitting around a white stone coffee table. Matching oversized ottomans complete the arrangement.
This room has a high-end surround sound stereo system where you can easily hear all of the subtleties of your favorite music and a gorgeous, white, regulation-size billiards table to challenge friends or family to an enjoyable game of skill.
The media room has a home theater with a big LCD TV that is hooked up to a DVD player and satellite TV. Choose a good movie from the villa's personal DVD collection and relax on the comfy couches to watch it. There is also a selection of books to choose from, should that strike your fancy.
Garden and Swimming Pool
Villa Babar also includes a massive 27-meter infinity-edge swimming pool set amongst magnificent tropical gardens. Its crystal blue waters beckon guests for a luxurious dip both day and night, and with an elegant stone deck bordering the pool, you can alternatively recline in one of the sun loungers and work on your tan or just rest under the shade of an umbrella and sip a delicious, cold beverage.
Location of Villa Babar
Villa Babar is on the southwest coast of Bali, on a beautiful private beach. It gives guests the most privacy and exclusivity possible in a peaceful, rural setting. Surrounded by nothing but rice fields and charming, traditional Balinese villages, the area exudes the aura of a place "away from it all" that time has forgotten. Although far away from the hectic traffic patterns and noise of the crowded tourist hub of Kuta, Villa Babar remains only a short distance from some of Bali's most well-known entertainment and tourist attractions.
Spend a day hitting the links at one of the best golf courses in all of Asia, the Nirwana Bali Golf Course. The entire course was designed by golfing legend Greg Norman with the enhancement of the area's natural beauty in mind and is bordered by the flowing rice fields of Canggu on one side and the dramatic cliffs of the Indian Ocean on the other. For 18 holes of sporting bliss, no other course comes close.
The revered sea temple at Tanah Lot is one of the holiest temples in Bali and is waiting for your visit. This ancient place of worship is still in use by local Balinese today and sits atop a rocky outcropping in the Indian Ocean. It is said to be guarded by a holy snake, and visitors to the temple can even sample the holy water that pours from its rocky base.
When you see this beautiful place for the first time, you will be amazed and awed by the mysterious energy that surrounds the temple. The sunset views here are unmatched anywhere else in the world, so it's best to get there just before dusk for a mind-blowing experience you'll never forget. A stay at Villa Babar will definitely make your holiday a truly memorable one.
BALI VILLAS CLOUD
Family Luxury Tabanan Bali 6-bedroom Beachfront Traditional Village