Villa Bebek Seminyak Bali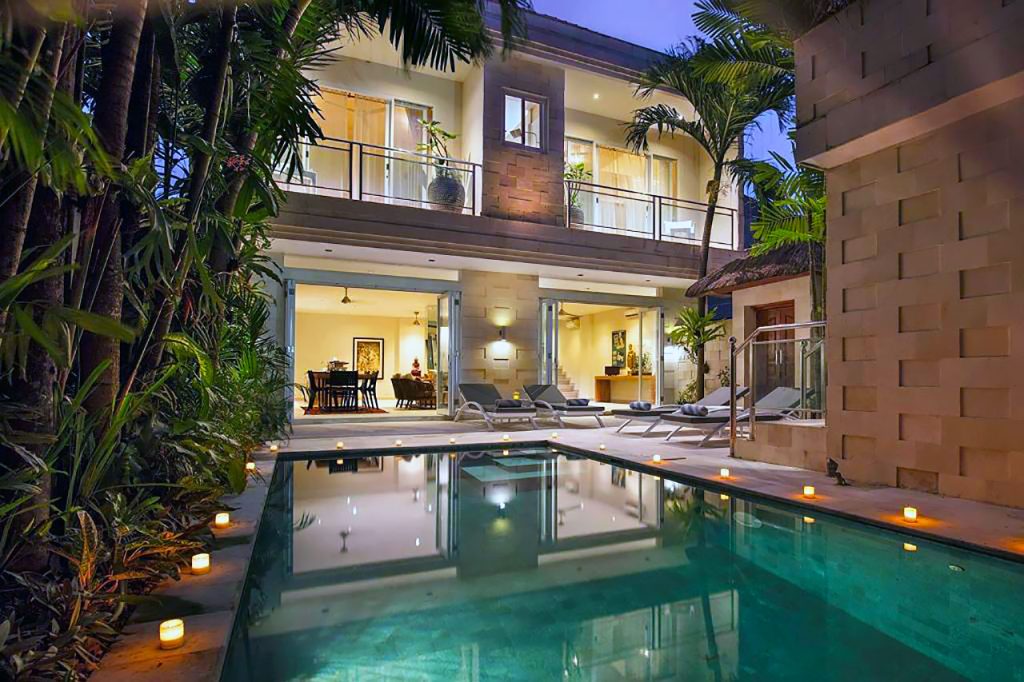 Villa Bebek, a three-bedroom private house in Seminyak, is a dedicated property for six people. It is a simple yet comfortable home, suitable for those looking for a less expensive holiday getaway. The architecture of Villa Bebek was made so that all of its guests can have the most comfort and a great luxury experience without having to spend a lot of money. Another reason to stay at Villa Bebek is its convenient location. It is right in the middle of this famous district, where almost everything can be reached on foot. Despite its strategic location, being tucked safely in a peaceful alley guarantees peaceful living.
Upon entering the main double door gate, a paved yard all the way into the main two-story house will welcome you. Folding glass doors distinguished and protected the outdoor and indoor living areas. Indoors, the lounge, dining area, and attached modern kitchen are all heated and cooled by air conditioners and ceiling fans. It clearly speaks of the central social site in Villa Bebek. Stairs from the living area into the second level show you the way into the three sleeping quarters of this charming Seminyak villa. All bedrooms in Villa Bebek are air-conditioned and complemented by a private en-suite. The bedrooms are definitely large enough to comfortably accommodate two people. 
ACCOMMODATION AT VILLA BEBEK
BEDROOMS & BATHROOMS
Villa Bebek has three sleeping quarters on the first floor and one upstairs in the living room. The three of them are conveniently comforted by air conditioning and a private bathroom. Two of the three bedrooms are exactly the same, as they both have king-size beds to meet your comfort needs. Wardrobes and safety boxes provided storage space for holiday belongings. The attached en-suite has a toilet, washbasin, and rain shower that can be used with either hot or cold water. One of these two bedrooms is bordered by a private balcony. 
The last bedroom in Villa Bebek can be considered the master bedroom. This marble-floored quarter has a king-size bed flanked by a pair of nightstands with lamps. Soothing light and a tranquil effect are definitely two of the best aspects you can get from this setting. A door on one side of the room leads to the master en-suite, where the jetted tub awaits your exhausted body after a day of exploring the district. 
All of the rooms at Bebek have a satellite TV and DVD player for entertainment, which is also a great way to pass the time when done alone. 
LIVING AREAS
This air-conditioned living room with ceiling fans functions as a flexible social center area that can be closed or semi-open. A comfortable rattan sofa, chairs, and table adorned one side of the room, making it the best place for your gathering with friends and family. And then, separated by a single mirror pillar, is a simple dining table for six people tucked sweetly in one corner. It is purposefully designed so that you and the group can enjoy their meals together at any time, reacquaint themselves, and sample various Balinese or Indonesian flavors.
A culinary act by a professional cook is an easy task with prior arrangement. The attached modern kitchen is definitely able to assist him in preparing any dish you want to have for lunch or dinner. 
POOL & GARDEN 
Villa Bebek is not a ridiculously large and extremely spacious property. It is small yet comfortable. It has, in a very smart way, manipulated the lawn area into one great outdoor living area where all can have their fun. A private swimming pool runs along one side of the wall, surrounded by palm trees. One perfect privacy definition you will have as no-share-with-strangers experiences is pristine, clear blue water. The paved lawn left room for some green bushes to brighten the mood, and sun loungers and pool towels were set up neatly so you could sunbathe privately. A gazebo with chairs and a table can be found on one of the elevated towers, which is, of course, accessible from the lawn area.
LOCATION OF VILLA BEBEK
Villa Bebek is situated in the heart of Seminyak. It is easily reachable after a 20-minute drive from Ngurah Rai International Airport. The villa is tucked away in a quiet alley, making it possible to have a peaceful living environment throughout your stay in Bali. The place was also chosen carefully so that everything in the area can be reached on foot. It will take around 5 minutes for you to finally meet the main road in Seminyak.
You have a plethora of food and retail options at your disposal. Try the closest one in Ultimo or Trattoria, while if you trace the road further, tastes of Asia like those in Kaizan or Indonesian Warung can be easily found. Shops show off the unique designs of designer clothes and shoes, as well as jewelry and other high-end home goods. The beach is another place you should go. Its gentle waves and stretch of golden sand tempt you to have a nice dinner at the beachfront restaurant or just simply enjoy the moment where the sun sinks into the horizon.
BALI VILLAS CLOUD
Family Holiday Seminyak 3-bedroom Close to the Beach Resort Town