Villa Bibi Seminyak Bali
Villa Bibi is a homey-looking private property in Seminyak. It presents five private bedrooms, which make a great retreat for ten people. The atmosphere successfully built a homey feeling. The villa is in a good spot on Jalan Mertanadi in Seminyak, close to a lot of cafes, restaurants, shopping areas, and other fun places.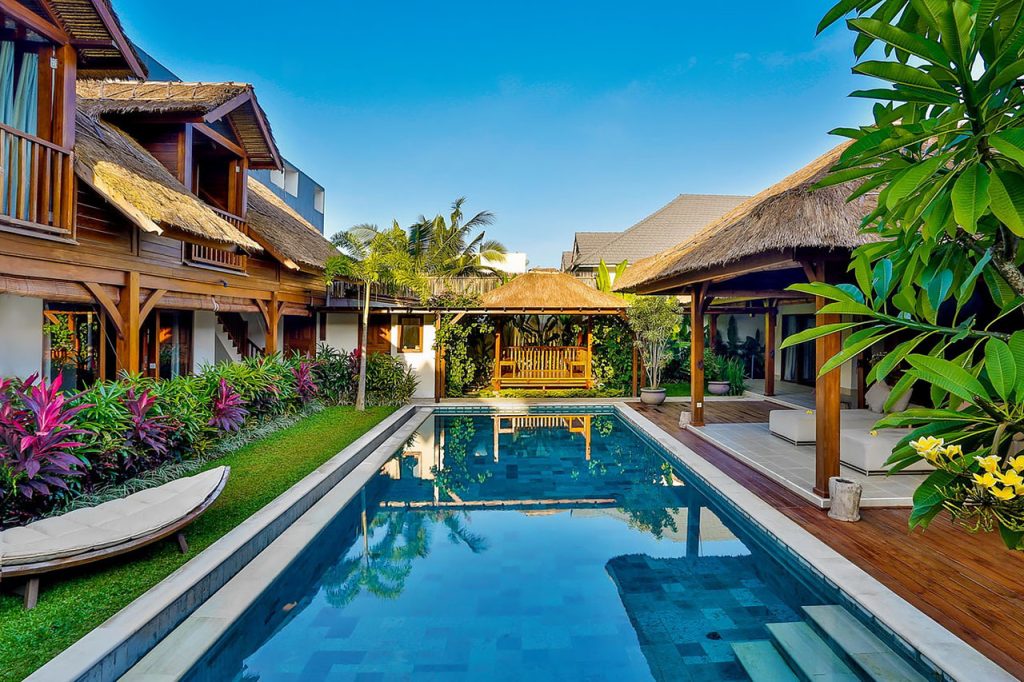 ACCOMMODATION AT VILLA BIBI
LIVING AREA
Living with Villa Bibi is an open affair. It has direct access to the pool and garden, providing direct sunlight and a refreshing natural breeze to the area. Comfortable sofas and a dining table are located in the center of the living area.
When exploring the living in Villa Bibi further, you will notice one simple yet elegant dining table. Dining in Bibi, which features an elegant shade of black, can easily accommodate ten people for their meals together. On the other hand, the attached kitchen displays a full range of cooking facilities, allowing you to easily transform your step into a culinary center and prepare your best. If you want something more diverse and unique, such as a dish from Bali or elsewhere in Indonesia, a professional cook can easily be arranged.
BEDROOMS
If we're talking about the bedrooms in Villa Bibi here, all of them are definitely air-conditioned quarters. Let's start with the two bedrooms in the main house that flank the living room. Each of these bedrooms has a verandah area with a nice seating setting. They were easily mistaken for mirror images, as they are identical to each other. The two bedrooms have a covered timber floor and a queen-size bed, providing comfortable space for two people. The next installment will include a dressing desk and built-in wardrobe, as well as the adjoining private bathroom. A garden setting or semi-alfresco bathing experience is the theme carried by each of them. It has a terrazzo bathtub and shower, including a terrazzo washbasin, to ensure body rejuvenation and bathing luxury.
Three additional bedrooms are located in a separate house across the living pavilion from Villa Bibi. Two bedrooms downstairs also involve the mirror concept; they both have queen-size beds on well-polished timber floors. A mirror is attached to the wall to ensure the perfect appearance, and each bedroom has a wardrobe so you won't be confused about where to keep all your holiday belongings during your stay. A private bathroom trailed behind it, featuring a black theme for the shower behind a frosted partition offering cold and hot water to soothe your body. Washbasins and toilets also make themselves available.
The last bedroom is the attic room. This bedroom has small lounge you can relax and watch satellite channels displayed on large LED display without you have to go downstairs and venture far to the living. The air-conditioned bedroom is also furnished queen size bed it's displaying comfortable space for two people. Attached bathroom is conveniently shaped itself with shower, toilet and washbasin.
SWIMMING POOL & GARDEN
The most obvious thing that makes Villa Bibi a comfortable tropical home is that it is in a tropical setting. The carefully selected foliage, such as banana leaves, swaying palms, and many varieties of tropical flowers, in such a careful arrangement, have successfully created a soothing and calming atmosphere. And then set right in the middle of the lawn will be the private swimming pool with its tempting, pristine blue water. It is accessible directly from the living room, so you can fully enjoy this without having to share with strangers. The timber deck under the pergola has been furnished with beanbags definitely a place to stretch your body and relax with an afternoon cocktail. While exploring the villa Bibi's outdoor environment, you can easily spot a pair of garden bales on either side of the pool. You can spend time here just chatting as the sun sets over the horizon, or you can lay down with books while the attached small LCD TV displays your favorite music clip.
LOCATION OF VILLA BIBI
Villa Bibi is located at Jalan Mertanadi. It is around 25 minutes' drive from Ngurah Rai International Airport. The villa was strategically tucked in a peaceful alley, far from the bustling crowd and the noise of the main road. This is simply a perfect tropical retreat for a group of ten people. The location, however, will not in any way complicate your access to the center. It is an easy stroll of around 15 minutes for you to reach Sunset Point at Sunset Road. The only thing left to do now is cross the road, and you'll find yourself in the heart of Seminyak. Grocery shopping or fast-serving snacks and meals can be found in Sunset Point, but if you want something more, definitely go across the road.
It is easy to find a cluster of restaurants serving a wide range of dishes ranging from European to the distinctive Balinese and Indonesian cuisines in general, not to mention the diverse range of fashion boutiques displaying the latest or most unique designs for clothes, bags, and shoes. Pamper your body at the many spa and house massages in Seminyak, which present numerous options for indulgence, from Balinese massage to Thai to shiatsu. And finally prepare your energy for a fitful night at many nightclubs and bars around the town at nights.
BALI VILLAS CLOUD
Family Holiday Seminyak 5-bedroom Close to the Beach Resort Town