Villa Champuhan Tabanan Bali
Villa Champuhan is a very modern home in a very peaceful part of Bali. It has beautiful views of the gently flowing Yeh Penet River, beautiful outdoor spaces for relaxing, and 4 beautiful bedrooms with all the amenities of modern life. Its rural location is a picture of peace, where visitors can forget about the stresses of everyday life and relax in a quiet place.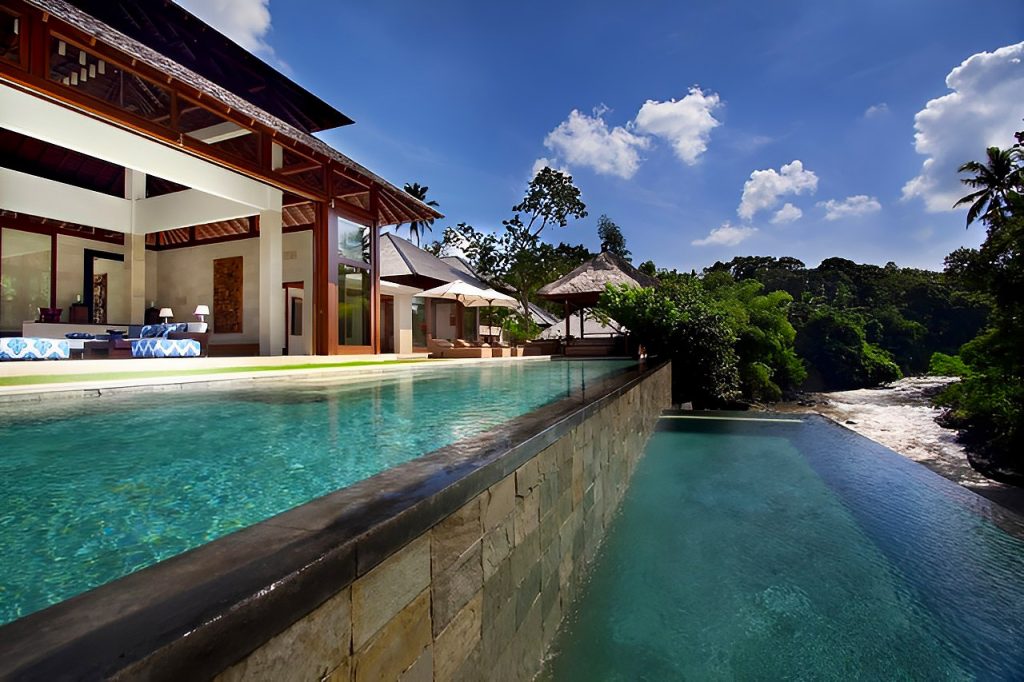 Accommodation at Villa Champuhan
Bedrooms
The four bedrooms in Villa Champuhan are all very elegant. There are two master bedrooms, a guest bedroom, and a fun, lively room that is perfect for kids. Each bedroom is fully air-conditioned and comes with high-speed Wi-Fi internet access, safe deposit boxes for your special valuables, and en-suite bathrooms.
The main master bedroom offers awe-inspiring river views and is furnished with lovely hand-carved nightstands and a huge four-poster bed draped in snowy white netting. The dark, rich hardwood floors match beautifully with the soaring roof, while a large LCD TV with satellite service and a DVD player sit atop a small, contemporary entertainment center.
This room's en-suite bathroom is nothing short of a fantastic example of modern tropical architectural design with a terrazzo bathtub adjacent to floor-to-ceiling glass walls looking out to the river, dual washbasins, a vanity mirror, an indoor rain shower, and a dazzling outdoor rain shower situated on its own entirely private deck for a unique experience of bathing under the stars.
Again, the second master bedroom is a well-designed space that makes you feel like you're in paradise. Featuring a king-sized bed decorated with dark blue, patterned throw pillows that add an attractive contrast to the soft white cotton sheets, guests staying here will enjoy stunning views of the villa's gardens, swimming pool, and surrounding forest. This room is softly lit by lights hidden among the rafters of its towering wooden roof and also includes its own LCD TV with satellite service and a DVD player.
A personal terrace overlooking the garden sits directly in front of the bed, providing a pleasant space to relax in a chair or on a cushioned daybed and sip tea or coffee while listening to the soothing sounds of the river and wildlife. Its en suite bathroom is completely open-air and has a rain shower, two washbasins, and a luxurious stone bathtub set in a pond. Here, you can bathe in complete privacy surrounded by sweet-scented tropical flora.
The bedroom for guests at Villa Champuhan has a very stylish king-sized bed and simple furniture like a writing desk and nightstands. Fashionable and contemporary aluminum lamps sit beside the bed. This room offers lovely garden views and an en-suite bathroom that is completely open-air with a bathtub, washbasin, vanity mirror, and outdoor rain shower for an al fresco bathing experience.
The kids' bedroom is truly fun without sacrificing any of the charm of the villa. It has whitewashed wood bunk beds that can fit up to four kids, as well as a matching bedside table with a sturdy but stylish lamp. The bathroom in this room is also open-air and dotted with local tropical plants. It includes a bathtub, washbasin, vanity mirror, and rain shower.
Living Areas
The large living room of Villa Champuhan is the villa's social center. It has big, comfortable couches where friends and family can hang out and talk. Here, you can plan the day's activities or talk about your travels around Bali while enjoying a beautiful view of the villa's swimming pool and gardens. 
Looking out towards the garden and pool, you will also find the dining room, which features an elegantly carved solid wood table, beige stone walls, and minimalist tropical decorations. The dining table can comfortably seat eight adults, where they will enjoy a succulent feast delicately prepared by Villa Champuhan's private chef.
Our chef has been trained to give our guests the best in quality, service, and variety. Because of this, he can please even the most picky eaters. Whether you fancy a juicy Western steak or you'd like to try some local favorites like ikan bakar (grilled fish), you're in for a real treat. There is a menu, but if you have special dietary needs, just let the chef know in time for him to do any shopping that may be needed, and he will be happy to accommodate you.
For a more interesting spot to share a meal, try the dining bale near the river. Your only company here will be uninterrupted forest and river views and a few close friends or family members. A honey-colored teakwood table in the center is surrounded by white cushioned chairs, making it easy to dine. This spot is excellent for a light breakfast or casual lunch.
The family room or media room of the villa is a great place to relax and feel at ease. With beautiful sandstone walls, a soaring roof, and a huge plasma TV with satellite channels and a DVD player, put your feet up on the teakwood coffee table while you sink into the soft vanilla cushions of the sofa and gear up to watch a great film. Oversized beanbag chairs are also provided for an extra level of relaxation.
More than just a repository of information, Villa Champuhan has an elegant library where there is quiet space perfect for curling up with a good book on the sofa in air-conditioned comfort. Full of fascinating artifacts from around Indonesia, it provides a wide variety of books to choose from in case you haven't brought your own.
Garden and Swimming Pool
If you want to read a best-selling book from our library but don't want to do it inside, you can go outside and lie down under the river gazebo, where the sounds of the river and the nearby forest will help you relax. Featuring not only a beautiful view but a traditional alang-alang thatched roof and comfortable daybed, your cares will melt away while you relax here, even if it's raining.
If you ever feel the need to cool off during the day, why not go for a refreshing dip in one of Villa Champuhan's two infinity swimming pools? Set directly above the river, these pools are large enough for a few laps or just a relaxing wade accompanied by the rushing sounds of the water down below. The pools are bordered by soft sun loungers where you can spend a day working on your tan or just rest under the shade of an umbrella with a cold beverage.
Location of Villa Champuhan
This area is known for its peaceful, natural setting, emerald rice fields, and colorful culture. It is in Bali's Tabanan Regency, which is very clean. A holiday here is a truly unique one, offering a respite from the everyday world while still being only a short drive to some of Bali's best activities and attractions.
Tee off at the Greg Norman-designed Nirwana Bali Golf Course, also located in Tabanan and only a short drive away from Villa Champuhan. As a little slice of golfing heaven, this course is consistently voted one of the best in all of Asia, and with a backdrop like the dramatic seaside cliffs overlooking the Indian Ocean and the rolling rice fields of nearby Canggu, it's easy to see why.
The venerated sea temple at Tanah Lot is waiting for your pilgrimage. This fantastic construction is centuries old and still in use by local Balinese today. Built on a rocky outcropping in the Indian Ocean, it has views of the sunset that are out of this world and a very peaceful atmosphere. Said to be guarded by a holy snake that visitors can view, you can also sample the drinkable holy water that pours from its rocky base. 
Bali Villas Cloud
Family Luxury Tabanan Bali 4-bedroom Riverside Traditional Village Countryside