Villa Dewata I Seminyak Bali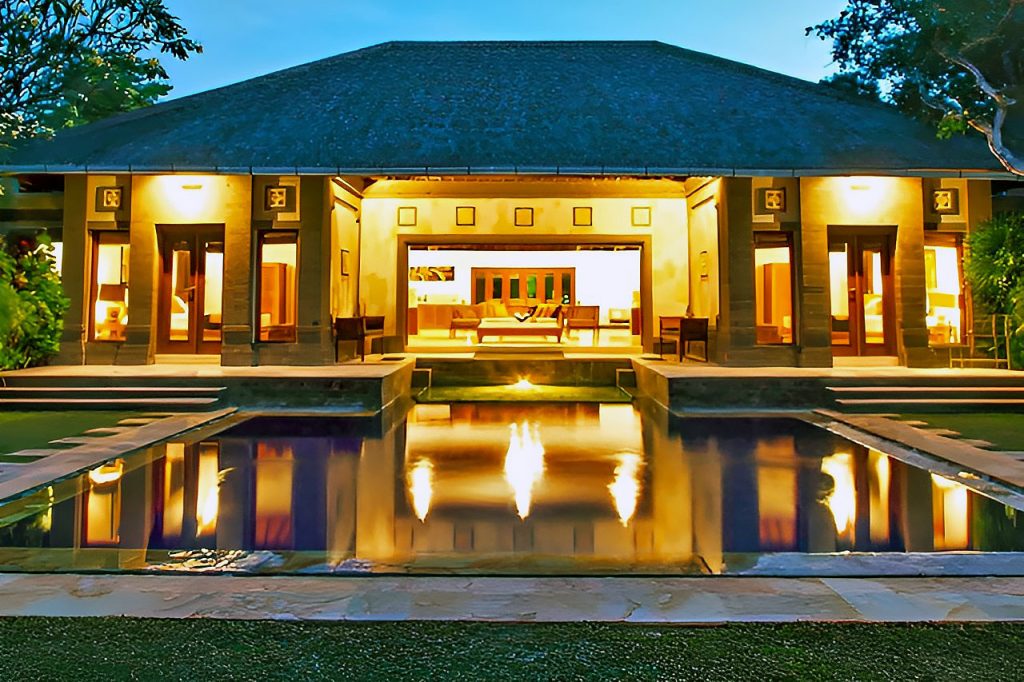 Villa Dewata I is a four-bedroom villa located on Jalan Raya Basangkasa-Seminyak. Hidden well in a peaceful alley, it automatically provides the dual benefit of being in a quiet place while still being easily accessible to anywhere in town. Villa Dewata I is a quiet, sweet surprise in Seminyak, presenting the perfect blend of modern and thick Balinese architecture, which has been a rare occurrence recently. 
This four-bedroom villa was purposely built as comfortable accommodation for eight people. It wishes to offer you the ultimate in privacy wrapped in luxury and warm-friendly service from its staff.
When you walk into Villa Dewata I for the first time, you will see an "aling aling" with a Balinese goddess carved on it as soon as you open the traditional Balinese double door. Stepping stones lead you right into this one-story house with an attached pool. Right in the middle is where the high-ceiling living area in Villa Dewata I is situated. Together they formed the front lounge, dining room, and small kitchen while being bordered by a small little garden at the very back of the living room.
 There is also an air-conditioned TV room that can be reached from the dining area. The four air-conditioned bedrooms on either side of the living room are another nice thing about Villa Dewata I. 
Accommodation of Villa Dewata I
Living Area
The marble-floored living room with a high ceiling is bordered by folding glass doors as it has direct access to the shallow part of the pool. Families with children can increase their safety by closing all the doors and blocking the only way for their children to run right into the pool. Inside the living room, a comfortably large sofa as well as a daybed and table suit the main social event to take place.
Following that, a fine dining table for eight people displays a location where the entire group can enjoy their meals together.
An elegant office desk and chair will be tucked in a corner near the TV room, dedicated to catching up on work you left behind at home for a few minutes or an hour. From the dining room, it's easy to see that a simple kitchen has enough cooking tools for the cook to make different dishes or for you to make simple home-cooked meals.
TV Room
Air conditioned TV room is a comfortable room with a furnished sofa and table with one shelf containing several books. You can relax and lay down then immerse yourself in the world of fiction.
Switch the entertainment onto the large LCD TV which has been installed in varied national and international programs. Meanwhile the DVD player as well as the audio system easily maneuvered the room as one of the mini home theaters in the villa.
Bedrooms
In order to accommodate eight people with the utmost feeling of comfort and privacy, Villa Dewata I prepared four private sleeping quarters each for two. They are divided into two masters and two guest bedrooms. The master bedrooms are the very mirror image of each other as it is set at the very edge of the building and it presents direct access to the garden. Featuring a king-size bed, it is flanked by a pair of bedside tables with lamps. 
A wardrobe and a daybed are also available here. One door inside each bedroom leads you into the attached en-suite ready to pamper its host. This bathroom features a gray terrazzo bathtub, wash basin on vanity and shower.
Two more guest bedrooms are also mimicking each other's appearance. Although they are both smaller than the master, the level of comfort and luxury contained is nothing to be doubted over. It has a king-size bed as well as a wardrobe where you can put all your holiday attires. Attached is a private bathroom coming next furnished with shower, toilet and washbasin.
Swimming Pool and Garden 
A T-shaped pool with its pristine blue water adorned the lawn area in Villa Dewata I. It attached right onto the house. The pool provided you a way to enjoy private luxury where you can swim, dive, splash and do any other pool enjoyment without a stranger disturbing you. Two garden gazebos situated across each other on the well-manicured lawn purposely set up to provide you the best resting and relaxing place. 
One place acts as your open-lounge with its sofa furniture, the opposite can be a reclining spot as it features some sun loungers. Close to the pool is one small timber deck where you can easily soak your body with the warming heat of the tropical sun in Bali on the beanbags.
Location of Villa Dewata I
Dewata Villas where Villa Dewata I located sits on Jalan Raya Basangkasa, Seminyak. Hidden in a peaceful alley it costs you less than 5 minutes' walk to reach the main road. Here you will find a long array of shops with varied options from designer boutiques, jewelries, flourish, furniture, and more. There are also several places to eat offering diverse dish varieties from international to authentic uniqueness of Balinese cuisine. 
Pamper your body and free your soul through spa and massage houses. It has Shiatsu, Ayurveda, Balinese up to Thai massage. What's more unquestionable about staying in Seminyak will be this southern district stretch of golden sand and exciting waves for beginner and professional surfers.
From Seminyak you can easily venture to other areas. A 25 minutes' drive will cost you from this district to Ngurah Rai International Airport. The villa also serves close encounters to Canggu. In around 20 minutes' drive you can have a more challenging beach intended for professional as well as calm and peaceful village atmosphere.
Head to the east, it serves you the wonders of the animal world as presented by Bali Zoo, Bali Marine & Safari Park, Bali Bird Park, Monkey Forest up to Taro Elephant Park.
BALI VILLAS CLOUD
Family Holiday Seminyak 4-bedroom Close to the Beach Resort Town