Villa Jazz I Seminyak Bali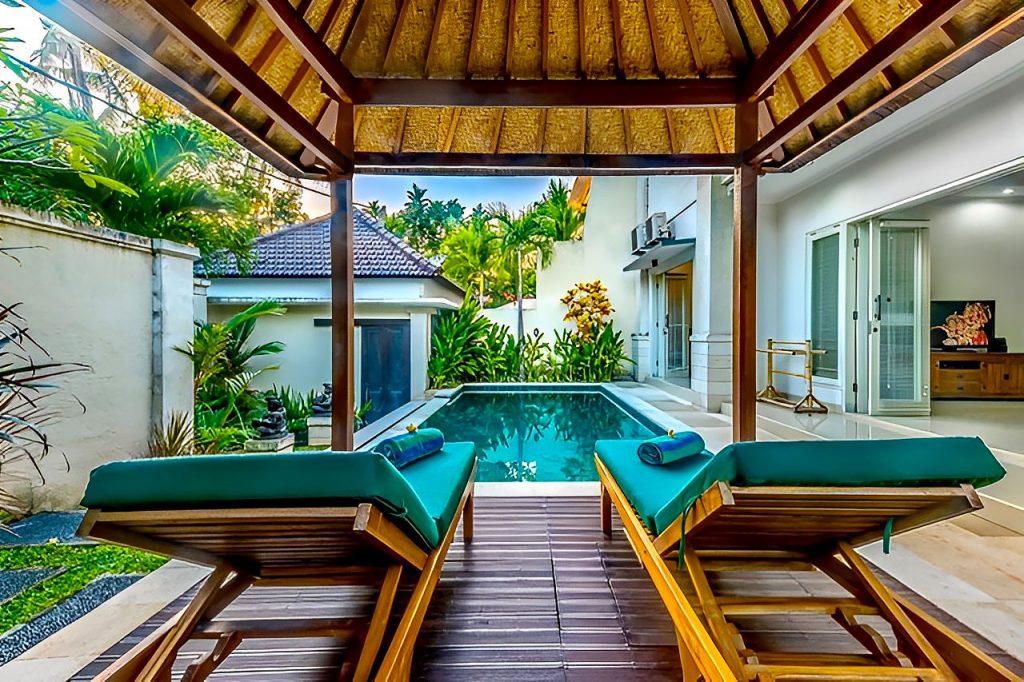 Villa Jazz I is a three-bedroom villa in Petitenget that presents a comfortable private home for six people. Villa Jazz I was a good place to stay that had both modern and colonial architecture. The staff was also friendly and professional. Situated in Petitenget, right in the center, has automatically given you another positive point for your stay here. Stuffed in a quiet alley while you can walk to the nearest attraction—even the beach—is an extremely pleasant experience to have.
When traveling in a large group of fourteen people, join the neighboring Jazz II to form a seven-bedroom villa for all people to live in merry comfort.
Villa Jazz I was shaped by a two-story house, with French doors as the main barrier separating you from the facilities stored inside. Entering the property, which is slightly elevated from the ground, stepping stairs will lead you onto the other side, where the main building is attached. Living is fueled by comfort; it provides comfortable seating for social functions.
Visible to our eyes will be a door on the left and the right, respectively, that leads to each private sleeping quarter in this villa. Stairs to the upstairs area from the living room are where you can find another lounge and entertainment set that can double as an office area. The master bedroom is also situated here.
Accommodation at Villa Jazz I
Living Areas
Living in Villa Jaz I is conveniently a convertible space. The living space, which is ventilated by a fan, can be opened to allow free natural elements to enter the room or completely closed. French doors make everything possible.
Comfortable sofas, chairs, and tables give way to a social spot where you and a group can get together on a nice afternoon teatime. A large LCD TV with satellite installed on a vanity welcomes you with quality entertainment, while the DVD player readily plays your favorite blockbuster movies. Still in the living room, a dining table is available for the whole group to enjoy meals together in the form of breakfast, lunch or dinner.
The attached kitchen presented full cooking equipment. It is easy for you to prepare homemade cooking or even invite the professional cook to simply offer you a distinctive Indonesian menu.
Upstairs living is delightfully a spacious room with a comfortable black sofa facing a large LED TV. This television is also an installed device of international and national programs as well as an integrated sound system and DVD player. At one corner, a handsome office table and chair act as another function of the room you can use to catch up with some work you left behind.
Attached shower room with toilet and washbasin makes everything possible to make it another social room welcoming your friends.
Bedrooms
Three air-conditioned bedrooms in Villa Jazz I divided the house into one master bedroom upstairs and two guest bedrooms downstairs. Guest bedrooms downstairs are almost the exact opposite of each other. Both have a king-size bed to accommodate two people. Wardrobe and mirror are definitely needed to ascertain someone's final appearance, while the bathroom followed behind ensures one's body rejuvenation. It was equipped with a shower and washbasin.
One guest bedroom has private access to its bathroom while the other one has its own separate door. The master, on the other hand, is located upstairs. It defines luxury with the king-size bed and black marble bathroom. Ready to pamper your body are the shower and washbasin, as well as the terrazzo bathtub.
Swimming Pool and Garden
Pool and living are separated only by a few steps. The pristine blue water contained within invites you to enjoy the private pleasure of having this pool exclusively for you and your group. One corner showed a garden shower, while the opposite side had a very comfortable rattan sofa and table showcasing a great place to have a relaxing afternoon cocktail.
Adorning this little haven are lines of tropical foliage to soothe the humid atmosphere and bring real tropical essence into the villa. Villa Jazz I is a small but very convenient place for six people to live.
Location of Villa Jazz I
Villa Jazz I is around 25 minutes' drive from Ngurah Rai International Airport. Situated within a peaceful living environment, Villa Jazz I conveniently set in a strategic location it is easy for you to reach almost everything within walking distance. In a few minutes, you'll see a stretch of golden sand known as Petitenget Beach. 
On special occasions you can see the Balinese Hindu festival at its Petitenget temple. Otherwise, the beach is also the place where you can find the famous La Luciola and more restaurants. The beach is also suitable for surfing and swimming. Hu'u Bar, Biku, Potato Head, W Spa, and many other boutiques followed, and they are ready to welcome you and entertain you.
BALI VILLAS CLOUD
Family Holiday Seminyak 3-bedroom Close to the Beach Resort Town