Villa Jazz II Seminyak Bali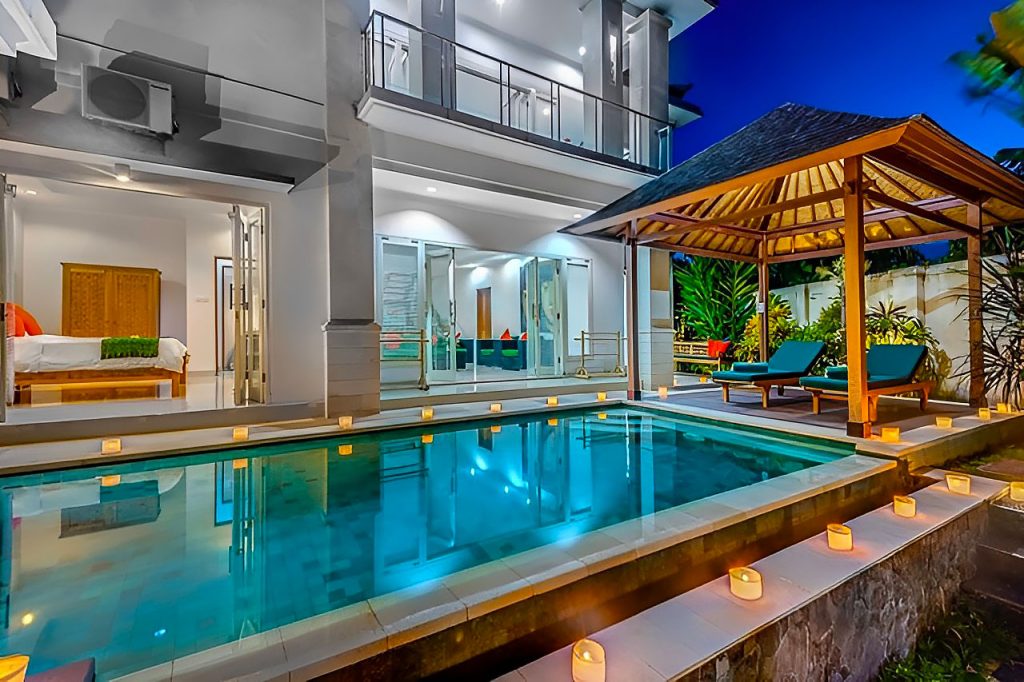 Villa Jazz II is the sister villa of Villa Jazz I. Together, they can form a three-bedroom villa or, when combined, a complete six-bedroom villa for twelve people. Villa Jazz II also has an extra room with a separate bathroom that is suitable for two more people, making it a great property for fourteen people. This villa is a dedicated property where you can spend the most private and luxurious holiday without spending too much. 
This property in Petitenget offers peaceful living while being close to all of the town's attractions. This varied benefit is definitely the best private villa rental you can find in Seminyak.
Upon entering the main entry gate, a slightly elevated building marked by a private swimming pool is the first thing that you can see. French doors mark the living room and are the last barrier before you finally enter the main house. The living area, dining area, and kitchen are positioned downstairs, as are two guest bedrooms. The atmosphere that the people living downstairs want to create is one that is both cozy and entertaining.
A set of stairs here leads you to the first floor, where another lounge is ready to host any social function in mind. Along the lounge, which is easy to find, there is a master bedroom with a private bathroom and a second room. The separate bathroom can also be used as a guest bathroom.
Accommodation of Villa Jazz II
Living Areas
Living is a flexible area; you can either open it and focus your gaze fully on the pool or close all the doors, turn on the fan, and enjoy a nice and comfortable space for your gathering. The living room in Villa Jazz II has comfortable couches and tables, and it's also easy to add a set of entertainment devices. There is this large LCD TV with installed satellite programs, and you can either immerse yourself in national or international channels. In a matter of seconds, a DVD player and an integrated sound system create a small home theater scene.
Close to this living area is an elegant dining table for eight people, while a modern kitchen follows behind. The kitchen was definitely set up with everything you need to cook. Even professional cooks can easily step into the world of food and serve only the best.
Upstairs living is also available in Villa Jazz II. It has a large space where a comfortable sofa is set before a large LCD TV. This piece of entertainment has both international and national channels so that you don't get bored. The DVD player and surround sound system easily shifted the space into one mini home theater.
Bedrooms
Two air-conditioned guest bedrooms are located in Villa Jazz II, both downstairs. It is separated by a living room in the middle and has direct access to the pool area. A king-size bed adorned each bedroom and definitely suited each couple. Wardrobe tucked in one corner to provide some space where you can keep all your holiday attire. The private bathroom has also become another inseparable entity, furnishing a shower and washbasin.
One bedroom has private access into its bedroom, while the other has separate access only separated by slight steps. The master bedroom upstairs is larger than the guest bedrooms. The king-size bed also provides ultimate comfort. On the other hand, the design and style of the attached en-suite made it a place of intimate luxury. Shower, washbasin, and bathtub are ready to pamper each occupant in this master.
Swimming Pool and Garden
Villa Jazz II is not only about the luxury and comfort it provides inside the main house; it is also about the bliss of nature beautifully arranged in its outer part. The clean, clear water in the private pool is ready to give you and your group the ultimate luxury of having this place all to yourselves. Not to mention that there was a place set up for relaxing, with rattan sun-beds and a small table. 
Shower garden: at one specific corner, you can pour and wash your body after your swimming activities. The tropical garden will be the perfect finishing touch for the villa. It will have different shades of green and beautiful colors from the flowers to calm the atmosphere.
Location of Villa Jazz II
Villa Jazz II is around 25 minutes' drive from Ngurah Rai International Airport. Villa Jazz II is in a quiet area and in a good spot, so you can walk to almost everything. In a few minutes, you'll see a stretch of golden sand known as Petitenget Beach. On special occasions, you can see the Balinese Hindu festival at its Petitenget temple. Otherwise, the beach is also the place where you can find the famous La Luciola and more restaurants.
The beach is also suitable for surfing and swimming. Hu'u Bar, Biku, Potato Head, W Spa, and many other boutiques followed. They are ready to welcome you and entertain you.
BALI VILLAS CLOUD
Family Holiday Seminyak 3-bedroom Close to the Beach Resort Town