Villa Malaathina Umalas Bali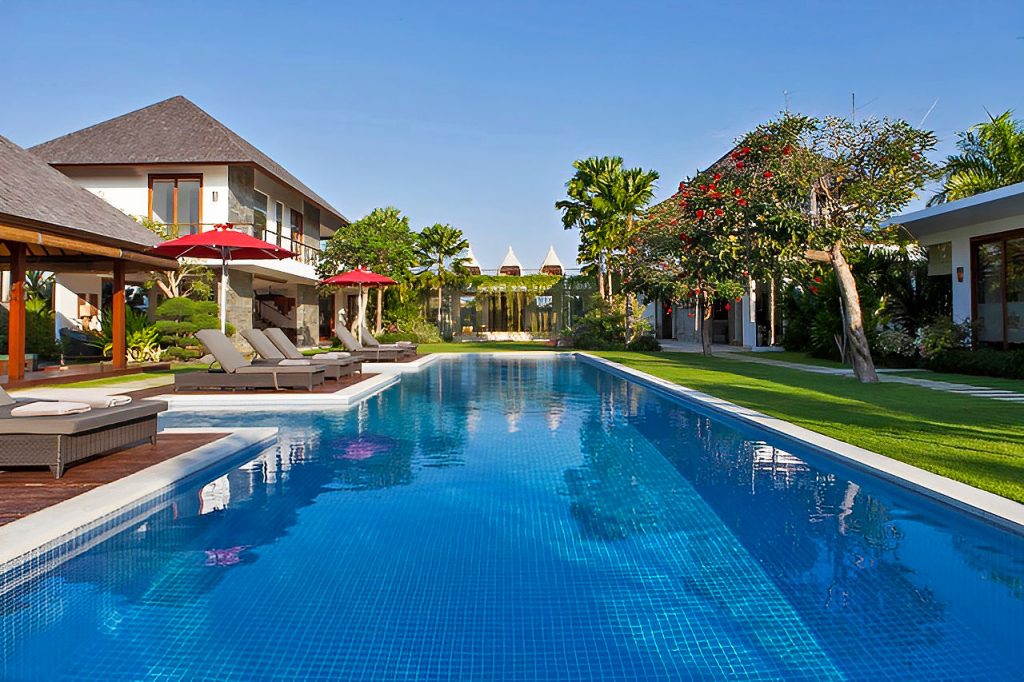 Villa Malaathina is in the middle of bright green rice fields and is the perfect example of how luxury can be built into a quiet and peaceful place to live. The village of Umalas may have played the most important role in providing this private retreat in Bali with this ideal setting. It has peaceful, traditional parts that go well with the five-star luxury that Villa Malaathina shows.
This private home was built on a very large lot and has seven bedrooms that can sleep a total of fourteen people. They would not get suffocated, nor would they find it hard to have their own personal space separate from the group.
The very grand entrance to this property was a water wall that fell into a lotus pond in a cascading way. The front porch is fully open onto the Olympic-sized swimming pool, as it also almost captures the whole face of this villa. From this entrance, the U-shaped main pavilion marked the social function at its left and right wings, giving people the choice of living inside or outside. 
Accommodation af Villa Malaathina
Two of the seven bedrooms in this villa are located in the upstairs area of the main building. They are once again connected by the upstairs terrace. The other pavilions, which were meant to be sleeping areas and were placed where they were supposed to be, really did meet the needs of fourteen people.
But the generosity of Villa Malaathina would not stop at that point. It has a separate pavilion for yoga and meditation, as well as a gym on the lower level. A media room for perfect home theater entertainment, a coffee shop and library in its own pavilion, and finally a teppanyaki gazebo to showcase the best of what Villa Malaathina's chef has to offer in the culinary world.
Living Areas
A couple of sofa chairs, a long bench, and an air bed are carefully set up on a thick, soft carpet in a living room with a wood floor and air conditioning for your gathering. Villa Malaathina's life has been split into two types: indoor and outdoor social hubs. Depending on your interests, you can choose either one. These two places definitely allowed fourteen people to lounge together or even find separate places in a not-intentionally different group.
A couple of sofa chairs, a long bench, and an air bed are carefully set up on a thick, soft carpet in a living room with a wood floor and air conditioning. Moving further into the marble-coated room is the very definite luxury of a handsome dining table surrounded by ten seats, defining a great place where you can enjoy formal and lavish dining.
Exploring further, this indoor living is also found in the Villa Malaathina bar, which features stools as well as comfortable seating and a table. Modern kitchens give another appearance. It has been praised as the best cooking tool for professional chefs preparing diverse variants of the east to the familiar taste of western.
On the other side is outdoor living, which lets nature freely fill the area. Marble floors surrounded the wood version and had many places to sit and relax, like large rattan daybeds, L-shaped sofas, and tables. RoundThe round dining table also sits right at the end of the room, giving a lot of space to chat, have a casual breakfast and lunch, and even have a nice afternoon cocktail at the bar. 
Media Room
The air-conditioned media room in Villa Malaathina, prominently dominated by its cool black marble, emphasizes a large room furnished with an L-shaped sofa and large ottoman while facing the big screen of an LCD TV complimented by international channels as well as a DVD device. This is one room fully dedicated to giving you screen entertainment even on holiday.
Teppanyaki Bale
High ceiling pavilion, an open bale where it very much adopted modern Balinese architecture but with a slight touch of Japanese through its sunken floor design. A roaring ceiling fan above your head definitely lends an extra hand in cooling and comforting the atmosphere. On top of a polished timber floor, a built-in sofa creates a cozy space for much more enjoyable chatting while the chef prepares everything for your teppanyaki party.
A grill bar bordered by hard green marble defines what a casual setting with stools can be such a great spot to taste the delicious treat cooked right before your eyes.
Coffee Shop and Library
The air-conditioned coffee shop and library may be one of your favorite escape rooms in this one elegant pavilion, extremely modern and luxurious setting with its high-ceiling and timber floor display. In one part of the room, there were bars with stools, and in another, there were comfortable couches in front of an LCD TV with satellite and a DVD player. You can switch the reading time with the varied entertainment displayed on this flat-screen entertainment device.
Moving further along in our exploration of this facility, you can easily spot a round table with six cushioned chairs. Perhaps it can be your place to have tasty snacks while chatting about everything and nothing.
Yoga and Meditation Sala
At the back of Villa Malaathina, there is a two-story pavilion that is a peaceful place to meditate. A Both of them are under the shelter of one safe pavilion. In these deluxe bedrooms, which are mirror images of each other, twin beds that can be turned into queen beds have been used. These two deluxe rooms also have private bathrooms, which are an essential part of any place that gives its guests the best comfort with the most care and love; they are arranged purposefully to give the best of the best.
Location of Villa Malaathina
Villa Malaathina is in the village of Umalas. Ngurah Rai International Airport is about 30 minutes away by car. Calm and relaxing nature are what easily exhibit from this villa living environment. very much like the enchanting Canggu. Peaceful atmosphere and definitely being close to the local settlement truly make out what living in Bali should feel like. Living in Umalas also serves you another benefit. It is close to both Canggu and Seminyak.
At around 20 minutes' drive, you can have a day filled with wonderful shopping time. This famous area has dozens of shops with the latest and most authentic clothes, bags, shoes, and jewelry.
There are many spas and massage places that can pamper and relax your body. The manager and staff of the villa can also easily make private arrangements for you. It's never a bad idea to keep the night going by trying different kinds of food from good restaurants like the famous KuDeTa and then going to one of the many nightclubs for a little party time.
In contrast to the calm waves and beautiful sunsets in Seminyak, Canggu always tests the skills of professional surfers. It has rocky beaches with golden to black sand and strong waves that will thrill you. The not-overly-crowded settlement also provides you with some interesting places to eat like Desa Seni, Canggu Plaza, or a social center in Finns Recreation Club. Going further west will never be a difficult task to drive to the most famous golf course by Greg Norman in Nirwana Pan Pacific. Do not miss the chance to see the very icon of Bali, Tanah Lot Temple, whose sunset can even beat the one in Kuta.
BALI VILLAS CLOUD
Family Luxury Umalas Kerobokan Bali 7-bedroom Rice Fields Exclusive Neighborhood