Villa Mary Canggu Bali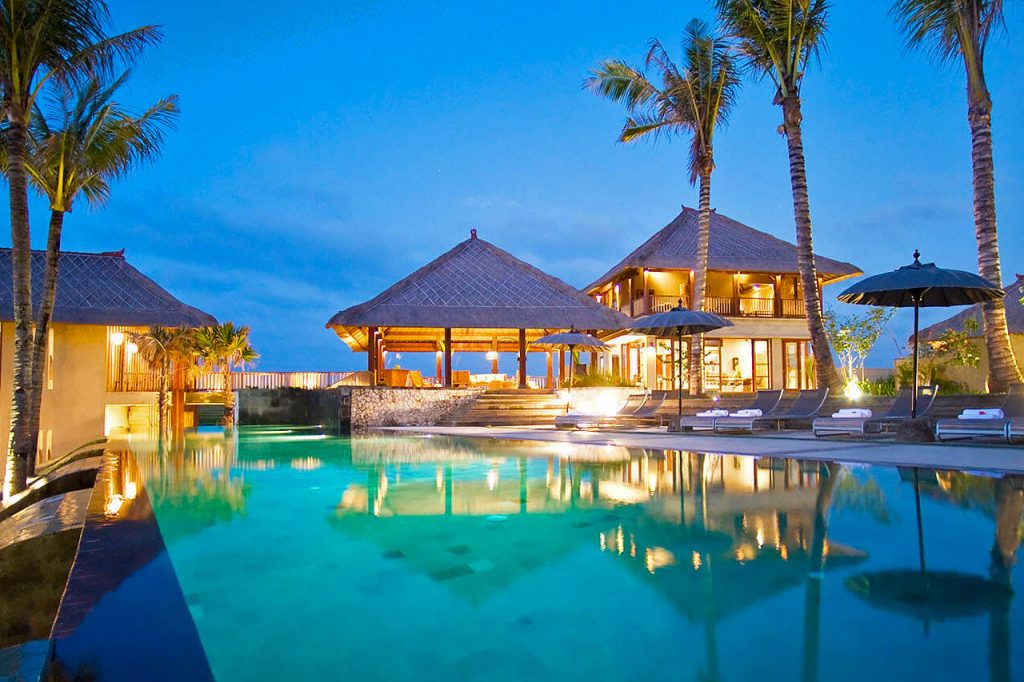 For the utmost exclusivity and luxury, Villa Mary Bali is the only place that should come to mind. This 5-bedroom house is part of southwest Bali's famous Pantai Lima Estate. It has beautiful views of the ocean, large living and dining rooms, and a massive 20-meter-long swimming pool. Behind the house are rice fields and a traditional village. Guests can relax by the pool or spend a day surfing at the nearby Pererenan Beach and still feel the natural rhythms of daily life in Bali. This makes for a truly unique and enchanting vacation.
Accommodation at Villa Mary
Bedrooms
Villa Mary has five large, elegant bedrooms with private bathrooms that will please even the pickiest of guests. The master and guest bedrooms feature king-size beds, while the garden bedrooms feature twin beds. Each bedroom is fully equipped with air conditioning, high-speed Wi-Fi internet access, 37-inch LCD TVs with satellite service, a DVD player, and a Bose surround sound system.
The master suite at Villa Mary is stylish and well-designed with smooth, cherry wood floors and matching wood frames for the sliding glass doors. Offering views of the garden all the way to the beach and an attached gray stone sitting area with padded wicker chairs and a small table, you'll feel enraptured in this room's ambiance while you sip afternoon tea and shafts of young sunlight dance upon the cool, white bed sheets behind you.
The master bathroom has two sinks, a big vanity mirror, and an indoor and outdoor rain shower, so you can shower in air conditioning or with the cool ocean breeze. Additionally, an outdoor bathtub is sunk into a koi fish pond where you can luxuriously wash your cares away beneath the sparkling stars of the Southeast Asian sky.
The two guest rooms at Villa Mary are true masterpieces of orientation. Presenting a fabulous view of the surrounding rice fields and beach, these two rooms have an unmatched tropical charm. Soaring thatched "alang-alang" roofs hang overhead, and dark, rich hardwood floors form the foundation. A small terrace attaches to the front of the rooms, where you can enjoy a delicious breakfast with a delightful view or watch the sun slowly recede while sipping your favorite tea or cocktail. The guest bedrooms' en-suite bathrooms feature bathtubs, gorgeous vanities, washbasins, and a rain shower.
In the same way, the guest rooms have dark hardwood floors and tall, traditional roofs, as do the garden bedrooms. These bedrooms are in their own building, away from the main residence. Comfortable, quaint, and with snowy white mosquito netting hanging over the beds, these rooms offer indoor and outdoor rain showers, washbasins, and vanities.
Living Areas
There is a range of options for entertainment and relaxation at Villa Mary. Comfortable sea breezes frequently visit the main living pavilion, a sizable open space. With dreamlike sunset views of the ocean and manicured gardens, you'll be lulled into a state of bliss from which you'll never want to leave. An off-white stone floor forms the foundation, and an enormous alang-alang thatched roof shelters the area from rain. The space is filled with charming rustic wooden furniture, and the room is lit by chandeliers and lamps that are works of art in their own right. A much smaller fully-enclosed living room is positioned on the second level, is comfortably furnished, and offers awe-inspiring views of the surrounding rice fields.
Guests at Villa Mary will dine in style around a large teakwood dining table set within a beautiful, air-conditioned room. Wood-framed glass doors can be propped open to let the sweet-smelling breeze waft into the space while you dine. Your private chef, a highly skilled master of the culinary arts, will serve you the finest cuisine as with all of the accommodations at the Pantai Lima Estate.
With the ability to combine a diverse range of ingredients into an array of succulent dishes, from Asian and Balinese delights to Western delicacies, whatever your taste buds desire is what's on the menu. If you have a special diet, let the chef know ahead of time so that he can do the necessary shopping.
After your meal, you can go to the villa's theater room to watch one of your favorite movies on a big screen with surround sound in true HD. This room features cool, white Palimanan stone floors and terraced seating that slopes toward the screen granting an authentic feel to the show, just like a real theater.
Garden and Swimming Pools
Any time of day, Villa Mary's two shimmering blue swimming pools beckon guests for a refreshing dip beneath their waters. The main pool is 20 meters long, so you'll have plenty of space if you're looking for some exercise or a relaxing wade. The main pool is bordered by a wooden sundeck furnished with sun loungers where you can stretch out for a day and work on your tan or sip a cool beverage under the shade of an umbrella. Beside the main pool is the smaller second pool, which measures 10 meters and is excellent for children. The jacuzzi at the end of the swimming pool that looks toward the beach and the ocean can accommodate up to 6 adults.
The end of the property plays host to a tropical massage pavilion approached via a white stone walkway. This beautiful area is encompassed by bamboo poles and tranquil ponds. The grassy, traditional roof drapes over the edge and gently waves in the breeze while a skilled professional therapist treats you to a massage or spa package of your choosing. Ask one of the helpful and dedicated staff at Villa Mary to book an appointment for you, and someone will be sent to the villa.
Villa Mary and the Pantai Lima Estate also have a tennis court for the exclusive use of guests should you desire a friendly game. The court is floodlit, so you can challenge a friend or family member at night. If you'd like a more strenuous workout, head to the gym, where a full range of exercise equipment is within an air-conditioned room.
Location of Villa Mary
Villa Mary is in the quiet village of Pererenan, in southwest Bali, away from the busy tourist areas of Kuta and Legian but still close to some of the most exciting things to do and see on the "Island of the Gods."
For golf enthusiasts, the world-renowned Nirwana Bali Golf Course is only a short drive from the villa. Greg Norman, a golfing legend, designed this unique set of 18 holes, which has a beautiful and challenging course next to dramatic seaside cliffs with views of the Indian Ocean.
Bali's most cosmopolitan district, the town of Seminyak, is nearby. You'll find many restaurants and boutique shops, such as the five-star establishments KuDeTa and La Lucciola.
These two staples of the expatriates and traveler scene offer high-end beachside dining and food from all over the world to people from all over the world. Enjoy a delicious cocktail at sunset while you sift sand between your toes and converse with friends or make some new ones from almost any nationality.
If you're a shopaholic, Seminyak will make you feel like you've died and gone to heaven. There are so many exciting and unique boutique shops to choose from that you could spend days looking through their goods. There's 2ndSkin for light and breezy women's wear or Mario Silver for a collection of fine jewelry handcrafted with Balinese precision. If it's art you are seeking, look no further than the Folk Art Gallery, which specializes in art and artifacts from all over Southeast Asia.
The ancient sea temple at Tanah Lot is waiting for your pilgrimage. This sacred temple is hundreds of years old and still used by the Balinese today. It was built on a rocky outcropping that goes into the Indian Ocean. The location boasts some of the most breathtaking sunset views in the world, and visitors can even sample drinkable holy water that pours forth from its rocky base.
Bali Villas Cloud
Family Luxury Canggu Bali 5-bedroom Beachfront Traditional Village