Villa Matahari Seminyak Bali
Villa Matahari, a three-bedroom property in Seminyak, is a classic house for six people, where the convenience of a great location with a great house at an affordable price is everything that they want for holidaying in Bali.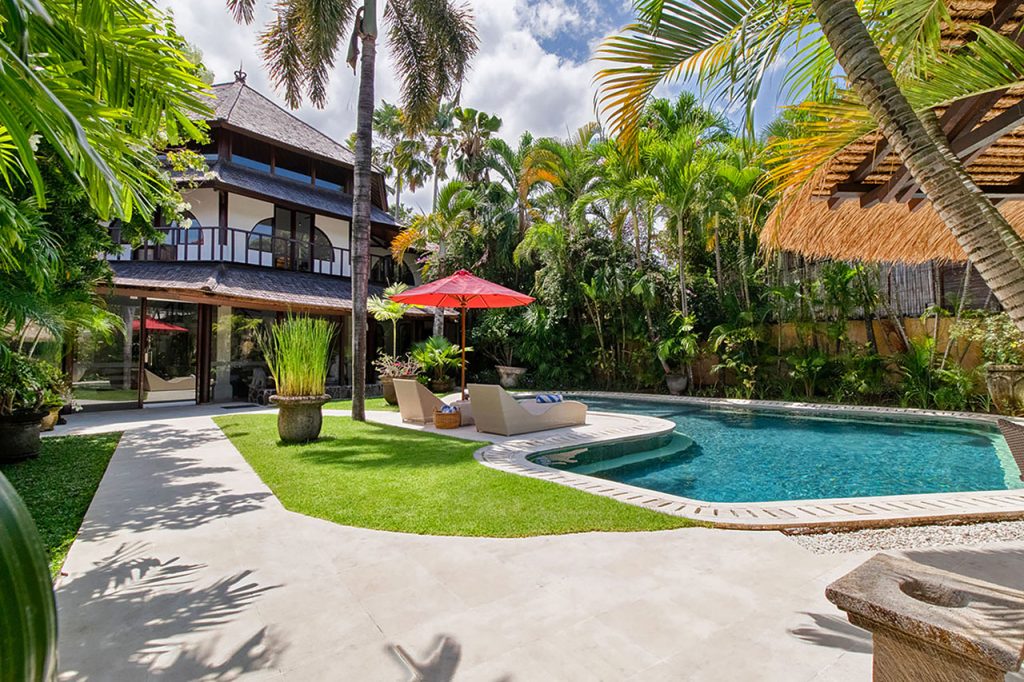 Villa Matahari is a three-bedroom villa in the heart of Seminyak for six people. Villa Matahari is simply a classic house that successfully goes through time while still maintaining its utmost vitality and confidence in presenting the ultimate holiday experience in Bali. The villa is located in the heart of Seminyak, where noise is muffled, ensuring a comfortable living environment. Easy access to everywhere around the town is a simple achievement when staying in this villa. This property simply houses all facilities and accommodations in a two-story house surrounded by tropical settings on the inside.
Balinese and modern elements are two opposing concepts that have been carefully designed to dance in harmony and accurately depict what Villa Matahari looks like. A thatched-roof house in the shape of a two-story building is reachable after you cross the beautifully arranged tropical garden right on the stepping stones provided. The living, dining, and kitchen areas situated downstairs are an open affair where natural elements can enlighten it. One of the bedrooms is situated downstairs, along with its private bathroom. Two more bedrooms are definitely situated upstairs, with a cozy open lounge in the middle.
ACCOMMODATION AT VILLA MATAHARI
LIVING AREAS
Living in Villa Matahari is open, which allows an abundance of daylight and the soothing breeze of natural wind to embrace the area. The living room has ceiling fans to help with the humid sensation when it's on top form. Rattan sofas, chairs, and tables right in the middle of the living room provide a nice lounge area to welcome and greet guests or even have relaxing gatherings with the whole group. Still attached close to the lounge is another set of seating where you can easily spot it as the entertainment corner with an LCD TV installed, satellite channels, and a DVD player purposely arranged. Still exploring the living, right at one end of the area is a simple yet elegant dining table with rattan chairs for six people. It has long mirrors hanging on the wall to give a spacious effect, which greatly influences your level of comfort. The kitchen, on the other hand, is hidden from view, right below the stairs to the upstairs area. It is small, but with sufficient cooking tools, you will find it easy to prepare some homemade cooking.
BEDROOMS & BATHROOMS
Three air-conditioned bedrooms in Villa Matahari are definitely for six people. One bedroom is downstairs while two more are upstairs. A French door marked the downstairs bedroom where a pair of single beds furnished the room. The two beds are easily converted into one double bed upon request. Adorned the wall behind the bed is a full mirror giving a spacious effect. Comfortable chair and wardrobe also makes an appearance in this bedroom. Bathroom in another hand followed behind it ready to pamper you through the bathtub with handheld shower and single washbasin on terrazzo top vanity.
Two more bedrooms are located upstairs and are accessible via a set of stairs from the living room. The two are nearly identical, but they differ in some interior details to give each bedroom a distinct personality. The two matte-floored bedrooms feature a king-size bed flanked by a pair of wardrobes. A TV and DVD player are installed in each bedroom to ensure quality entertainment even when its occupant has already retreated to their safe private chamber. The private bathroom is next; it has a shower and a single washbasin.
SWIMMING POOL & THE GARDEN
Villa Matahari provides free-form pool right on the lawn tempts you to dip and dive, relax and exercise, or simply splash around. With sunbeds and an umbrella adorning the poolside, it will be a great spot to go sunbathing or merely stretch your body with a glass of afternoon cocktail. Tucked in one corner is an elevated gazebo with a bed and cushion; you can steal some time and enjoy your reading time here. The combination of mature trees and dwarfing bushes that adorn the lawn will complete Villa Matahari's transformation into a tropical paradise. A pond with small Buddha statues produces soothing rhythmical sounds that enhance the atmosphere.
LOCATION OF VILLA MATAHARI
Villa Matahari is situated right at the tip of Jalan Drupadi, making it easy to reach every interesting spot within walking distance. The villa is situated around 20 minutes' drive from Ngurah Rai International Airport. The villa is close enough to the shops and restaurants on Kayu Aya Street and the Oberoi Seminyak that you can walk to them. You can walk to have varied dishes for breakfast, lunch, and dinner, from the sophisticated taste of Balinese to Indonesian to the welcoming taste of European and Asian cuisines such as Thai and Japanese. There are many shops that sell the latest fashion or items of unique taste in clothing, shoes, and bags. not to forget the diverse jewelry designs for mementos while holidaying in Bali. The stretch of white and golden sandy beaches along the southern district's coast should not be overlooked. It is easily reached in a 5-minute drive and is suitable for swimming, surfing, and fantastic sunbathing.
BALI VILLAS CLOUD
Family Holiday Seminyak 3-bedroom Close to the Beach Resort Town