Villa Melissa Canggu Bali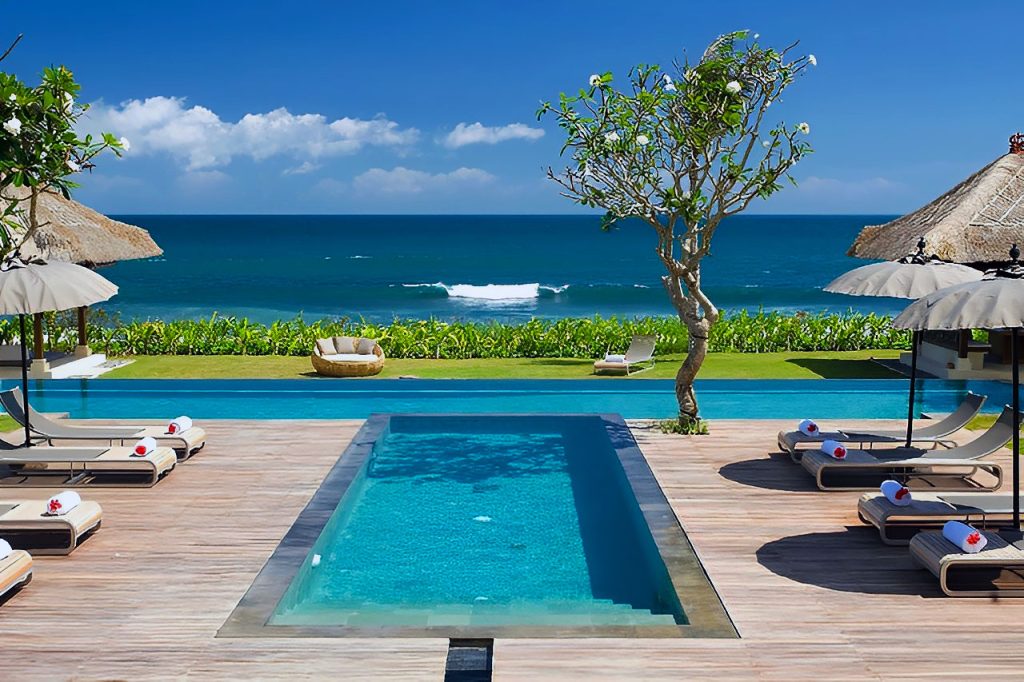 Villa Melissa is a luxurious beachfront masterpiece that is part of the exclusive Pantai Lima Estate. Its design is a work of art. Guests will enter the residence through a gorgeous covered walkway that leads into the main house and down to the garden, swimming pools, and beach, separating the serenity inside from the hustle and bustle you're leaving behind in the outside world.
Each of the five bedrooms is a space of peace and quiet elegance that spares nothing in the pursuit of holiday perfection. The villa has large, comfortable beds with views of the sea and all the modern conveniences you could want. It also has a variety of entertainment options, beautiful living and dining areas, and a discreet but attentive staff to make sure your stay is truly unforgettable.
Accommodation at Villa Melissa
Bedrooms
Villa Melissa's five glorious bedrooms are blessed with views of the villa's manicured gardens and offer an array of luxurious extras, including air conditioning, en-suite bathrooms, 37-inch LCD TVs with satellite service, and high-speed Wi-Fi internet access.
The master bedroom offers guests a king-size bed atop dark cherry-colored wood floors and wood-framed glass doors that let in an abundance of natural sunlight. The villa's emerald gardens and pools are just outside, where you can see them as they stretch all the way to the ocean. The space is filled with modern, comfortable furniture, and there are wicker chairs at the entrance. This makes it a calm and relaxing place to have breakfast or afternoon tea while the smell of the sea breezes wafts around you.
The bathroom attached to this room has two sinks, a big vanity mirror, an indoor rain shower, and an outdoor sunken bathtub surrounded by calm koi ponds.
From the balconies of the two bedrooms on the second floor, guests can get a great view of the sea. Here, you will awaken each morning to the sun's soft rays creeping into the bedroom through the wood-framed sliding glass door. Modern furnishings and a king-size bed will ensure your complete comfort, while the spacious en-suite bathrooms guarantee an opulent bathing experience. Dual vanities and washbasins, a relaxing rain shower, and a gorgeous stone bathtub combine to create a showering environment that is simply divine.
The garden bedrooms show off the art of tropical design with koi ponds and carefully trimmed plants all around. Off-white stone floors blend seamlessly with the caramel-colored wood doors and bedframes, while a bamboo door adds a touch of the exotic. The en-suite bathrooms have a private, luxurious rain shower that can be used under the sun or stars, as well as a bathtub and a rain shower that can be used inside, where the temperature can be controlled. These bathrooms also feature dual washbasins and mirrors.
Living Areas
Villa Melissa features an open-air living room furnished with contemporary Indonesian tables and chairs made from sumptuous teakwood. Dual staircases made of Palimanan stone wrap around the entrance and lead to the upper level. Smooth rich hardwood floors form the foundation while a towering roof hangs overhead.
The room is decorated with tropical plants and colorful traditional Indonesian statues depicting characters from time-worn Hindu epics.
A projector screen drops down allowing guests the perfect place to watch a movie accompanied by a high-end sound system. Spend an evening casually socializing here with friends and a delicious beverage while you recline on the plush cushions adorning the furniture in true Southeast Asian style.
Guests at Villa Melissa will dine in style seated around a meticulously handmade honey-colored teakwood dining table that can accommodate up to 16 people. This expansive room is also decorated with tropical green flora and Indonesian antiques. It is softly illuminated by inviting recessed lighting.
Alternatively, guests can choose to have a world-class meal prepared and served by candlelight; creating the perfect ambiance for the succulent flavors whipped up by a true master of the culinary arts, your private chef.
The chef at Villa Melissa is highly-skilled in the preparation of a variety of dishes ranging the gamut from Eastern delicacies to Western delights and mouth watering Balinese favorites. Your taste buds' desires can always be tended to. If you have a special dietary request, simply inform him beforehand with enough time to accomplish the necessary shopping and he'll be happy to oblige.
Garden and Swimming Pool
If you'd like, you can also enjoy your meal outside in the traditional Balinese bale. Set adjacent to the beach, this space offers spectacular ocean views and is cooled by the gentle breezes blowing in off the coast. Also a great place for relaxing and sipping tea, the salty sea air will mix with the flavors of your tea or snack and tenderly nudge your cares away.
The sunset deck at Villa Melissa is the perfect place to take in the peaceful beauty of the "Island of the Gods." It has a spectacular and unforgettable view of the sun as it slowly sinks below the waves. Sip an ice-cold cocktail and chat with friends while the sky is brushed with hues of orange, yellow and purple for a truly memorable experience.
If a good workout or just a friendly game strikes your fancy, Villa Melissa, as with all of the residences at the Pantai Lima Estate, offer access to a full-size regulation tennis court. The court is floodlit, allowing games to go into the evening or begin at night. In addition, there is a workout room with exercise equipment for the entire estate if you'd like something a little more strenuous to stay in shape.
After a workout or just to cool off in the middle of the day, the massive 20-meter swimming pool at Villa Melissa is yours to enjoy. Do some laps or just lazily wade within its crystal-blue waters; the choice is yours. The villa's gardens and wooden sundeck are surrounded by well-kept grass. You can relax in a round, plush wicker chair by the pool or stretch out on a sun lounger under an umbrella.
There is also a second, smaller pool adjacent to the main pool, which is shallower and great for children. Its proximity means guests can easily keep an eye on the kids as they splash about, granting peace-of-mind for parents without depriving adults of their own enjoyment.
Location of Villa Melissa
Located in the pristine village of Pererenan in southwest Bali, Villa Melissa affords guests the opportunity to get away from it all without sacrificing modern amenities or proximity to fascinating attractions and activities.
Bali's most fashionable and cosmopolitan district, Seminyak, is only a short drive from the villa, where you will find a wide variety of boutique shops, fine dining, and exciting nightlife.
For the shopaholic, there is a diverse array of items to peruse. For light and breezy women's wear, there's 2NDSkin, and for a charming collection of handmade jewelry by the island's skilled craftsmen, there's Mario Silver. If it's art and artifacts you're looking for, look no further than the Folk Art Gallery, which specializes in truly unique goods from all over Southeast Asia.
Some of the finest dining in the world is located right in Seminyak, with well-established names like KuDeTa and La Lucciola serving a fabulous blend of delicious cuisine to an eclectic clientele that hails from all over the world. Both restaurants offer beachside dining, where patrons can sip delicious cocktails at sunset while sifting cool sand between their toes. KuDeTa even offers a unique grilled pineapple and black pepper martini, a must-try.
For golf enthusiasts, one of the best courses in the world is located nearby. Greg Norman, a famous golfer, made the Nirwana Bali Golf Course, which is always ranked as the best course in Southeast Asia. This course is a great place to play golf because it is surrounded by dramatic seaside cliffs that look out over the Indian Ocean and the flowing, emerald rice fields of Canggu.
The ancient sea temple at Tanah Lot, which is one of Bali's most revered temples, is also close to the villa and ready for your visit. It's built on top of a rocky outcropping that sticks out into the ocean. It's recently become famous for its amazing sunsets. It is said to be guarded by a holy snake, and visitors can even sample the drinkable holy water that pours forth from its rocky base.
BALI VILLAS CLOUD
Family Luxury Canggu Bali 5-bedroom Beachfront Traditional Village