Villa Olala Nusa Dua Bali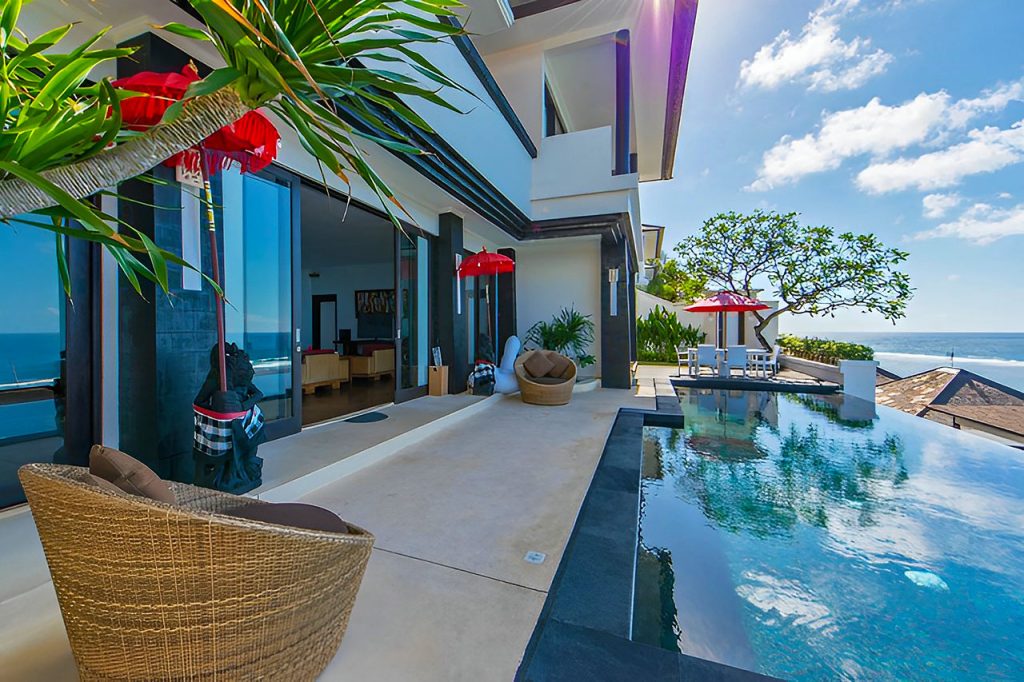 Villa Olala is one of the most exclusive homes in the Heavenly Residence, which is on the southern tip of Bali in the Nusa Dua resort area. This unimaginably beautiful island getaway boasts expansive views of the Indian Ocean and the architecture of a contemporary design set adjacent to a huge infinity swimming pool. Villa Olala gives guests a wonderful tropical vacation on the "Island of the Gods" with all the comforts of modern life. The bedrooms are air-conditioned and the living and dining areas are large.
Accommodation at Villa Olala
Bedrooms
Villa Olala offers the choice of three luxurious double bedrooms, each complete with a large bed draped in soft, white cotton sheets, amber-stained hardwood floors, gentle recessed lighting, and modern furnishings. Large sliding glass doors open onto the swimming pool and gardens, providing views of both and the ocean that seems to stretch forever.
As the sun slowly rises each day, its soft rays will creep into each bedroom, naturally awakening you to another day in paradise.
Every bedroom is also fully equipped with flat-screen TVs and DVD players, high-speed Wi-Fi internet access that is available throughout the villa, a safety deposit box for any treasured items you'd like to keep secure, and their own en-suite bathrooms.
The bathrooms at Villa Olala use the most up-to-date building styles and a mix of materials that look great together to create a relaxing atmosphere for bathing. Each one has dark granite countertops for the washbasins, a large vanity mirror, richly elegant wooden cabinets, and white stone floors.
There is also the option of a rain shower or bathtub, so you can wash quickly before a night out on the town or relax in a long, hot soak to relieve stress from the outside world.
Living Areas
You'll be spoiled for choice when it comes to entertainment at Villa Olala. If a movie night is on your agenda, adjourn to the charming and delightful living room, where you'll find rattan couches and chairs topped with oversized red cushions set around a minimalist wooden coffee table and within perfect view of the large, wall-mounted LCD TV connected to a DVD player.
Fully air-conditioned and with a premium sound system, your favorite films will spring to life while you watch them in total comfort with friends or family.
Dining while on holiday should always be a memorable experience, and at Villa Olala, the dining room was designed to accomplish just that. The centerpiece of a room bursting with color and light is a deeply stained solid wood table surrounded by cushioned rattan chairs. The wall is decorated with a beautiful, multicolored painting of Balinese women at a ceremony. Floor-to-ceiling glass doors let in natural light during the day and give a great view of the pool and ocean. A sumptuous meal shared with loved ones here is a real treat.
Additionally, you can choose a more intimate, completely alfresco dining space located just outside the main dining room on the pool deck, where there's a smaller table surrounded by four rattan chairs. For an even better sunset view, have a romantic meal out here while you're cooled by gentle sea breezes, accompanied by birdsong and the gentle lapping of the waves down below.
Garden and Swimming Pool
Villa Olala's infinity swimming pool is a marvel of pool design, set on the edge of a cliff where, if you're standing in the right place, it seems like the swing pool meets the sky. Crystal blue waters invite guests to take a refreshing dip any time of day or night. The water is surrounded by a smooth wooden deck with sun loungers, so you can relax here all day and sip a cool drink under an umbrella or just get a tan.
Location of Villa Olala
As one of the three Heavenly Residences, Villa Olala is situated directly on the coast of southern Bali, offering awe-inspiring views and complete privacy and serenity without being far from the cultural and entertainment activities that have made Bali famous.
For a fabulous meal out, head to nearby Jimbaran Bay, where local fishermen bring in their daily catch to be cooked and served at a variety of warungs (cafés) situated right on the beach. Imagine sifting cool white sand between your toes, feasting on a succulent lobster or grilled prawns, and gazing out at the placid waters of the bay while you sip a delicious cocktail or an ice-cold Bintang beer. In the evening, buskers will come out to play music for your table amidst the candlelight tastefully lit by each warung's wait staff.
Bali National Golf Club Nusa Dua, which is only a short drive away, offers guests a full range of high-end country club amenities and an 18-hole course of sporting bliss. Within the already gorgeous natural surroundings of Bali, this course is one you can't miss playing. Views of the Indian Ocean and rolling fields of green dotted with tropical flora make it an outing that's truly special.
BALI VILLAS CLOUD
Family Luxury Nusa Dua Bali 3-bedroom Close to the Beach Hillside Ocean View