Villa Ombak Putih Canggu Bali
Villa Ombak Putih or literally translated in English as White Wave is definitely a very genuine definition for luxury and privacy. This five bedroom villa situated in Cemagi emanating a peaceful living environment breaks only by the crashing waves ashore.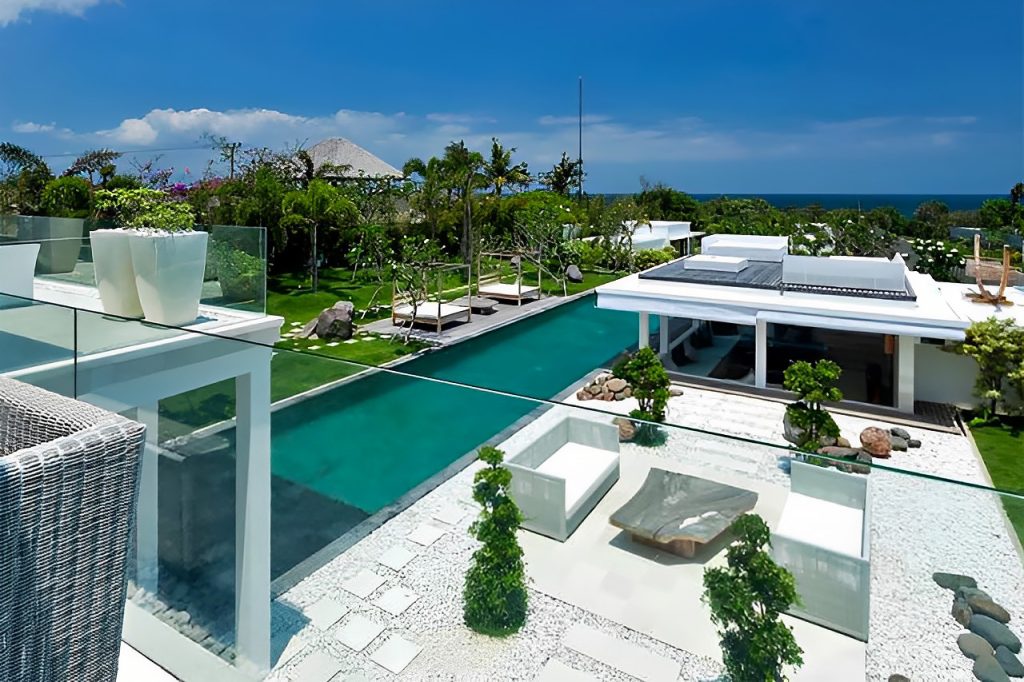 It suits ten people in their tropical retreat to Bali, wishing to find someplace they can totally relax and unwind. Bordered by a lustful green rice field at one part of the villa, precisely at the very entrance gate, even before the staff welcoming you at the front porch, you'll get mesmerized by the enchanting color of the rice field. A very village atmosphere, where everything is quiet and still, and where within the property you can capture the view of the beach and ocean nicely.
Upon entering the grand entry gate, it will lead you directly into an open area with a large water feature, manipulating the Palimanan stones as its floor's character, meanwhile some statues of Balinese goddesses adorned each side of the wall. Another door guarded the main house where the final access into Villa Ombak Putih lay. Front porch displays an authentic signature of Balinese barong where stairs down showing the way into the living meanwhile another stairs leading to the upper floor where two of the three bedrooms are positioned.
Villa Ombak Putih is brilliantly built on a handsomely large piece of land using a terrace feature where the first level is the place ruled by the main house along the pool and bar pavilion.
Dominating with, you can descend one level, where one single pavilion poses over the third bedroom in Villa Ombak Putih. One more level down is the fourth bedroom with the last level is where the fifth bedroom resided. All in all, Villa Ombak Putih wants to make a private sanctuary where people staying inside can always find a spot spacious enough they can get together or even find their own space separated from the other.
Accommodation at Villa Ombak Putih
Living Area
Living are in Villa Ombak Putih is a large and spacious social area where ten people can have their gathering without being suffocated. The lounge is a semi open area separated to the pool only by sliding glass doors. Comfortable couches and chairs adorned this area where you can fully relax while enjoying numerous channels both domestic and international one displayed by a large LCD TV. Blu-ray disc player and audio system in another hand giving you a higher level of entertainment by bringing mini home theater into the villa. 
Separated from the living yet still in the main house is the elegant space designed for dining and kitchen area. Long timber dining table for twelve people meanwhile the extravagant look displayed by modern kitchen with stools not only stops in a look. It has complete cooking facilities that not only professional cooks but also international chefs will fall in love with this kitchen and display to you a row of mouthwatering and delicious dishes.
Upstairs, you can easily spot an open lounge with a pair of sofa and table. It bordered a large balcony where you could laze around on a big daybed.
Pool Lounge 
This sunken pool lounge is a cozy and comfortable open area where you can socialize with friends and family or have a small yet exciting bar and barbeque party. Built in sofa and recycled table adorned one corner of the lounge make it great for all groups to have their chat together talking about everything to nothing. A bar and stools furnished the other part of the pool solely to make a great spot for evening bar parties.
Stairs leading to the upstairs area of the pool lounge have been prepared with a comfortable rattan daybed where you can have full access to sunbathing or enjoy the unobstructed view to beach and ocean.
Bedrooms and Bathrooms
Five air-conditioned bedrooms in Villa Ombak Putih are exposing luxury and comfort at its highest level. Two of them are situated on the upstairs floor of the main house, meanwhile the other three are scattered around the level of lawns in their private pavilion. Bedrooms in Villa Ombak Putih are not limited to adopting modern concepts but also privacy within privacy. Therefore the villa not only suits large families with kids they can run around the lawn but also with few couples who sometimes wish to have their privacy apart from the group.
The first two bedrooms in the main house have a bordering view to the beach and ocean beautifully. In terms of comfort and luxury, these two sleeping quarters are almost imitating each other. Only slight details differ between the both of them. Featuring king-size beds wrapped by the highest linen quality, the upstairs bedrooms in Villa Ombak Putih have also been illuminated by soft light coming from bedside lamps. The romantic atmosphere is increasing with the bordered balcony furnished rattan sofa and table. You can have a much more enjoyable afternoon tea here.
Built-in wardrobe is also available within the room; it provides enough space to store all holiday attire. Private en-suite follows in the next step bringing luxury into another level through the semi-open style where you can soak your body inside the terrazzo bathtub while gazing at an unobstructed view over the ocean. Overhead rain shower, toilet as well as his and her washbasin give their final completion.
Separated from the main house and on the lower land will be the third pavilion. It stands in an individual pavilion among lustful gardens. This terrazzo-floored bedroom features a king bed, a dressing desk, and a wardrobe. One reclined chair becomes a part of this room; it provides a space for relaxation. The bathroom next to this private room has what we could call a semi-open design. A terrazzo bathtub with a shower built right under the sky is one of the luxurious things you can easily find here.
Another level down is the fourth bedroom. The pavilion, bound by a timber verandah with a daybed, leads you to another king-size bedroom facility for two special people. Stored inside the room are the same but not identical wardrobe and dressing desk facility. Exploring further, this fourth bedroom in Atas Ombak is gladly giving you the joy of body indulgence in a garden bathroom. It has a sunken bathtub and a double washbasin to support it.
The last and lowest level will be the fifth bedroom of this villa. Giving you the same bed quality and comfort in the shape of a king-size bed, this bedroom has a unique open bathroom where the shower acts like an entrance gate for you to enter the sunken bathtub.
Swimming Pool and Garden 
It is clearly visible when one's gaze falls upon Villa Ombak Putih that the lawn has been created in a very careful way and has been given with so much love that it will make everyone fall in love at once. The tropical trees and flowers on the property make it feel like you're living in the tropics. Built into a terrace-like lawn, the lawn area in this villa can be a great playground for families with kids, a great space for a group of friends, or a special venue for a special event in your life, such as a wedding and reception. Stretched before the main house is a 30 m x 5 m private swimming pool with a row of sunbeds adorning the poolside.
Cascading water from the pool runs down the wall and falls right into a pond where a pair of big sleeping Ganesh, Lord of Success and symbol that can hinder obstacles in Hinduism, is set elegantly. You can unwind here and read your favorite books or sneak away for a nap after finding a pair of hammocks. All in all, it is only the perfection of the tropical ambiance that defines what true luxury means when staying in this villa.
Location of Villa Ombak Putih
The Villa Ombak Putih is in the village of Cemagi. It takes about 50 to 60 minutes to drive to Ngurah Rai International Airport from there. The only thing that breaks up the peace in the quiet village is the sound of the waves crashing. This is the very definition of a tropical retreat in Bali. While staying here, you will be close to nature in the form of the beach as well as the lustrous green of the rice field. The traditional life of the Balinese is also very thick here; it adds to the real meaning of holidaying in Bali. Even though the island is a little bit out of the way, it won't stop you from exploring it.
The village of Cemagi is right next to the famous Nirwana Golf Course, which is a beautiful course at the end of the sea with the enchanting Tanah Lot temple and its bewitching sunset close to the golf course. You can also watch a Kecak Dance performance during sunset here. Looking at more beaches is never a difficult task when staying in this villa. It took you five to ten minutes to reach the difficult surfing beach for experts, which had strange black sand all around it. It is not only about the beach. A 10- to 15-minute drive in your car will lead you to the area's most famous social club, known as the Canggu Club. Canggu Plaza and Deli are situated close by, but you can find other fabulous places to eat here.
Bali Villas Cloud
Family Holiday Cemagi Canggu Bali 5-bedroom Rice Fields Beachfront Countryside