Villa OMG Nusa Dua Bali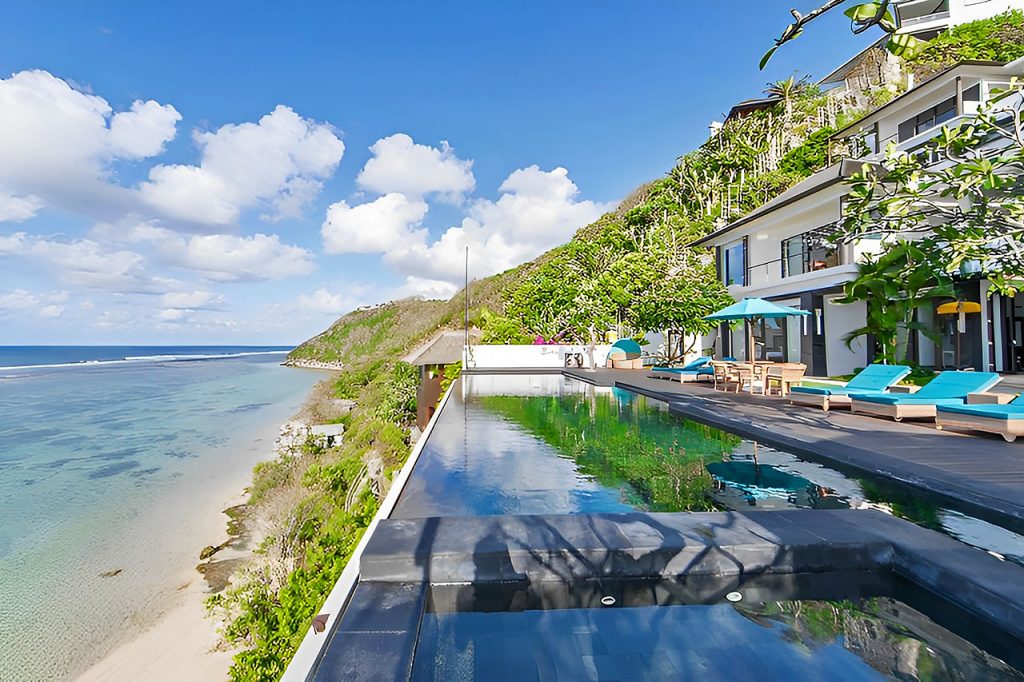 Villa OMG is in the exclusive Asmara Estate, which is full of high-end villas. It is just west of Bali's famous Nusa Dua resort area. Villa OMG is one of three luxurious villas that form the Heavenly Residence. It is the biggest of the three and has amazing views of the ocean that go all the way to the horizon. It is also the most modern and peaceful of the three, with no expense spared on creature comforts.
ACCOMMODATION AT VILLA OMG
BEDROOMS
Villa OMG is the height of luxury and style. It has four large, elegant bedrooms. Each bedroom features its own special bed with only the best spring mattresses money can buy, as well as comfortable contemporary furnishings like smooth, minimalist nightstands, entertainment centers, and a flat-screen TV and DVD player. Elegantly carved white stone bedside lamps have shades of dark amber that blend beautifully with the rich, dark hardwood floors.
Every room is set up so that it has a relaxing view of the pool or ocean through large sliding glass doors. It also has modern conveniences like air conditioning, free high-speed Wi-Fi internet access, and even a safety deposit box that you can control with a computer if you want to store something special.
Every bedroom at Villa OMG has its own bathroom with a rain shower, vanity mirror, and washbasin. If you wish, you also have the option of using the included bathtub for a long, hot soak that's sure to melt your cares away.
LIVING AREAS
Villa OMG has many places to relax and unwind, like the modern living room with its long, padded blue sofas and open, minimalist design that lets the room really breathe. At one end is a huge black stone water feature decorated with tropical plants, and at the other, a golden painting of a serene Buddha is flanked by gray stone columns and lamps shaped like the stupas of Borobudur. There is no better place in the villa to gather with friends or family, chat over cocktails, and share stories about your adventures in Bali.
If you want to have a movie night, Villa OMG has a huge private media room with a wall-mounted LED TV and a DVD player, as well as beautiful rattan furniture with extra-thick purple cushions. The brightly colored abstract painting on the wall stands out beautifully against the beige stone floor. With the high-end sound system available in this room, any movie you wish to enjoy will truly come to life for a cinema-like experience.
GARDEN & SWIMMING POOL
For dining, there are multiple options at Villa OMG. Try eating at one of the smaller outdoor tables by the pool if you want to share a meal while being cooled by gentle sea breezes and watching a famous Bali sunset. For a more traditional dining experience, there's the fully air-conditioned main dining room with a honey-colored table made of solid teakwood and surrounded by 10 chairs with silky purple cushions. Through its sliding glass doors, this room has beautiful views of the pool and ocean. It also has a large aquarium set into a white stone wall, which gives it a special atmosphere.
Villa OMG's swimming pool is absolutely extraordinary. A huge infinity pool sits right at the edge of a cliff with a view of the ocean. It is surrounded by a huge wooden deck with curved rattan loungers and umbrellas to keep you cool. The views from the pool are simply spectacular, making it a fantastic place to hang out during the day and work on your tan or just have a snooze under the umbrella while you listen to birdsong and the soft crashing of the waves down below.
LOCATION OF VILLA OMG
Villa OMG is located in the prestigious and upscale area of Nusa Dua in south Bali, where guests enjoy privacy and security, breathtaking ocean views, and a peaceful environment not far from some of the best activities the "Island of the Gods" has to offer.
For golf enthusiasts, the Bali National Golf Club is only a short distance from the villa, where you can tee off to 18 holes of golfing pleasure and treat yourself to jaw-dropping views of the Indian Ocean and first-class country club service.
The magnificent Uluwatu temple is just a quick drive from Villa OMG, where you can explore the mystical energies of a venerated Balinese Hindu temple that's set high atop the dramatic cliffs holding back the waters of the Indian Ocean. Playful monkeys scurry about the temple every day, and you can even buy some bananas from a local fruit seller to feed them, making for a great outing with the family.
BALI VILLAS CLOUD
Family Luxury Nusa Dua Bali 4-bedroom Close to the Beach Hillside Ocean View