Villa O'Wow Nusa Dua Bali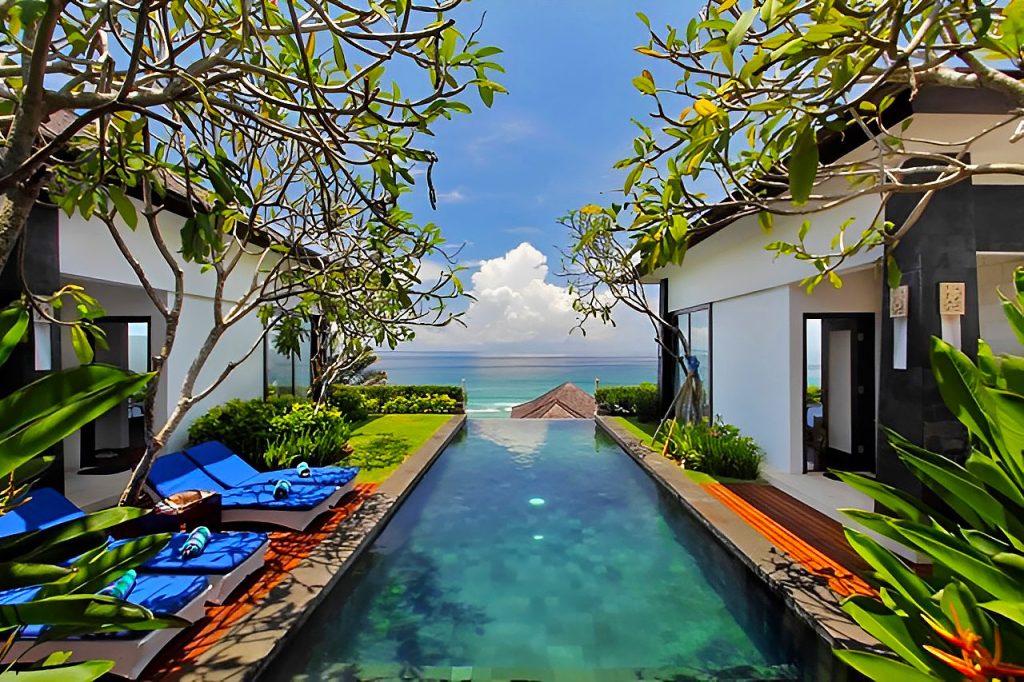 Villa O'Wow is one of three ultra-luxurious vacation homes at the Heavenly Residence. It has a view of the beach and is part of the exclusive Asmara Estate in southern Bali. Three large and comfortable bedrooms, a huge infinity pool, and living and dining areas that can compete with the most luxurious hotels in the world make guests feel like they are in a dream.
Accommodation at Villa O'Wow
The car park at the bottom of the cliff is connected by an elevator to Villa O'Wow, which is next to a cliff and looks out over the Indian Ocean. When guests enter, they are immediately immersed in immaculate tropical gardens and encapsulated by the stunning view.  
Bedrooms
Villa O'Wow offers three bedrooms: two queen-sized and one with twin beds that can be converted into a queen at your request. Each fully air-conditioned bedroom features amber-colored hardwood flooring, soft recessed lighting, a flat-screen TV and DVD player, high-speed Wi-Fi internet access that's available throughout the villa, and majestic garden, ocean, and swimming pool views through floor-to-ceiling sliding glass doors.
Their furniture is very modern, with nightstands made of smooth, shiny wood and entertainment centers for the TVs. Atop each bedside table sits a unique lamp with an Indonesian design carved from stone or wood.
All of the bedrooms at Villa O'Wow have their own en-suite bathrooms with washbasins, vanity mirrors, rain showers, and bathtubs if you want to soak away your worries in a long, hot, relaxing soak. 
Living Areas
Villa O'Wow's living and dining space is exquisite, where you'll find a huge pavilion with cool gray stone floors and rattan furniture topped with soft, oversized cushions, all set underneath a soaring, traditional alang-alang thatched roof.
The living and dining spaces are separated by a half wall of white brick, on which hangs a large LCD TV that's connected to a DVD player and high-end sound system for those especially entertaining movie nights with friends and family. Sliding glass doors on the living area side can be propped open to allow the gentle sea breeze to cool the space or can be closed so you may relax in air-conditioned comfort.
On the other side of the white brick wall is the main dining room, with cushioned, wooden chairs placed around a honey-stained, thick teakwood table. Glass doors sit directly next to the dining table, so you can view the manicured gardens of the villa and the expansive Indian Ocean while you dine in style.
If you'd rather eat outside during your stay, try the smaller dining table on the pool deck, which has six rattan chairs that can be used in any weather. Guests who choose to share a meal here will find themselves in a very interesting and exotic setting. A beautiful stone frieze of Hindu myths decorates the dark gray wall next to the area. 
Swimming Pool and Garden
The real centerpiece of Villa O'Wow is the crystal-blue infinity swimming pool set in the center of the gardens and looking all the way out to sea. A dip in its cool aquamarine waters is fantastically refreshing day or night, and it's a lot of fun for friends and family.
This high-quality pool is surrounded by a dark-stained wooden deck with rattan sun loungers, so residents can relax under an umbrella while sipping a cool drink and listening to the birds singing over the ocean, or they can just spend some time tanning.
Location of Villa O'Wow
In the famously high-end resort area of Nusa Dua, you will find the Heavenly Residence and Villa O'Wow. This enviable location gives guests peace and quiet, but it's only a short drive away from Bali's famous cultural and entertainment activities.
Make a pilgrimage alone or with friends and family to the exotic seaside temple at Uluwatu. This ancient temple is still in use by local Balinese today and was built on the edge of a rocky cliff overlooking the Indian Ocean. Sunrise and sunset views here are mind-blowing, and visitors to the temple can walk around the grounds, where it looks as though you're standing in a postcard in every direction. Here, it is impossible to take a bad photo.
Go to nearby Jimbaran Bay for a memorable night out. There, you'll find a number of local "warungs" (cafés) that serve the catch of the day to customers waiting on the beach for their delicious meals. Imagine putting cool, white sand between your toes and eating a delicious lobster with an ice-cold beer while looking at the calm, blue waters of the bay. In the evening, waiters will light up each table with tea candles, and you might even be treated to a small group of traveling musicians who will play for your table.
BALI VILLAS CLOUD
Family Luxury Nusa Dua Bali 3-bedroom Close to the Beach Hillside Ocean View