Villa Paya Paya Seminyak Bali
Villa Paya Paya, a three-bedroom villa in Petitenget, brings you to the center of comfort and private luxury for six people. This is the budgetary accommodation where you can be satisfied without spending too much.

Bali Villa Advisor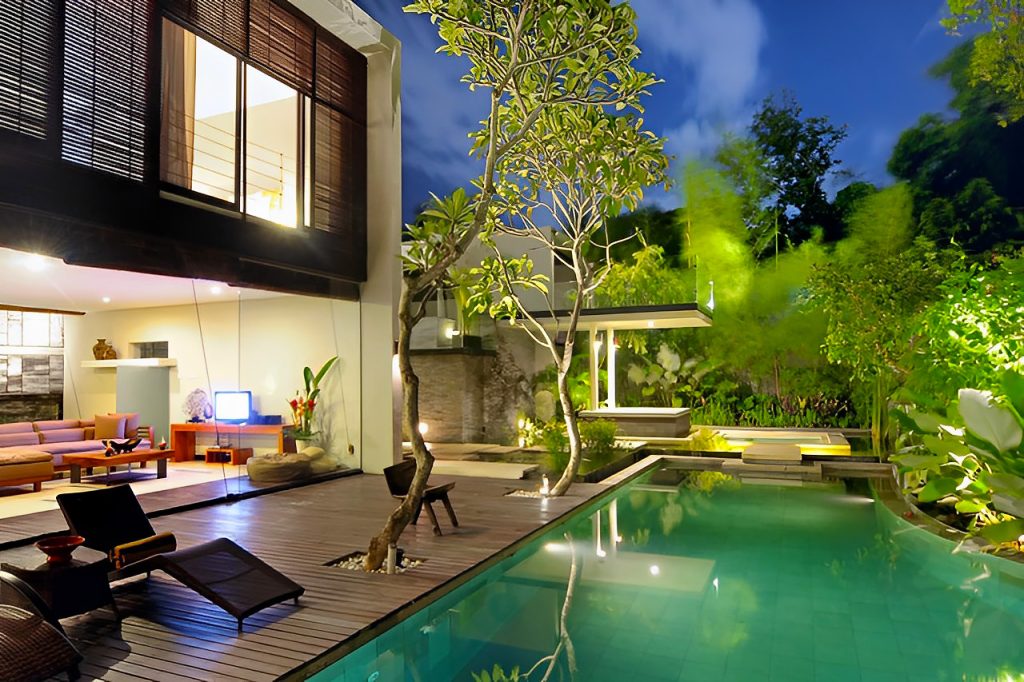 Villa Paya Paya is a three-bedroom villa in Petitenget that explores the essence of modern architecture. It is in a pleasant environment where the tourist crowd in Bali is less than in the demanding and overpopulated Kuta and Seminyak. The location, however, will not cause any disturbance for your precious and long-awaited holiday since almost everything is within a few minutes' drive, some even within walking distance.
The villa is designed with the utmost detail to provide the ultimate comfort for six people, a place they can relax without being cramped in a small space yet not too big where the pompous atmosphere will likely emanate. This private residence is suitable to welcome and host six people during their long-awaited holiday in Bali.
Entering the main gate into Villa Paya Paya, the building is tucked below the ground leads you down several steps downstairs. It passes through the lotus pond by stepping. Open living is the first to welcome you into its humble abode. Its open design allows a complete view of the pool.
Further exploration of the property reveals a semi-open hallway with an attached lotus pond that leads to the first or master bedroom in Villa Paya Paya. Meanwhile, the other two bedrooms will rest on the second floor to keep six people comfortable in their slumber. All of them are air-conditioned bedrooms with the privilege of having a private bathroom.
Accommodation at Villa Paya Paya
Living Area
The living area in Villa Paya Paya, which acts as the central social hub of the villa, is designed to follow an open-plan area that invites abundant daylight and the refreshing breeze of the natural wind. Bordered by a timber deck at one side and a small garden with a fishpond on the opposite, the living room is simply a cozy place where all groups can get together to chat or merely enjoy peaceful tea time. A comfortable sofa and table will be in one part of the living room, while an ideal set of entertainment devices in the form of a satellite LCD TV, DVD player, and audio system is arranged on a vanity.
A solid dining table is available in the living room. You can enjoy the meals with all group members while preparing them in the attached kitchen. The kitchen in Villa Paya Paya is modern. It has everything you need to cook, so it's easy to make some simple but tasty dishes.
Bedrooms and Bathrooms
Three air-conditioned bedrooms are dispersed among two different locations in Villa Paya Paya. The first bedroom is the master bedroom, situated on the ground floor in a separate pavilion adjoining the main house through a semi-open hallway. This is the marble-floored master that features a four-poster king bed dedicated to achieving the utmost comfort for two people. Attached entertainment devices in the shape of LCD TVs and DVD players give the room another variant function even when you retreat to this private sanctuary. A built-in wardrobe with a safe provides abundant space. You can keep all your holiday belongings safely here. In addition to the atmosphere of luxury, en-suite bathroom, get ready to pamper your body with hot and cool water running into the terrazzo bathtub or from the rain shower hidden behind a frosted glass partition.
Two more bedrooms that make Villa Paya Paya an accommodation for six are upstairs. Both bedrooms mirror each other, one a timber-floored room with a queen-size bed and the other with a pair of single beds. Installed satellite channels television also appear in each bedroom, purposely to give a sense of entertainment. Entering the private bathroom, an easily spotted built-in wardrobe and the single washbasin adorned one space, while a walk-in shower and toilet filled another.
Swimming Pool and Garden
Free form pool, bordered by natural stone and finished by timber deck at some parts, has created one great facility where privacy shows scream out loud. Whatever and whenever you want to enjoy the pool, no strangers will get in the middle or even disturb your joy of swimming or a mere floating around. An outdoor Jacuzzi is also available, giving more value to the day you spend in Villa Paya Paya. Enjoying it with a cold drink or a cocktail will make everything perfect. Sunbeds that will take care of your tanning time are there to appease you.
Adds the open lounge that greets nature naked at the upper level, close to the entry, where it can be a nice spot to have breakfast or even alfresco dining. Last but not least will be the selected tropical foliage, such as the sweet scent of frangipani, swaying palms, and lovely flowers giving their magical touches, which turned Villa Paya Paya into one perfect tropical holiday home in Petitenget.
Location of Villa Paya Paya
Villa Paya Paya is situated in Petitenget, the very neighborhood of Seminyak and Batu Belig, which is reachable in around 25 minutes by car from Ngurah Rai International Airport. This villa is in a peaceful corner, quite far from the bustling crowds and disturbing noise of the tourist centers in Kuta and Seminyak. However, you can unwind by walking to reach the closest café or small restaurant. There is the closest restaurant at Lumbung Resort. During the journey, you will easily spot Café Jemme, Thailand Corner, and FlapJack up to the variant choice of Indonesian dish.
Reaching the beach from the villa can be done in around a 5-minute drive, even less. The closest beach, Petitenget, has a stunning stretch of golden sand and many places to eat. For example, the famous La Luciola, the exciting night at Hu'u Bar, and the extremely-popular Biku. Some even spent valuable time at the town's recently opened Potato Head. Shopping, as well as spa and massage treatments, will always be a good choice here since it has a lot of variants. Reaching the central towns of Seminyak and Kuta will never be challenging, with a 5-minute drive only.
Bali Villas Cloud
Family Seminyak 3-bedroom Close to the Beach Resort Town Urban Neignborhood