Villa Rama Seminyak Bali
Villa Rama fits the best for those looking for a great holiday retreat where they can have the ultimate holiday right in the most famous district of Seminyak. Villa Rama is the best choice for an affordably-priced 3-bedroom private villa in Seminyak.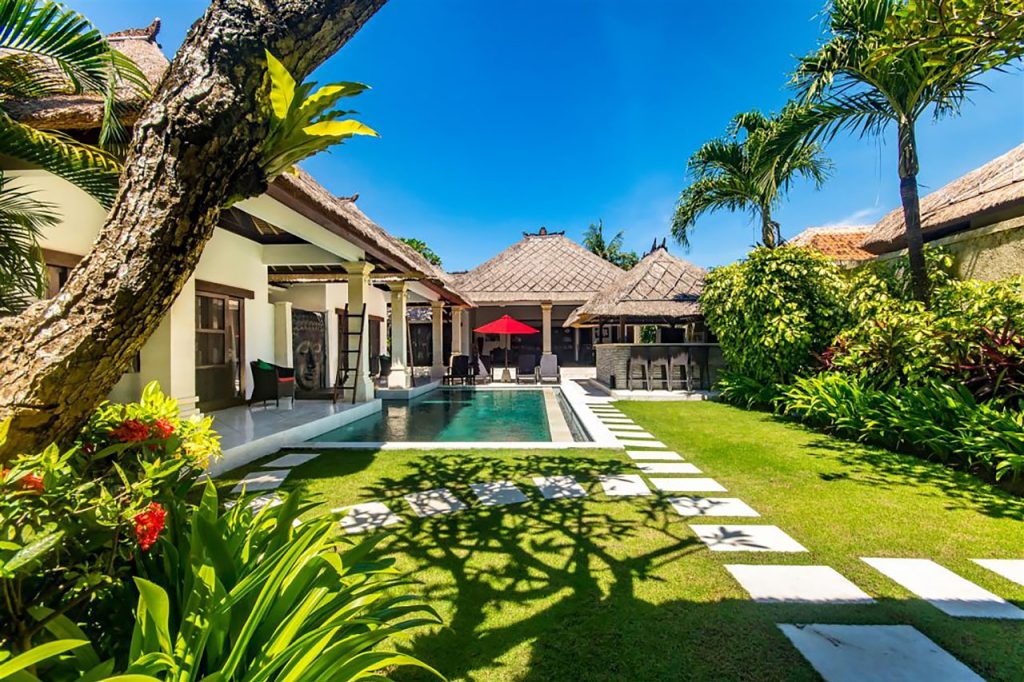 Villa Rama, positioned right in the center of Seminyak, provides you with the best of the town in a mere five-minute walk. Villa Rama, as part of a larger complex, is well hidden in the safe and peaceful neighborhood of Gang Keraton, which is another great reason why you should choose this villa as your holiday retreat in Bali. As part of the Villa Bugis complex in Gang Keraton, villas would not be able to get in each other's way, and they would also be safe. This is the 3-bedroom villa Rama.
Entering the property through the main gate leads you directly into the villa through the white stepping stones. Three thatched-roof pavilions surround the pool, together with a pool bar bale. The main house accommodated the living and dining areas as well as one of the three bedrooms. The kitchen is in a separate building, specifically the open gazebo close to the pool. Two more bedrooms are in their private pavilion, right across one side of the pool. All of those air-conditioned bedrooms are definitely in the company of semi-open en-suite bathrooms to strengthen the sense of private luxury.
ACCOMMODATION AT VILLA RAMA
LIVING AREA
Comfortable sofa set in an open-plan living, comfortable social hub where the entire group can get together catching up with everything. Satellite TV and DVD player ready to entertain you as it provided more than 50 channels from domestic and international options. And then, if the temperature becomes too hot for your lunch time on a simple dining table for up to eight people, turn on the ceiling fans attached. Modern kitchens also become an inseparable part of the living in Rama with its complete cooking facilities. It's in a separate bale, the one close to the pool. Each guest would find their culinary sanctuary even at the first night of their stay here.
BEDROOMS
Villa Rama has three air-conditioned bedrooms, one of which is attached to the living pavilion, and the other two are in a separate house adjacent to the pool, separated by Buddha relief and linked by a wooden bridge. Each sleeping space has a queen-size bed and two lamps on either side of it. At night, the lamp can soothe the atmosphere with its dim and comfortable glow. Each bedroom has a semi-open en-suite that is ready to use whenever you want to rejuvenate your body. It features a shower, toilet, and washbasin while being complimented by necessary bathing amenities and fresh, clean towels.
POOL AND GARDEN
In the midst of the garden, atop the manicured lawn and accessible by stepping stones, is a traditional bale you can use as a relaxation space, perhaps to take a nap on its cushions or read your favorite book while having a cold drink. Complementing Villa Rama more would be the private swimming pool with pristine, clear water that invites you all to have fun playing with the water, either with a cool dip or a lazy lap from one end to another. Shrouded by the sweet scent of frangipani and the swaying of palms, this is a peaceful tropical home right in the heart of Seminyak.
LOCATION OF VILLA RAMA
Villa Rama is part of the Villa Bugis Complex at Gang Keraton, Jalan Raya Seminyak. It takes about 20 to 25 minutes by car to get there from Ngurah Rai International Airport. Its strategic location enables you to walk to the cluster of restaurants and cafes. from those offered at a reasonable price to those at a skyrocketing rate ready to satisfy your appetite. Shopaholics would find it hard not to scream with delight at the lines of shops in this famous district. Branded and designer attire, bags, shoes, jewelry, and even unique gifts you can wrap and take home are available in Seminyak.
Furthermore, Villa Rama is only a few minutes' walk from the famous beach in the southern coastal area, not to mention the stunning sunset. But other options are always limitless in Bali. Everyone can always find their favorite spots. We have golf lovers at Nirwana Golf Course or the New Kuta Golf Course; professional surfers in Uluwatu; spiritual seekers on temple pilgrimages; and many more.
BALI VILLAS CLOUD
Family Holiday Seminyak 3-bedroom Close to the Beach Resort Town