Villa Ramadewa Seminyak Bali
Elegant and inviting, Villa Ramadewa is part of the exclusive Laksmana Villas complex in the upscale neighborhood of Seminyak in south-west Bali. Complete with a 16-meter swimming pool, open-air architectural design, tropical gardens, and a prime location featuring modern, 21st-century amenities, this resort ensures that your holiday will be one to remember.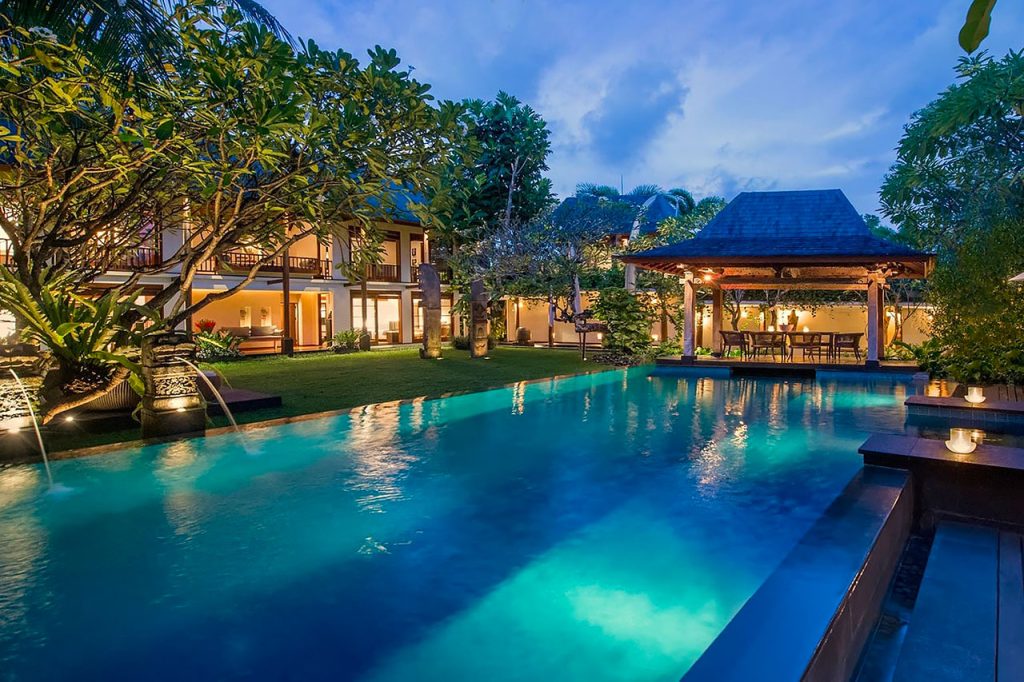 ACCOMMODATION AT VILLA RAMADEWA
BEDROOMS
Villa Ramadewa includes 3 luxurious air-conditioned bedrooms situated within one building.  Each bedroom is complete with an en-suite bathroom, TV and DVD player and high-speed Wi-Fi internet access.  The master bedroom is on the upper floor and has a private balcony that overlooks the villa's manicured emerald gardens.  Rich teakwood floors provide the foundation for the soft, king-size bed that is flanked by gorgeous traditional artworks from around the archipelago.  The master bedroom includes an attached study for a quiet respite and contemplation and its bathroom has a large bathtub atop black marble floors and enormous vanity mirror.  The two downstairs guest bedrooms are similar with open-air bathrooms for a unique experience of private, walled bathing under the stars.  
LIVING AREAS
The living and dining rooms at Villa Ramadewa are exquisite in the level of comfort they offer.  The dining table indoors can seat up to 8 guests while arrangements can be made to accommodate up to 14 outside.  With your own personal chef to prepare meals for you, you'll dine in style any time of day.  He is highly skilled in the preparation of Indonesian, Asian and Western cuisines, so whether you have a craving for ikan bakar (grilled fish) with Balinese spices or just a sandwich, he can accommodate your palate.  If you have a special dietary request, please inform him with enough time to accomplish the necessary shopping and he'll be happy to whip up a meal to suit you.  
Reclining in the living room with its Bose sound system and soft couches is fantastic for letting the mind wander over afternoon tea or a little evening conversation with friends. This room is covered with cool, white tile and is partially open-air, looking out to the crystal blue waters of the pool and manicured villa grounds. 
SWIMMING POOL & GARDEN
The swimming pool at Villa Ramadewa is a full 16 meters long affording plenty of space to do laps or just cool off with a quick dip during the day.  A beautiful timber deck borders one side of the pool that is furnished with padded sun loungers, perfect for working on your tan or just relaxing under the shade of an umbrella.  
LOCATION OF VILLA RAMADEWA
Villa Ramadewa is located in the cosmopolitan neighborhood of Seminyak on Bali's south west coast. This upscale enclave is home to some of the most lavish residences on the island not to mention the best dining, shopping and nightlife on offer.
The famous beachside restaurants of KuDeTa and La Lucciola are only a short drive from the villa where people from all walks of life congregate to soak in the gorgeous sunsets while sipping delicious cocktails and sampling fine, eclectic cuisines. KuDeTa even offers a grilled pineapple and black pepper martini that is a must-try.
For shopaholics, this area is awash with fashionable boutiques like 2NDSkin for light and breezy women's wear and Mario Silver for a unique selection of jewelry crafted by skilled Balinese hands. If the arts are what you're looking for, the Folk Art Gallery is in the area which offers a wide range of art and artifacts from all over South East Asia including an interesting collection of Burmese Buddhas.
Spend a day hitting the links at the renowned Nirwana Bali golf course, designed by the legend Greg Norman. This opulent course is only about a 45-minute drive from Villa Ramadewa and overlooks the Indian Ocean while being bordered on its other side by flowing rice fields. It is consistently voted one of the best courses in Asia. Near the Nirwana Bali golf course is one of the most venerated temples in all of Bali, the mystical sea temple at Tanah Lot. Its name meaning "Land in the Sea" in the Balinese language, this temple was built on orders from the Hindu priest Nirartha in the 15th century when he found the craggy rock formation it sits on just off the coast during his travels. The temple is still in use by locals today and is said to be guarded by a holy snake. Drinkable holy water spews forth from its rocky base, and in recent years, the area has become famous for its staggeringly breathtaking sunsets. 
BALI VILLAS CLOUD
Family Holiday Seminyak 3-bedroom Close to the Beach Resort Town