Villa Shanti Dewi Umalas Bali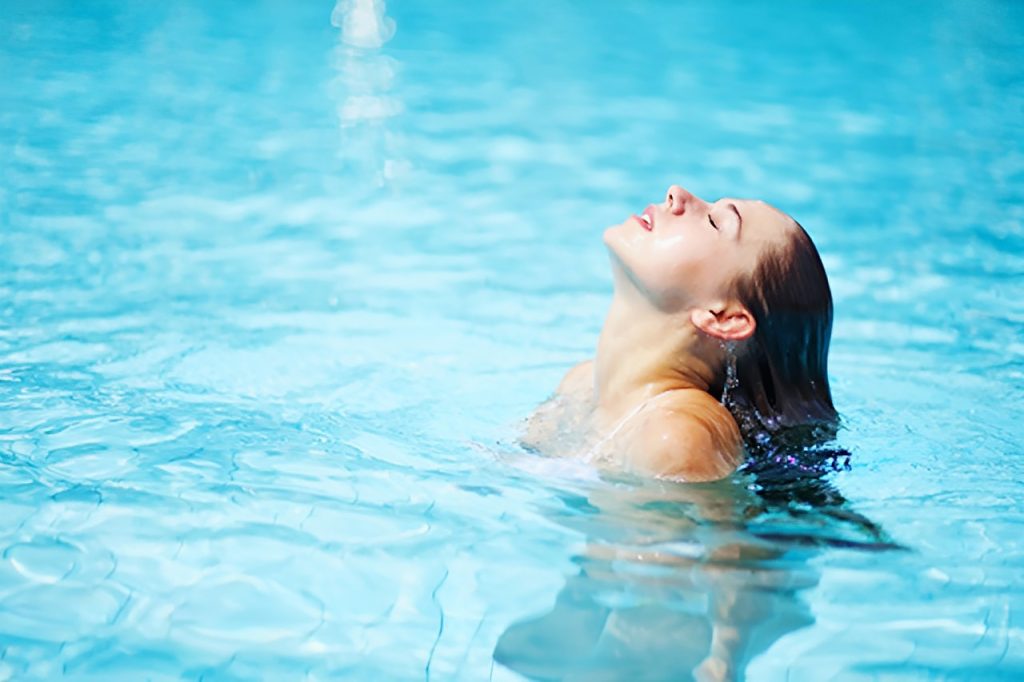 Villa Shanti Dewi is simply a peaceful, comfortable, and private place to live in Umalas. The ward, on the other hand, could not precisely define how this small villa loved the environment or the earth in its larger picture. This shrine has solar panels that absorb heat and convert it into electricity, allowing it to save as much energy as possible from the local utility company. It means, while staying in this villa, you will not only have great accommodation but also take part in preserving the environment. It just makes everything perfect.
When you enter the villa through the main entry door, you will see a small but lovely house with an enchanted tropical garden. A one-story house was surrounded by a full glass door that was elegantly framed by a timber deck. It extended to the pristine blue water within it, resulting in ultimate luxury on stage. Two air-conditioned bedrooms, each with its own quarter sleeping two people. They are coming with private bathrooms, as the two are divided into a master bedroom and guest bedroom. Peaceful living environments are the icing on the cake when it comes to designing a dreamy private villa in Bali.
Accommodation at Villa Shanti Dewi
Living Areas
Villa Shanti Dewi is built with modern architecture and is vividly displayed. The living room is small, and because it is surrounded by glass doors that go from floor to ceiling, it hides the main social area. The air conditioner takes care to keep the environment comfortable. This living room is furnished with a comfortable sofa and daybed set atop cool gray marble tiles. The coffee followed suit, successfully transforming the villa into a comfortable and cozy lounge. This lounge at Villa Shanti Dewi has an LCD TV with satellite, a DVD player, and a well-integrated sound system that make it easy to turn into a place for entertainment.
Still in living, we can move easily into the dining part. This dining room has been furnished to meet the needs of your mealtime with a top glass dining table surrounded by six seats. The fabulous kitchen is the final feature in living. The kitchen bar, with its black marble top, is a casual spot for a quick breakfast or an afternoon cocktail. Sufficient cooking tools have been stored, so it is easy for you to prepare some meals or even invite a professional cook into the villa.
Bedrooms
Two air conditioned bedrooms in Villa Shanti Dewi are divided into Master and Guest Bedrooms. Master is in an adjoined room separated from living as it is accessible from the pool deck. Guarded by sliding glass doors, a king size bed is set on top of a cool marble floor while another part of the bedroom is occupied by a built-in wardrobe and dressing desk.
Inseparable function from the master that ascertains the luxury will be the master garden en-suite. Have an experience of showering or sinking in a tub whilst surrounded by tropical foliage.
Bordering the master bedroom is this lovely open-deck verandah with a charming chandelier looming over. Furnished with comfortable rattan sofas, it can serve you a great place to relax with a good book and a cup of tea.
The second bedroom is accessible from living. This guest bedroom furnished a queen bed for two. Further equipment brings us to the built-in wardrobe giving you space keeping all attires. Attached private bathroom explores facilities such as terrazzo basin, toilet and overhead shower.
Swimming Pool and Garden
The L-shaped private pool through the shimmering blue water is an exclusive privilege for those staying in Shanti Dewi. It is the joy of having fun in the pool without disturbance from strangers. Bordered the pool nicely is the finely arranged timber deck where sunbeds and umbrellas are posing on it.
Enjoy the free-pacing time to truly enjoy your private sunbathing time. Finally, the final and most endearing-inseparable part in Villa Shanti Dewi will be its extremely well-loved tropical garden. Natural colors adorned the villa in careful arrangement; they are intended to give an utmost appearance of a small little tropical-haven in Bali.
Location of Villa Shanti Dewi
Villa Shanti Dewi is situated in Umalas village. This village is around 30 minutes' drive from Ngurah Rai Airport. Peaceful and relaxing places vividly displayed in its surrounding area. Green rice fields, traditional life and a humble village is what you can still define about Umalas. What's great about this place is its in-between location. It takes you around 10 minutes' drive to reach Seminyak and its wonders.
Tens of international restaurants along domestic cuisines to appease your appetite even up to the picky ones are here. Shopaholic can quench their thirst with so many lines of latest fashion and jewelry updates where it gets national to international brands available. Not to mention the exotic stretch of white and golden sandy beach with its tempting sunset.
From Umalas also you can have a short drive to Canggu, an area where famous and challenging waves for professional surfers are available. This is also part of Bali that still has that long stretch of rice field where you can have a relaxing cycling trek. Finns Recreation Club, Canggu Plaza and Canggu Deli marked the social place in Canggu where people can eat, exercise, shop and socialize.
BALI VILLAS CLOUD
Budget Umalas Bali 2-bedroom Resort Town Close to Happenings