Villa Songket Umalas Bali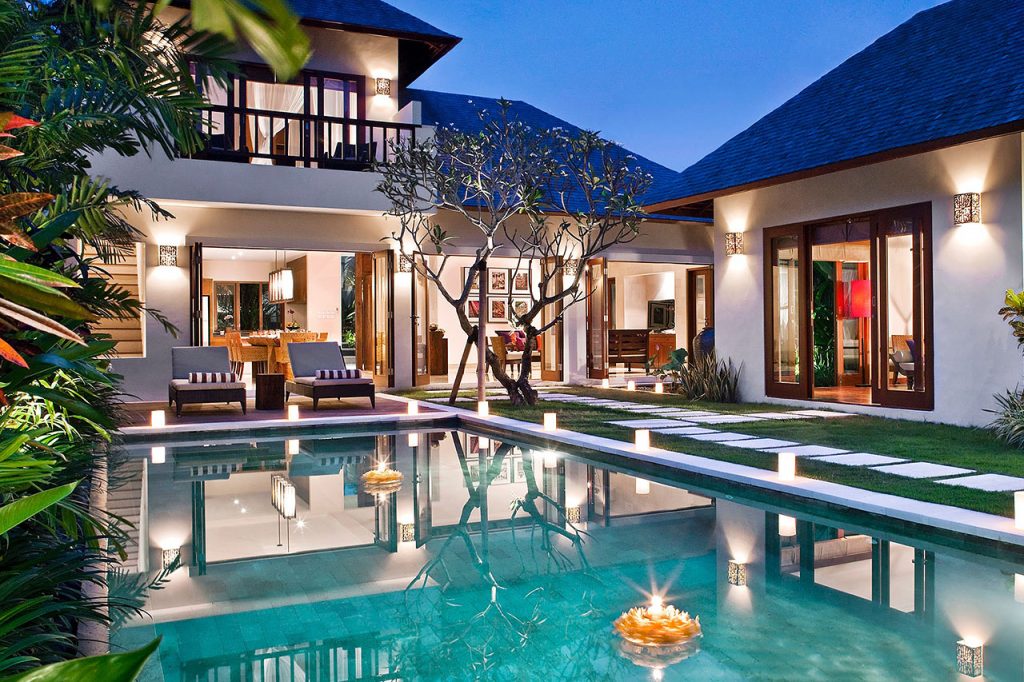 Villa Songket is a villa that adopts modern architecture and blends it with Balinese features to create a complete form of a private holiday home in Bali. Targeting not only luxury, but Villa Songket also aims for the best and most comfortable home for your long-awaited holiday. The villa located is in the popular residential enclave of Umalas, which makes it feel peaceful and quiet immediately.
With its continuously escalating popularity to foreigners living on the Island, a stay in Umalas give you comfortable proximity to a long strings of restaurants and coffee shops. You will definitely get even more options in the neighboring areas like Petitenget, Seminyak, and Berawa which are reachable within a few minutes' driving. It means you have luxury, comfort, peace and easy access to reach every exciting part of the island.
Upon entering the main gate, this double door will lead you to a couple of stairs that descend to water pond with stepping stones to walk accross. Entering the main house will be the living, dining and kitchen area in Villa Songket, which acts as the central social spot here. Another door in the residence reveals one of the three air-conditioned sleeping quarters in Villa Songket. This is the bedroom situated close to the lounge. Exploring further is a set of stairs close to the dining area, which leads you to the upstairs bedroom bordered by the balcony. The last bedroom which is the villa's master bedroom rests in its private pavilion, separated from the main house. This bedroom is accessible from the living area through the glass folding doors which are the only access to the pool and lawn.
Accommodation at Villa Songket
Let us begin a thorough exploration to Villa Songket, starting from the living area.
Living Area
Befitted an everyday use as the primary social function, the living area of Villa Songket is constructed with a high ceiling design, bordered by folding glass doors and is equipped by both ceiling fan and air-conditioner. Flexibility and utmost comfort are what the designers of Villa Songket wants to achieve. You can either open all the doors to access the pool, let nature take control of the atmosphere, or let the ceiling fan take some part of it. You can also close all the access and give the air-conditioner to cool the room. Either way, glass doors will always allow you to enjoy the view.
The sofa bed and chairs with table faces a wall made of natural Palimanan stone, where a set of built-in vanity carries the villa's entertainment package. It has this large flat screen TV connected to satellite channels. A DVD player and integrated sound system make a complete mini home theatre. At the opposite side the lounge, you can easily spot a simple yet elegant dining table for eight people, definitely the best place to enjoy meals with the whole group.
Attached modern kitchen features complete cooking equipment perfecting the living experience in Villa Songket. A powder room furnished washbasin and closed is available near the kitchen.
Bedrooms and Bathrooms
The master bedroom of Villa Songket is the sleeping quarter rested in its private pavilion. This timber-floored chamber is ready to greet and host its occupants with a four-poster king-size bed shrouded under the pristine white net. Bedside nightstands accommodate pair of lamps giving illuminating lights at night, which is soothing and romantic. More in the master is an office desk and chair, including a dressing room furnished dressing desk attached built-in wardrobe stored safety box inside.
Adjoined private en-suite expresses a semi-alfresco bathing experience through its garden bathroom design. Completed is a terrazzo bathtub with pair of washbasins on top of a marble base. There is also an overhead shower where you can soothe the body right under the minuscule of the night sky.
Two more bedrooms in Villa Songket are positioned at the main house. One is downstairs, and the other one is upstairs. Downstairs bedroom equipped queen-size bed under additional safety coming from the white net. The wardrobe and safe also make an appearance in this bedroom. The private en-suite will then handle the task of indulging you further with luxury through its garden bathroom. This en-suite features an open shower, including his and her washbasin. The last bedroom is the twin bedroom. A pair of single beds posed on a polished timber floor faces a set of entertainment devices.
Even when you have decided to retreat into the comfort of of the bed, satellite TV and DVD player are ready any time you deem it is for private entertainment before going to bed. Compliment this bedroom further will be the garden shower and washbasins that follows.
Pool and Garden
A lap pool bordered by natural white stones is another form of luxury and privacy. One end of it adorns with pair of sunbeds sitting on a timber deck. Meanwhile, the other end is adorned with a pool pavilion. Sunbathing, relaxing and exercising are one package of comfort you can fully have in Villa Songket.
Do some lap, dip and dive in the pool and then continue it by catching some heat on the sunbeds or relax and enjoy a cold drink at the pool pavilion. Still, there is more to Villa Songket that entirely emanates tropical life inside this villa. Sweet-scented frangipani trees, and swaying palm leaves, are only some of the green ambience you can find here.
Location of Villa Songket
Villa Songket is reachable from Ngurah Rai International Airport, around 30 minutes drive. Situated in Umalas, it is easy to reach the closest place to get some light meals at the nearest small restaurant here. Peacefulness and privacy is the fundamental thing you can get by staying in Villa Songket.
The location, however, will allow you to reach every interesting spot on the island. Umalas is an area right in the middle of everything. You can take 10 minute drive, and here is Seminyak, almost the same distance will give you the unwinding yet increasingly popular surfers' village of Canggu.
If you are looking for calming waves, famous sunsets, beach clubs, and a cluster of restaurants and shopping places, Seminyak is the answer. This renowned city has everything from the authentic Balinese to western style. Souvenirs, jewellery pieces, fashions, well-being spas and massages are here.
If you are looking for thrilling waves, rocky beaches or exotic black sand, Canggu is the answer. This area is famous not only for surfers but also for those looking for tourists developed places without getting overcrowded like in Seminyak. Canggu also has some selected excellent restaurants you can visit to create a different dining experience.
Bali Villas Cloud
Family Holiday Umalas Bali 3-bedroom Close to the Beach Resort Town