Villa Sound of the Sea Caggu Bali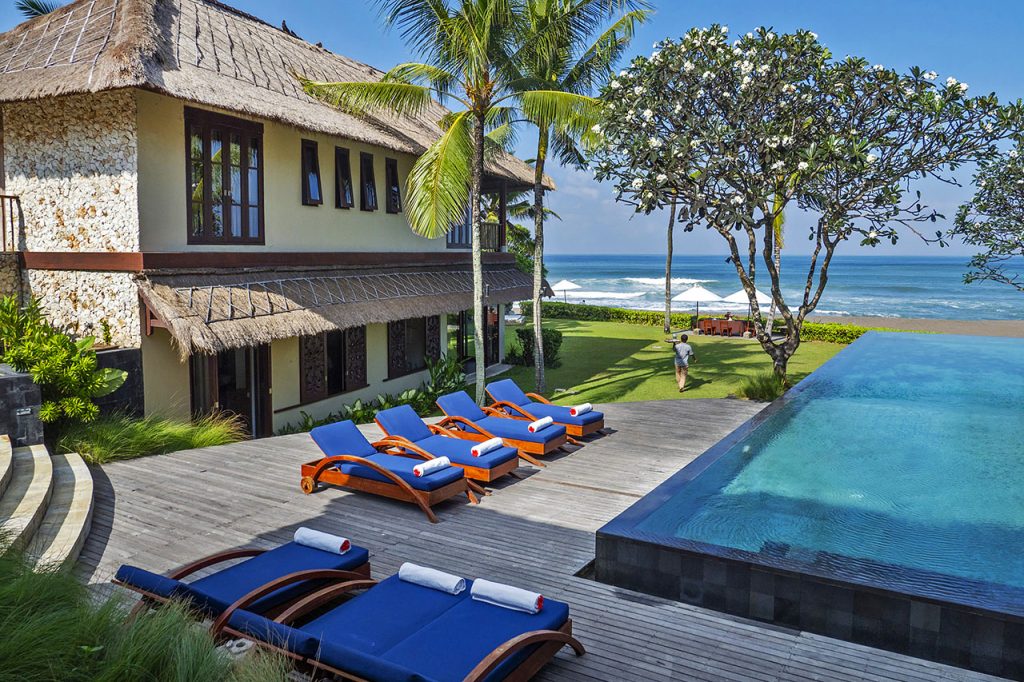 Villa Sound of the Sea is a beautiful beachfront home in the sleepy village of Pererenan in the Canggu district of southwest Bali. It has five lovely master suites, beautiful gardens, bales for relaxing, a Jacuzzi right on the beach, koi fish ponds for decoration, and all the modern conveniences. In an environment of complete peace, guests can relax to the fullest and see some of the most beautiful sunsets in the world every day. Let Villa Sound of the Sea guide you to a place of serenity where all of your cares are gently washed away with the calming sounds of the rolling tides.
Accommodation at Villa Sound of the Sea
Bedrooms
Five very luxurious master bedrooms make up Villa Sound of the Sea. Each one is a little different and has its bathroom. These rooms are fully air-conditioned and have king-sized beds, 37-inch LCD TVs, DVD players, a high-end Bose sound system, Wi-Fi internet access, and beautiful views of the beach and gardens. No expense was spared to give guests the most comfort and ease possible.
The Wave bedroom has gorgeous cherry wood floors, and a king-sized bed draped with soft, white cotton sheets decorated with strips of purple for a truly regal feel. Huge sliding glass doors open directly onto the expansive balcony that sits as close to the beach as possible, where you can lounge on a padded wicker and bamboo chair and sip afternoon tea while watching the waves of the Indian Ocean crash on the shore. This room is connected to the villa's library, which can be rearranged into a double bedroom for children. The elegant en-suite bathroom includes dual washbasins, a rain shower, and an indoor bathtub.
The Beach bedroom also offers large sliding glass doors that open directly onto the garden. This bedroom is so close to the beach that you'll feel like you're camping in the lap of luxury. This room's light purple color scheme, which has modern furniture and beautiful modern art, makes it feel calm. Its en-suite bathroom also contains a washbasin, bathtub, and rain shower.
The Caribbean bedroom has an exciting feel with rustic, whitewashed wood furniture and a four-poster bed draped with snowy white netting. The villa's rolling emerald gardens and the ocean offer a tranquil view. At the same time, the en-suite bathroom boasts floors made of fantastic white Palimanan stone, dual washbasins, and a large vanity mirror bordered with a wall of gray pebbles. This bathroom also has a bathtub and a rain shower.
The Garden bedroom features a four-poster king-sized bed and floors made of polished white stone. You can see a beautiful tropical garden of color and plants when you open the sliding glass doors. The en-suite bathroom is gorgeously Southeast Asian, featuring walls made of bamboo, dual washbasins, a bathtub, and a rain shower.
The Ubud bedroom has a traditional feel mixed with 21st-century opulence. An exquisitely carved four-poster bed sits atop a lovely red marble floor next to an alang-alang-colored bathtub.
Living Areas
Most people gather in the living pavilion at Villa Sound of the Sea. This open-air space is next to the pool and has beautiful views of the gardens and beach. Attached to the beams holding up the tall roof are soft white lights that illuminate it. The space is filled with modern sofas and antique pieces with intricate carvings. All the furniture is padded so guests can relax comfortably and style. Here, you can plan what to do for the day or tell stories about your adventures over a few cold drinks in the evening as the sea breezes tickle your senses.
Guests will dine in style at Villa Sound of the Sea around a glass dining table on one side of the living pavilion. With the unmistakable sound of the waves and the peaceful view of the sunset, any meal here with friends or family will surely be memorable. Add to that the succulent creations of our world-class chef, and you've got a once-in-a-lifetime experience.
The private chef at the villa is very good at cooking and can make dishes with flavors from East to West. Treat yourself to a juicy steak with vegetables and potatoes, or sample some traditional Indonesian fare such as nasi goreng (fried rice). Whatever your choice, he'll be happy to serve you. If you have a special diet, just let the chef know in time for him to do any shopping that may be needed, and he'll make sure you're taken care of.
There are also other places at Villa Sound of the Sea to enjoy a tasty meal. The best way to wake up is to eat your eggs and coffee outside in the breakfast pavilion close to the pool, where gentle breezes keep you cool. There is also a rustic wooden table atop a wooden deck located only one meter from the sandy beach, where you can enjoy a fabulous lunch. Under a red umbrella, you can eat bland food in the villa's garden at the edge amidst tropical plants.
In the evening, if you want to relax with a drink, you can go to the cocktail pavilion in the middle of a fishpond and reach a broken stone path. Here you'll find cushions to lounge on while you gaze at the decorative greenery surrounding the bale.
For your enjoyment, Villa Sound of the Sea offers its cinema room, where you can watch one of your favorite films on the giant projection screen. This room is expertly decorated with modern abstract art and has white cushioned sofas to stretch out on. The sofas are decorated with silky olive and gold-colored throw pillows. A state-of-the-art sound system completes the set-up, so you feel like you're at the theater but with all the comforts of home.
The villa's library is next to the Wave bedroom, where you can choose from various DVDs and books to entertain you during your stay. This room includes an elegant writing desk and a sofa if you'd like a quiet place to connect with work or friends back home. It can also be converted into an extra bedroom at your request.
If you'd like a good workout or just a friendly game, the Pantai Lima Estate, of which Villa Sound of the Sea is a part, includes a tennis court and gym for guest use. The tennis court is floodlit, allowing night games, and the gym offers a range of equipment if you'd like a little more strenuous exercise.
Garden and Swimming Pool
If you've worked up a sweat on the court, dip in one of Villa Sound of the Sea's swimming pools. The main 20-meter-long swimming pool is perfect for laps or just a relaxing wade and is bordered by a wooden deck furnished with sun loungers. Please spend some time in its clear blue waters or sit under a red umbrella in a chair and sip a cool drink. There is a second, smaller swimming pool for children with a maximum depth of 60 centimeters.
Also, there is a Jacuzzi right next to the beach where up to six adults can relax with cocktails and talk in the evening while the waves crash.
The gardens at Villa Sound of the Sea are well cared for and full of plants. Perfect for peaceful contemplation, a stroll through these gardens will reveal sweet-smelling frangipani trees, mystical Balinese statues, and even a Balinese temple where offerings of thanks are made to the island's protectors.
Location of Villa Sound of the Sea
Villa Sound of the Sea is far from the busy tourist areas of Kuta and Legian and thus gives guests a lot of privacy, but they are still only a short drive away from Bali's best tourist attractions and activities.
The ancient sea temple at Tanah Lot is only a short drive from the villa and is ready for your visit. This centuries-old temple was built on the orders of the Hindu priest Nirartha atop a rugged rocky outcropping in the Indian Ocean. It has become a popular place for tourists worldwide to go because it has such beautiful sunset views and an air of mystery and wonder. Visitors to the temple can even sample the drinkable holy water that pours from the bottom of its rocky base.
Seminyak's fashionable and cosmopolitan town is only a short drive from Villa Sound of the Sea. There are high-end boutiques and world-class restaurants for people who want to taste the good life.
The five-star restaurants KuDeTa and La Lucciola are in Seminyak, where people can try a wide range of delicious foods and meet people from all over the world who are on vacation or living there. Both restaurants are right on the beach, so you can enjoy a tasty drink while watching the famous sunset and feeling the cool white sand between your toes. KuDeTa even offers a unique grilled pineapple and black pepper martini, a must-try.
Bali Villas Cloud
Family Luxury Canggu Bali 5-bedroom Beachfront Traditional Village