Villa Suliac Seminyak Bali
Villa Suliac is a private villa with a benefit called the "golden triangle" that is sure to draw you in. The combination of property, location, and good price make it an offer that is hard to deny. Gray and gray, the sofas in Villa Suliac's living room are the very definition of calm and peacefulness.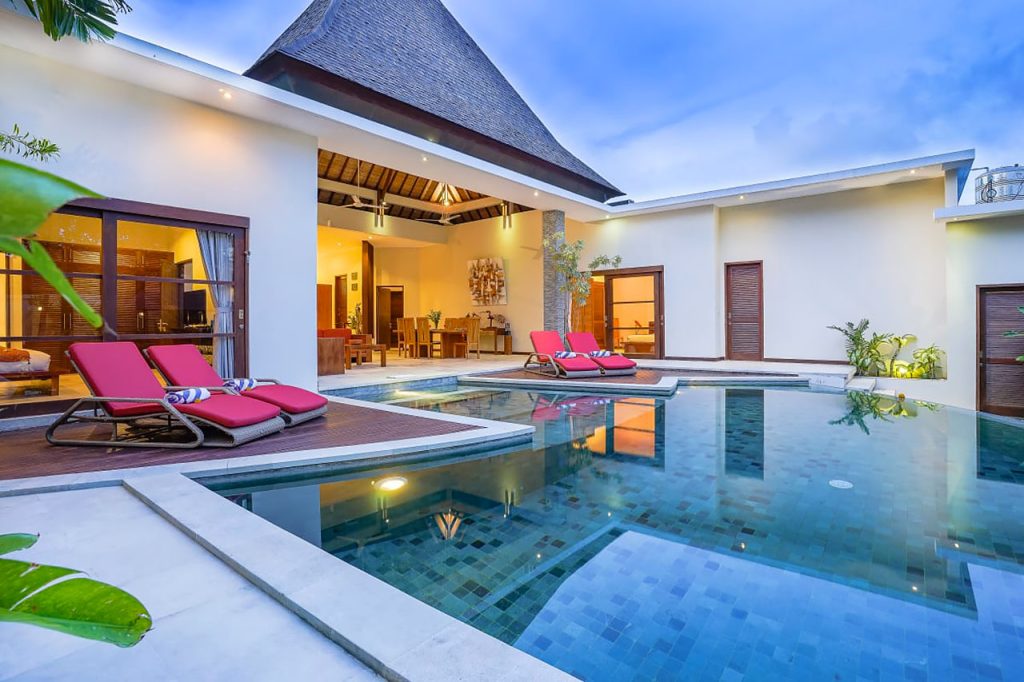 ACCOMMODATION AT VILLA SULIAC
LIVING AREAS
With the help of a simple but elegant table, you can proudly invite your friends to this humble home or plan a group get-together, like a good chat time with snacks and cold drinks. Living in Suliac is an open affair; it lets you have direct access to the pool and opens its hands widely to the calming forces of nature. Light and breezes from outside can come in freely, and the ceiling fans help to cool things down when the humidity is at its highest.
The dining table is also prepared; it involves a wonderful event where six people or even eight, including your guests of honor, have simply delightful meals. You can have your breakfast, lunch, or dinner here with the whole group. You can easily make your own signature dish in the attached kitchen, which has a modern look and all the tools you need to cook. A professional cook is also available at Suliac if you make plans ahead of time. This way, you can order a unique dish, maybe from the wide range of options on the Indonesian menu.
A close kitchen and a calmly controlled corner of the living room will be full of entertainment to fill your days. The flat-screen TV and DVD player will show you many international and national channels.
BEDROOMS & BATHROOMS
Suliac has three air-conditioned bedrooms, each representing privacy and luxury for two people. A king-size bed adorned the very center of the marble-floored bedroom, while a pair of nightstands hosted two lamps that created soothing light at night. A built-in wardrobe also makes an appearance in each bedroom, providing you with enough space to store all your holiday attire. In addition to the highest level of comfort, you can easily find an LCD TV and DVD player installed. This way, you can keep enjoying good entertainment even after you've moved into your private quarter.
The next step toward comfort is that Villa Suliac will have a private bathroom. Two bathrooms and two bedrooms were set up in the same way, with a semi-open garden in between. It is easy to picture taking a shower or relaxing in a tub in a tropical setting. Even though one of the bathrooms is inside, the fact that it has a shower and a washbasin doesn't make it any less luxurious.
SWIMMING POOL & GARDEN
A free-form pool with shallow steps and white "palimanan" stones surrounds pristine water. It gives the house a clear name and makes it easy to get in and out of the bedrooms and living room. Pools give you the ultimate luxury of being able to enjoy yourself without having to share with strangers. A wooden deck built around the pool features sunbeds that guarantee a private spot for sunbathing. There are tables and chairs for an al fresco dinner under the stars on this timber deck. Suliac's ultimate representation of a tropical home will be the selected natural foliage. It has been carefully arranged and groomed, and the overall look is finally able to make the villa feel like a real tropical setting.
LOCATION OF VILLA SULIAC
The Villa Suliac is in Legian-Seminyak, which is about 20 minutes by car from the Ngurah Rai International Airport. The villa allows you to have everything within walking distance. The closest beach can be reached on foot in about 15 minutes, and it's good for surfing, swimming, and, of course, sunbathing. The nearest restaurants are a 10-minute walk away, and you can easily imagine a long line at them. There are a lot of different dishes to choose from, from European to the unique Balinese and Indonesian cuisines. not to mention the many fashion boutiques that sell clothes, bags, and shoes with the newest or most unique designs. Pamper your body at one of Seminyak's many spas and house massages, and prepare your energy for a wild night at one of the town's many nightclubs and bars.
BALI VILLAS CLOUD
Family Holiday Seminyak 3-bedroom Close to the Beach Resort Town