Villa Swarapadi Ubud Bali
Villa Swarapadi is a one-of-a-kind and beautiful vacation home in Bali. It is in the quiet village of Junjungan, which is near Ubud. With four gorgeous, comfortable bedrooms and its own state-of-the-art recording studio, Villa Swarapadi is ideal for musicians looking for a beautiful, peaceful place to concentrate on creating art or just for people seeking a relaxing respite from the world in a quiet area surrounded by rice paddies and tropical flora.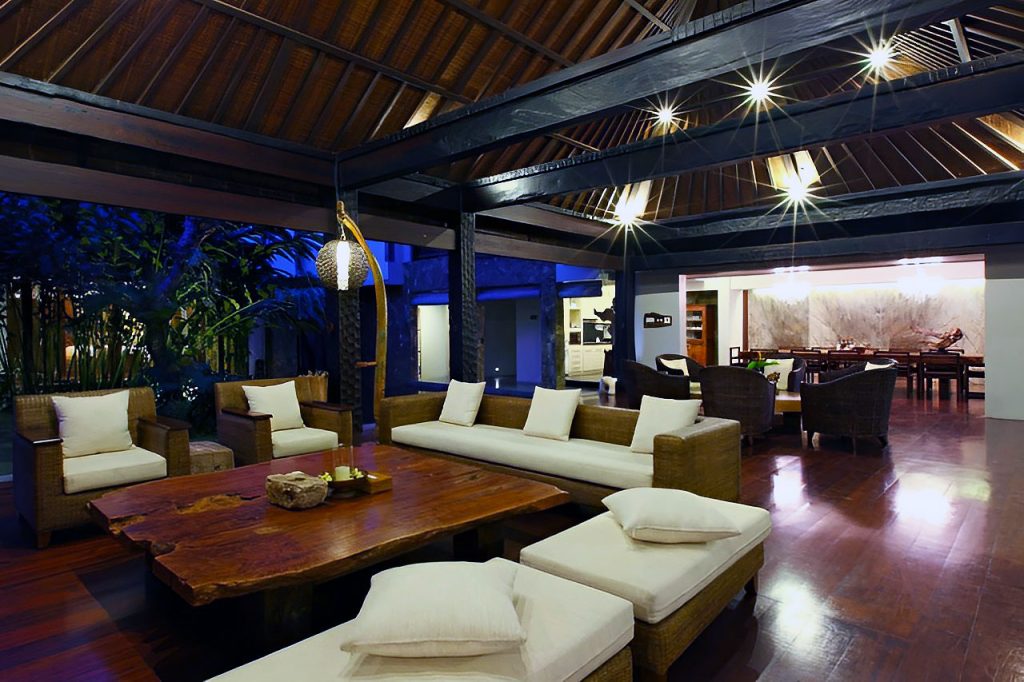 Accommodation at Villa Swarapadi
Bedrooms
The four beautiful bedrooms at Villa Swarapadi are all named after different parts of traditional Indonesian music called "gamelan." Each room is tastefully decorated with a mix of modern and Balinese styles. They all have air conditioning, king-sized beds, 32-inch LCD TVs with DVD players, high-speed Wi-Fi internet access, and safes for your valuables.
Both the Gong and Gamelan bedrooms are big enough for a master and have polished white stone floors and high thatched alang-alang roofs. Large, almost floor-to-ceiling windows made of wood give a peaceful view of the villa's gardens. Hand-carved Balinese furniture is scattered throughout the space, giving the home an even more artistic feel on an island where art is everywhere. Both of these bedrooms have bathrooms that are right next to them. The black stone floors in the bathrooms go well with the white walls. A beautiful chocolate-colored wooden counter holds a washbasin, and a vanity mirror hangs above. In these bathrooms, you can take a refreshing rain shower outside or take a long, relaxing soak in the high-end terrazzo bathtub.
The Legong and Degung rooms also have polished white stone floors and tall traditional roofs. Rustic wooden furniture is used to decorate and use these rooms. Like the gong and gamelan bedrooms, the beds are draped in snowy white netting. The best craftsmen in Bali made the doors to the Legong and Degung rooms, which are used to enter them. The en-suite bathrooms also have black stone floors, washbasins, vanity mirrors, and high-pressure outdoor showers.
Special Feature: Recording Studio
The most interesting thing about Villa Swarapadi is that it has a fully equipped and very modern recording studio. The studio is perfect for producers, artists, and musicians who want a quiet place to record their masterpiece. It is also filled with state-of-the-art equipment, so you can be sure that the audio you record will sound clear and professional. You can record in both analog and digital formats, so you can get any sound atmosphere you want. The soundproof recording room has a full drum set, keyboards, guitars, basses, and anything else you might need. Villa Swarapadi even provides an on-site professional sound engineer for your needs.
Living Areas
The large, open-air living room, which has a beautiful rattan sofa and chairs around a honey-colored teakwood coffee table, is the place where people gather. Its alang-alang thatched roof seems to reach up to the sky, and its breathtaking view of the emerald gardens and tropical forest around it creates a calm atmosphere filled with green. This is an ideal place to hang out with your friends, family, or bandmates in the evening and swap stories of your adventures around Bali or bat around creative compositional ideas.
Living Areas
When you're not writing or relaxing in another part of the property, take a refreshing dip in the villa's 17-meter infinity pool, which looks out over a tropical jungle and rice fields in the distance. Going for a swim in its clear blue waters is a great way to clear your mind and get ready for another day in the studio, especially if you can do it with a beautiful view. The pool is surrounded by a deck with wooden loungers and umbrellas. Take some time to relax in the shade with a cold drink or a good book.
If you're hungry, there's no need to ever leave the villa, with its proper, luxurious dining area and world-class menu. All dishes at Villa Swarapadi are skillfully prepared by our private chef.
Gastronomic Experience
Our chef has been trained in the cooking styles of 5-star restaurants, so he can make delicious local dishes like bebek goreng (crispy fried duck) or something more familiar, like a delicious, juicy Western-style steak. If you have special dietary needs, just let him know in time for him to do any shopping that may be needed, and he will be happy to meet them.
Location of Villa Swarapadi
Villa Swarapadi is in the quiet village of Junjungan, which is near the cultural and artistic center of Bali and the town of Ubud. It is surrounded by beautiful rice fields and gives off an air of creativity that goes well with the mystique of its surroundings. This area gives visitors a quiet place to think and relax without being too far from fun things to do and see.
Environment
Ubud has been a haven for artists from all over Bali and the world for a long time. It has many museums, and traditional Balinese music, called gamelan, is played and danced every night. Be sure to go to the Ubud Palace to see a fascinating show of intricate dances and the gamelan orchestra's complex melodies and shimmering harmonies.
The air in Ubud is always filled with the hypnotic sounds of chants, called "kecak." Groups of 20–40 men chanting together create interlocking rhythms for a dance show that tells old stories from the Balinese Hindu canon. Most of the time, fire is used in these dances to show how skilled and in control the dancers are.
One of Bali's most famous attractions is right in the center of Ubud: the Monkey Forest. This huge temple complex was built to fit in with its natural surroundings, so vines and trees grow all around it. Of course, friendly monkeys scurry about the entire temple, even coming right up to tourists to beg for food. You can buy some bananas from a local fruit seller within the temple grounds to give to the monkeys.
If an outing is on your agenda, go a little further afield to the Sukawati Art Market, where you'll find anything and everything Bali. This traditional market is known for its large selection of sarongs, handicrafts, and paintings made by Bali's best artists.
Bali Villas Cloud
Family Holiday Ubud Bali 4-bedroom Close to the Traditional Village Countryside