Villa Uma Nina Jimbaran Bali
Villa Uma Nina is a magnificent example of modern luxury, located in a breathtakingly beautiful area in the south of Bali. This villa is surrounded by lush gardens and sits on a bukit, which means hill in Indonesian. It looks out over the Indian Ocean and the peaceful villages that surround the town of Jimbaran.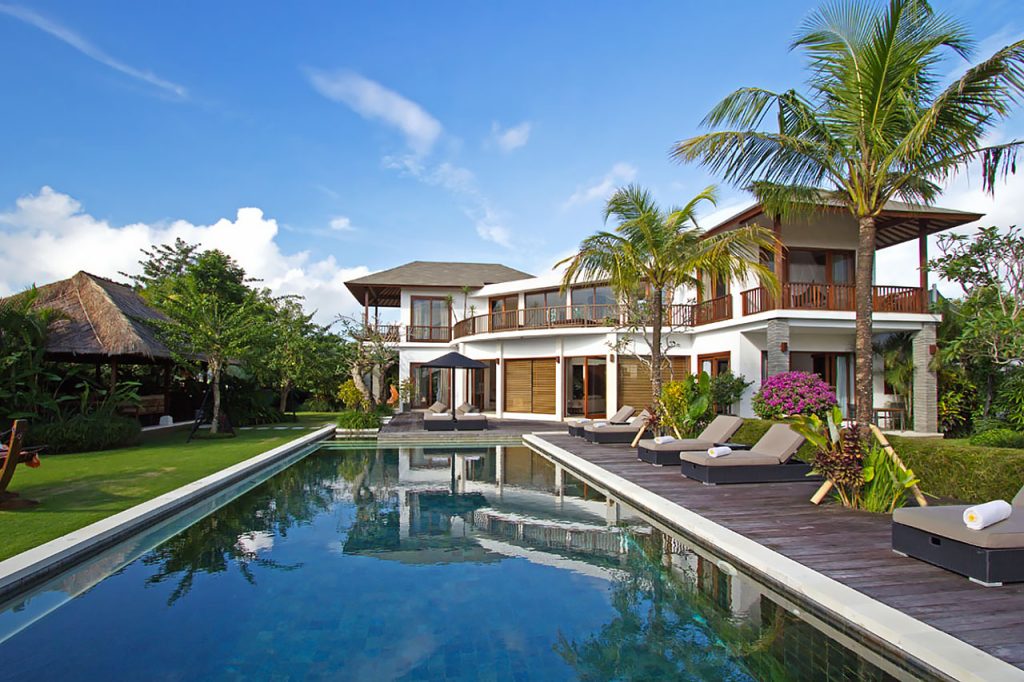 ACCOMMODATION AT VILLA UMA NINA
With its five stunningly beautiful bedrooms, Villa Uma Nina is an oasis of peace that can't be found anywhere else in Bali. You'll leave feeling pampered and refreshed. Each bedroom is fully air-conditioned and comes equipped with en-suite bathrooms, high-speed Wi-Fi internet access, and a safety deposit box to store your precious valuables.
BEDROOMS
The master bedroom features an elegantly carved, four-poster, king-sized bed, honey-colored hardwood floors and a view of the villa's gardens and pool through the large, sliding glass doors. At dawn, the morning sun will gently awaken you as its soft rays quietly fill the room with natural light. This bedroom also includes a large LCD TV and iPod docking stations. Its en-suite bathroom has dual, stone washbasins, a large vanity mirror and a huge gray stone bathtub, great for a long soak while your cares melt away. In addition there is also a high-pressure rain shower if you prefer.
Upstairs in the main building, you will find two tasteful guest bedrooms, each with a queen-sized four-poster bed, smooth, rich hardwood floors, and glorious en-suite bathrooms complete with washbasins, vanity mirrors, and a massaging rain shower. A very similar guest bedroom lies downstairs in the same building with two twin beds that can be converted into a queen-sized bed at guest request and its own en-suite bathroom.
Villa Uma Nina also offers a detached guest house in its own area of the property set amongst tropical gardens. This luxurious two-story building includes a bedroom on the first floor with a queen-sized bed, elegant furnishings and its own en-suite bathroom. The bathroom includes a washbasin, vanity mirror and rain shower.
SPA ROOM
Additionally, there is a separate spa room on the first floor where you can order any number of professional spa treatments delivered directly to the villa. Spend an entire day being pampered by the skilled hands of a Balinese masseuse or indulge in a manicure, pedicure or facial. The spa room also features its own rain shower so you won't even have to leave to cleanse your body with hot, relaxing water.
ENTERTAINMENT
On the ground floor of the guest house you will find a truly exquisite space full of high-end entertainment options that you can enjoy at your leisure. With large, soft plush couches you can sink into while you watch a film on the big screen LCD TV with attached DVD player this is the perfect spot to chill out with friends in a cozy air-conditioned room. If you're having some friends over, why not challenge them to a game of billiards on the regulation-size pool table? A few beers or cocktails and some good-natured competition are sure to make for a delightful evening.
LIVING AREA
The living pavilion of Villa Uma Nina is absolutely charming. In the middle is a large, intricately carved, honey-colored teakwood coffee table. On either side of it are soft, gray couches. Smooth, rustic-looking end tables shaped like logs sit at the ends of the couches for a unique decorative touch. From the entrance, huge wood-framed glass doors let in the sun's gentle rays and offer a beautiful view of the villa's well-kept gardens and swimming pool. The villa's dining area is in the same pavilion, off to the side. It has a large teakwood dining table that can seat up to 10 people. 
Decorative vases lie atop the table while comfortable rattan chairs surround it. It is here that guests can enjoy a fabulous meal in air-conditioned comfort or they can choose the separate outdoor dining pavilion for an elegant experience with soft lighting and gentle tropical breezes. The outdoor dining pavilion is set within emerald gardens and surrounded by exotic plant life. A large, wooden table rests here under a traditional roof where guests are treated to views of the crystal blue waters of the swimming pool which sparkle under the villa's lights in the evening. Whichever space you choose, you'll certainly be impressed by the skill and service of our private chef.
VILLA UMA NINA OFFERS OUTSTANDING GASTRONOMIC EXPERIENCE
A true master of the culinary arts, Villa Uma Nina's chef will ensure that all your dining needs are met. With the ability to craft excellent examples of local dishes like ikan bakar (grilled fish) or even mouthwatering temptations like a juicy Western-style steak, you'll have a wide range of delicious options to choose from. If you happen to have a special dietary request, simply inform the chef with enough time to accomplish any shopping that may be necessary, and he'll be happy to arrange a meal to suit your needs.
If you have a passion for cooking yourself, don't be afraid to make use of Villa Uma Nina's fantastically modern kitchen fully equipped with everything necessary to whip up your own creations. White and black granite countertops and matching stainless steel appliances add a certain beauty to the space.
GARDEN & SWIMMING POOL
Of course, the centerpiece of Villa Uma Nina is its 14-meter-long swimming pool, where you can cool off during the day or go for a relaxing wade at night amidst the serene beauty of the surrounding gardens. You can spend an afternoon tanning on a wooden deck with sun loungers next to the pool or just relaxing with a good book and a cocktail under an umbrella.
LOCATION OF VILLA UMA NINA
Villa Uma Nina is in the quiet southern part of Jimbaran, close to some of the most interesting things to do on the "Island of the Gods," but far enough away to give you privacy.
For a deliciously decadent night out, head to the white-sand beaches of Jimbaran Bay, where you will find a smattering of local warungs (cafés) serving the freshest seafood imaginable, caught by local fishermen and cooked to perfection every day. These warungs offer beachside dining, so you can sift cool sand between your toes while you feast on fresh lobster paired with an ice-cold Bintang beer and gaze at the placid waters of the bay. Dining here for dinner is a special treat as the sun slowly recedes beneath the waves and the staff brings small tea lights to illuminate each table.
If an outing of golf is on your agenda, head to the nearby New Kuta Golf Course, offering stunning views of the Indian Ocean and 18 holes of pure sporting pleasure.
There are also lots of cultural things to do here. Uluwatu, a beautiful seaside temple, is only a short drive from the villa. When you visit this beautiful example of Balinese Hindu architecture, you'll be taken aback by the postcard-perfect views of the ocean from the high, dramatic rocky cliffs. Playful monkeys dart around the temple, and here you can even buy some bananas to feed them from one of the local fruit sellers that wander the grounds, making for a perfectly memorable adventure for the whole family.
BALI VILLAS CLOUD
Family Luxury Jimbaran Bali 5-bedroom Close to the Beach Hillside Ocean View