Villa Waringin Canggu Bali
Villa Waringin is the definition of paradise because it is right on a beautiful, sandy beach in the southwest of Bali. The cares of the outside world are brushed away as you enter this magnificent residence of six luxurious bedrooms surrounded by lush green gardens. A place of absolute serenity and peace, caressed by gentle sea breezes, we invite you to come experience the true magic of the "Island of the Gods."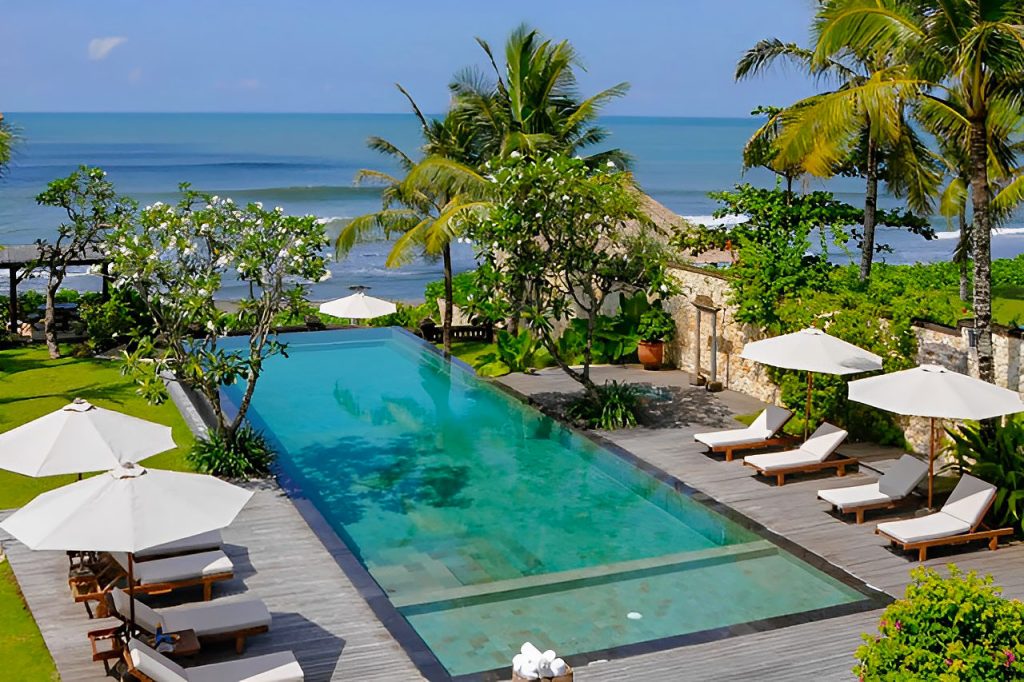 If you are planning a holiday under the tropical sun and looking to rent a beachfront villa in Bali to accommodate the whole family comfortably, Villa Waringin is definitely a choice to consider.
Accommodation at Villa Waringin
Bedrooms
Composed of six glorious master bedrooms, five of which have king-sized beds, and one of which has twin beds, Villa Waringin offers an unmatched level of comfort and luxury. Each bedroom is fully air-conditioned and features high-definition LCD TVs, DVD players, a state-of-the art Bose sound system, and high-speed Wi-fi internet access.
Three of the bedrooms have gorgeous views of the ocean through their wood-framed sliding glass doors, which can be opened to allow fresh sea air to burst in, mingled with the sweet scent of frangipani trees in the garden. Two other bedrooms feature their own terraces, where you can sip tea or coffee and let your mind drift away to the rhythmic crashing of the waves.  
Each bedroom includes its own en-suite bathroom with a sumptuous bathtub, washbasins, and vanity mirrors, and even a truly luxurious outdoor rain shower where you can bathe under the stars accompanied by the soothing sounds of chirping frogs in the rice fields.
Living Areas
The living room of Villa Waringin is nicely set up with a soft, plush purple couch, chairs, and an old teakwood coffee table. Large glass windows fill the space with an abundance of natural sunlight that reflects beautifully off the honey-colored hardwood floors, making this the perfect spot to gather and plan the day's activities or just hang out and swap stories of your adventures in Bali.  
On the other side of the living area, you will find a teakwood dining table with colonial-style chairs where guests are treated to a fabulous meal by the private chef working at Villa Waringin.  
The chef is highly skilled in the creation of a variety of cuisines, ranging from Eastern delicacies to Western delights. Try some local ikan bakar (grilled fish) with spicy chili sauce or just opt for a succulent steak—the choice is yours. If you have a special dietary request, simply inform the chef beforehand with enough time to accomplish any necessary shopping, and he'll be delighted to oblige.
You can also eat at the beachside gazebo, where the chef will make you something delicious. This outdoor space, set directly next to the beach, offers gorgeous views of the ocean and is cooled by fresh sea breezes. It is furnished with a small table and chairs, making this place excellent for an intimate breakfast with just a few friends.
Additionally, Villa Waringin's garden has a second gazebo where you can spend the day reading a book while taking in the sweet aroma of tropical frangipani trees.
Villa Waringin has a private media room with a home theater system and a large number of books to keep you busy during your stay. This place is great for stretching out and having a film night with friends and family.
If good exercise and competition are your entertainment, there is a tennis court for guest use shared with the other 4 villas of the Pantai Lima Estate. The tennis court is floodlit to allow the possibility of games that stretch into the night. For a more strenuous workout, there is also a gym with a selection of high-quality exercise equipment to help you stay in shape during your holiday.
Garden and Swimming Pool
If you've worked up a sweat, cool off in the villa's centerpiece, the 20-meter-long infinity swimming pool. Its crystal-blue waters invite guests to take a refreshing dip day and night. It's large enough to get some swimming practice doing laps or for all guests to enjoy a relaxing wade at the same time. The pool is surrounded by a beautiful wooden deck with sun loungers and umbrellas where you can relax and work on your tan or sip a cool drink.
For a truly invigorating evening in the lap of luxury, make use of your private Jacuzzi, located at the edge of the pool and looking out to the ocean. This is a great place to hang out with good friends, sip cool, delicious cocktails, and watch the sun slowly sink below the water as you talk in a charming way.
Location of Villa Waringin
Villa Waringin is in the Canggu district, in the quiet village of Pererenan. It is far from the busy tourist areas of Kuta and Legian, but it is still close to some of the most interesting things to do and see on the island.
The ancient temple on the sea at Tanah Lot is waiting for your pilgrimage. This temple was built hundreds of years ago on top of a rocky outcropping in the Indian Ocean. It has some of the most beautiful sunset views in the world. It's said to be guarded by a holy snake, and visitors to the temple can even sample the drinkable holy water that pours out of its rocky base.
Be sure to check out Seminyak for some of the best shopping and dining on the island. This is Bali's cosmopolitan enclave, where you can mix and mingle with holiday goers and expats from all over the world while checking out the wide array of boutique shops and five-star restaurants.
Whilst Villa Waringin has a private chef, for sure you will occasionally want to jump into the fascinating gastronomic world of Bali to dine out. Everyone who's anyone knows of the cornerstones of fine dining in Seminyak, the establishments KuDeTa and La Lucciola. Both restaurants offer beachside dining where you can feast on eclectic fare and sip cocktails while the sun goes down and the cool white sands sift between your toes. KuDeTa even offers a grilled pineapple and black pepper martini.
If you're looking to do a bit of shopping, Seminyak is awash with boutiques offering items you won't find anywhere else. There is 2ndSkin for airy women's clothing, and Mario Silver makes excellent jewelry with the help of skilled Balinese craftspeople. If it's art you're seeking, you'll find everything you could want at the Folk Art Gallery, which specializes in art and artifacts from all over Southeast Asia.
Spend a day enjoying a round of golf at one of the highest-rated courses in Southeast Asia, the Nirwana Bali Golf Course. Designed by legendary golfer Greg Norman, these 18 holes border dramatic rocky cliffs overlooking the Indian Ocean and the emerald, flowing rice fields of Canggu.
BALI VILLAS CLOUD
Family Holiday Pererenan Canggu Bali 6-bedroom Rice Fields Beachfront Countryside