5 Most Popular Tourist Attractions in Bali: a Quick Guide for the Newcomers
If you are unfamiliar with Bali and are unsure of what to do after enjoying your stay in the villa and touring the neighborhood, we have put together a list of the top 5 tourist sites in Bali based on feedback from our previous visitors. They are Jimbaran Bay, Tanah Lot Temple, Uluwatu Temple, Ubud Monkey Forest, and Seminyak Beach.
Tanah Lot Temple
The unique setting of Tanah Lot Temple atop an ocean rock formation, the stunning sunsets, and the Hindu temple's historical and cultural significance all serve to draw tourists. The temple is seen as a symbol of Bali, and it has beautiful views of the countryside around it.
The unique setting of Tanah Lot Temple atop an ocean rock formation, the stunning sunsets, and the Hindu temple's historical and cultural significance all serve to draw tourists. The temple is seen as a symbol of Bali, and it has beautiful views of the countryside around it.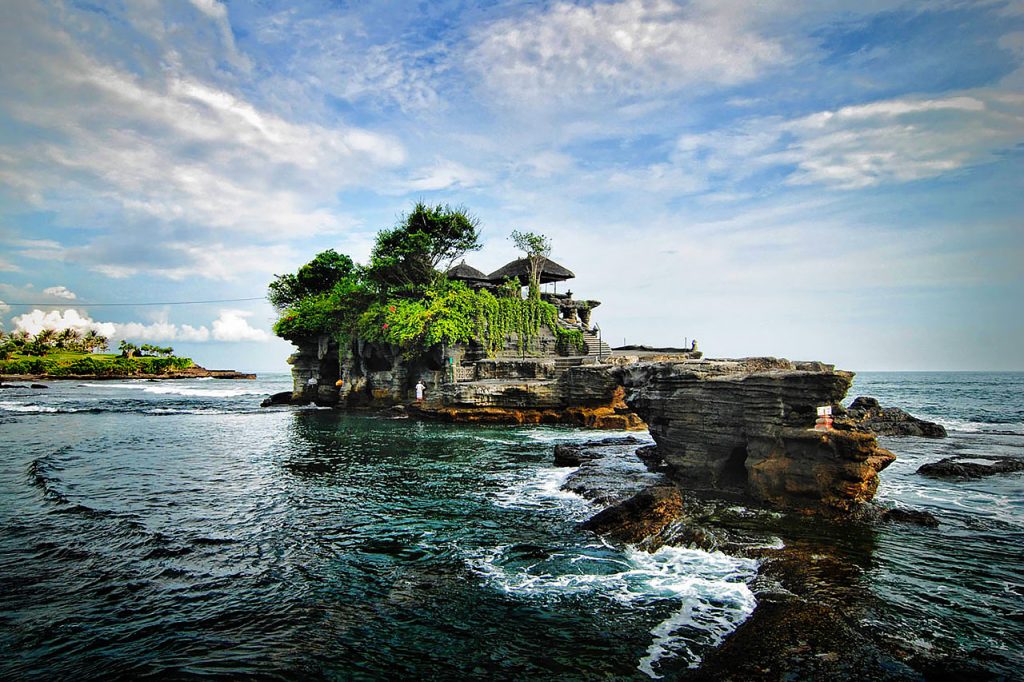 For Bali's Hindu population, the Tanah Lot Temple holds significant spiritual and cultural significance. It is one of Bali's seven sea temples and is seen as protecting the island from evil spirits and negative energies. Hindus from Bali come to the temple to pray and take part in ceremonies. The landscape around the temple is very important, and the views of the ocean and the rock formations make it even more spiritual. By going to Tanah Lot, Balinese people often pay respect to their ancestors and stay in touch with their spiritual and cultural history.
It is said to have been built in the sixteenth century by the well-known Hindu monk Danghyang Niratha. The temple was built, the story goes, to honor the sea gods and keep evil spirits away from the island. Hindu Balinese have made it a well-known pilgrimage site over the years by traveling there to perform religious ceremonies and give prayers. Despite recurrent damage from environmental elements, including erosion and high waves, the temple has been rebuilt numerous times and is still an important cultural and historical site in Bali.
The best time to go is during low tide, when Tanah Lot Temple is accessible on foot from the mainland. The best time to go to the temple is in the late afternoon or early evening, when you can see a beautiful sunset. But people should check the tide times before they go because high tides could make it impossible to get to the temple. Because it is a popular tourist destination, it may be crowded during peak hours.
The average visitor spends one to two hours at the Tanah Lot Temple. You will have plenty of time to roam about the grounds, take in the landscape, and watch the sun set if you visit the temple in the late afternoon or early evening. Being a popular tourist attraction, it could be crowded during peak travel times. Visitors should get there early to avoid the crowds and make sure they have enough time to fully enjoy the temple and the area around it. Visitors might also want to plan time for nearby meals and shopping at the neighboring markets for trinkets.
With a deadline of 2021, the entrance fee to Tanah Lot Temple for foreign visitors is currently IDR 60,000 (about USD 4) per person. It is advised to get in touch with the temple or a local tour company for the most up-to-date information on this price. This cost could alter and be variable. Parking fees and, if wanted, the rental of traditional clothing may be charged in addition to the entrance fee. Keep in mind that these payments help to maintain and preserve the temple and guarantee that future generations will be able to enjoy this important cultural and historical treasure.
Ubud Monkey Forest
In Ubud, Bali, Indonesia, there is a complex of Hindu temples as well as a nature reserve. It is about 27 acres in size and is home to numerous long-tailed macaques, who are protected by the surrounding area. The Bali Hindus have a great deal of respect for the monkey forest, which works to preserve the monkeys' natural habitat and keep them safe. In addition to seeing the monkeys, visitors can look around the temple complex, which has many shrines and traditional Balinese architecture. The monkey forest is a popular place for tourists to visit in Ubud because it has lush plants, beautiful scenery, and unique cultural experiences. People should be careful when getting close to the monkeys because they can be aggressive if they feel threatened.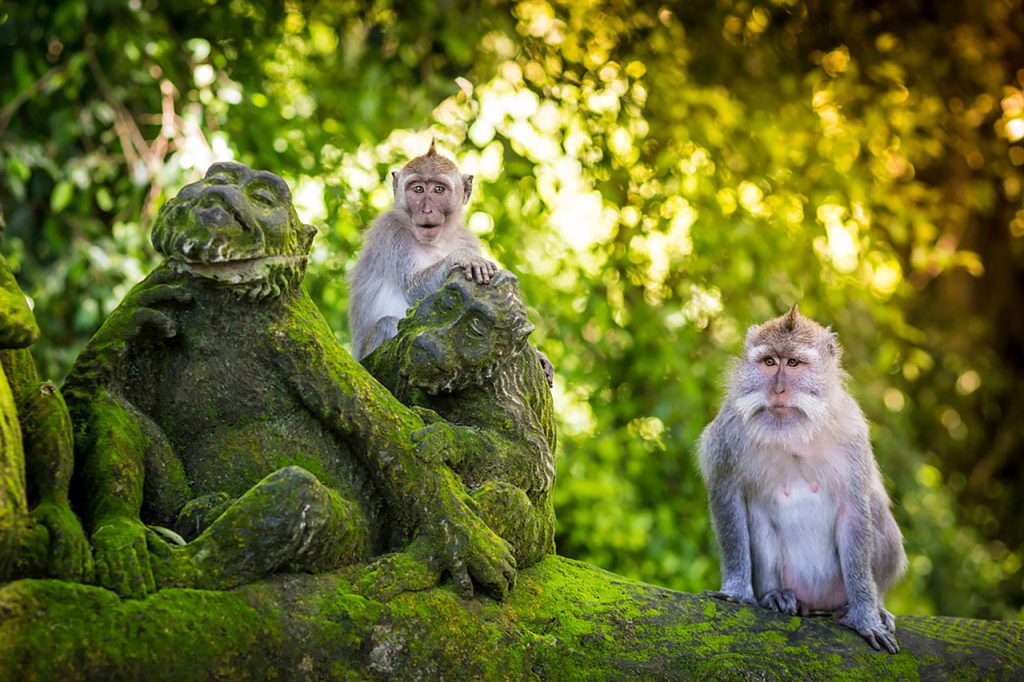 Visitors to Ubud Monkey Forest enjoy it for the opportunity to get up close and personal with long-tailed macaques, as well as for its beautiful tropical surroundings, historical relevance, and cultural value. The monkey forest is a combined Hindu temple complex and protected wildlife reserve that gives tourists the chance to see monkeys in their natural environment as well as explore the temple grounds and learn more about Balinese Hinduism. The forest is renowned for its scenic attractiveness as well, thanks to its many temples, lush greenery, and stone bridges over streams. In Ubud, visitors can also eat, shop, and visit nearby towns and markets. The monkey forest is a unique and interesting place to visit because it has the best of Balinese culture, history, and nature.
Long-tailed macaques can be seen up close and personal in Ubud Monkey Forest, which is also popular with visitors for its stunning tropical setting, historical significance, and cultural significance. The monkey forest is a Balinese Hindu temple complex that also doubles as a protected wildlife reserve. Visitors can visit the temple grounds and learn more about Balinese Hinduism while also getting to view monkeys in their natural habitat. The forest is known for its beautiful look because it has many temples, lots of plants, and stone bridges over streams. Visitors can eat, shop, tour local villages and markets, and stay in Ubud. The monkey forest is a unique and exciting place to visit because it brings together the best of Balinese culture, history, and nature.
It is frequently preferable to visit the Ubud Monkey Forest early in the day, before the crowds arrive, or late in the day, after the peak of the day's heat has gone. The monkey forest is open daily from 8:30 am to 6:00 pm, thus it is advised that visitors plan their visit around these hours. The ideal times to watch the monkeys are in the early morning and late afternoon when they are most active. A visit can be made more peaceful and pleasurable by the cooler morning temperatures and the lower angle of the late-afternoon sun. The greatest recommendation for travelers is to pack bottled water, sunscreen, and a hat to protect from the sun, as well as to dress appropriately for the tropical climate. The best time to go to the Ubud Monkey Forest will depend on what each visitor wants to do and what they need.
Adults will have to pay IDR 50,000 (about $3.50) starting in 2021 to access the Ubud Monkey Forest, while children will have to pay IDR 40,000. (around USD 2.80). The entrance fee covers access to the complex of Hindu temples as well as the opportunity to see the monkeys and explore the temple grounds. As the costs are subject to change, visitors are advised to confirm the most current information before their visit. Additionally, since parking, sundries, drinks, and souvenirs are not covered by the cost of admission, visitors may want to set aside money for them as well. Considering that the monkey forest does not accept credit or debit cards, it is also essential to bring local cash.
Near the Ubud Monkey Forest, there are a lot of additional places to see, like:
Ubud Palace – a significant historical and cultural location in the center of Ubud with lovely gardens, traditional Balinese buildings, and regular dance performances.
Ubud Art Market – a well-liked shopping location for locally manufactured souvenirs, jewelry, textiles, and arts and crafts.
Pura Taman Saraswati – a stunning temple with lush gardens and lotus ponds that is dedicated to the Hindu goddess of learning and the arts.
Pura Goa Gajah (Elephant Cave Temple) – just outside of Ubud, there is a historical landmark and temple complex with distinctive stone carvings and reliefs.
Mount Batur – a magnificent active volcano that offers breathtaking views of the surroundings and is a well-liked hiking and trekking location.
Tirta Empul Temple – a holy Hindu temple and water temple with springs and baths from which to perform purification rites.
Ubud Rice Terraces – a picturesque and recognizable agricultural setting with conventional rice terraces and stunning views of the neighboring hills.
These are only a few of the many attractions that can be seen at Ubud Monkey Forest. Visitors have the choice of taking a guided tour for a more in-depth experience or freely exploring the area.
Uluwatu Temple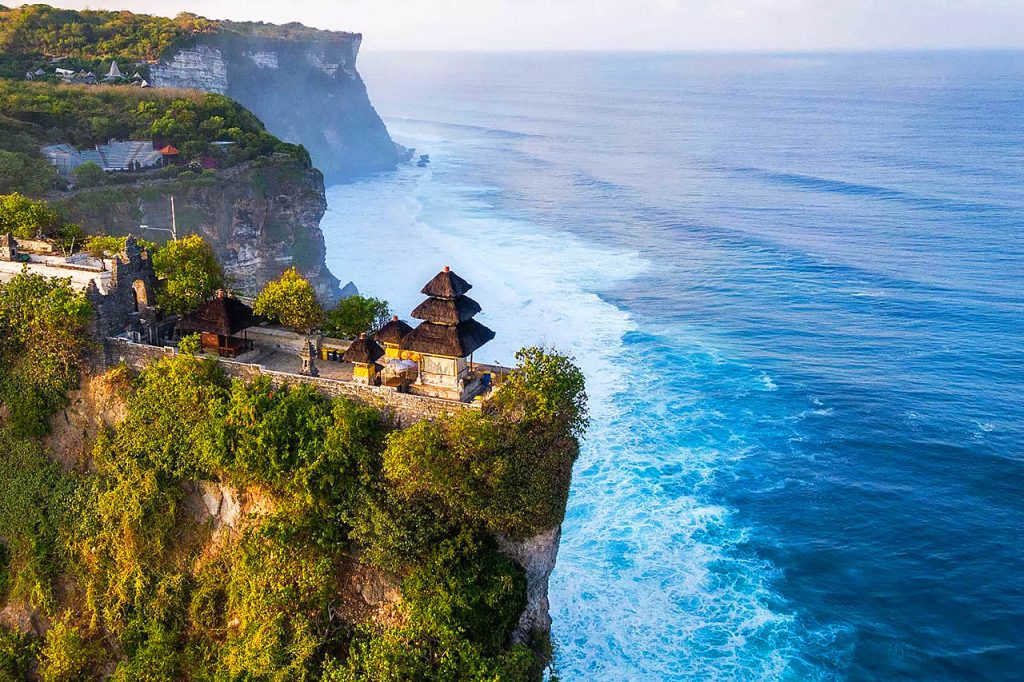 Uluwatu Temple is located in Pecatu Village, South Kuta District, Badung Regency, which is the southernmost tip of Bali. It is perched atop a sheer cliff about 70 meters above the water. It is a one-hour drive from Kuta, Canggu, Sanur, and other well-known tourist destinations. Uluwatu Temple is one of Bali's six main temples. The locals call it Pura Luhur Uluwatu, where "Luhur" means "something with a divine origin."
Uluwatu Temple, also called Pura Luhur Uluwatu, is one of Bali's six important directional temples. It is famous for being on top of a 70-meter-high cliff with a beautiful view of the ocean. It is said that this location is home to the temple of Siva Rudra, the Balinese Hindu deity who rules over all aspects and facets of life. The temple is known for its beautiful cliffs, views of the sunset, traditional design, and spiritual meaning. It is thought to have been built at the start of the eleventh century.
Hindus in Bali say that the temple was built by Dhang Hyang Dwijendra, a respected priest from eastern Java who reached the highest level of spiritual unity by being struck by lightning. Uluwatu Temple is one of the most popular tourist spots on the island of Bali. It is known for its beautiful location on top of a rocky cliff about 70 meters above the ocean.
With a black canopy draped into the shadows like a palm frond, Uluwatu Temple's architecture is remarkable. Balinese architecture, expertly wrought gateways, and historic sculptures all contribute to Uluwatu Temple's allure. The most notable thing about Uluwatu Temple is that it is built on a clifftop 250 feet above the Indian Ocean at the edge of a plateau.
Visitors can visit the Uluwatu Temple daily from 9:00 a.m. to 7:00 p.m., and it is accessible for worship every day of the year. The best time to attend the Kecak & Dance event is just before sunset, which is every day at 6:00 PM.
Foreign tourists must pay IDR 30,000 (about USD $2.00) to enter Uluwatu Temple (Pura Luhur Uluwatu), while domestic visitors must pay IDR 15,000 (about USD 1.00). The cost of guided temple tours begins at about $20. Right outside the main entrance of the temple is a ticket window where you may buy the ticket.
Kecak Dance, a nightly performance at Uluwatu Temple, enthralls and mesmerizes visitors. It takes place at a clifftop amphitheater next to the temple and is one of Bali's best-known artistic performances. The show can be seen privately during a tour or independently by visitors.
Jimbaran Bay
The golden sand beach and toes-in-the-sand seafood restaurants at Jimbaran Bay in Bali are world-famous. With lofty cliffs and dense flora all around, it has a one-of-a-kind view that gives the impression of being in a dreamland. Visitors can relax at one of the area's lavish resorts or extravagant private homes, go surfing, or visit the Kedonganan Fish Market as leisure activities.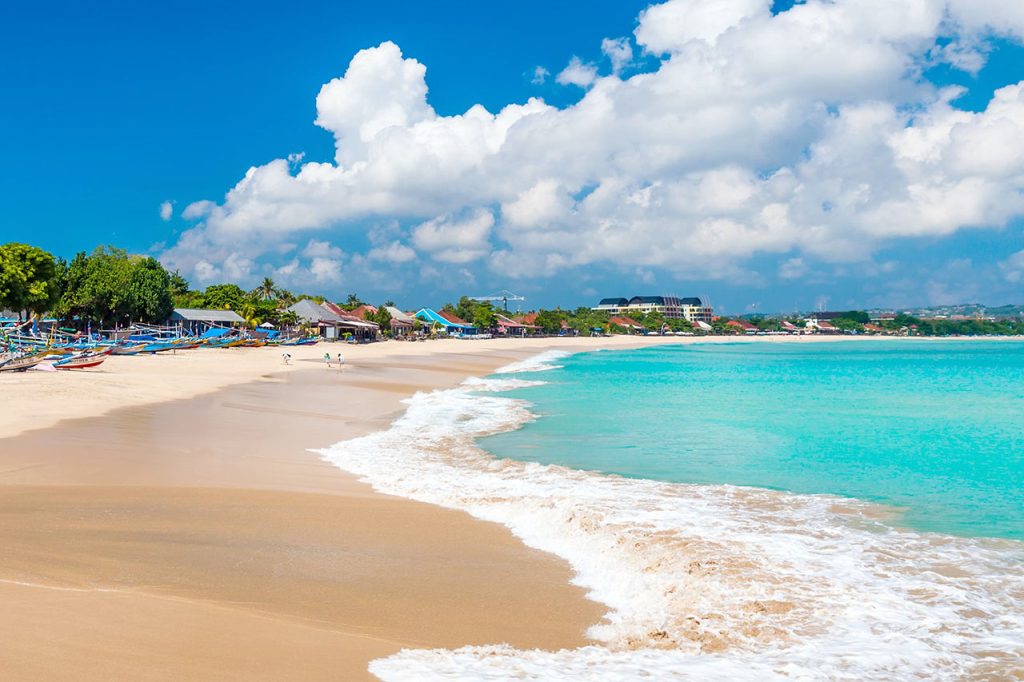 A few of the well-known sights at Jimbaran Bay in Bali include Uluwatu Temple, Jimbaran Beach, Warung Bamboo, Garuda Wisnu Kencana Cultural Park, The Ceramic World of Jenggala Gallery, Balangan Beach, Bingin Beach, Dreamland Beach, Green Bowl Beach, Jenggala Keramik, the New Kuta Green Park in Bali, and Tegal Wangi Beach.
A few of the most well-liked activities in Jimbaran include trips to Uluwatu Temple, relaxing on Jimbaran Beach, eating at Warung Bamboo, touring Garuda Wisnu Kencana, surfing on Suluban Beach, making pottery at Jenggala Keramik, exploring Balangan Beach and Bingin Beach, Dreamland Beach and Green Bowl Beach, Tegal Wangi Beach, booking a private tour to Uluwatu Temple, and participating in the Kecak Dance.
Mama Chew 360 Rooftop Jimbaran Bali, La Brasserie, Bella Cucina, DAVA Steak & Seafood Restaurant, Cuca Restaurant Bali, Sundara Bali, Kisik Lounge & Seafood Restaurant, Nelayan Restaurant, Menega Cafe, and many others are well-known eateries in Jimbaran Bay, Bali.
Some of the more well-known hotels in Jimbaran Bay, Bali are Cross Bali Breakers, RIMBA by AYANA Bali, AYANA Resort Bali, Royal Tulip Springhill Resort Jimbaran, Bali Breezz Hotel, The Open House Jimbaran Bali, Four Points by Sheraton Bali, Ungasan, Watermark Hotel & Spa Jimbaran Bay, FOX Hotel Jimbaran Beach, InterContinental Bali Resort, Four Seasons Resort Bali at Jimbaran Bay, Balquisse
Looking forward to booking a private villa instead? Check out our portfolio of Bali villas in Jimbaran and surrounding areas HERE.
Seminyak Beach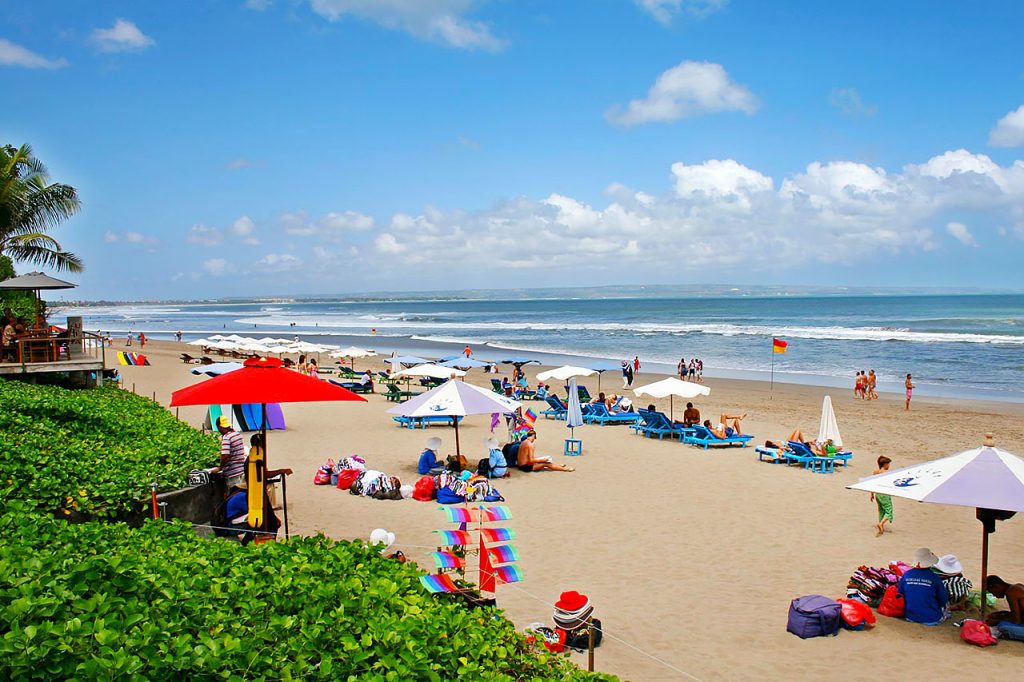 Seminyak Beach in Bali, Indonesia, is a popular place to visit because of its busy nightlife, high-end shops and restaurants, and beautiful sunsets. It is located on the west coast of Bali and is one of the wealthier areas of the island. Although the nearby Petitenget Beach has better surf conditions and calmer seas for swimming, the actual beach is well-liked by surfers. It is a well-liked option for wealthy individuals who seek a more relaxed and opulent vacation because there are so many luxury resorts, spas, and villas in the region.
The most popular activities in Seminyak Beach and surrounding areas are:
Sunbathing and beach lounging
Surfing
Spa and wellness experiences
Dining at upscale restaurants and beach clubs
Partying at the vibrant nightlife scene
Shopping at boutiques and local markets
Visiting nearby temples and cultural sites
Water sports such as jet skiing and parasailing
Exploring nearby rice paddies and natural landscapes.
A popular nightlife district and luxury beach clubs may be found in Seminyak, Bali. Some of the area's more well-known beach clubs include:
Potato Head Beach Club – a huge, opulent beach club with many pools, a bar, and a dining establishment.
Ku De Ta – a chic, up-to-date beach club renowned for its inventive cocktails and global fare.
La Plancha – a beach club in the bohemian style, with bean bags, vibrant parasols, and live music.
Finns Beach Club – a beach club that welcomes families and has a big pool, a water slide, and a restaurant.
Omnia Dayclub – a luxurious beach club featuring an infinity pool, VIP cabanas, and top-tier DJs.
Tropicola Beach Club – a buzzing beach club with live music, a swim-up bar, and lots of sun loungers .
Woobar – a classy beach club offering fusion cuisine, a rooftop bar, and live music.
There are several good dining alternatives available for food enthusiasts in Seminyak, Bali, which is well recognized for its eclectic dining scene. The following are a few of the region's most well-liked fine dining establishments:
Métis Restaurant & Gallery – a classy eatery featuring contemporary French fare and art displays.
Sardine – a classy eatery featuring contemporary French fare and art displays.e
Mozaic – a fine-dining establishment that offers distinctive dining experiences and inventive French-Indonesian cuisine.
Sarong Restaurant – a cool restaurant presenting fusion dishes with European, Indian, and Indonesian influences.
La Lucciola – a quaint coastal restaurant with lovely views serving Italian and Mediterranean food.
Merah Putih – a modern Indonesian restaurant that features classic ingredients in a fresh way on its menu.
La Favella – a beautiful eatery with a wine bar and an intimate dining experience serving Italian food.