Bali Diving: Exploring the Underwater Wonders of the Island
Bali diving is gaining popularity among those addicted to the beauty of the underwater world. The island of Bali is well-known all over the world for its breathtaking beaches, its verdant rice terraces, and its lively culture. But what's even more fascinating is what you can see when you dive down below the glistening waves. There are some of the world's top diving destinations off the coast of Bali, including vibrant coral gardens, a wide variety of marine life, and sunken ships just waiting to be discovered. In this post, we will investigate the marine life that can be found off the coast of Bali and the top diving destinations in Bali.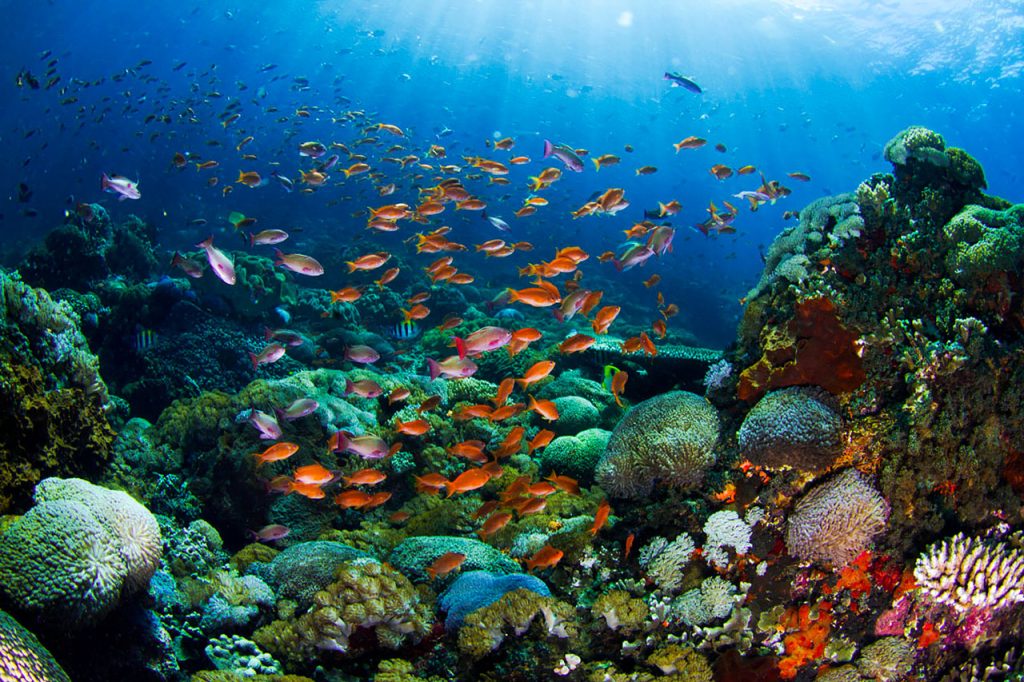 The Indian Ocean to the south and the Bali Sea to the north encircle the island of Bali, making it a tropical paradise on both sides. These waters are home to over 2,000 different types of fish as well as more than 500 distinct species of coral. Bali has become a top place for scuba divers from all over the world to visit because it has a very diverse marine ecosystem.
Most Popular Bali Diving Spots
The northeastern region of the island of Bali is home to some of the most well-known diving spots on the island. The following are some of the best places to dive in Bali:
Tulamben
Tulamben is a small village located on the northeast coast of Bali, and it is widely considered to be one of the best places to go diving on the island. The shipwreck of the USS Liberty, which went down during World War II and can now be found lying on the sandy bottom just a few meters offshore, can be found here. The shipwreck has turned into a home for various species of marine life, such as schools of tropical fish, bumphead parrotfish, barracuda, and even reef sharks on occasion. Additional places to go diving in Tulamben are the Coral Garden and the Drop-Off. At these locations, you may observe colorful coral formations as well as macro creatures such as nudibranchs and sea slugs.
Menjangan Island
A portion of the West Bali National Park may be found on Menjangan Island, which can be found off the northwestern coast of Bali. The island is encircled by a fringing reef that abruptly ends in a steep wall, making it possible to experience some of the clearest water in all of Bali. A wide diversity of marine life calls the reef its home, including reef fish of many different colors, sea turtles, and even reef sharks. The Underwater Temple on Menjangan Island is a man-made building that features multiple figures in a Balinese style and has been colonized by coral and sponges. Diving there is the highlight of visiting Menjangan Island.
Nusa Penida
The enormous island of Nusa Penida is located to the southeast of Bali and is famous for the powerful currents and abundant pelagic marine life that can be found there. The island is home to a number of different dive sites, such as Manta Point and Crystal Bay, both of which give the opportunity to spot the rare mola mola or ocean sunfish. Manta Point is one of the best places to see enormous manta rays feasting on plankton. Moreover, Nusa Penida is renowned for the vibrant coral reefs and expansive schools of fish that can be found there.
Amed
The small fishing village of Amed can be found on the northeastern coast of Bali, and it is known for being an excellent location for macro diving. The region is home to a number of excellent diving spots, such as the Pyramids and the Drop-Off, both of which provide visitors with the opportunity to spot seahorses, ghost pipefish, and a variety of other animals. In addition, Amed is famous for its beaches with black sand and its coral gardens, both of which make it an excellent location for snorkeling.
Padang Bai
Padang Bai is a small village located on the eastern coast of Bali that is well known for being a great place to go diving and snorkeling. The region is home to a number of dive sites, the most notable of which being the Blue Lagoon and the Jetty. At these locations, you will have the opportunity to observe a wide variety of marine life, including as octopuses, cuttlefish, and nudibranchs. In addition, Padang Bai is a common starting point for day visits to neighboring islands such as Nusa Penida and Lembongan.
Diving Beyond Bali
Most divers start their trips in the area around Bali, which has a number of other world-famous diving spots besides those already mentioned. These are the following:
Nusa Lembongan and Nusa Penida are two islands in the Indonesian archipelago that are known for their rich diversity of marine life, which includes manta rays, reef sharks, and the gorgeous mola-mola (sunfish).
The Gili Islands are a collection of three small islands located off the northwest coast of Lombok. These islands are notable for their huge sea turtles and the different dive options they offer.
Komodo National Park is a UNESCO World Heritage site that is known for having some of the world's most colorful coral reefs and a wide variety of marine life, including manta rays, sharks, and dugongs.
Raja Ampat: This remote archipelago in the eastern portion of Indonesia is famed for its tremendous biodiversity and contains some of the world's most untouched coral reefs. It is located in the middle of the Banda Sea.
It doesn't matter if you're a seasoned diver or just getting your feet wet in the sport; Bali and the surroundings around it provide a variety of great diving opportunities that you simply must take advantage of. Put on your gear, take a few deep breaths, and get ready to dive into the incredible underwater world that Bali has to offer!
Bali Diving for Beginners
If you are just starting out in the world of scuba diving, Bali still provides a wealth of options for you to experience the island's underwater world. Divers of all experience levels, from beginner to advanced, can enjoy the island's many different diving locations. In point of fact, a large number of dive operators in Bali provide specialized training for novice divers, such as PADI-accredited open water courses that instruct students in the fundamentals of scuba diving.
Padang Bai, which can be found on the eastern coast of Bali, is regarded as having some of the best diving for novice divers. If it's your first time diving, you'll discover that the waters here are nice and tranquil, and the reefs are nice and shallow. You can anticipate seeing a wide variety of vibrant marine life, such as sea turtles, angelfish, and clownfish, among other species.
Amed, which can be found on the island's northeast shore, is yet another fantastic location for novices. At Amed, there are dives that are accessible from the shore that allow divers to explore coral gardens and come across schools of tropical fish. Moreover, the region is famous for its shipwrecks, which are frequented by divers of all experience levels.
Get the appropriate training and make sure the dive operator you choose has a good reputation before you start scuba diving. Also, it is important to follow all safety rules and be very careful so as not to damage the fragile marine environment. For divers of any skill level, diving in Bali may be an experience that they will never forget if they come in with the appropriate mindset and do a little bit of preparation beforehand.
Dive Courses in Bali
Beginners who are interested in learning how to scuba dive will find that the diving schools in Bali are an excellent resource. Anyone who is interested in experiencing the underwater world of Bali can take scuba diving courses at one of the many certified dive centers that are located all around the island. These dive centers are staffed by experienced and trained instructors. These diving schools offer a wide range of classes, from easy ones like "open water certification" to harder ones like "wreck diving" and "night diving."
If you are interested in becoming a certified diver, it is essential that you select a diving school that has a solid reputation in the industry. When looking for a diving facility, prioritize finding one that has strong safety requirements, competent instructors, and positive ratings. You can also check with a dive organization such as PADI or SSI for a list of accredited diving schools in the area. Another option is to ask for suggestions from other divers. Even those with no prior experience can experience the magnificent underwater world that Bali has to offer with the proper training and direction.
The Dos and Don'ts to Dive in Bali
When scuba diving in Bali, it is essential to adhere to a few fundamental guidelines to safeguard the marine environment as well as your own personal safety. The following is a list of things that divers should and should not do in Bali:
If you haven't gone diving in a while, you should definitely enroll in a dive school or a refresher course.
Just make sure to pick a reputable dive operator that can provide you with well-trained instructors and well-maintained gear.
Marine life, such as coral, fish, and other species, should not be touched in any way, nor should it be disturbed.
It is not appropriate to feed the fish or any other aquatic creatures.
Be sure you stick to the dive strategy and don't go above your capabilities.
Please show consideration for the marine ecosystem and do not leave any trace.
Conclusion
Bali is a paradise not only due to the beauty of its terrain and the depth of its culture but also due to the incredible variety of life that can be found in its oceans. Diving in Bali is a unique experience that divers of all skill levels can enjoy because the seas are very clean and there is a lot of marine life to see. In this article, we'll take a look at some of the best places to go diving in Bali, from the well-known shipwreck of the USAT Liberty to the vibrant coral gardens of Menjangan Island, and we'll also offer some advice for people who are just getting started with diving in Bali. Put on your scuba gear, and we'll go diving right now!
In addition to scuba diving, other water sports like as stand-up paddleboarding, snorkeling, and surfing can also be enjoyed on the island of Bali. The warm waters and sunny weather of Bali make it an ideal destination for anyone who enjoy participating in water sports. Snorkeling and diving are two activities that can be enjoyed in many of the same sites, while Bali's many surf spots provide some of the most impressive waves in the world.
As a result of its tropical climate, abundant marine life, and dazzling coral reefs, Bali has earned a reputation as one of the best places in the world to go scuba diving. There is a dive location in Bali that is ideal for any level of diver, whether you have prior expertise or are just starting out. Bali is a place that every traveler should visit at least once because it has so much culture and beautiful scenery, as well as a wide range of water activities.
Private Villas in Top Bali Diving Spots
Those who are looking for a more private and secluded experience while diving in Bali's many locations will find that renting a private villa is an excellent option. Visitors will have easy access to the underwater riches that Bali has to offer as a result of the island's abundance of private villas that are placed in close proximity to the best diving destinations. Villas typically have luxuries such as private pools, outdoor living areas, and kitchen facilities, making them the ideal place to unwind after a long day of scuba diving. Also, many Bali villas provide guests with concierge services that may assist in the arrangement of diving tours and other activities, making it simple to organize your underwater excursion without having to leave the convenience of your own private villa.
This opulent property, which can be found in Seminyak villas and boasts both a private pool and gorgeous outdoor space, can be found in one of the most sought-after locations on the island of Bali.
The following is a list of some of the private villa alternatives available in Bali's premier diving locations:
Villa Markisa in Amed is a gorgeous property that boasts breathtaking views of the ocean and is located just a few steps away from some of the top dive locations in Bali.
Villa Sapi, Lombok: Although not in Bali, this private home on the nearby island of Lombok is an excellent alternative for those wishing to explore some of the region's greatest dive destinations.
Villa Pawana, Nusa Dua: This spectacular cliffside property offers breathtaking views of the ocean and is just a short drive away from some of Bali's finest dive locations.
Villa Iskandar, Tabanan: Situated in a calm area surrounded by rice fields, this villa is a perfect alternative for those wishing to rest after a day of diving.
Villa Journey, Nusa Lembongan: This gorgeous beachfront home is located on a small island just off the coast of Bali and offers easy access to some of the region's top dive spots.
To book a private villa for your coming Bali diving expedition, check our Bali villa portfolio.