Balinese Traditional Cuisine: the Island's Treasure Worth Exploring
Balinese traditional cuisine is just as mesmerizing as any other attraction that keeps millions of travelers coming back to Bali. The traditional food of Bali is a scrumptious medley of flavors, spices, and ingredients that reflect the rich cultural history and traditions of the island in a way that is complex and multifaceted. The island of Bali is well-known all over the world for its stunning beaches, extensive cultural history, and, of course, its mouthwatering cuisine. Bali is located in Indonesia. The cuisine of Bali is a visual and gustatory extravaganza; it ranges from age-old recipes that have been handed down from generation to generation all the way up to cutting-edge fusion cuisine.
Rice, which is a staple food in Bali and is eaten with practically every meal, is one of the essential components of Balinese cooking and is also a staple food. Rice is held in such high esteem in Balinese culture that it is provided at all of the most significant events and ceremonies. In fact, small amounts of rice are even included in the offerings that are made to the gods. Nasi belecan is a traditional method of preparing rice in Bali. This method involves cooking the rice in coconut milk, which imparts the rice with a flavor and texture that are distinct from other types of rice.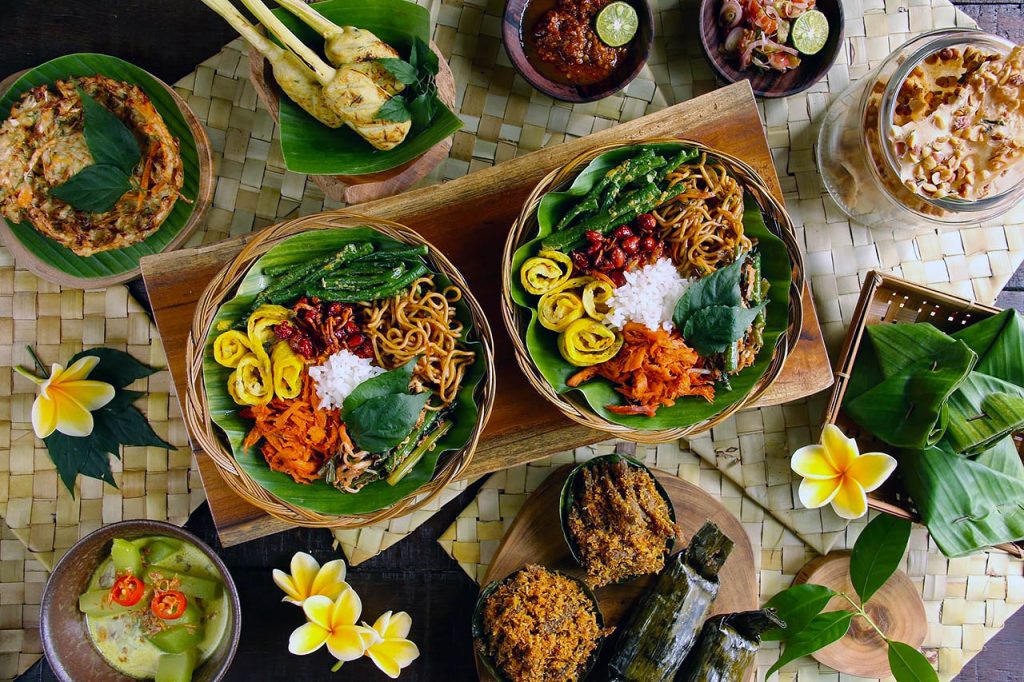 Balinese food also uses many spices to add flavor, such as ginger, garlic, turmeric, and chili. Spices are an important part of making Balinese food, and a wide range of different spice blends are often used to give each meal a different flavor profile. For example, ginger, turmeric, and chili are often mixed together to make bumbu, a well-known spice paste. This paste is used in a wide variety of cuisines, such as sate, nasi campur, and lawar.
Lawar is a mixture of chopped veggies, spices, and grated coconut that is typically served as a side dish with rice in Bali. It is considered to be one of the island's most popular traditional foods. The recipe for lawar has been passed down through the generations, and families still enjoy eating it together today. One such cuisine that is always available is nasi campur, which is a type of mixed rice dish that may have a wide variety of components, including meat, seafood, veggies, and spices. Balinese people have a sweet tooth and like cooking and eating a variety of sweet dishes, including the well-known black rice pudding, which is known as nasi uduk merah. One of the most popular sweet dishes is nasi uduk merah.
A wide selection of roasted and grilled meats, including chicken, pork, and beef, may also be found in Balinese cuisine, in addition to an abundance of fresh seafood dishes. Sate lilit is a popular dish that is often served as a snack or starter at parties or other special events. It is made by putting minced fish or pork with different spices on bamboo skewers and grilling them. Babi guling is another well-known dish from Bali. It is made of pig that has been roasted on a spit and is often served at ceremonies and parties. The meat is roasted over a low flame for a number of hours, during which time the spices are allowed to fully permeate the meat and develop their tastes.
Traditional condiments and sauces are also an important part of Balinese cooking. Some of these are sambal, which is a chili sauce made from fresh chili peppers, and terasi, which is a shrimp paste used to add flavor to dishes. Sambal is an important ingredient in Balinese cooking. It is used to add flavor and spice to a wide range of dishes. Terasi, on the other hand, is used less often in cooking, but it gives food a flavor that is both rich and savory. Balinese people often use fragrant and flavorful herbs and leaves like lemongrass, basil, and pandanus to make their food.
In recent years, Bali has become a hotspot for foodies and gourmet visitors. As a result, a large number of restaurants and cafés on the island now serve contemporary fusion cuisine. This cuisine combines traditional ingredients with modern cooking techniques and flavors. Because of this, a lot of new and interesting dishes that show off the many different cultural traditions in Balinese food have been made. For instance, one of the most well-liked dishes is called "Balinese-style sushi," and it consists of classic Japanese sushi rolls that are packed with ingredients that are native to Bali, such as grated coconut, chili sauce, and various types of herbs. Tacos made the Balinese way are another well-liked food. These tacos are made with fresh corn tortillas and a lot of different ingredients, like grilled meats, fresh vegetables, and different spices.
Because Bali is home to such a diverse selection of restaurants, cafes, and food vendors on the street, travelers who come to the island won't be short of opportunities to enjoy the island's renowned cuisine. There are many different places to eat, from traditional warungs, which are small restaurants owned by families, to more upscale restaurants. Local markets and street food booths are some of the greatest venues to try traditional Balinese cuisine. At these places, you can try different kinds of food and taste the real tastes of the island.
In the end, traditional Balinese food is a unique and delicious mix of flavors, spices, and ingredients that show off the island's rich cultural history. It doesn't matter if you're a foodie who wants to taste new cuisines or a traveler who wants to explore the local culture, Bali is the ideal location for everyone who is interested in experiencing authentic and tasty food. Therefore, while you are making plans for your next vacation to Bali, make sure to add experiencing the local food to the list of things that you absolutely must do.
You won't regret it!
Balinese Traditional Cuisine: A Guide to the Best Places
Check out the shortlisted choices of Balinese traditional cuisine by world renown culinary explorer Anthony Bourdain.
Visiting neighborhood warungs (Balinese for "little restaurants owned by families") and food vendors on the street is one of the most effective methods to get a taste of the genuine flavors of Balinese cuisine. These restaurants are well-known for serving traditional foods that have been prepared in the same way for generations, and they provide a genuine experience of the cuisine of the region. Warung Mak Beng, Warung Sari Organik, and Warung Made are three of the most well-known and well-liked restaurants in all of Bali.
Visit one of the local markets, such as the Ubud Traditional Art Market or the Seminyak Food Market, for another fantastic opportunity to sample real Balinese cuisine. These markets feature a wide selection of stalls and merchants selling fresh produce, as well as street food vendors who provide a variety of regionally inspired dishes. Try your hand at some local favorites like sate lilit, lawar, and nasi campur when you visit the local markets.
There are many restaurants and cafes in Bali that serve contemporary fusion cuisine. This type of cuisine combines traditional ingredients with modern cooking techniques and flavor profiles. Those who are looking for a more upscale dining experience will find that contemporary fusion cuisine is widely available. Mozaic Restaurant Gastronomique, The Hungry Bird, and Laca Laca are three of the very best restaurants in the world to visit if you want to sample fusion cuisine.
It doesn't matter if you're interested in contemporary fusion cuisine or traditional Balinese street food; Bali has plenty to offer each and every visitor. Discover for yourself why the cuisine of Bali is so well-liked among both the people who live there and those who come to visit by including a meal or two of the regional specialties on the schedule of your next vacation to Bali.
If you rent a private villa to accommodate yourself and your family during your holiday in Bali, you can ask for a professional chef to cook your meal in your own kitchen. In addition to pampering your taste buds with unique culinary experience you can also see how the foods are prepared.