Candidasa Travel Guide: Disover Bali's Seaside Hidden Gem
Many people travel to Bali yearly because it is a well-known tourist destination. The island of Bali is well known for its beautiful beaches, diverse culture, and warm and welcoming people. This island has something to offer everyone. Although most tourists visit the more well-known districts of Bali, such as Kuta, Seminyak, and Ubud, the island is home to many hidden treasures that are well worth the effort to discover. One such hidden gem is Candidasa.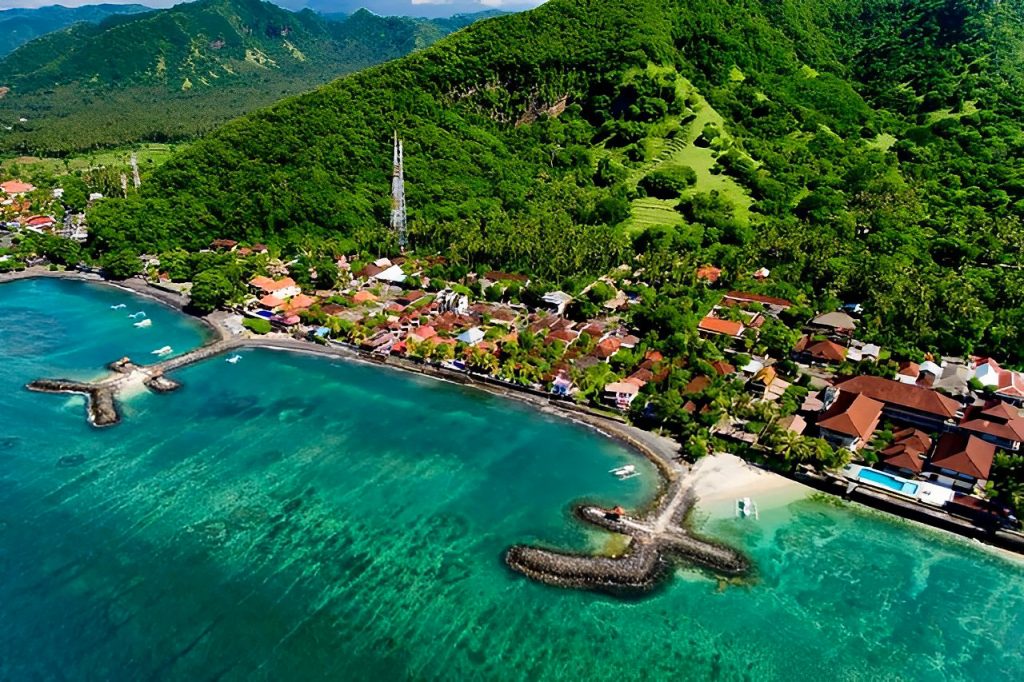 The sleepy fishing village of Candidasa is on the eastern coast of Bali, tucked away from the rush and bustle of the island's more popular tourist destinations. This is a great place for people who want to escape the crowds and learn more about Balinese culture because it is quiet and peaceful. Candidasa is an area of Bali that should be on everyone's itinerary since it is home to some of the island's most beautiful beaches, some of the best scuba diving and snorkeling spots, important cultural sites, and a wide variety of exciting outdoor activities.
In this post, we'll tell you everything you need to know about Candidasa and why it should be on your list of places to visit when visiting Bali. We'll talk about the different things you might do in Candidasa, like learning about Bali's culture, getting spa treatments, going on exciting outdoor adventures, and exploring the town's beautiful beaches. You will have a solid idea of what Candidasa has to offer by the time you reach the end of this post. We hope it will inspire you to explore this hidden gem on your next trip to Bali. We hope this article has given you a good grasp of what Candidasa offers.
Quick Guide to Candidasa
A little seaside hamlet, Candidasa, is located on the Indonesian island of Bali's eastern coastline. It is a well-kept secret that provides visitors to Bali with an experience that is one of a kind and one that they will never forget. In this post, we will discuss the many reasons why you should consider spending some time in Candidasa, as well as the kinds of activities and encounters you can anticipate having while you are there.
Beaches
Candidasa is known for having several stunning beaches, one of the city's primary draws. Beautiful beaches with white sand and a clear blue sea surround the town. Its peaceful setting makes it an ideal place to escape the hustle and bustle of the more popular parts of Bali. Candidasa is home to several beautiful beaches, including White Sand Beach, Pasir Putih Beach, and Candidasa Beach, among the most frequented.
Underwater Paradise
Also, Candidasa is well-known for having some of the best scuba diving and snorkeling spots. The town is home to several dive spots, each of which allows visitors to experience Bali's rich and varied marine life. If you choose to, you can swim amid schools of colorful fish, sea turtles, and even some rare and exotic marine species, such as manta rays and reef sharks.
Traditional Heritage and Cultural Attractions
Candidasa is deeply ingrained in the customs and practices of the Balinese people. The town is home to several temples and other cultural sites that introduce visitors to the distinctive Balinese way of life. The Goa Lawah Temple, Tenganan Village, and the Tirta Gangga Water Palace are all excellent examples of Candidasa's rich cultural heritage and should not be missed by travelers.
Water Sports
Water sports fans will find Candidasa to be the perfect place to vacation. A wide variety of water sports is available in the town, such as kayaking, paddle boarding, and jet skiing. You may find something to do on the water that is appropriate for your skill level, regardless of whether you have prior expertise or are just starting out.
Spa, Yoga, and Meditation
Candidasa is also known for its wellness centers, which offer spa treatments, yoga, and meditation programs, among other things. While engaging in some therapeutic treatments for the mind, body, and soul, you can de-stress and unwind in the serene environment that Candidasa offers.
Island Hopping
Candidasa is a wonderful place to camp for excursions to the neighboring islands, such as Nusa Lembongan, Nusa Penida, and the Gili Islands. You can go on a boat journey to explore these islands and learn about their distinctive cultures and breathtaking scenery.
Trekking
If you are interested in mountain climbing, you can hike up Mount Agung, the tallest mountain in Bali. The hike provides breathtaking vistas of the surrounding area, and you will have the opportunity to watch the sunrise from the mountain's peak.
Dining and Nightlife
Candidasa has a wide range of dining options with prices that can meet guests' needs with different budgets. You have the option of dining on delectable Balinese cuisine or on foods from other countries. In addition, there are a couple of bars in town where you can have a drink and talk to people who are also traveling.
Best Time to Visit Candidasa
If you want to go to Candidasa when the weather is dry and sunny, the best time is between May and September. If, on the other hand, you'd rather have a more peaceful time of it, you might consider going during the shoulder season, which runs from October to April.
Safety Precautions
Visitor safety is not typically an issue in Candidasa. However, it is still vital to exercise common sense and take measures to protect yourself, such as keeping track of your possessions and being conscious of your environment at all times.
Conclusion
Candidasa is a hidden jewel on the island of Bali that provides visitors with an experience that is one of a kind and one that they will never forget. Candidasa is a place where you can go for many different kinds of vacations, such as ones that focus on relaxing on the beach, exploring the great outdoors, or learning about Balinese culture. In conclusion, if you are contemplating a vacation to Bali, make it a point to include Candidasa on your schedule, so you do not end up dissatisfied.
Why Would You Want to Go to Candidasa?
On the eastern coast of Bali lies a region called Candidasa, recognized as a hidden gem due to its magnificent beaches, cultural attractions, and good options for diving and snorkeling. Candidasa is not as popular as other of the more touristy regions of Bali, such as Kuta and Seminyak. However, it has many different attractions to offer visitors. The fact that it is located some distance away from other, more popular tourist destinations is the primary reason for this.
It takes around 1.5 to 2 hours by automobile to reach Candidasa from Bali's major airport, which is located approximately 60 kilometers away from Candidasa. This may be a turnoff for some travelers, particularly those who would rather stay in a neighborhood of Bali closer to the airport and other of the island's more popular tourist destinations. Additionally, Candidasa is a tiny town with a more laid-back vibe, which may not appeal to those searching for a more vibrant nightlife scene.
Even with these problems, Candidasa attracts tourists who want a more relaxed and real Balinese experience. Its breathtaking beaches, such as Pasir Putih Beach and White Sand Beach, provide a tranquil refuge away from the hustle and bustle of the more popular regions of the island. The cultural landmarks of the town, such as the Tirta Gangga Water Palace and the Goa Lawah Temple, provide visitors with a look into the distinctive Balinese way of life. And the town's great diving and snorkeling spots, like the Blue Lagoon and Gili Tepekong, make learning about Bali's wide range of marine life easy.
In recent years, there has also been a rise in ecotourism in Candidasa. This is because tourists are looking for ways to travel that are more responsible and sustainable. People looking to connect with nature and who want to assist local communities will find this town a great trip thanks to its natural beauty and tranquil surroundings.
Visitors searching for a more laid-back and meaningful vacation experience continue to be drawn to Candidasa because of its authentic and unique experiences. Although Candidasa may not be as well known as some of Bali's other more touristy locations.
Laid-Back Atmosphere
The laid-back environment of Candidasa is one of the main reasons why so many people choose to visit this town. In contrast to some of the more popular regions of Bali, Candidasa provides visitors with an experience that is less hectic and more genuine. In this town, life moves more leisurely, with residents going about their daily activities and tourists interacting freely with the kind and welcoming Balinese people.
Taking a leisurely stroll through the streets of Candidasa is one of the most effective methods to get a feel for the laid-back vibe that permeates the town. You'll observe people going about their normal lives, children playing in the streets, and street vendors selling their things as you walk through the neighborhood. Because of the town's endearing character and tranquil atmosphere, it is an excellent location for winding down and taking it easy.
Additionally, Candidasa is famous for its many family-owned and operated establishments, including restaurants and homestays. These establishments provide their customers with a more personalized and intimate experience. The owners frequently go above and beyond to ensure their clients feel welcome and at ease. This contributes to the overall laid-back atmosphere of the town, making it seem to visitors as though they are more like friends than clients.
A wide variety of entertainment is available in Candidasa, making it possible for visitors to fully submerge themselves in the laid-back attitude of the town. You can unwind on one of the town's breathtaking beaches, participate in a yoga session, or indulge in a spa treatment. Hiking, cycling, and other types of water sports are some outdoor pursuits that may be enjoyed in this town.
The laid-back environment that Candidasa exudes contributes significantly to the town's attractiveness. It provides a chance to calm down and connect with the local culture while also providing a refreshing getaway from the hurry and bustle of everyday life. Candidasa's laid-back and welcoming vibe will surely make an indelible mark on you whether you're trying to chill or explore.
Unique Beaches
Candidasa is home to some of the most beautiful beaches in all of Bali, including azure waters, powdery white sand, and panoramic vistas that take your breath away. Candidasa's beaches' atmosphere and personality set them apart from other beaches and draw tourists to the area.
White Sand Beach, commonly known as Pasir Putih, is considered one of the most well-known beaches in Candidasa. This beach is a little-known treasure because it is situated away from the main road and can only be reached on foot or by boat. The beach is distinguished by its powdery white sand and its seas, which are a turquoise color. It is also surrounded by verdant vegetation and towering palm palms. Visitors can unwind in the cool shade provided by the trees, dip in the calm waters, or rent a boat to spend the day snorkeling or exploring the islands in the area.
Blue Lagoon Beach is another famous beach in Candidasa. It is well-known for the fantastic diving and snorkeling opportunities that can be found there. The beach is distinguished by the crystal-clear waters, vibrant coral reefs, and abundant marine life that it features. Visitors can take a trip to explore the underwater world via scuba diving or snorkeling, or they can relax on the beach and take in the breathtaking sights.
The tranquility and natural beauty of the beaches in Candidasa are a large part of why so many people choose to vacation there. The beaches in Candidasa provide a more genuine and unhurried atmosphere compared to those in other more popular tourist locations of Bali. The beaches are typically less crowded, have a more chill atmosphere, and provide an opportunity to connect with the area's natural environment and culture.
In general, everybody who is going to be in Bali should check out the beaches in Candidasa. Their one-of-a-kind personality and mood set them apart from the other beaches in Bali, and the natural beauty preserved is likely to leave tourists with a deep and abiding impression.
Underwater Paradise Worth Exploring
Because the waters around Candidasa are so transparent, scuba diving and snorkeling are two activities that are particularly well-suited to this area. The region is well-known for the richness of its marine life, which includes vibrant coral reefs and many distinct species of fish and other marine organisms. Several other water activities may be participated in, such as journeys on submarines and glass-bottom boat tours, which offer one-of-a-kind opportunities to learn about the world beneath the waves.
Those interested in snorkeling or scuba diving will find that Candidasa has access to many fantastic dive spots. The Blue Lagoon, which can be found a short distance from the coast, is a well-liked destination for divers of all skill levels. The region is well-known for the abundance of marine life that can be found there, including colorful coral formations, schools of tropical fish, and even sightings of reef sharks and sea turtles on occasion. Gili Mimpang is another well-known destination for scuba divers. This island is home to a diverse population of underwater life, including moray eels, rays, and even the elusive mola-mola fish on occasion. (sunfish).
Glass-bottom boat tours are an excellent option for people who would rather not get their feet wet while exploring the ocean's depths because they allow for dry observation of the marine environment. Visitors can see the ocean's splendor without going into the water thanks to these trips, which offer a novel perspective on the coral formations and aquatic life. A ride in a submarine is still another option; this one provides a more immersive experience than the others. In a submarine that is both comfortable and secure, tourists have the opportunity to travel to the ocean's depths, where they may have an up-close look at aquatic life through big viewing windows.
In general, Candidasa's crystal-clear and colorful waters offer various possibilities to investigate the world under the waves. Activity here will appeal to everyone's interests, from snorkeling and scuba diving to trips on glass-bottom boats and submarines. People who enjoy being in or on the water should try to get to this region because of the magnificent coral formations and varied marine life.
Diving Spots Around Candidasa
Due to the abundance of high-quality dive spots in the surrounding area, Candidasa has become a mecca for people who enjoy snorkeling and diving. The following is a list of some of the best locations in and around Candidasa for snorkeling and diving, along with a brief explanation of each:
Blue Lagoon
Just a short distance off the shore of Candidasa, you'll find the outstanding snorkeling and diving location known as the Blue Lagoon. The region is well-known for having completely clean seas, various marine life, and vibrant coral formations.
Gili Mimpang
Gili Mimpang is another well-known dive location that can be found in the vicinity of Candidasa. The region is well-known for its distinctive underwater terrain, which consists of deep gorges and swim-throughs. It offers divers an experience that is both thrilling and adrenaline-pumping.
Gili Tepekong
Gili Tepekong is a small island that can be found just off the coast of Candidasa, and it is known for having some of the best diving in the area. The region is well-known for its powerful currents, which are responsible for the presence of a wide diversity of aquatic marine species, such as reef sharks and manta rays.
Shark Point
Dive enthusiasts flock to Shark Point, located close to Candidasa and famous for the enormous number of reef sharks that can be found there. Divers can view a wide range of marine life, including these spectacular creatures, up close and personal in their natural environment.
Tulamben
Tulamben is a well-known scuba diving location within a short distance from Candidasa. Divers flock to this region because it is home to the well-known USS Liberty Shipwreck, which has become a renowned diving destination. The shipwreck is covered in vibrant coral formations. It is home to a large number of different species of aquatic life.
Amed
Amed is yet another renowned diving location located close to Candidasa. It is famous for its high visibility and rich marine life. The region is home to some different diving sites, one of which is the well-known Japanese shipwreck, which is teeming with an abundance of different species of marine life.
In general, Candidasa and its surroundings provide snorkelers and divers of all skill levels with access to various snorkeling and diving options. There is something enjoyable for everyone, whether their idea of a good time is to swim among vibrant coral reefs or get up close and personal with spectacular marine life.
Cultural Attractions and Traditional Heritages
Not only is Candidasa famous for its natural beauty and its variety of water activities, but also for its cultural diversity and its many traditional tourist destinations. The historic community of Tenganan is located near Candidasa. It is one of the cultural hotspots that cannot be missed. This traditional village is well-known for its one-of-a-kind way of life, which is strongly ingrained in the culture and customs of the Balinese people.
The opportunity to participate in the village's eco-friendly way of life is a standout feature of a trip to Tenganan. The inhabitants of the village get all of their daily needs met by the abundant natural resources surrounding them, such as the verdant forests and the rice paddies. The villagers will demonstrate how they build their homes from natural materials and make traditional things for visitors to observe.
The manufacturing of hand-woven fabrics in Tenganan, created using an age-old technique known as double ikat, is another unique facet of the town. These fabrics hold a high value and are worn during traditional ceremonies and used for other purposes. Visitors can watch the weaving process and purchase one of these stunning fabrics to take home.
In addition, Tenganan is well-known for its one-of-a-kind cultural event known as the Pandanus War. Participants at this yearly event, held to remember hamlet's triumph over its attackers, toss prickly pandanus leaves at each other in the competition. Visitors to Candidasa are strongly encouraged to take in the cultural experience that is the Pandanus War.
In addition to Tenganan, Candidasa and the surrounding area is home to some other Balinese temples that are also well worth exploring. One of the most well-known is the Goa Lawah Temple, sometimes called the Bat Cave Temple. This temple can be found on the seashore and is the dwelling place of hundreds upon thousands of bats. Another temple in the area that is well worth seeing is the Lempuyang Temple, which is set quite high up in the mountains and provides breathtaking vistas of the surrounding area.
To summarize, Candidasa and the surrounding areas provide a unique combination of natural beauty and cultural attractions. By traveling to Tenganan village, observing the Pandanus War, and exploring the many temples in the surrounding area, tourists will have the opportunity to have a deeper understanding of the rich Balinese tradition and culture.
Lotus Lagoon: The Icon of Candidasa
The Lotus Lagoon, commonly called the Water Palace, is one of the undiscovered treasures found in Candidasa. This tranquil lagoon is surrounded by verdant vegetation and lotus flowers in bloom, making it an ideal location for a relaxing stroll or a picnic with friends and family.
The Lotus Lagoon was established in the 1940s by the last monarch of Karangasem, Anak Agung Anglurah Ketut Karangasem. It was formerly a spot for the royal family to take baths, and the water in the lagoon was believed to have curative properties.
The Lotus Lagoon is now available to the public, and guests can rent a small boat to paddle around the lagoon while taking in the calming atmosphere of the area. In addition, several little gazebos are situated around the lagoon, where guests can unwind and enjoy the scenery.
During the day, the Lotus Lagoon provides a tranquil escape from the commotion in downtown Candidasa. When the lotus flowers are in full bloom, and the lagoon is illuminated by soothing lights, the experience takes on an even more enchanted quality at night. This contributes to the ambiance of romance and makes the location a favorite for couples who want to stroll hand in hand or dine with candlelight.
Visiting Candidasa's Lotus Lagoon would be best because it is a unique and charming location. The Lotus Lagoon is likely to make an indelible mark on its visitors, whether searching for a tranquil haven to spend the day or a romantic setting to while away the evening.
Trekking Around and Beyond
Trekking around Candidasa is an experience that should not be missed by anyone who enjoys being outside and active. This place provides a one-of-a-kind opportunity to see the natural beauty of Bali as it is encircled by lush green hills, rice paddies, and small towns.
Mount Agung, the highest and holiest mountain in Bali, is a favorite destination for hikers looking for a place close to Candidasa. The ascent to the peak of Mount Agung is not easy, but the spectacular vistas that await you at the top more than makeup for the difficulties. Visitors have the option of going up the mountain on a guided hike, which will typically take around ten hours to finish.
The rice paddies of Sidemen hamlet are yet another popular destination for those who enjoy walking. This picturesque community is well-known for the stunning rice terraces that surround it, and it features some hiking trails that visitors may explore. During the hike, guests get the opportunity to understand the local way of life and become familiar with traditional farming practices.
Visitors looking for a hike with greater difficulty might go to Mount Batur, which is located close. The ascent to the peak of Mount Batur typically takes somewhere in the range of two to three hours and rewards hikers with breathtaking vistas of the landscape, including Lake Batur and the nearby peak of Mount Abang.
In addition to these well-known places to trek, the region around Candidasa is home to several other trails that, like the ones mentioned above, have breathtaking scenery and one-of-a-kind adventures. Along the route, tourists can see quaint villages, visit ancient temples, and learn about and participate in various local customs and traditions.
In general, trekking around Candidasa is a wonderful approach to investigating Bali's natural splendor and cultural depth. Visitors can choose from many breathtaking locations for their hiking excursion, increasing the likelihood that they will have a memorable and fulfilling experience.
Dining Candidasa
Candidasa provides diverse dining alternatives, ranging from traditional Balinese fare to cuisines inspired by other cultures. Something is available to satisfy everyone's preferences and budgets, whether you're searching for a quick bite or a more upscale eating experience.
Candidasa is the ideal destination for foodies and those with a penchant for seafood. Along the coastline, there are a number of restaurants specializing in seafood that serve freshly caught fish, prawns, crabs, and other types of mouthwatering seafood specialties. One of the most well-liked places to get seafood in Candidasa is Vincent's, which features an unpretentious and laid-back ambiance and an extensive menu of seafood-based dishes.
Several restaurants on the island of Bali offer genuine versions of regional specialties, making it easy to find traditional Balinese fare. Warung Bambu is one of the most well-known restaurants in Bali because it serves a variety of traditional Balinese cuisine in a setting that is both rustic and endearing. Another excellent alternative is the restaurant Bali Asli, which is found in a typical Balinese hamlet and features a farm-to-table dining experience that uses products sourced from the surrounding area.
There is also a good selection of options for customers who gravitate toward more global cuisine. The Dining Room at Alila Manggis, unlike La Rouge, serves a variety of foreign foods in a beautiful setting by the sea. This French restaurant offers excellent dining in a romantic setting. La Rouge is located on the beach.
In addition to these restaurants, Candidasa is home to many cozy cafes and warungs, which are traditional Indonesian eating establishments that serve meals that are both inexpensive and delectable. These are some of the best spots in town to sample regional delicacies and get to know the people.
Overall, Candidasa has a wide variety of dining options that are priced to meet the requirements of a variety of different budgets. It doesn't matter if you're seeking seafood, traditional Balinese cuisine, or international meals; you'll definitely be able to discover something that will satisfy your taste.
Candidasa Hotels
A wide range of lodging is available in Candidasa, making it possible to choose something appropriate for any price range or personal taste. This picturesque coastal town has a wide variety of places to stay, ranging from opulent resorts to cozy bed and breakfasts that won't break the bank.
Many high-end resorts in Candidasa are perfect for individuals seeking leisure and elegance. These resorts have gorgeous vistas, stylish suites, and first-rate amenities. One of the most opulent resorts in Bali, the Amankila features individual villas equipped with infinity pools and sweeping ocean views. Another well-liked alternative is the Alila Manggis, which provides a diverse selection of opulent rooms and suites in a calm and quiet environment.
Suppose you are seeking a less expensive alternative. In that case, Candidasa is home to many guesthouses and homestays suitable for travelers on a limited budget. These lodgings provide decent rooms for a price fractionating what it would cost to stay at a high-end resort. The Bali Santi Bungalows and the Puri Bagus Candidasa are two of the most well-known hotels in Candidasa.
Many hotels in Candidasa are situated directly on the beach and provide guests with breathtaking views of the surrounding water and convenient access to the sand and water. The Rama Candidasa Resort & Spa is one of the beachfront hotels in Candidasa. It is considered among the most popular since it provides guests various rooms and services in a stunning coastal location.
In addition to these alternatives for places to stay, Candidasa is home to some intimate villas and boutique hotels, each of which provides guests with an unforgettable and individualized vacation experience. These places to stay are frequently created with a focus on Balinese culture. They provide various amenities and services to make your stay as comfortable and enjoyable as possible.
Overall, Candidasa boasts a wide variety of housing alternatives that may be tailored to meet the requirements of a variety of different budgets and personal preferences. This picturesque seaside town is likely to allow visitors to select the ideal spot to stay, regardless of whether they prioritize luxury, accessibility, or a one-of-a-kind and customized experience.
Bali Villas in Candidasa
Visitors to Candidasa can enjoy a lavish and private stay in this stunning coastal town when they book one of the town's many available villa rentals, among the most popular accommodations in the area.
There are many different villa rental options available in Candidasa, ranging from quaint villas with just one bedroom to spacious villas with multiple bedrooms that can accommodate big groups of vacationers. Most of these villas come complete with private swimming pools, breathtaking views of the ocean, and other contemporary conveniences.
The opulent Villa Pantai Candidasa, which features three bedrooms and is situated directly on the beach, is one of the most sought-after vacation rental options in the Candidasa area. This breathtaking property has a private swimming pool, an outdoor eating space, and contemporary conveniences like air conditioning and Wi-Fi. Villa Sasoon and Villa Gils are two more popular choices among those looking to rent a villa in Candidasa.
Renting a villa in Candidasa has some benefits, including the increased level of privacy and isolation it provides. Many of these villas may be found in secluded places free from the din and bustle of the primary town. Because of this, they are an excellent option for travelers needing a holiday that would allow them to unwind and recharge.
The comfort of having your very own fully-equipped kitchen is another perk that comes with renting a villa in Candidasa, on top of the added privacy and solitude that comes with it. You will be able to prepare your own meals and eat them in the privacy of your villa as a result. On the other hand, if you don't feel like preparing your own meals, many of these villas also allow you to hire a personal chef to take care of that for you.
If you are searching for a luxurious and private place to stay in Candidasa, renting a villa is a good alternative. There are a variety of alternatives available, ranging from quaint villas with one bedroom to spacious villas with multiple bedrooms; these options ensure that there is something to fit every desire and budget.