Discovering the Hidden Gems of Bali
Do you plan to take a trip to Bali during your next free time? If that's the case, you're in for a real surprise! The beautiful beaches, paddy fields, temples, and lively culture of the Indonesian island of Bali are known all over the world. But besides these well-known places, Bali is also home to many other hidden treasures just waiting to be found by curious travellers. The hidden gems of Bali are waiting for you to explore. In this article, we will guide you on a journey to discover some less well-known areas of Bali that are just as charming as the more popular tourist spots.
Here are some of the hidden gems of Bali you can explore on your next visit.
1. Nusa Penida Island – A Secluded Paradise
Nusa Penida is a paradise frequently skipped over by visitors since it is another island that needs a boat trip. It is home to some of the world's most beautiful beaches, gin-clear waterways, and majestic cliff formations. Kelingking Beach, located on the island, is known for its distinctive cliff structure, which looks like a T-Rex, and is considered one of the most popular tourist destinations. The Broken Beach and Angel's Billabong are two additional locations on the island that you must see.
2. Munduk Waterfall – A Hidden Gem in Bali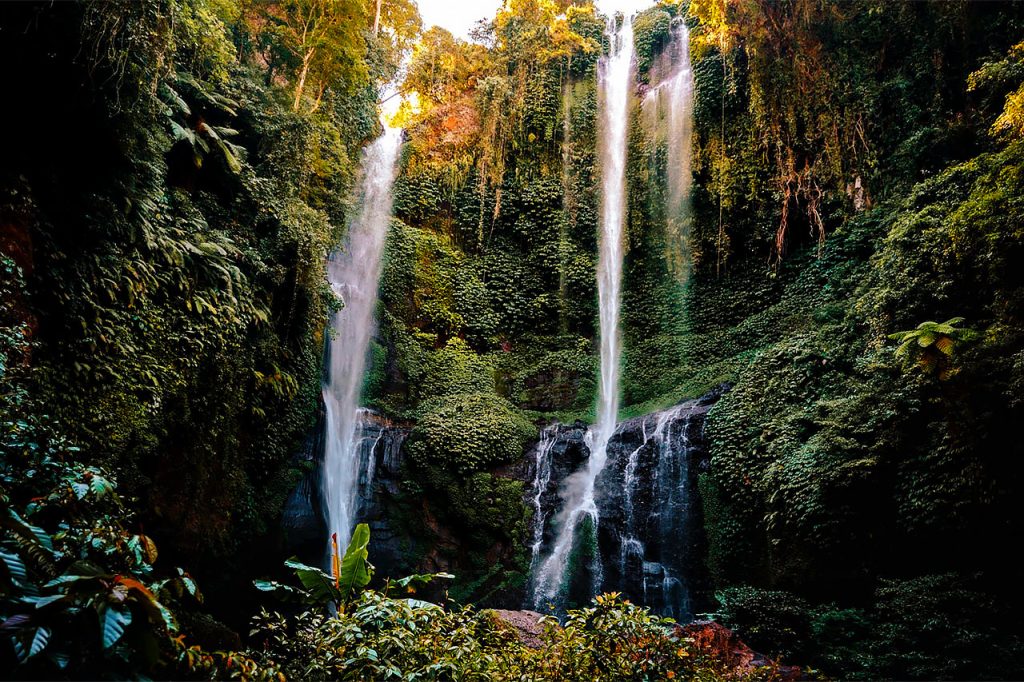 The Munduk Waterfall is a little-known treasure of Bali that can be found in the island's northern mountains. The dense vegetation surrounding this waterfall hides it away in a remote location. The water from the waterfall flows into a small pool that is ideal for swimming. The region is also famous for its mild climate, which offers a welcome relief from the oppressive tropical heat of the rest of Bali.
3. Tirta Gangga – A Royal Water Garden
The magnificent Tirta Gangga once served as a sanctuary for the King of Karangasem. It is now known for its water palace architecture. The palace grounds are beautifully landscaped with sculptures, fountains, and clear water pools, making it an excellent place for a leisurely stroll. You can also try healing yourself by immersing yourself in the sacred water, which has therapeutic qualities.
4. Gunung Kawi Sebatu – A Hidden Temple in Bali
Even though Gunung Kawi Sebatu could be better known, it's still worth going to the shrine on top of it. This sanctuary can be found in the middle of a verdant valley, surrounded by rice fields and beautiful gardens. You can spend hours wandering the temple grounds and enjoying the calming atmosphere there. The sanctuary is famous for its calm and peaceful atmosphere.
5. Nusa Ceningan – An Island Escape
A minor island known as Nusa Ceningan can be found between the larger islands of Nusa Lembongan and Nusa Penida. This undiscovered treasure is the ideal location for a stress-free getaway. By renting a scooter and driving around, you can experience the island, which features beautiful beaches, coral reefs, and local culture.
6. Menjangan Island – A Diver's Paradise
The West Bali National Park also includes the secluded island of Menjangan. You can explore the thriving coral reefs and get a glimpse of a wide variety of marine life off the coast of this island, home to some of the best diving sites in Bali. Activities like observing birds, hiking, and snorkelling are also available for your enjoyment.
7. Sidemen Valley – A Scenic Escape
The Sidemen Valley is a precious jewel that can be found secreted away in the eastern part of Bali. The valley's beautiful setting, which includes paddy fields, forests, and rolling hills, makes it an ideal place to get away from it all and relax. You can get some exercise, like going on a walk or riding a bike, or you can sit back, unwind, and take in the breathtaking scenery.
8. Tukad Cepung Waterfall – A Hidden Beauty
The waterfall known as Tukad Cepung is a hidden treasure that can be found in the centre of a cave. To get to the waterfall, you must navigate through a congested path that finally opens up to reveal a breathtaking waterfall that plunges into a secluded pool. The destination is well worth getting there because the sight is truly enchanted.
9. Pemuteran is a Relaxing Seaside Town to Visit
Pemuteran is a sleepy village on Bali's coast, the island's northernmost region. It is famous for having beaches with black sand, crystal-clear waters, and vibrant coral reefs. You can relax on the shore, take in the serene atmosphere, or participate in snorkelling, diving, or kayaking activities. Either way, the choice is yours.
10. Blahmantung Waterfall – A Hidden Oasis
The Blahmantung Waterfall is a well-kept secret in the heart of Bali's central mountains. It is a lovely pool that is ideal for swimming, and lush vegetation surrounds it that cascades down into the pool below. The region is also well-known for its stunning landscapes and network of hiking trails.
11. Tenganan Village – An Ancient Village
East Bali is the location of the historic settlement of Tenganan, which can be found here. The Bali Aga people, who are well-known for the distinctive rituals and practices that they observe, call this community home. You can better understand the area's culture by visiting some of the traditional homes, handicrafts, and ceremonies in the community.
12. Gitgit Waterfall is a Prominent Waterfall In the Area
Gitgit Waterfall is a magnificent waterfall that can be found in the northern part of Bali. The lush vegetation surrounding it cascades into a small lake, perfect for swimming. In addition, you can access the waterfall by going on a short hike through the surrounding forest.
13. Sanur – A Hidden Gem Beach Town
Sanur is a beach town found on the southeast shore of Bali and is known as a hidden gem. It is known for its long beaches with white sand, clear water, beautiful sunrises and sunsets. You can recline and unwind while taking in the laid-back atmosphere or engage in activities like swimming, surfing, or kite surfing.
14. UNESCO has Designated the Jatiluwih Rice Terraces as a World Heritage Site
The western mountains of Bali are home to the Jatiluwih Rice Terraces, recognized by UNESCO as a World Heritage Site. It is known worldwide for its beautiful rice terraces, watered by a traditional method very different from any other. You can walk through the terraces and learn more about the area's farming culture while taking in the beautiful scenery.
15. Banyumala Waterfall – A Picturesque Waterfall
The Banyumala Waterfall is a picturesque waterfall found in the northern region of Bali, Indonesia. It cascades into a small lake that is ideal for swimming and has lush vegetation. In addition, you can access the waterfall by going on a short hike through the surrounding forest.
In conclusion, visitors will only get part of the experience of Bali by simply visiting the island's most well-known landmarks and attractions. In addition, the island is home to several well-hidden treasures that are just waiting to be discovered. The hidden gems of Bali are silently awaiting to award memorable experience to those who make their time to explore.
There is something for everyone to enjoy on the island of Bali, from secluded beaches and waterfalls to ancient communities and rice terraces. If you are planning a trip to Bali soon, make it a point to visit less well-known places that are just as captivating.
FAQs
What exactly is it that Bali is renowned for?
The island of Bali is well-known for its beautiful beaches, paddy terraces, temples, and vibrant culture that can be found there. The hidden gems of Bali are extraordinarily special.
What are some of the most well-known places for tourists to visit in Bali?
The Uluwatu Temple, the Tanah Lot Temple, the Ubud Monkey Forest, and Kuta Beach are just a few of the most well-known visitor destinations on the island of Bali.
How do I get to Nusa Penida Island?
You can board a fast boat from Sanur or Padang Bai to reach Nusa Penida Island.
When is the perfect time of year to go to Bali?
April through October, which correspond to Bali's dry season, are ideal for tourism there.
Can I go swimming in the waterfalls that Bali has to offer?
In Bali, it is possible to go swimming in the waterfalls. However, it is essential to exercise caution and be aware of one's surroundings, particularly during the wet season when water flow can be pretty forceful.
Is going to Bali's lesser-known tourist spots risky, or are they perfectly safe?
The answer is yes; it is generally safe to explore attractions in Bali that are less well-known. Despite this, it's always a good idea to do some research before you go, observe the rules and regulations, and show respect for the culture and traditions of the area. The hidden gems of Bali are not for everyone anyway.
What should I bring with me on my vacation to Bali?
When packing for a trip to Bali, bring some essentials such as breathable and comfortable clothing, sunscreen, insect repellent, a hat, a water bottle that can be reused, and a camera.
How long of a trip should I plan to take to Bali?
Your preferences and the itinerary you have for the rest of your trip will determine how long you remain in Bali. However, a week to ten days is a reasonable amount of time to explore the main attractions of the island as well as visit some of the less well-known destinations on the island.
What are some things to do in Bali that aren't on the typical tourist itineraries?
Discovering secluded waterfalls, trekking through rice terraces, and visiting hidden beaches are some off-the-beaten-path things to do in Bali. Other off-the-beaten-path activities include experiencing ancient communities.
In conclusion, the island of Bali is a gorgeous place that has much more to offer than just its well-known tourist destinations. By venturing into some of the less-known attractions, you may stumble upon some hidden treasures that are every bit as captivating and unforgettable, the hidden gems of Bali. Everyone can find something of interest to do and see in Bali. Put sunscreen on your face, gather your belongings, and get ready to discover some of Bali's best-kept secrets.