Discovering the Magic of Ubud: A Journey Through Indonesia's Cultural Heartland
Get yourself a sip of the magic of Ubud, a little town that can be found in the middle of Bali, Indonesia. For many years, it has been one of the most popular tourist destinations on the island of Bali. Ubud is a one-of-a-kind and amazing place to visit because of its beautiful rice paddies, rich cultural history, pristine natural beauty, and many ways to improve your overall health.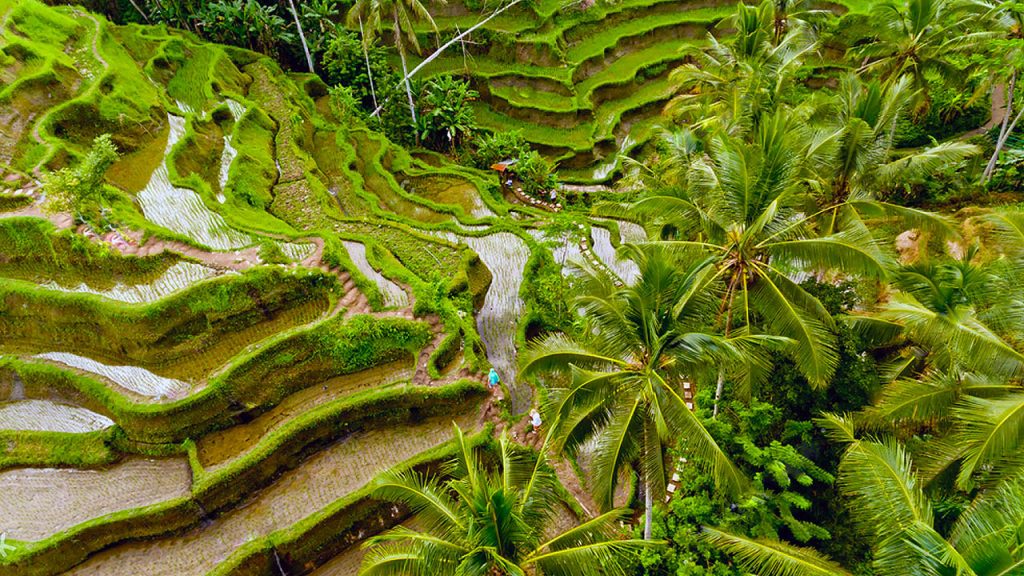 Most likely, Ubud's beautiful rice terraces are the most appealing thing about this Bali town that brings people there. Ubud is surrounded by some of the most beautiful rice terraces in all of Bali. Visitors can walk or ride bikes through the fields and take in the stunning views.
In Ubud, many of the rice terraces are still used for traditional farming methods, and visitors can learn about the agricultural practices of the area as well as the cultural significance of rice in Balinese society by touring these rice terraces. In point of fact, rice has been an essential component of Balinese culture for hundreds of years, and it is seen as a symbol of both prosperity and fertility. The complicated system of irrigation that is utilized to water the rice terraces is a monument to the ingenuity and hard work of the Balinese people. This system is an engineering marvel and a wonder of the world.
The terraced fields are not only an important supply of food for the community, but they are also an important source of income for the community's farmers, making them an essential component of the community's economy.
The city of Ubud has a significant cultural and artistic history, which is another reason why tourists come there. Visitors can see traditional performances, learn how to dance in the Balinese style, or go to one of the many nearby art galleries or museums. The town has been known as a center for traditional Balinese arts, dance, and music for many years. Traditional wooden homes and temples may be found lining the streets of Ubud, giving visitors an insight into the town's abundant cultural history. Visitors can observe examples of the rich spiritual beliefs and creative traditions that make up Balinese culture during any one of the several festivals and ceremonies that take place throughout the course of the year.
The elaborate movements and colorful costumes of Balinese dance are a particularly important component of the culture of the indigenous people. Balinese dance is known to tell stories and provide significant cultural messages. The town is also home to a large number of local craftsmen who continue to produce beautiful hand-crafted objects using ancient skills, like as weaving and carving, and visitors can purchase these one-of-a-kind mementos to take with them when they leave.
Ubud is well-known for its reputation as a center for holistic medicine and wellness, and this aspect of the town's history contributes to its fame. Because there are so many yoga and meditation centers, spas, and natural therapy clinics in the area, people can get away from the stress of everyday life and relax their bodies and minds. Those who are looking to improve their physical and emotional well-being while they are in Ubud have a wide variety of alternatives available to them, from yoga courses held on the beach to traditional Balinese massages. Because of the area's beautiful natural features, like its lush forests and pretty rivers, the atmosphere is calm and peaceful, making it a great place to think and meditate.
In addition, there are a large number of practitioners of traditional therapeutic methods like acupuncture and herbal therapy who are willing to offer their services to tourists. The magic of Ubud has something for everyone to enjoy in Ubud, whether you're searching for a soothing massage or a more in-depth wellness program.
Ubud is a paradise for people who enjoy spending time outside and appreciating the natural world around them. Visitors can go on jungle treks, take a beautiful boat ride down the Ayung River, or check out one of the area's many beautiful waterfalls. The location is surrounded by lush woods and scenic rivers, so there are plenty of opportunities for outdoor recreation.
The Monkey Forest Sanctuary is a well-known tourist attraction that can be found in the middle of Ubud. It gives tourists the opportunity to observe monkeys in their natural environment from very close range. The inhabitants of the area revere the monkeys that live in the forest, and as a result, they take great care to shield them from harm and look after them. The forest is home to many different kinds of birds and flora, in addition to the monkeys; as a result, it is an excellent location for bird watching and taking pictures of natural scenes.
Mount Batur, an active volcano located in the vicinity of Ubud, is another natural attraction that brings tourists to the area. From its summit, travelers may take in breathtaking panoramas of the landscape. Hikers have the opportunity to ascend to the peak in time to witness the sunrise while taking in the beautiful vistas available there. The hike is difficult, but those who enjoy outdoor sports and thrill seeking will find that the experience more than makes up for the difficulty. The naturally occurring hot springs that can be found close to the volcano's foot are another well-liked location. These springs provide visitors with the opportunity to unwind in the soothing waters after a strenuous climb.
Ubud is not only a paradise for those who love to shop, but it is also a heaven for those who love to try new and unusual types of food. The restaurants and cafes in the area serve a wide range of food, from traditional Balinese food to dishes that are based on food from other cultures. The town is well-known for its delicious and wholesome cuisine, and a significant number of its restaurants focus on providing vegetarian and vegan options.
The fact that many of the local ingredients utilized in the cuisine are grown in the countryside nearby makes for an experience that is both savory and refreshing for tourists. There is something for everyone to enjoy in Ubud's dining scene, whether it's a quick bite to eat on the sidewalk or an elegant meal in one of the city's restaurants.
In conclusion, one other reason people are drawn to the magic of Ubud is because the local community is known for being kind and inviting. The people of Bali are known for their warm hospitality and friendly attitudes. As a result, tourists usually don't have any trouble fitting in with the locals. The people who live in Ubud are always happy to help visitors, whether they are looking for tips and suggestions or just want to have a friendly chat. Ubud is a popular place for tourists from all over the world to visit because it has a long cultural history, beautiful natural scenery, and a kind and friendly local community.
The magic of Ubud is something that will create a never ending discussion.
Even though Ubud is not a very big town, it has had a big impact on the area around it. It provides tourists with a one-of-a-kind and amazing experience by virtue of its picturesque rice terraces, extensive cultural heritage, holistic wellness offerings, natural beauty, delectable cuisine, and warm and welcoming people. Everyone can find what they're searching for in Ubud, whether it's an opportunity to relax, engage in some exciting activities, or learn about the local culture.
Consider going to Ubud, Indonesia, to make up your own version of the magic of Ubud. If you're searching for a spot to get away from the rush and bustle of your regular life and find some peace and quiet instead.
If you are thinking of an extending stay in Ubud, consider to rent a villa in Ubud instead of a hotel room.