Guide to Seminyak: The Charms that Attract Tourists to this Bali Paradise
Guide to Seminyak. One of the best-known tourist attractions in all of Asia is the small community of Seminyak, which is found on the coast of the southwestern part of the island of Bali in Indonesia. Seminyak is known for its beautiful beaches, places to eat and shop that are among the best in the world, and beautiful resorts and private villas. This area has lots to offer visitors of all types. In the following sections, we will go over the main attractions that entice visitors to stay in the Seminyak area.
One of the most obvious reasons why so many people go to Seminyak is because of its beautiful beach. The golden sands of Seminyak Beach spread out for a considerable distance along the coast of the Indian Ocean. Surfers and people who just want to lie out in the sun frequent this beach because it is considered to be one of the most beautiful and peaceful on the island of Bali.
The beach has been kept in excellent condition, and the water is completely transparent, making it an ideal location in which to unwind and bask in the sun.
Looking to learn even further?
Go on to continue reading our Guide to Seminyak.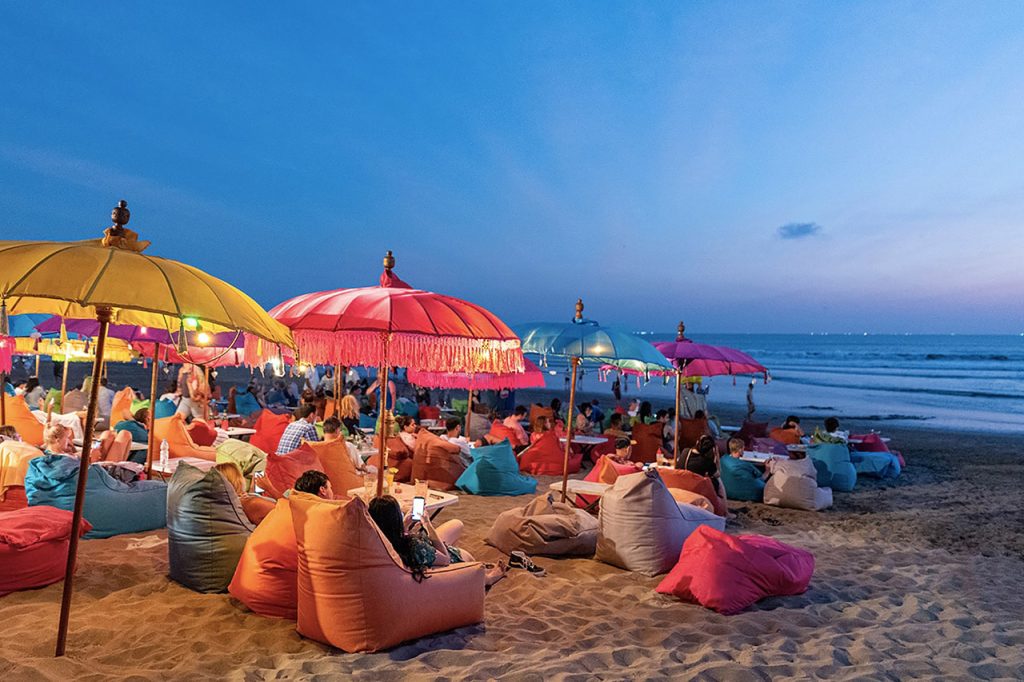 There are a number of beach clubs and pubs along the beach, and each of them has a fun atmosphere and great food and drinks. Potato Head Beach Club, Ku De Ta, and La Plancha are three of Seminyak's most well-known and well-attended beachfront establishments. The fact that these beach clubs provide visitors with a variety of sun loungers, daybeds, and cabanas makes it simple for vacationers to select the ideal spot to unwind and take in some rays.
Another thing that makes Seminyak famous is its bustling restaurant scene. There are many different kinds of places to eat in the area, from makeshift food stands to high-end restaurants. The restaurants La Lucciola, Métis Restaurant & Gallery, and Mozaic Beachclub are three of the most well-known dining establishments in the Seminyak area.
It is simple for tourists to find something to eat at these restaurants that suits their preferences because the menus have a combination of Indonesian classics and delicacies from across the world. In addition, Seminyak is home to a good number of fine dining establishments, which not only provide a more private and refined dining atmosphere, but also provide food of the highest possible quality. Warisan Restaurant, Sarong Restaurant, and Mamasan are three of the most well-known and highly regarded fine dining establishments in Seminyak area.
Shopping is another one of Seminyak's most popular activities and attractions. There is plenty for everyone to shop for in Seminyak, from inexpensive souvenir shops and neighborhood boutiques to expensive designer retailers. The streets of Seminyak are lined with businesses that sell a wide variety of goods, including homemade arts and crafts, apparel, jewelry, and other items.
Some of the most prominent retail locations in Seminyak include Jalan Raya Seminyak, Jalan Kayu Aya, and Jalan Laksmana. These regions provide a wide range of retail establishments, from quaint antique shops and antique markets to upscale department stores and designer boutiques. In addition, Seminyak is home to a number of sizable shopping centers, the most notable of which being Seminyak Square, which provides a diverse selection of places to shop as well as eat.
The opulent resorts and villas that can be found in the Seminyak area are another big draw for vacationers. The Legian Bali, The W Retreat & Spa Bali, and Alila Seminyak are just a few of the many luxurious resorts that can be found in the neighborhood of Seminyak. These resorts have a lot of high-end amenities for their guests, such as huge pools, spas, and private beaches. This makes it easy for guests to relax in comfort and style during their stay.
In addition, the neighborhood of Seminyak is home to a large number of private villas, which provide visitors with a lodging alternative that is both more personal and more remote. These villas typically include private pools, outdoor living areas, and other lavish facilities, which make them the ideal location for unwinding and taking in the natural beauty of the surrounding tropical environment.

Guide to Seminyak Villas
Seminyak is a popular tourist spot for many reasons, such as its beautiful beach, thriving food scene, many shopping options, and beautiful resorts and villas. There is something for everyone to do in Seminyak, which is one of the reasons why it is the ideal place to spend a vacation. Whether you want a quiet place to unwind or an exciting experience, you will find it in Seminyak.
In addition to the things that have already been mentioned, Seminyak also has a wide range of things for people to do while they are there. There is always something to do in Seminyak; activities range from water sports and cultural tours to wellness classes like yoga and meditation. Surfing lessons, scuba diving excursions, and snorkeling trips are just some of the things that may be arranged for visitors to Seminyak who are searching for a more thrilling experience. It should come as no surprise that Seminyak has become one of the most popular tourist destinations in Bali, given the abundance of things to see and do in the area.
The location of Seminyak, which is quite convenient, is yet another reason why visitors opt to stay in this district. Seminyak can be reached quickly from Bali's other well-known tourist areas, such as Kuta, Nusa Dua, and Ubud, thanks to its convenient location, which is only a few minutes by car from the international airport. Because of this, it is quite convenient for travelers to travel across the island and visit other parts of Bali on day trips.
Another reason why tourists choose to stay in the neighborhood of Seminyak is because of the warm and accepting local culture as well as the welcoming atmosphere. The people of Bali are famous for their warmth and hospitality, and the town of Seminyak extends a friendly greeting to visitors at all times. This, along with the thriving culture, delicious food, and beautiful surroundings, makes Seminyak a truly one-of-a-kind and extraordinary place to visit.
To sum up, tourists choose to stay in Seminyak for a variety of reasons, such as its great beach, thriving food scene, shopping options, luxurious resorts and villas, wide range of activities, convenient location, and friendly local culture. Because there is something for everyone in Seminyak, which is why it is the ideal location for your upcoming vacation, you may choose to have a vacation that is filled with exciting activities or one that is more laid-back and restful.
Guide to Seminyak Accommodations: Finding Your Perfect Stay in Bali Paradise
Because it provides visitors with such a diverse selection of places to lay their heads at night, Seminyak is an ideal vacation spot for vacationers of varying financial means and aesthetic preferences. There is something for everyone to enjoy in Seminyak; whether you are searching for a posh resort, a comfortable villa, or a guesthouse that is easy on the wallet, you will find it here.
Luxury Resorts
A few of Bali's most opulent resorts may be found in the area known as Seminyak. These resorts provide the utmost in convenience and leisure, with rooms that are exceptionally spacious, private swimming pools, and a variety of other on-site amenities. There are also a number of high-end resorts that have private villas complete with their very own private pools and butler service for those vacationers who are searching for the pinnacle of luxurious luxury. Because they offer an unrivaled amount of solitude as well as luxury, these villas are a favorite accommodation option for families and couples alike.
Guide to Seminyak Villas
There are a number of villas in Seminyak area that are accessible for individuals who are searching for an environment that is more similar to that of a home. These villas are normally quite roomy, and they come complete with their very own private swimming pools, kitchens, and living areas. Because of this, they are an excellent choice for people traveling as families or in groups of friends who are searching for a place to stay that is cozy and laid-back. The fact that many villas provide their guests with a full range of amenities, such as daily housekeeping, security that is available around the clock, and personal chefs, makes them an excellent choice for people who wish to enjoy the best that Bali has to offer in a luxurious setting.
Interested to talk in person to your dedicated guide to Seminyak villa accommodation? CONTACT US.
Guesthouses and Budget Hotels
There are a number of accommodations in Seminyak that are suitable for individuals who are traveling on a tighter budget, such as hostels and guesthouses. These accommodations consist of guesthouses and motels with lower rates that give only the most fundamental of amenities. Despite the fact that these options might not provide the same level of luxury as the resorts and villas, they are an excellent choice for people who are searching for a place to stay that is uncomplicated and inexpensive.
Guide to Seminyak offers insight to a diverse selection of available lodging in the area of Seminyak, ranging from high-end resorts and villas to more reasonably priced hotels and guesthouses. It doesn't matter if you want an extravagant vacation or one that's easy on the wallet; Seminyak has something for everyone, which is why you should consider making it the location of your next vacation.