Jimbaran Beach: Bali's Seaside Culinary Haven
Nestled on the southern coast of Bali, Jimbaran Beach is a charming coastal village renowned for its pristine shores, traditional fishing heritage, and a culinary scene that has garnered global acclaim. It's a destination that captivates visitors with its natural beauty and tantalizing seafood feasts by the sea.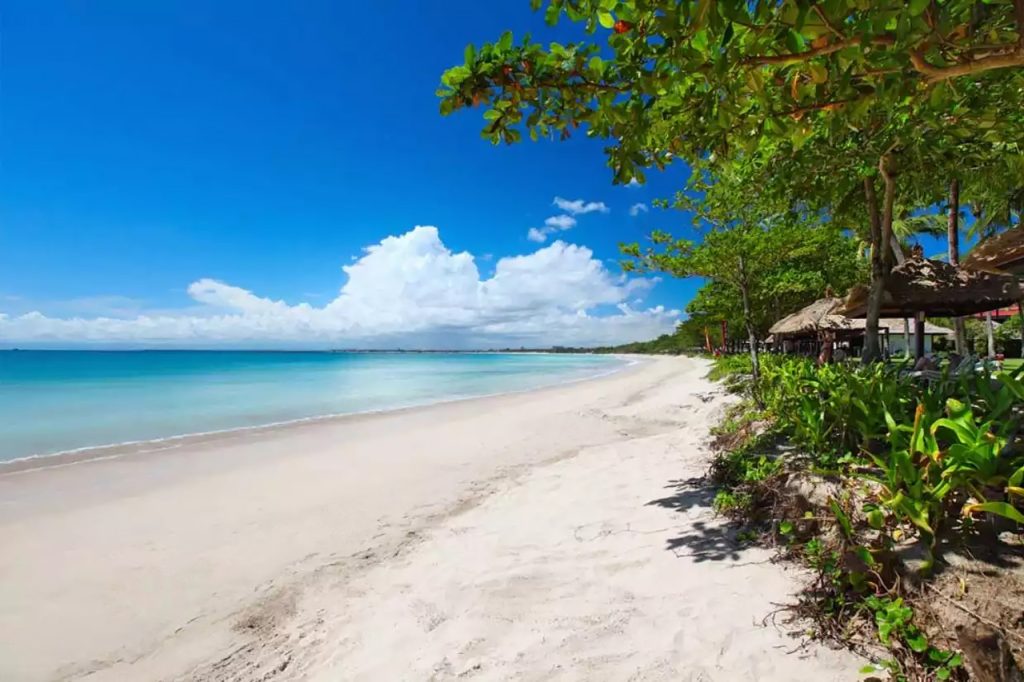 Fishing Village Charm
Jimbaran retains the atmosphere of an authentic Balinese fishing village. Strolling along the beach, you can witness local fishermen casting their nets and colorful wooden boats gently bobbing in the bay. This cultural heritage adds a unique charm to Jimbaran's coastal ambiance.
Golden Sands and Gentle Waves
Jimbaran Beach offers a serene escape from the bustling crowds of some neighboring areas. Its golden sands provide a tranquil setting for sunbathing and leisurely walks. The waves are generally calm, making it safe for swimming, making it an excellent destination for families and those seeking relaxation.
Sunset Indulgence
One of Jimbaran's most cherished experiences is its sunset vistas. As the day draws to a close, the horizon comes alive with a mesmerizing array of colors. This nightly spectacle sets the stage for an enchanting dinner by the sea.
Seafood Extravaganza
Jimbaran is synonymous with seafood, and its beachfront restaurants are celebrated for serving some of the freshest catches you'll find on the island. Tables are set on the sand, often with your feet in the water, creating a unique and romantic dining experience. Grilled fish, prawns, squid, and lobster are just a few of the delectable options available. A seafood dinner in Jimbaran is a culinary journey that shouldn't be missed.
Cultural Experiences
Beyond the beach and seafood, Jimbaran offers opportunities to explore Balinese culture. You can visit the nearby Uluwatu Temple, known for its stunning cliffside location and traditional Kecak dance performances.
Jimbaran Beach is a treasure trove of Balinese charm, where natural beauty, cultural authenticity, and gastronomic delights converge. Whether you're lounging by the shore, savoring a seafood feast, or immersing yourself in the local culture, Jimbaran is an invitation to experience the essence of Bali's coastal heritage.
Jimbaran Villas: A Culinary and Coastal Retreat in Bali
Jimbaran, located on the southwestern coast of Bali, is celebrated for its pristine beaches, traditional fishing village charm, and a culinary scene that's second to none. It's a destination where the day begins with fishermen casting their nets into the sparkling sea, and it ends with travelers savoring fresh seafood feasts by the water's edge. Amidst this picturesque backdrop, Jimbaran villas offer a serene retreat that complements the area's culinary and coastal allure.
Villas by the Sea: Oceanfront Serenity
Jimbaran's villas often boast stunning oceanfront locations, providing guests with direct access to the beach and mesmerizing views of the sea. Imagine waking up to the sound of waves gently lapping the shore and stepping onto your villa's private terrace to witness the sunrise over the horizon. It's a coastal paradise where the sea becomes an integral part of your daily experience.
Seafood Extravaganza: Dining by the Water
One of Jimbaran's highlights is its seafood dining scene. The beachfront is lined with traditional seafood warungs (small eateries) where travelers can savor an array of freshly caught seafood, grilled to perfection. Staying in a villa in Jimbaran means you're just steps away from these culinary delights. You can enjoy romantic dinners under the stars, with your toes in the sand and the sound of the sea as your backdrop.
Traditional Balinese Charm: Authentic Experiences
Jimbaran has managed to retain its traditional Balinese charm despite its popularity. When you choose a villa here, you'll often find thatched-roof pavilions, open-air living spaces, and lush tropical gardens. It's a chance to immerse yourself in the island's culture and enjoy the genuine warmth of the local community.
Tranquil Retreat: Away from the Bustle
While Jimbaran offers a tranquil escape, it's also conveniently located near some of Bali's key attractions. You can explore nearby temples, visit Uluwatu's clifftop beauty, or indulge in water sports. Yet, at the end of the day, you can retreat to your villa's peaceful ambiance, where the only sounds you'll hear are those of the sea.
Jimbaran villas offer a unique blend of coastal beauty, culinary delights, and authentic Balinese experiences. It's a destination where you can savor the best of Bali's cultural and culinary heritage while enjoying the comfort and privacy of your villa. Whether you're seeking a romantic getaway or a family vacation, Jimbaran villa accommodations provide a serene and unforgettable Bali experience.