Kuta Beach: Bali's Iconic Playground of Sun and Surf
Nestled along the southwestern coast of Bali, Kuta Beach stands as a testament to the island's allure, drawing travelers from across the globe to its pristine shores. Widely celebrated for its vibrant energy, legendary sunsets, and world-class waves, Kuta Beach has earned its reputation as one of Bali's most iconic destinations.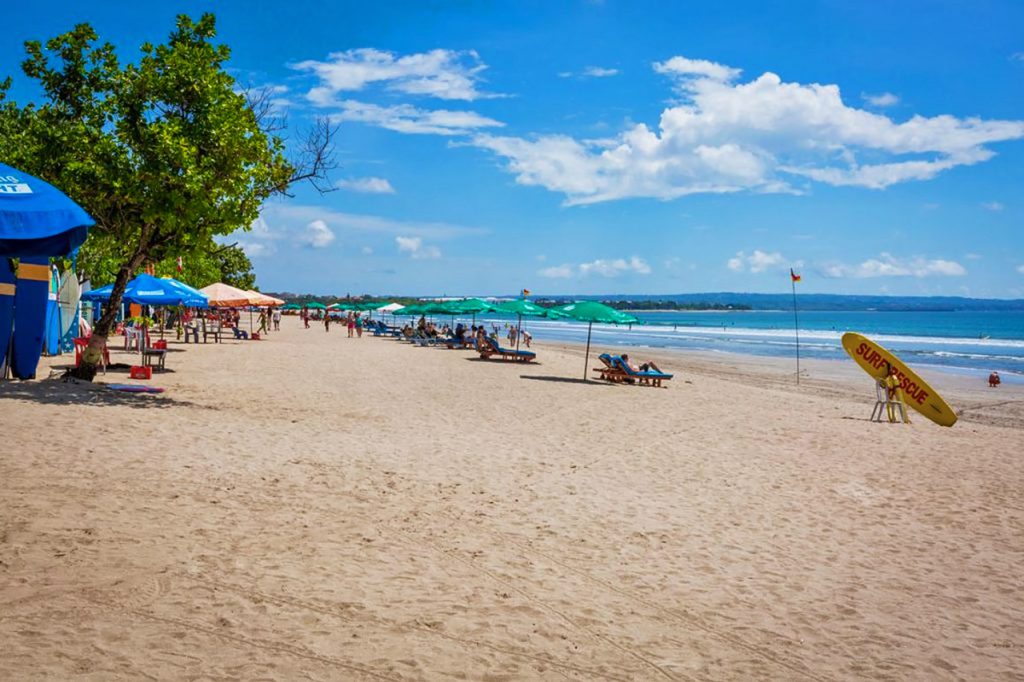 Sun and Sand
At the heart of Kuta's appeal lies its expansive stretch of golden sands caressed by the gentle waves of the Indian Ocean. Whether you're a sun-worshipper seeking that perfect tan or an avid surfer riding the rolling waves, Kuta Beach offers an inviting embrace. Families can bask in the sun as children build sandcastles and couples stroll hand in hand along the shoreline.
Surfing Paradise
For surf enthusiasts, Kuta Beach is a true paradise. The consistent and powerful waves make it an ideal spot for both beginners and experienced surfers. The beachfront is dotted with surf schools and rental shops, where you can find experienced instructors ready to introduce you to the art of riding the waves. Whether you're catching your first wave or perfecting your technique, Kuta Beach has the perfect break for you.
Epic Sunsets
As the day begins to wane, Kuta Beach transforms into a canvas for breathtaking sunsets. The sky ignites with hues of orange and pink, creating a mesmerizing backdrop for evening strolls. Many beachfront bars and restaurants offer a front-row seat to this daily spectacle, allowing you to savor a cocktail while the sun dips below the horizon.
Vibrant Nightlife
Kuta's vibrant energy doesn't end with the sunset; it comes alive after dark. The bustling streets surrounding the beach are lined with restaurants, bars, clubs, and markets. Whether you're in the mood for a delicious seafood dinner, live music, or dancing until the early hours, Kuta Beach has it all.
Kuta Beach has a magnetic quality that draws travelers in and keeps them coming back. It's a place where you can bask in the sun, ride the waves, savor unforgettable sunsets, and experience the lively spirit of Bali. For those seeking a perfect blend of natural beauty, adventure, and vibrant culture, Kuta Beach is a must-visit destination in the Indonesian archipelago.
Kuta Villas: A Gateway to Bali's Vibrant Coast
Kuta, located on the southwestern coast of Bali, is renowned for its lively atmosphere, stunning beachfront, and fantastic waves that draw surfers from around the world. While this bustling area offers a range of accommodations, staying in a villa in Kuta can provide a unique and indulgent experience that complements the vibrant energy of the town.
Luxury Villas in Kuta: A World of Comfort
Kuta boasts an array of Bali luxury villas that cater to travelers seeking a more refined and private retreat. These villas often feature modern amenities, elegant decor, and spacious layouts. Many come with private pools surrounded by lush tropical gardens, creating a serene oasis amidst the town's lively streets.
Beach Proximity: Surf and Sun at Your Doorstep
One of the key advantages of staying in a villa in Kuta is its proximity to the famous Kuta Beach. Imagine waking up to the sound of crashing waves and strolling to the shoreline within minutes. Whether you're a seasoned surfer looking to catch the perfect wave or simply seeking a spot to sunbathe and watch the sunset, Kuta Beach offers it all right at your doorstep.
Vibrant Dining and Entertainment: A Short Walk Away
Kuta is known for its vibrant dining and nightlife scene, and when you stay in a villa here, you're just a short walk away from some of the island's most popular restaurants, bars, and entertainment venues. After a day of exploring, you can return to your villa for a peaceful retreat away from the hustle and bustle.
Personalized Service: Your Bali Home Away From Home
One of the most significant advantages of villa accommodations is the personalized service. Villa staff are often dedicated to making your stay as comfortable as possible. From arranging transportation and spa treatments to preparing delicious meals in the privacy of your villa, the staff's attention to detail ensures a truly memorable Bali experience.
Whether you're seeking a romantic getaway, a family vacation, or a surf adventure, villa accommodations in Kuta offer a blend of luxury and convenience that enhances your Bali experience. It's a way to immerse yourself in the vibrant culture and energy of Kuta while having your own private haven to retreat to at the end of the day.