Luxury Travel in Bali: The Ultimate Guide
Bali has for a very long time been regarded as a sanctuary for tourists who are looking for luxurious experiences. Bali provides diverse experiences that will please even the most discerning traveler due to the island's pristine beaches, lush tropical forests, and rich cultural heritage. In this comprehensive guide to luxury travel in Bali, we will examine the most opulent lodging establishments, upscale eating establishments, spas, and other unique experiences this stunning island offers.
Accommodation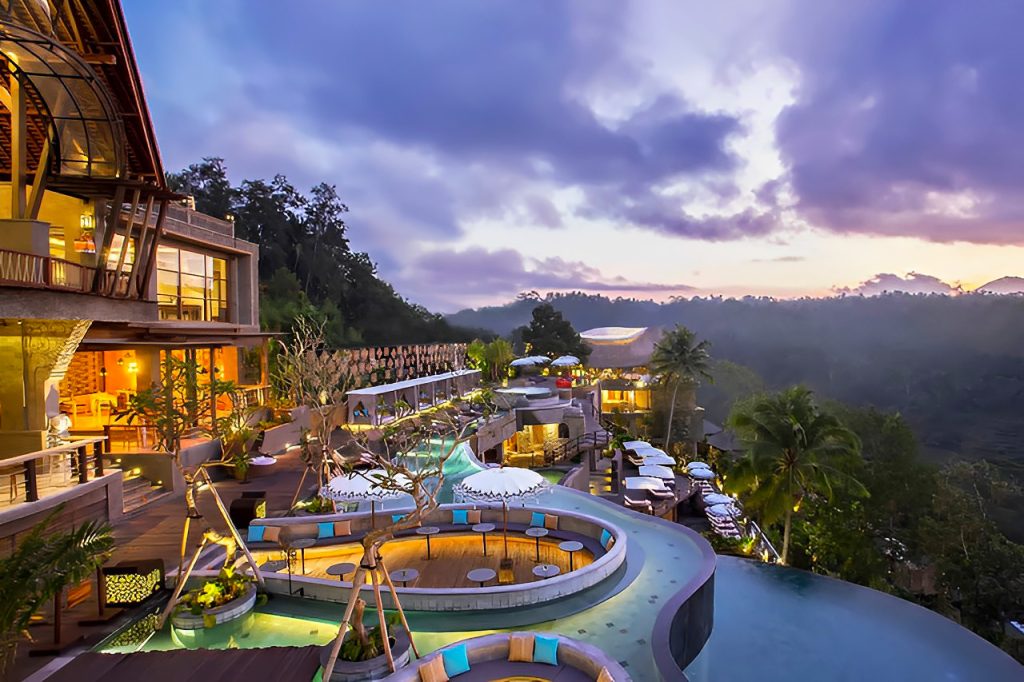 A diverse selection of luxurious lodgings is available on the island of Bali, ranging from five-star resort hotels to private houses with breathtaking vistas of the island's natural attractions. Those looking for the finest luxury travel in Bali will find some of the best choices here.
St. Regis Bali Resort
The St. Regis Bali Resort is one of the most opulent hotels in Bali. It boasts a prime location on a beach with immaculately clean white sand in Nusa Dua. The resort has 123 suites and villas, each beautifully furnished with handcrafted Balinese art. It features a private balcony or terrace with breathtaking views of the Indian Ocean. The resort is located on the island of Bali in Indonesia. The resort's signature St. Regis Butler Service is accessible around the clock to meet any and all of the requirements of the hotel's guests.
The Four Seasons Resort Bali at Sayan
The Four Seasons Resort Bali at Sayan is an opulent retreat providing a unique fusion of nature and culture. It is located in the center of the dense rainforest that covers the island of Bali. The resort has sixty villas and apartments, each of which has been meticulously crafted to offer luxury, convenience, and comfort. Guests can participate in various activities, such as yoga, meditation, and walks through the resort's rice paddies. Alternatively, they can simply unwind in the infinity pool, which features breathtaking vistas of the Ayung River.
The Mulia Bali
The Mulia Bali is a luxurious beachfront resort found on the serene shores of Nusa Dua. This resort features 111 luxurious suites and cottages for its guests. The resort's spacious accommodations come with opulent conveniences such as bathrooms lined with marble, private balconies, and butler service available around the clock. The Mulia Spa at the resort offers a variety of spa treatments in addition to the resort's three swimming areas, which all feature breathtaking vistas of the Indian Ocean. Guests can choose from among these treatments.
Villa Sungai
Renting Bali villas will give you an additional star into the five-star luxury experience, a privacy of having a holiday home of your own. The Villa Sungai is ideal for anyone looking for a more private and exclusive experience. This luxurious villa is situated in the middle of Bali's rice paddies, providing visitors a tranquil and peaceful atmosphere to unwind and enjoy. The villa has a spacious sitting area, a completely stocked kitchen, and two master suites, each with a private pool. Various activities, such as cooking classes, spa treatments, and guided tours of Bali's cultural attractions, are available for guests to experience during their stay.
Fine Dining
The island of Bali is home to a thriving restaurant culture, with a diverse selection of eateries serving dishes inspired by cuisines from all over the globe. The following are some of the finest restaurants in Bali that offer exquisite dining. They are sure to please even the most discriminating diners.
Mozaic
Mozaic is a high-end establishment that serves an exciting fusion of French and Southeast Asian cuisine. It is conveniently located in the middle of Ubud. The restaurant's menu is updated regularly to highlight the ingredients at their peak of freshness and seasonality. The wine list offers an extensive collection of wines from all over the world. Because of the restaurant's romantic atmosphere, which features a garden illuminated by candlelight, many couples and people celebrating special occasions choose to eat there.
Sardine
Sardine is a chic restaurant that specializes in seafood dishes. It is located in the hip neighborhood of Seminyak, surrounded by beautiful rice terraces. The restaurant's menu includes seafood that is both fresh and harvested in an environmentally responsible manner. Additionally, the restaurant uses locally sourced ingredients, such as organic vegetables and herbs. The stylish atmosphere of the restaurant, which features a dining room paneled in bamboo and a pond brimming with lotus flowers, has made it a well-liked destination among locals and visitors.
Locavore
The restaurant Locavore, which can be found in the center of Ubud, is a fine dining establishment that takes pride in its innovative and creative dishes that are created with locally obtained ingredients. The restaurant's menu is updated regularly to highlight the ingredients at their peak of freshness and seasonality. The wine list offers an extensive collection of wines from around the world and local wines. The restaurant has a contemporary and chic ambiance thanks to its simple, uncluttered décor and open kitchen.
Mejekawi
Fine eating can be found at the Mejekawi restaurant, which boasts breathtaking views of the Indian Ocean and is situated in the Seminyak neighborhood. The cuisines of Indonesia and other countries are creatively combined on this establishment's menu, which also emphasizes using fresh and regionally sourced ingredients whenever possible. Both romantic dinners and celebrations of significant life events frequently occur at this establishment because of its breathtaking setting and stylish interior design.
Spas
The island of Bali is well-known for its opulent spas, which feature a wide variety of therapies inspired by the Balinese people's traditional therapeutic practices. Your luxury travel in Bali will never complete without blissful rejuvenation. The following are some of Bali's most highly regarded resorts, all of which will leave you feeling calm and refreshed after a visit.
COMO Shambhala Estate
The COMO Shambhala Estate is a luxurious wellness retreat with various spa treatments and programs. It is in the middle of the lush tropical jungle native to Bali. The spa has several treatment areas, some of which are outdoors, as well as a hydrotherapy pool. The treatments incorporate both contemporary Western methods and traditional Balinese methods of healing. In addition, guests can participate in yoga and meditation workshops and other activities that promote wellness, such as hiking and cycling.
The Spa at The Legian Bali
The Spa at The Legian Bali is a luxurious spa that provides various treatments intended to encourage relaxation and overall well-being. The spa can be found on the beachfront in the neighborhood of Seminyak. The spa has several treatment rooms, including outdoor pavilions and private apartments. The treatments incorporate both contemporary Western techniques and traditional Balinese healing modalities. In addition, guests are welcome to take advantage of the spa's cantilevered pool, which provides breathtaking panoramas of the Indian Ocean.
Mandapa Spa at The Ritz-Carlton
The Mandapa Spa by Ritz Carlton is a luxurious spa offering a wide range of treatments intended to promote relaxation and rejuvenation. It is located in the center of Ubud and boasts a prestigious name. The spa offers several different outdoor treatment rooms, such as pavilions and a spa suite on the riverfront. The treatments incorporate both contemporary Western techniques and traditional Balinese healing modalities. In addition, guests can participate in wellness activities such as cycling, walking through rice paddies, and yoga and meditation workshops.
Exclusive Experiences
Even the most discriminating traveler will find something to their liking in Bali's extensive selection of one-of-a-kind activities and excursions. The following are some of the most unique and unforgettable experiences that Bali has to offer. Ultimate experience to those looking for luxury travel in Bali goes way to immersing into the cultural tradition.
Balinese Cooking Classes
Taking part in a Balinese cooking class is among the most fruitful methods to gain an appreciation for the diverse culinary tradition that exists in Bali. These workshops provide participants with a hands-on experience that teaches them about the techniques and ingredients that are used in traditional Balinese cuisine. Guests have the opportunity to participate. Most of these courses are held in the surrounding communities' villages, allowing visitors to experience Balinese people's way of life and culture firsthand.
Sunrise Hike to the Summit of Mount Batur
A hike up Mount Batur at daybreak is an experience that should not be missed by anyone who values both excitement and the opportunity to take in the breathtaking scenery. The hike will transport visitors all the way to the top of Mount Batur, where they will be able to take in breathtaking views of the island of Bali as the sun rises. Guests will get an intimate look into the traditional way of life in Bali as they travel through the island and pass through several local communities and rice fields.
Traditional Balinese Dance Performance
Traditional dance performances are essential to Bali's extensive cultural heritage and have earned the island a worldwide reputation for its excellence. Traditional gamelan music is played in the background during these performances, which also highlight the ornate dance costumes and elaborate movements of Balinese dance. Because many of these performances occur in the courtyards of temples or in other culturally significant locations, visitors can better understand the history and culture of the Balinese people.
Exclusive Private Beach Club
The beach clubs on Bali are known for their high level of luxury and breathtaking ocean vistas. Most beach clubs provide their members' unrestricted access to private beach areas, swimming pools, lounge areas, and upscale dining. Potato Head Beach Club, Ku De Ta, and Finns Beach Club are three of the most well-known and well-attended beach parties on the island of Bali.
Conclusion
In conclusion, Bali provides many luxurious experiences that will satiate the desires of even the most discriminating traveler. Everyone can find something they like in Bali, from five-star restaurants and opulent resorts to one-of-a-kind activities and unforgettable experiences. Bali is a destination that will likely exceed your expectations, regardless of whether you want to relax, experience new things, or immerse yourself in a new culture.
If you are looking for a luxury travel in Bali, you will never ran out of choice.