Pura Kehen: Unveiling Bali's Less-Known Sacred Temple
Pura Kehen is a majestic Hindu temple that serves as a witness to Bali's rich cultural legacy. It is located in the hills of Bangli, Bali, which are known for its lush vegetation. Pura Kehen is a destination of wonder and calm that has won the hearts of travelers from all over the world because to its towering gateways, beautiful sculptures, and quiet gardens.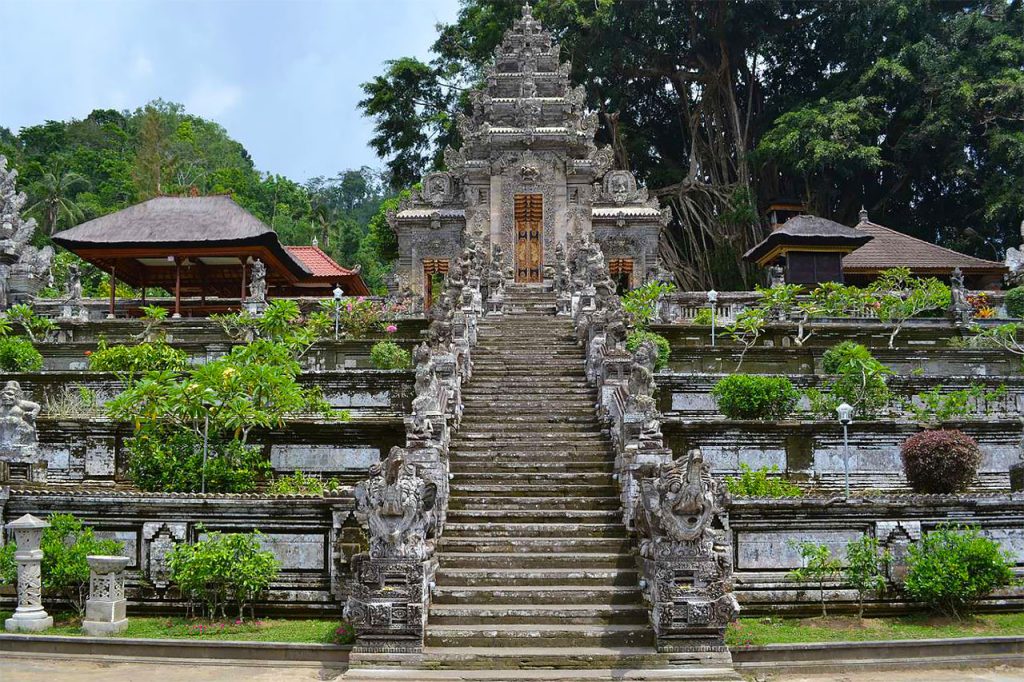 As you make your way through the temple's various courtyards and shrines, you will be transported to another world filled with old customs and religious rites. You will be able to observe worshipers presenting offerings to the gods, listen to the lilting tones of traditional gamelan music, and be amazed by the magnificent artwork and architecture that can be found in every nook and cranny of the temple.
Yet, Pura Kehen is not only a point of interest for tourists; rather, it is a location that holds a profound spiritual significance for the Balinese people. The temple has been a place of worship and community for the surrounding communities for hundreds of years, and the traditions and rituals that have been passed down via the temple are still an important part of Balinese culture today.
Pura Kehen is a site that should not be missed, regardless of whether you are a seasoned tourist or this is your first time visiting Bali. It will provide you with unforgettable memories and a deeper understanding for the rich heritage of Bali. Hence, make your way here to investigate this mystical shrine on your own; you won't be let down!
In addition to its other name, "Pura Hyang Api," the Hindu temple known as "Pura Kehen" may be found in the Bangli district of Bali, Indonesia. People think of the temple as one of the most important places of worship in the area. It is known for the beautiful nature that surrounds it and for the intricate carvings on its walls.
Check out Sacred Wonders: Exploring Most Iconic Bali Temples
Pura Kehen: A Brief History
It is thought that construction of Pura Kehen began in the 11th century, when the Warmadewa dynasty was in power. It was first built to honor Brahma, who is the Hindu god of fire. After that, it was made bigger to include shrines and pavilions for a lot of other Hindu gods.
Agung is the highest peak in Bali, and its inhabitants revere it as a holy site. The temple may be found on the slopes of the Agung volcano, which is also the highest mountain in Bali. It is thought that this temple was instrumental in the construction of other significant temples in Bali, notably Besakih, which is the largest and most important temple on the island. Its strategic location made it an important religious and cultural center.
Pura Kehen's Architectural Components
The stunning natural surroundings and ornate building design of Pura Kehen have earned it widespread renown. The structure of the temple is comprised of a number of ascending courtyards, each of which is enclosed by verdant gardens and imposing trees. To get to the main entrance of the temple, which is distinguished by a towering gateway embellished with carvings of Hindu deities, guests have to climb a flight of stairs that is somewhat steep.
The 11-tiered meru tower at Pura Kehen, which is the highest of its sort in Bali, is without a doubt the structure that draws the most attention. The tower is encircled on all sides by smaller temples and pavilions, and it is decked out with carvings of Hindu deities. In addition, the temple is home to a holy spring as well as a number of other meru towers of varying heights.
Connection with Some of Bali's Other Most Important Temples
In Bali, Pura Kehen is frequently referred to as the "little sister of Besakih," which is the name of the island's largest and most significant temple. Both temples are located on the slopes of the Agung volcano and pay homage to Brahma, the Hindu god of fire. Pura Kehen is thought to have played a part in the founding of Besakih, and it is believed that the two temples are connected in terms of the religious significance and cultural history that each hold.
In addition, Pura Kehen has strong ties to a number of other significant temples on the island of Bali, including Uluwatu, Tanah Lot, and Tirta Empul. These temples are all considered to be major cultural and religious landmarks, and as a result, they draw tourists from all over the world who are interested in learning about Hinduism and Balinese culture.
In addition to its significance as a place of worship and culture, Pura Kehen is renowned for the breathtaking natural surroundings, exquisite architecture, and long-standing traditions that it embodies. The connection of this temple to other important temples in Bali, such as Besakih, illustrates the rich cultural and religious legacy of the Balinese people as well as their dedication to maintaining their customs and way of life. Pura Kehen is an old and renowned landmark that offers visitors the opportunity to learn about Balinese culture and religion as well as observe the temple's beauty and complexity.
Finding Your Way to Pura Kehen
It is possible to travel to Pura Kehen from well-known tourist areas like as Seminyak, Kuta, Jimbaran, and Ubud in a car, a motorbike, or a cab. The journey should not take more than a few minutes.
Traveling to Pura Kehen by automobile from Seminyak might take anything from one and a half to two hours, depending on how busy the roads are. Travelers can reach the temple by taking the Sunset Road and then turning north onto the Prof. Dr. Ida Bagus Mantra Bypass Road. This road will bring them straight to the temple. Because the roads can be twisting and mountainous, the trip will take significantly longer if it is taken on a motorcycle.
The drive to Pura Kehen from Kuta takes about two hours, giving or taking depending on traffic. Travelers can reach the temple by taking the Sunset Road and then turning north onto the Prof. Dr. Ida Bagus Mantra Bypass Road. This road will bring them straight to the temple. Visitors also have the option of taking the route that goes from Denpasar to Gianyar and then continuing east on the Klungkung-Kintamani Road. This route, which takes travelers through rural areas and quaint villages, has the potential to offer a more picturesque experience.
The travel time by car from Jimbaran to Pura Kehen is around one and a half to two hours, depending on the amount of traffic. Visitors can reach the temple by traveling north on the Prof. Dr. Ida Bagus Mantra Bypass Road, which branches off of the Jl. By Pass Ngurah Rai Road. This road brings them directly to the temple. Visitors also have the option of taking the route that goes from Denpasar to Gianyar and then continuing east on the Klungkung-Kintamani Road.
The drive to Pura Kehen from Ubud takes around half an hour in a car. Tourists can reach Tampaksiring and Kintamani by traveling east on the Tampaksiring-Kintamani Road after taking the Jl. Raya Ubud Road. During this route, travelers will pass through traditional Balinese villages as well as rice farms, making for a reasonably scenic experience.
The journey to Pura Kehen from the most prominent tourist areas in Bali is not too difficult, all things considered. Visitors have the option of renting a vehicle, motorbike, or cab, and can choose to travel in a variety of ways depending on their tastes and the amount of time they have available. No matter which path they choose to take to get to Pura Kehen, tourists can anticipate being treated to breathtaking panoramas, authentic Balinese villages, and a fascinating look into the religious and cultural practices of the local Balinese population.
Time To Be Allocated to Explore Pura Kehen
The majority of tourists spend between one and two hours at Pura Kehen, on average. This allows for sufficient time to tour the temple's many different courtyards, observe the complex carvings and architecture, and take in the breathtaking views of the breathtaking scenery that surrounds the temple.
During this time, guests have the opportunity to take part in traditional Hindu rituals such as making offerings or prayers, or they may simply choose to relax and take in the calm and quiet environment of the temple. In addition, visitors have the opportunity to take part in guided tours of Pura Kehen, which can help them gain a more in-depth comprehension of the temple's history, significance, and cultural setting.
Even while one to two hours is sufficient time to explore the highlights of Pura Kehen, tourists who are really interested in the culture and history of Bali may decide to spend more time visiting the temple and the area around it. Those who are interested in climbing or trekking have the option of exploring the nearby Agung volcano as well as the surrounding region, which is home to verdant rice terraces, traditional villages, and breathtaking natural scenery.
Entrance Tickets Pura Kehen
To get access to Pura Kehen, guests are required to first acquire an admission ticket, which may be done for 15,000 IDR (about 1 USD) each person. This contribution contributes toward the upkeep and repair of the temple as well as the grounds that surround it. Due to a lack of acceptance for payments made using credit cards, guests must be financially prepared to pay this cost in cash.
Even though hiring a guide is not necessary in order to enter Pura Kehen, many tourists do so nevertheless in order to acquire a more in-depth comprehension of the temple's history, significance, and the cultural setting in which it was built. On average, the cost of a guide ranges from 100,000 to 300,000 IDR (about 7 to 20 USD) per hour. The cost of a guide can fluctuate based on the length of the trip and the number of individuals in the group; however, this range remains rather consistent.
Visitors can hire guides at the temple's entry, or they can make arrangements for a guide in advance through their hotel or a local tour company. Guides are available in a variety of languages. Those who are really interested in the history and culture of Bali may find that hiring a guide at Pura Kehen is an investment that is well worth their time and money because it can provide a more informative and immersive experience at the temple.
Customs in Visiting Pura Kehen
Visitors to Pura Kehen are expected to be familiar with the temple's traditions as well as its dress requirements. When on the grounds of Pura Kehen, visitors are advised to dress modestly and behave politely because the temple is considered to be sacred by the Hindu faith.
When traveling to Pura Kehen, it is important to be aware of the following customs:
Guests are expected to dress in a modest manner, meaning they should wear attire that covers their shoulders and knees. It is also a good idea to avoid wearing apparel that is either too tight or too exposing.
When entering the temple, visitors are required to wrap themselves in a traditional Balinese sarong, which is similar to a long wrap skirt. In most cases, you can hire or borrow one of these at the entry of the shrine.
Visitors are expected to show respect for the temple's traditions, which may include making offerings, taking off their shoes before entering certain portions of the temple, and avoiding touching or walking on offerings or other sacred things.
Adhere to the rules It is important for visitors to the temple to adhere to any rules or directions provided by temple employees. For example, visitors should refrain from taking photos in particular areas and should not enter restricted areas.
Visitors can help make their experience at Pura Kehen more respectful and pleasurable by familiarizing themselves with the local traditions and following the established guidelines during their time there.
Other Points of Interest Nearby
In the center part of Bali, in the district of Bangli, you'll find Pura Kehen. In the immediate neighborhood, you'll also find a number of additional tourist attractions that are definitely worth checking out.
The Kintamani volcano is a well-known destination that is situated close to Pura Kehen and can be reached by car in a matter of minutes. In addition to having the opportunity to explore the nearby traditional towns and hot springs, tourists can also take in breathtaking views of the nearby active volcano and the lake that surrounds it.
A temple known as Tirta Empul may also be found in the neighborhood of Tampaksiring, which is home to a number of other prominent tourist destinations. This temple is well-known for the sacred water springs that are located within its grounds. These springs are claimed to have curative qualities and are utilized in the purifying rites practiced by Hindus.
The adjacent town of Penglipuran is an absolute must-see for anyone who has even the slightest interest in the traditional arts and crafts of the Balinese people. This historic town is famous for its buildings that have been carefully kept, its traditional arts and crafts, and its dense bamboo trees.
A trip to the neighboring Sekumpul waterfall is something that everyone who is interested in seeing some of the natural beauty that Bali has to offer should consider doing at some point. This breathtaking waterfall can be found in a setting that is reminiscent of a jungle, and it is a favorite destination for people looking to hike, swim, and take in the natural beauty of Bali.
The distance from Pura Kehen to Sekumpul Waterfall can be covered in around one and a half to two hours by car, depending on the amount of traffic and the state of the road. The village of Sekumpul, which is located in the Buleleng regency, is where the waterfall can be found. The Buleleng regency is in the northern portion of Bali.
To go to Sekumpul Waterfall from Pura Kehen, you must first head north towards the town of Kintamani, then head west towards the town of Singaraja, and finally turn south towards the village of Sekumpul. Because the roads are prone to being winding and narrow, especially as you come closer to the waterfall, it is essential to exercise extreme caution and remain alert of the presence of other motorists and pedestrians.
The journey to Sekumpul Waterfall is one of the most gorgeous in all of Bali, and it passes through some of the island's most breathtaking rural areas. This is another important point to keep in mind. Many tourists decide to pull over at various points along the route to take in the breathtaking scenery, explore the neighboring towns, and sample the cuisine and beverages of the region. The Sekumpul Waterfall is one of the most stunning natural sights that Bali has to offer, therefore the trip there is definitely one that is well worth the time and effort it takes to get there.
When taken as a whole, the fact that the area surrounding Pura Kehen is so rich in unique cultural and natural aspects makes it an essential stop for anybody visiting to Bali.