Seminyak Beach: Bali's Oasis of Luxury and Serenity
Nestled on the western coast of Bali, Seminyak Beach stands as a haven of refinement and tranquility. This coastal gem is known for its upscale resorts, trendy beach clubs, and laid-back ambiance that beckons travelers seeking the perfect blend of luxury and relaxation.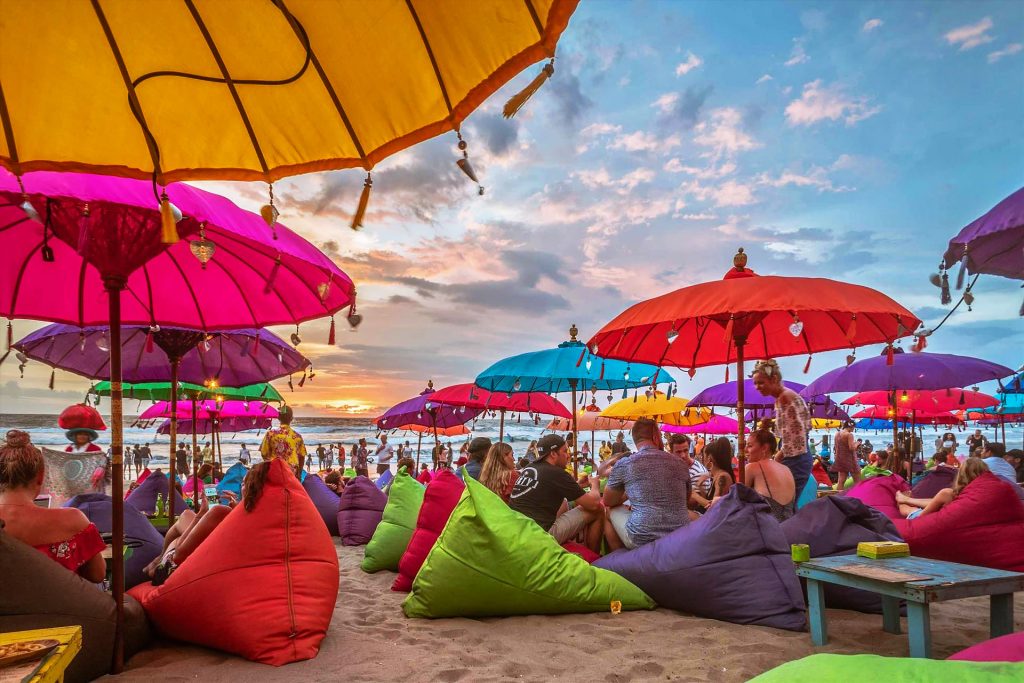 A Luxurious Escape
Seminyak Beach is synonymous with sophistication. It boasts a collection of world-class resorts and villas that cater to discerning travelers. These luxurious accommodations offer elegant rooms, private pools, and impeccable service, ensuring that every moment of your stay is indulgent.
Beachfront Bliss
The beach itself is a serene stretch of golden sands kissed by the gentle waves of the Indian Ocean. While Seminyak lacks the high-intensity surf found in some neighboring areas, it makes up for it with calm waters ideal for swimming and lounging. The beach provides the perfect backdrop for moments of relaxation, whether you're sunbathing, reading a book, or simply savoring the sea breeze.
Sunset Serenades
Seminyak Beach is renowned for its breathtaking sunsets. As the day draws to a close, the sky transforms into a canvas of fiery oranges and soft pinks. Locals and tourists alike gather along the shoreline to witness this daily spectacle. Beachfront bars and clubs offer prime seats, allowing you to savor a cocktail while the sun dips below the horizon.
Vibrant Beach Clubs
Seminyak's beach clubs are legendary. Iconic venues like Potato Head Beach Club and Ku De Ta offer a mix of eclectic music, innovative cocktails, and panoramic ocean views. Whether you're lounging by the infinity pool, enjoying a beachfront dinner, or dancing under the stars, these beach clubs provide an unforgettable experience.
Epicurean Delights
Seminyak's dining scene is a culinary journey waiting to be explored. The beachfront and nearby streets are lined with gourmet restaurants and local warungs (small eateries). Here, you can savor a diverse range of cuisines, from traditional Balinese dishes to international delights.
Seminyak Beach epitomizes the idea of a Bali getaway where luxury, relaxation, and vibrant culture converge. It's a destination for those who appreciate life's finer pleasures, where every day brings new opportunities for indulgence and discovery. Whether you're unwinding in a private villa, sipping a cocktail by the beach, or dining at a gourmet restaurant, Seminyak Beach offers a slice of paradise for the discerning traveler.
Seminyak Villas: Elegance and Serenity on Bali's West Coast
Seminyak, Bali's upscale coastal enclave, is synonymous with luxury, sophistication, and a vibrant beach scene. It's a destination where stylish boutiques, gourmet restaurants, and chic beach clubs coexist, making it a favored choice for travelers seeking a refined Bali experience. Amidst this elegant backdrop, Seminyak's villas offer a haven of tranquility and comfort.
Sophisticated Villas: Design and Comfort
Seminyak villas are renowned for their sophistication and attention to detail. Many feature contemporary architecture, sleek interiors, and high-end amenities. Whether you're looking for a private villa with a sleek, modern design or a more traditional Balinese ambiance, Seminyak offers a variety of options to cater to your preferences.
Proximity to the Beach: Sun, Surf, and Sand
One of the key advantages of staying in a villa in Seminyak is its proximity to the beach. Seminyak Beach is famous for its golden sands, iconic beach clubs, and legendary sunsets. When you choose a villa in this area, you're often just a short stroll away from the shoreline. It's the perfect setting for sunbathing, swimming, and water sports, as well as for savoring gourmet beachfront dining.
Dining and Nightlife: A Culinary Paradise
Seminyak's dining and nightlife scene is a culinary paradise, and staying in a villa here means you're just minutes away from some of the island's most celebrated restaurants and bars. From international cuisines to traditional Balinese fare, the options are endless. After a night of entertainment and indulgence, you can return to your villa's peaceful ambiance.
Personalized Service: A Luxurious Experience
Villa accommodations in Seminyak often come with personalized service. Friendly and attentive staff are on hand to cater to your needs, whether it's arranging in-villa spa treatments, private dining experiences, or transportation. The level of service ensures that your Bali experience is truly luxurious and hassle-free.
Secluded Retreat: Away from the Bustle
Despite its vibrant atmosphere, Seminyak villas provide a secluded retreat where you can escape the bustle of the town. Private pools, lush gardens, and tranquil courtyards create an oasis of calm where you can unwind and rejuvenate in privacy.
In Seminyak villas, you'll find the perfect blend of elegance, convenience, and serenity. It's a way to immerse yourself in Bali's upscale culture and entertainment while having a luxurious home away from home to return to at the end of each day. Whether you're traveling as a couple, family, or group of friends, Seminyak villa accommodations elevate your Bali experience to new heights of sophistication and comfort.