Surfing in Bali: Riding the Waves in Paradise
Also known as the "Island of the Gods", The tropical island of Bali is also a haven for surfers. In addition to its breathtaking beaches, verdant scenery, and dynamic culture, Bali is also famous for its reputation as an island where the gods live. Consistent swells, warm seas, and a variety of surf breaks make Bali frequently recognized as one of the best surfing places in the world. Numerous beaches with different wave characteristics allow both seasoned surfers and beginners to have a string of options to choose from.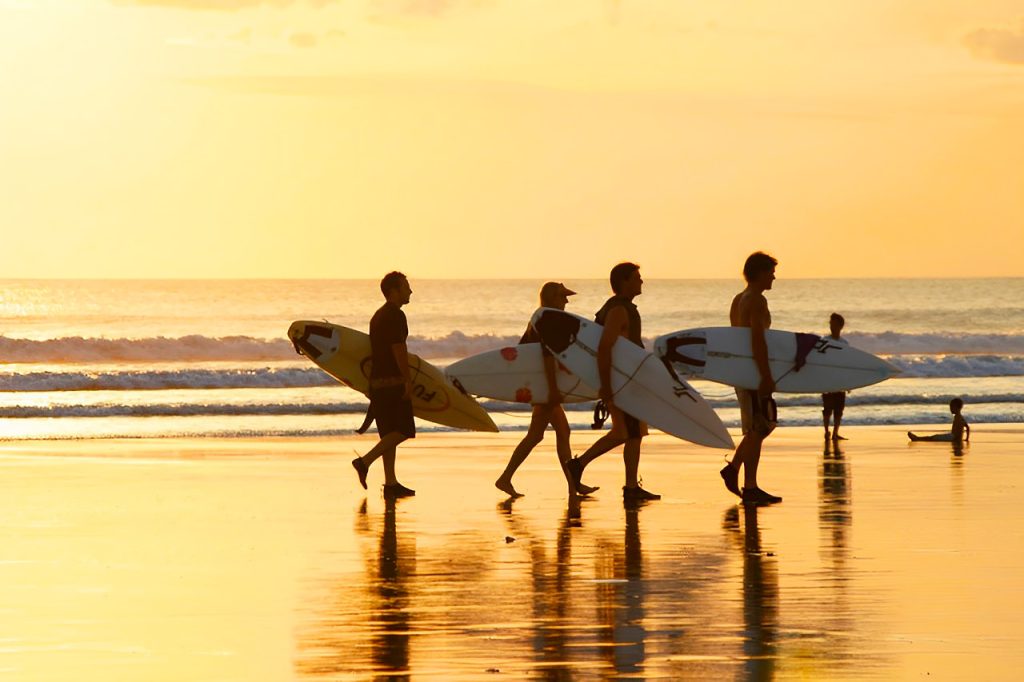 Why Surfers Love Bali?
World-Class Waves: The coastline of Bali is home to a wide variety of surf breaks suited for surfers of all skill levels. The waves on the island range from accessible beach breaks to complex reef breaks, making it suitable for beginners, intermediates, and advanced surfers. As a result of this variation, Bali is a perfect destination for surfers trying to enhance their skills or challenge themselves by riding more difficult breaks.
Warm Water and Climate: Because of Bali's tropical environment, the water is always at a reasonable temperature throughout the year. This makes surfing in Bali a pleasant and fun activity. Surfers no longer need to don bulky wetsuits to paddle out, which results in a more laid-back and enjoyable atmosphere in the lineup.
Consistent Swells: The Indian Ocean delivers consistent waves to the shores of Bali, especially between April and October when the island is having the dry season. As the season's waves are more significant and constant, it is commonly called the "surf season," and it draws surfers worldwide.
Surfing Community and Culture: The thriving surfing culture of Bali fosters an environment that is friendly to surfers and encourages participation. Surf communities in Bali show extreme willingness to share both the waves as well as related information, making it easier for newcomers to jump into thrilling experiences.
Best Surf Spots in Bali
The waves at Kuta Beach are suitable for novice surfers, as they are slow-moving and gentle. Beginners to surfing will find Kuta Beach the best place to gain their skill to get themselves ready for more challenging waves. A number of reputable surf schools make Kuta Beach their home. Surfers who do not bring their own boards can easily get one from board rentals.
Uluwatu is a preferred spot for seasoned surfers since it consistently produces waves of world-class quality. The reef break at Uluwatu has long, vital locks, which draw experienced surfers looking for a challenge. In addition to their spectacular appearance, the cliffs surrounding the break provide stunning vistas.
Padang Padang, also called the "Bali Pipeline," is a reef break suitable only for expert surfers. It generates large and powerful waves, best navigated by surfers who understand wave reading and how to ride tubes.
Due to its laid-back atmosphere and reliable surf, Canggu has become increasingly popular in recent years. Surfers of varying ability levels can enjoy the waves at Batu Bolong and Echo Beach, and the surrounding area features several surf schools and retail establishments specializing in the sport.
A more tranquil and laid-back vibe may be found in Balian, situated on the island's western shore. Surfers wanting to experience diverse wave orientations will like this beach as it has both left- and right-hand waves
Surfing Etiquette
It is necessary to follow surfing etiquette to preserve a pleasant and safe environment in the water, and this is true regardless of where you go surfing. The following are some essential guidelines to keep in mind:
Always show proper courtesy to the residents and other surfers.
Be patient and refrain from "dropping in" on the wave someone else is riding.
Paddle out to the side rather than cutting through the pack to get to the outer.
Stick to the beaches classified for beginners if you're starting out to avoid the crowds at the more advanced breaks.
Safety Tips for Surfing in Bali
While surfing is an exhilarating activity, surfers must always put their safety first. The following are some safety precautions that surfers in Bali should take:
Be Mindful of Rip Currents: Pay attention to the water's conditions and be wary of rip currents, which can be powerful and pull you away from the beach.
Protect Your Skin: Use high-quality sunscreen. Harsh sun rays are prevalent in tropical environments.
Respect Local Rules: It is essential to be aware of any rules in the area and respect the environment by not leaving trash behind.
Stay Hydrated: Ensure your body is hydrated during lengthy surfing sessions. Prepare yourself against the tropical heat by drinking a lot of water is essential.
Know Your Limits: If you're starting out, you should only go for breaks that are easy to handle. Keep surfing places that are appropriate for your level of skill.
Conclusion
Surfers from around the world find the opportunity to surf in Bali as a dream. Whether you are trying to ride your first wave or are looking for tough barrels, there is a surf area in Bali that is perfect for you. So grab your board, get it waxed up, and prepare for a trip to paradise, where you can ride the waves. But always remember to surf responsibly, respect both the ocean and your fellow surfers, and appreciate the breathtaking coastal treasures that Bali has to offer.