Villa Adasa Bali: Book to Discover Pure Luxury
Villa Adasa Bali is one of the prestigious Laksmana Villas, a private community of individual homes off the beaten track of busy Seminyak in comfortable seclusion. Its grounds are a bit of carefully sculpted tropical bliss, with full gardens, a 14-meter pool, a Balinese bale for stretching out in the shade and having a quick snooze or a massage, and even your own roof deck for sunbathing or meditation.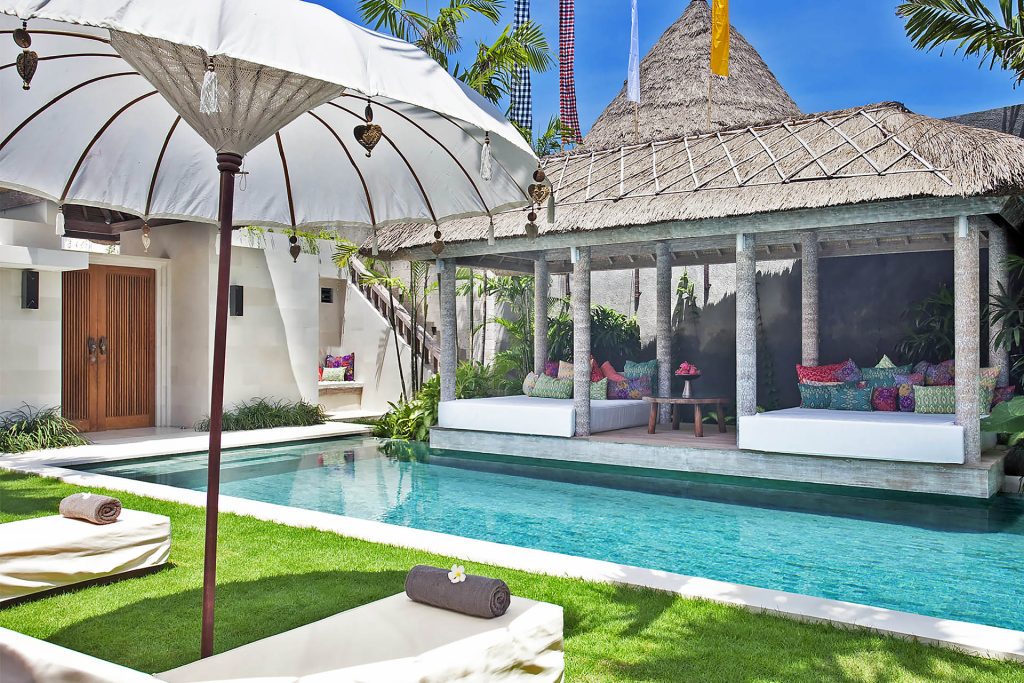 Villa Adasa Bali: BOOK HERE
The ocean is practically lapping at Villa Adasa's front door, which is mere steps away.  Go for a quiet morning stroll on the beach or just relax under the sun.  Either way, you'll always return safely, as there is round-the-clock security at Villa Adasa Bali.
Service and Accommodation
The enormous living pavilion, complete with wide cushioned couches, teakwood tables, and a thatched roof, is the perfect architectural blend of the modern and the old.  The bright whites of the sandstone walls and tile floors grant a feeling of tranquility, while the Western-style columns hold up the corners, allowing the space to breathe in the open air.  The main room is peppered with art from Bali long ago and is placed alongside modern works of abstraction, lending the decoration a sense of chic. 
You may dine in splendor at Villa Adasa Bali at your very own handcrafted dining table.  Imagine a relaxing meal with friends or family by candlelight and in the presence of gorgeous local flora.  When you are finished with your meal, adjourn to the main room and watch a movie on the large high-definition TV or simply listen to your favorite music on the wireless sound system.
The professional staff at Villa Adasa Seminyak is here to cater to your every whim. Comprising four butlers, a manager, and a top-tier chef, they will do everything possible to ensure your holiday in Bali is unforgettable.
If you should want to make a reservation at one of Seminyak's classy restaurants or arrange an outing to the mystical Tanah Lot or breathtaking Uluwatu, our Villa Manager will be happy to assist you.  Villa Adasa's chef has mastered Indonesian, Balinese, and international cuisine, and if you should desire anything specific from the market, just let him know and he'll be happy to oblige.  A complete breakfast is included with your villa stay.
An open-air bar is attached to the kitchen when the sliding windows are opened, providing a space to lounge for cocktails by the pool, and when you are ready for bed, curl up under the covers in one of three king-size beds.
There are two guest bedrooms downstairs and the master suite upstairs.  Both guest bedrooms come equipped with a built-in wardrobe, king-size bed, satellite TV, DVD player, and an entirely private bathroom with a beautiful washbasin, toilet, and shower.  In addition to what the guest bedrooms have, the master suite has a balcony overlooking the garden and pool with a daybed and chairs, a terrazzo bathtub, dual washbasins, and an extra-large mirror.
Location of Villa Adasa Bali
Villa Adasa Bali is situated in the center of Seminyak, the trendy area of Bali, jam-packed with happening nightspots and 5-star restaurants.  Built within walking distance of the beach and the best restaurants Bali has to offer, like Ku De Ta and La Lucciola, you'll never be at a loss for fine, elegant dining by the shore during your stay.
If you want to spend a day tending to yourself, you can order a masseuse sent to the villa from one of the area's myriad spas. Later on, you can experience the pulsating nightlife Seminyak has to offer by hitting up one of the local bars like Club Obsession, which is only a 5-minute drive away or about a 10-minute walk away. It features a variety of different types of music, a wide downstairs dance floor, and an upstairs chill-out lounge.
If the party scene is not your cup of tea, you can easily arrange an excursion to one of the nearby tourist attractions, like the breathtaking temple at Uluwatu, or drink in the sunset at the mystical Pura Tanah Lot, both of which are only a short drive from the villa. A little slice of paradise awaits you, cleverly tucked away in tropical exclusivity.