Villa Asta Seminyak: Ultimate Retreat of Luxury and Leisure
Villa Asta Seminyak, Bali, is not just a place to stay; it's a slice of paradise designed for families and groups of friends to revel in a tropical retreat. Nestled a short walk from Batubelig Beach on Bali's southwest coast and just a quick drive from Seminyak, this fully staffed five-bedroom villa is a haven of relaxation and entertainment.
Upon entering Villa Asta, the enchantment begins as you're greeted by a shimmering pool and a waterfall framed within a circular opening in the wall. Water features abound, with a dramatic free-form swimming pool at the villa's core and a 12-meter plunge pool next to the master bedroom pavilion, all connected by picturesque koi ponds.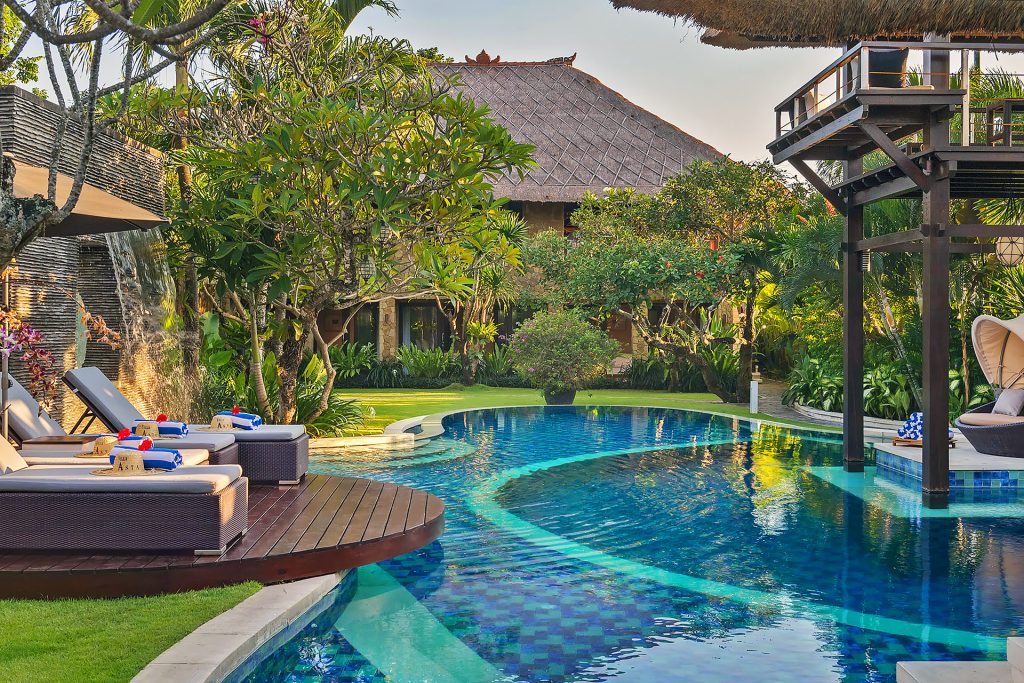 Designed with families in mind, this villa is a child's dream and a parent's paradise. It was crafted by renowned architect Guy Morgan for two families looking to holiday together, ensuring there's something for everyone. Children can frolic in the main pool, with its shallow tiers and a deep section beneath a thatched balé, while the enormous games room promises hours of fun with pool, table tennis, home theater, and more. A badminton or volleyball court adds to the kids' zone.
For grown-ups seeking relaxation, Villa Asta Seminyak offers ample space and peace of mind, knowing their children are within the secure villa grounds. The villa boasts professional staff, including a talented chef who can whip up meals that rival Bali's renowned restaurants.
The villa is divided into four pavilions encircling two swimming pools linked by serene koi ponds. At one end, a two-story pavilion houses three guest bedroom suites and an enormous open-sided games room. At the opposite end sits a single-story pavilion with two master bedroom suites, a large plunge pool, and a sun terrace.
In between, you'll find a double-decker poolside balé, an open-sided living pavilion, and a separate dining pavilion with a service kitchen, bar, and adjacent TV room/study.
The open-sided living pavilion is a sanctuary of comfort, with a thatched roof and Palimanan stone floors adorned with polished teak. Cooling ceiling fans and gentle breezes complement two inviting seating areas. A linked sound system plays music in the living, dining, and game areas.
Adjacent, you'll discover an open-sided, fan-cooled pavilion ideal for gatherings. A grand extendable table seats up to 18 on designer-chic chairs, with a black marble bar for more casual socializing in front of the well-equipped, open-air service kitchen.
Separated from the dining area, an air-conditioned TV room serves as a study, equipped with a computer and printer. It's perfect for unwinding with a book or watching a movie on the 48-inch satellite TV.
The games room, semi-open and air-conditioned, is located above the guest bedrooms and offers beautiful rice-field views. Here, the distractions are endless: a pool table, table tennis, a media area with a 52-inch TV and DVD player, a computer with internet access, and even a kitchenette and shower room for those who can't get enough.
The meticulously maintained garden is centered around a striking free-form swimming pool, complete with a swim-under waterfall and shallow tiers. A thatched-roof balé, elevated two stories, overlooks the pool and offers magnificent rice-field views. A circular timber deck with sun loungers and umbrellas invites relaxation. At the garden's far end lies a walled grass court suitable for badminton, tennis, volleyball, football, and more.
The master pavilion houses two air-conditioned bedrooms with ensuite bathrooms, a sun terrace, and a stunning 12-meter plunge pool with water spouts. Both bedrooms boast canopied four-poster king-size beds under soaring thatched roofs, while extra-long window seats provide a peaceful place to read or watch the 29-inch plasma TV. Private garden bathrooms feature oversized marble bathtubs. Doors in the garden walls lead to the plunge pool.
On the ground floor of the entertainment pavilion at the far end of the garden are three guest bedroom suites, each with twin beds that convert to kings, making them suitable for adults as well. Two roll-away beds are tucked under each bed in each room for extra young guests. Walk-in wardrobes and ensuite garden bathrooms with walk-in showers add to the comfort.
Less than a 10-minute walk from Batubelig Beach, Villa Asta Seminyak provides easy access to a lifeguard-protected area for swimmers. For those keen to explore beyond the villa, the manager can arrange transport and bookings. Seminyak, with its renowned restaurants like Metis, Sardine, and Sarong, is a short drive away. Villa Asta also offers complimentary membership to the Finns Recreation Club.
Villa Asta's lush gardens and captivating water features make it a picture-perfect setting for intimate weddings and special celebrations. With ceremonies beneath ancient poolside frangipani trees, candlelit banquets on the lawn, and enchanting koi-pond pavilions, the villa accommodates up to 80 guests. The experienced villa team can expertly manage upscale events, ensuring memorable moments to cherish.
One of the greatest benefits of staying in a villa is the personalized service provided by dedicated staff. Villa Asta's team, professionally trained and embodying warm Balinese hospitality, goes above and beyond to make your stay exceptional.
The villa's personal chef and experienced team cater to your culinary desires, from poolside snacks to multi-course banquets. The complimentary daily breakfast offers six different menus, including American, Indonesian, healthy, kids, and the Asta Special. For other meals, an extensive menu of delectable Asian and international dishes is available, with a focus on vegetarian and children's options. Special buffet and barbecue dinner menus, featuring seafood and local favorites like beef rendang, garner acclaim. The chef is happy to tailor meals to accommodate dietary requirements.
The villa also has skilled cocktail bartenders who delight in preparing your favorite drinks upon request. An array of wines, spirits, and cocktails is available at reasonable prices.
Villa Asta Seminyak is tailor-made for families, offering private facilities and the freedom to use them whenever you wish. With a secure environment for kids to play independently, parents can unwind, knowing their children are safe.
The villa's design reflects its family-friendly nature, with a dedicated games room, table tennis, pool table, and more. Three twin-bedded guest rooms can accommodate up to 12 children, with two roll-away beds in each room.
The attentive staff ensures children feel as welcome as adults, offering flexibility and freedom for parents to explore beyond the villa grounds. Babysitting services are available at a small extra cost.
Being one of the family- and children-friendly villas in Seminyak, Villa Asta is fully equipped with everything needed for kids. The villa provides two high chairs, two cots, and a playpen. Anything not on-site can be hired on your behalf.
Don't worry about packing all that cumbersome kids' equipment; simply let us know what you need, and we'll handle the rest. Villa Asta's staff will also run errands for you, picking up items from the local deli and supermarkets on your behalf.
Villa Asta is less than 10 minutes' walk from Batubelig Beach on Bali's south-western coast. Seminyak, with its wide choice of internationally-renowned restaurants including Metis, Sardine, Sarong, and La Lucciola, is a short drive away, as is the Finns Recreation Club, where guests enjoy complimentary membership.
Villa Asta's manager is your go-to source for local insights, recommendations, and arranging transportation or bookings. Additionally, the friendly villa staff, many of whom live nearby, can offer unique perspectives on Bali's fascinating culture and way of life.
For those eager to explore the area, Villa Asta Seminyak offers a myriad of activities within reach:
Batubelig Beach: A short stroll from the villa, this beach boasts a lifeguard-protected area for swimming.
Seminyak: Just a quick drive away, Seminyak is renowned for its international dining scene. Explore top restaurants like Metis, Sardine, Sarong, and La Lucciola.
Finns Recreation Club: Guests enjoy complimentary membership here, giving access to a wide range of facilities, from a water park to fitness and sports.
Balinese Celebrations: Immerse yourself in local culture by joining in traditional Balinese celebrations. The staff can help you discover local events and festivities.
Batubelig Village: Explore the charming nearby village, Batubelig, to gain a deeper understanding of local life.
Exploration Beyond: If you wish to venture further afield or experience specific activities on the island, the villa team can arrange transportation and help you book excursions.
In conclusion, Villa Asta in Seminyak, Bali, is not just a villa; it's a tropical haven meticulously designed for families and groups of friends seeking the perfect blend of relaxation and entertainment. With its stunning architecture, lush gardens, and a professional team dedicated to making your stay unforgettable, Villa Asta invites you to immerse yourself in the beauty and culture of Bali while indulging in the comforts of home. Whether you're lounging by the pools, enjoying delicious meals prepared by the skilled chef, or exploring the vibrant local scene, Villa Asta Seminyak promises an exceptional Balinese experience that will leave you with cherished memories.