Villa Sungai Tinggi Bali
Whilst Bali has a long list of choices when it comes to villa accommodation, properties like Villa Sungai Tinggi Bali are not easy to find. This charming, traditionally styled family home is a travel destination in and of itself. It is on a large estate with over 100 meters of absolute beach frontage and a view of one of south-west Bali's most famous surf breaks. The house is on a large estate with over 100 meters of direct beach frontage and a view of one of the most famous surf breaks in south-west Bali.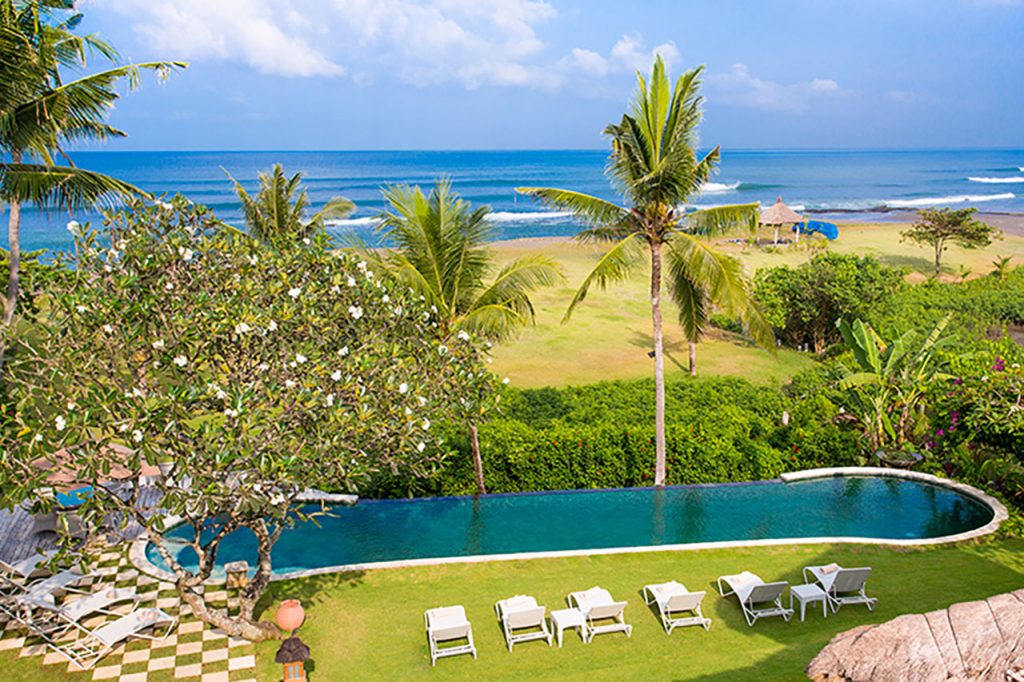 Villa Sungai Tinggi Bali is a spacious and comfortable family home that was designed by people who have lived in Bali for an extended period of time. The villa was built in the style of a traditional Balinese compound. It is made up of a series of living and sleeping pavilions that are set up to give you the most privacy and the best view of the ocean. Independent rentals are available for the main house, which has four bedrooms and a living room that may be transformed into a fifth bedroom.
The owners' love for Bali is shown by how much they spent on local materials like exotic hardwood and terrazzo floors, coral-limestone walls, and vaulted alang-alang thatched roofs. The same can be said about their breathtaking collection of museum-quality art and artifacts, which contribute to the villa's one-of-a-kind character and charm.
This care for the local environment is also shown by the beautiful tropical gardens on the house's property. These grounds would be an ideal location for a wedding ceremony or reception held in a tropical setting. The natural shape of the land is followed by lush, rolling lawns with fragrant frangipanis and swaying coconut palms. An 18-meter infinity pool blends in perfectly with the view of the ocean. A traditional black-and-white checked thatched balé gives guests a nice place to get out of the heat, and a circular deck gives them a great view of Bali's beautiful sunsets.
You can get a relaxing massage in the comfort of your room, practice your serve at the tennis court (which is shared with a neighboring villa), or get together with friends in the beautiful living pavilion for some beverages. Villa Sungai Tinggi Bali is a great place to stay for both families and groups of friends because it has so many different public and private areas.
Welcoming staffs who take delight in providing excellent service for the customers that they serve. They will make sure that everything about your stay, from the delicious Balinese meals to the way your canopied bed is set up at night to the way your rose-petal bath is run, is truly special and memorable. If you want to go beyond the boundaries of the villa, the staff can arrange for a car and driver so that you can go sight-seeing, shopping, or on an adventure for a small additional price.
Staffs
One of the best things about living in a villa is that the staff will pay close attention to your needs and give you personalized care. The staff at Villa Sungai Tinggi Bali has been trained very well to offer Balinese hospitality that is both warm and quiet. Several of the staff have worked at the villa since it was a private home for a single family. The villa manager and chef would be more than happy to meet any special needs guests may have to make sure they have a relaxing and enjoyable stay.
Villa Manager
The villa's manager is an experienced person who is in charge of running the whole place. He is in charge of leading the staffing team to fulfill the requirements of the guests.
Chef
Whatever is ordered from the Western, Asian, vegetarian, or children's suggestion menus will be prepared to the highest standard by the trained chef and kitchen staff. In addition to that, they will instruct guests in various cooking techniques.
Housekeepers
Housekeepers are in charge of doing the day-to-day chores around the house and serving meals.
Driver
Vehicle and driver are offered at a discounted rate of USD 35++ a day for a rental period of 8 hours (excluding petrol).
Gardeners / Pool Attendants
The lush flowers, expansive lawn, and swimming pool are all cared for by a dedicated and hardworking group of gardeners.
Security Guards
The security officers are on duty between 4 p.m. and 7 a.m. daily.
In-House Dining
Make use of the expert culinary team at the villa, who are at your disposal to prepare delightful meals in the style of your own home. They will do so in accordance with your instructions. Villa Sungai Tinggi Bali provides guests with a recommended menu that includes cuisines from Asia and other countries, as well as a large number of options for vegetarians and meals suitable for children. This meal was made to meet the tastes of a wide range of customers. 
You should definitely try some of the specialties that can only be found in Bali, like the classic soto ayam (chicken soup) and rendang (beef curry). You can also take advantage of the abundance of fish that is available just outside your door by requesting that one of the chefs prepare the catch of the day on the grill. This is another way that you can take advantage of the abundance of fish that are available.
The chefs are more than happy to tailor the menu to the specific preferences of the guests and accommodate any dietary restrictions or preferences that may be brought to their attention. In the event that guests have particular demands, the chefs will do their very best to fulfill those requests. It is a smart move to get the meals ready for the next day the night before. This allows you to make the most of the time spent in the kitchen and gives your staff members time to go grocery shopping.
The price of foods and beverages is established by adding twenty percent to the price at which they were purchased, and this amount must also account for the appropriate service charge and sales tax. Once visitors have contributed money toward the purchase of goods in advance, the staff will take care of the shopping for you and save the receipts for your convenience. Visitors will be asked to donate money toward the purchase of groceries in advance.
Family Holidays
Vacations in villas, in which guests have access to their own private facilities and are free to make use of those facilities at any time that they choose, are a wonderful choice for families. It is a significant advantage to have the knowledge that one does not need to be concerned about other visitors' or other guests' needs in order to ensure that one's children are able to run around happily, independently, and safely. This enables one's parents to have a vacation that is less stressful overall.
Villa Sungai Tinggi Bali has lots of space for children, including a swimming pool that is 18 meters long, huge lawns that roll gently, and a shared tennis court. This is in addition to the beach, which is right outside the front door and is just waiting to be explored. Children will feel just as welcome as adults thanks to the warm and welcoming team of staff members, and the fact that there are willing helpers available offers guests plenty of leeway and freedom to go on their own adventures beyond the boundaries of the villa grounds (full-time babysitting incurs a small extra cost).
You don't need to bother about packing all of those burdensome extras for your stay because the villa already has the essentials, and anything else that we don't have, we can send in for a nominal price. All you need to do is giving the villa staff a heads-up on what you'll require in advance.
Even though the fully equipped kitchen makes it simple for you to cook meals for picky eaters or infants, the staff will be more than happy to take care of this for you. All you need to do is discuss your needs and meal schedules with the villa manager or cook, and they will take care of everything else. delicious sandwiches after a round of tennis? Do you want pancakes for breakfast by the pool? No issue. All of the meals can be altered to better fit the preferences of the youngsters.
Check out the Things to Do section below if the novelty of exploring the villa and the beach starts to wear off; there's plenty in the neighborhood to keep the whole family entertained for the duration of the trip.
In-House Spa
Do you fancy a full-body massage or a scrub? Just let the villa staff know where you are, and they will bring the spa to you! The villa staff can suggest high-end treatments that can be done in the privacy of your villa by therapists who have been fully trained at a well-known local spa (extra fees apply). A few examples of the items that are available can be found below:
Balinese Massage
A traditional Balinese massage can help you let go of all that built-up tension. Using slow, moderate stretches, acupressure, and essential oils from aromatherapy to increase the flow of blood, oxygen, and energy throughout your body will help you feel completely relaxed in no time. Using slow, moderate stretches, acupressure, and essential oils from aromatherapy to increase the flow of blood, oxygen, and energy throughout your body will help you feel completely relaxed in no time.
Reflexology of the Foot
Foot reflexology is an art that helps the body heal itself naturally. It is based on the idea that there are reflexes in the feet that connect to every other part of the body. By applying pressure on these reflexes, tension is alleviated and circulation is improved, which ultimately results in a feeling of equilibrium being restored.
Exfoliation of the Body
Your skin will feel more supple and silky once it has been exfoliated and hydrated with a full-body scrub. To make a revitalizing scrub, essential oils are usually mixed with something rough like salt, coffee, rice bran, or pecan hulls. The goal of a scrub is to remove any impurities from the skin and leave it looking radiant.
Manicure / Pedicure
Every day, our hands and feet put in a lot of effort for us, yet we don't provide them with the care they should get. Give them the gift of a manicure or pedicure, both of which typically include a brief massage for either the hands or the feet as an added bonus.
Weddings at Villa Sungai Tinggi Bali
With its expansive lawns, purpose-built coconut grove event space and balé, and picturesque coastal position, Villa Sungai Tinggi Bali makes for the ideal place for weddings, parties, and other special events. When all four bedrooms are hired out, this lovely house has the capacity to host events with up to 200 guests in attendance.
The wedding meal for larger guests is typically served in the coconut grove and around the event balé. Wedding ceremonies are typically done at the main villa or on the beach. After the party is over, the bride and groom can go to the charming old timber guesthouse, which is in a quiet place where the river mouth meets the ocean. Traditional Balinese dances are a popular addition to many weddings, and they are often performed in the natural amphitheater that is located on the grounds.
Professional caterers know how to make big meals and can also set up decorations, flowers, lighting, and entertainment for an event. These caterers are able to provide food and beverage services for their clients.
Location of Villa Sungai Tinggi Bali
On the south-western coast of Bali, close to the town of Pererenan, is where you'll find the magnificent beachfront site of Villa Sungai Tinggi Bali. Guests can take a peaceful stroll down the beach at sunset, surf on one of the island's greatest breakers, or watch the local fisherman pull in the day's harvest from their brilliantly colored jukungs, which are traditional fishing boats. 
It is typical practice here to make daily offerings at the temple in the village and to tend the rice fields with great care, despite the fact that this area is also home to some of the most exciting cafés and restaurants on the island. This interesting contrast between the modern and the traditional makes for an interesting and unique experience.
The people who stay at Villa Sungai Tinggi Bali get a real look at how Balinese people live every day. Should the bright lights of Seminyak beckon, your car and driver are standing by to take you away to the many upscale restaurants, bars, and stores of the cosmopolitan district, which are just a short drive away.
Things to Do When You Stay at Villa Sungai Tinggi Bali
Canggu used to be a quiet, semi-rural area with a lot of rice paddies, but in the last few years, it has become one of the liveliest places on the island. There are around 15 coffee shops in Pererenan alone, which is sometimes referred to as the "coffee center" of Bali. This number doesn't count the many coffee shops, cafes, and restaurants in Canggu that are also trying to get your attention.
The villa manager at Villa Sungai Tinggi Bali can give guests a lot of information about things to do and see in the area. He or she can also help arrange transportation and make any other plans that need to be made. Inquire with the staff about the neighborhood as well. Most of them live in the area, so they'll be able to give you an interesting look at some of the most interesting things about daily life in Bali.
For now, here are a few examples of things to do near the villa:
Visit Monsieur Spoon, a traditional French patisserie that is located about 50 meters from the home. The all-butter croissants at this family-run bakery and cafe in Bali, which was started by two Parisian cousins, are widely thought to be the best on the island, and the owners never let the quality slip.
You may catch some waves at any one of Bali's fantastic surfing beaches, all of which are conveniently located, with Pererenan Beach being right outside your door. Echo Beach is the most popular place for surfers to hang out on this stretch of beautiful black sand beaches, but all of these beaches are in a great spot to see Bali's world-famous sunsets.
Canggu, which is nearby, has become the epicenter of partying. Visit one of the many popular places in Canggu, such as Old Man's Pub with its beachfront beer garden or The Lawn, a beach lounge that gives front-row seats to the most amazing sunset, to get a flavor of the local culture.
La Brisa is a beach club that is unlike any other; it gives the term "shabby tropical chic" a whole new meaning. You can find it and other fascinating nightclubs like La Favela at the lively Echo Beach, which is only a short drive from the property.
Make the obligatory trip to the holy Pura Tanah Lot, which is one of the most popular tourist attractions in Bali. This ancient sea temple is best appreciated at sunset, but it is less crowded in the mornings. Make sure to receive a blessing from the Hindu priests before leaving the temple, which is perched high on a craggy, wave-lashed rock.
The most exclusive hiking tour in Bali promises jaw-dropping views and heartwarming interactions while also helping the once-forgotten villages of Muntigunung change in a way that will last. The company that manages Villa Sungai Tinggi Bali is a partner of Muntigunung Community Social Enterprise.
Even though there has been a lot of new construction in the area, Pererenan hasn't lost any of its charm. If you go out into the neighborhood, you'll find a traditional Balinese village that is surrounded by a green belt and is home to proud locals.
Bicycles are available at the villa for guest use. Take your group out and see Bali in its most natural state. You won't be disappointed. Make a pit stop at a nearby warung (also known as a cafe) to try some traditional Balinese cooking and cool off with a refreshing beverage.
Find the Splash Waterpark, which is a part of the Finns Recreation Club and less than 8 kilometers away. Discover the youngster within you as you careen down some of the best waterslides in the world. This is a fun activity for the whole family. Get there early to avoid the crowds.
Take the road that leads immediately north from the villa to the village of Bedugul in the mountains for a day filled with culture and breathtaking scenery. From here, you can visit three volcanic lakes. One of them is Bratan, which is famous for the beautiful Pura Ulun Danu temple that sits on top of a hill overlooking the lake. This temple is considered to be one of the most important in all of Bali.